It's almost Halloween and you should be all trying new scary costumes and makeup and have some fun, right? Are you searching the internet for inspiration? If yes, you are at the right place! Here I'm going to share with you some Spooky Halloween Makeup Ideas That You Have To Try, so don't miss them.
It's the time of the year when you can express your creativity in a pretty awkward way, so get the makeup kit and feel free to try anything that comes to mind. There are some special cosmetic products that can help you get the desired look, so make a trip to the store to get everything that you are going to need to get that scary look this Halloween. Scroll down through the photos and see how you can get an awesome look on your own. I'm sure that you are going to love all of the ideas and that you are going to have a hard time picking a favorite.
Halloween Makeup Ideas
Would you like to have a cracked face this Halloween? This look isn't complicated at all, and you are going to need a black and white eye pencil to do it. Eye shadows will help you give it some nice finishing touch. Are you good at contouring? You may need to show off your skills when it comes to this look.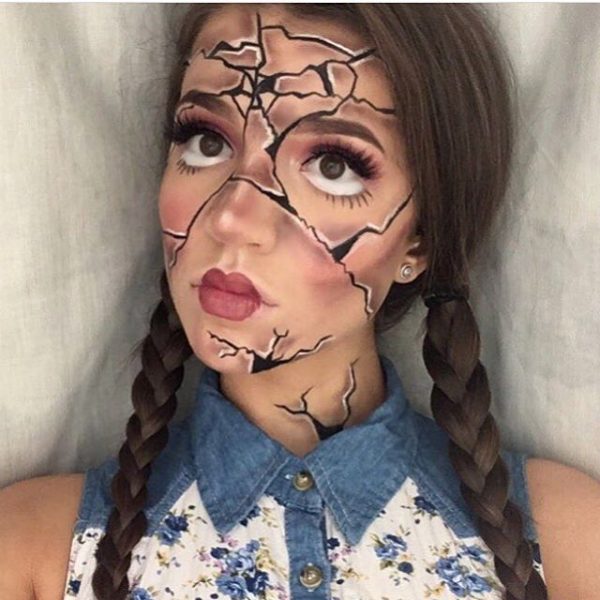 Isn't this half-up half-down face look just stunning? If you are good at drawing you should definitely do this makeup. It looks so real, but remember that to achieve this look you are going to need some super quality makeup so that it can cover the brow easily.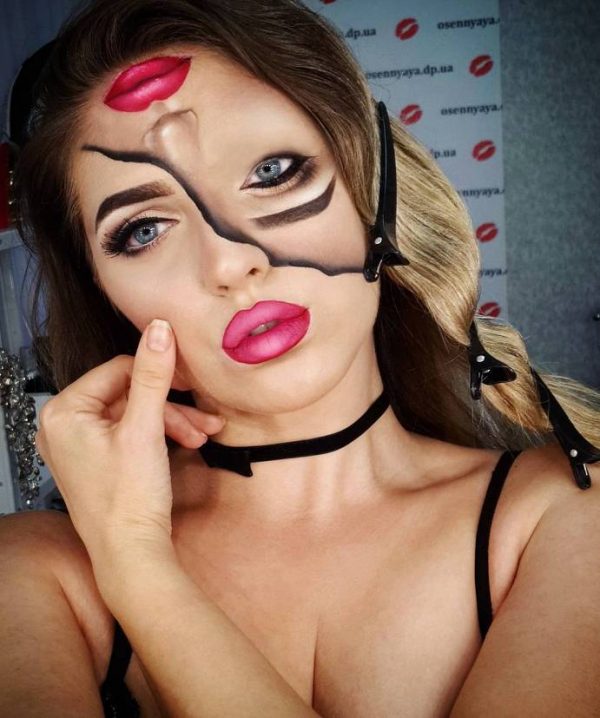 Do you wish to focus on your body too and go a little bit further than just face makeup? Check this idea out! Despite the makeup, you will need to do something with your hair too. Consider using a hair spray or a wig.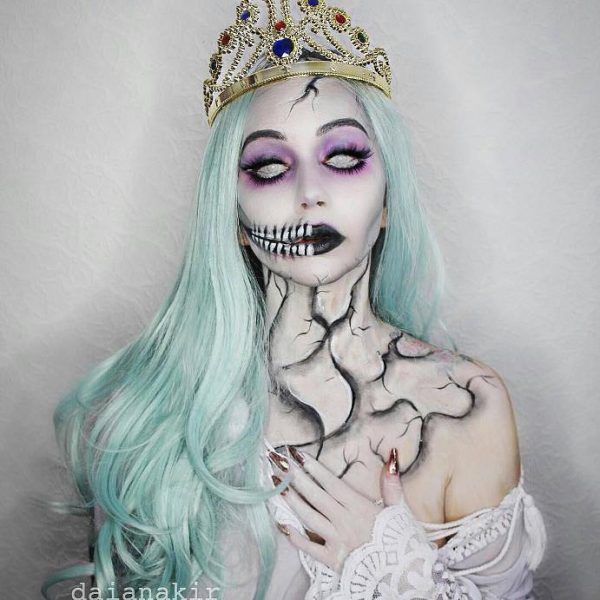 Are you a Joker's fan? Then this is the perfect makeup idea for you. This time draw the mouth on your palm to have a more interesting and unique look. How do you like it?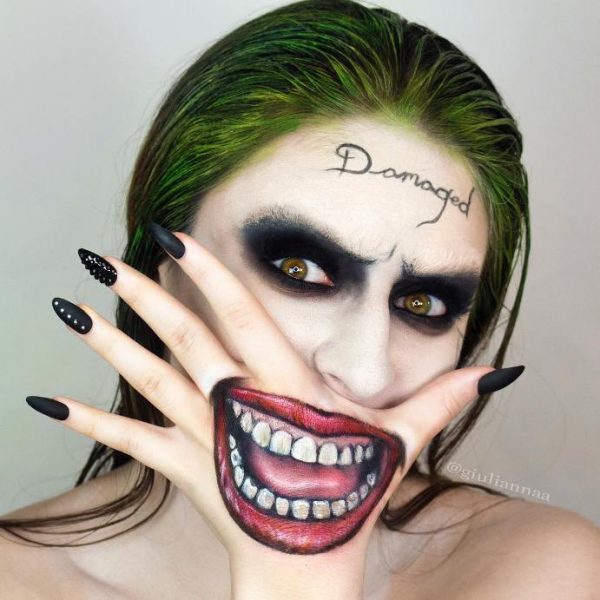 The blurry vision makeup is pretty cool, isn't it? What do you say to have tons of eyes, noses, and mouths on your face this year? You will definitely scare lots of people away. They will surely ask whether they are drunk and seeing double!
If you think that you aren't very skilled at makeup and drawing, this is the idea that you should recreate. There aren't edgy lines. Everything looks messy, so nobody will say that you didn't do it right.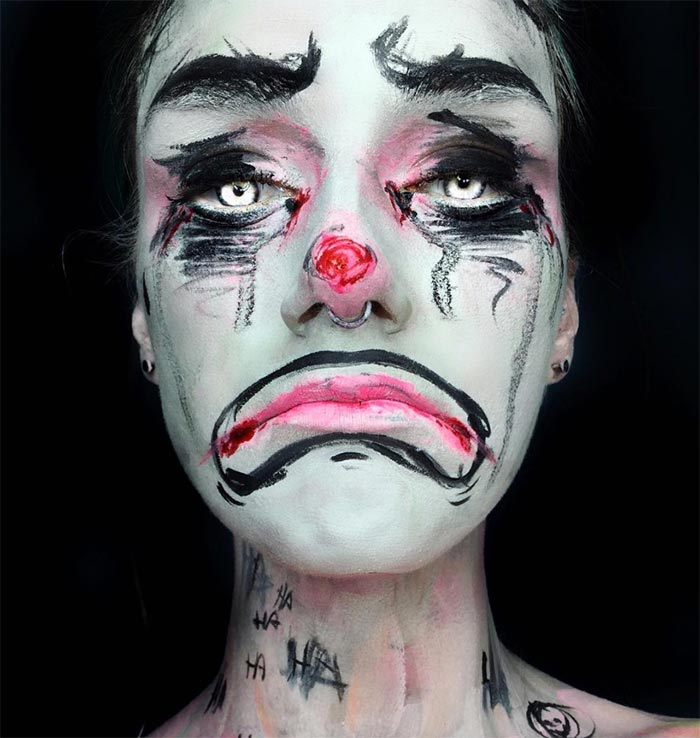 Sometimes even the most minimal makeup look can look spectacular. The ombre lipstick and the cat eyes are perfectly accompanied by these bloody scars. Would you like to give it a try?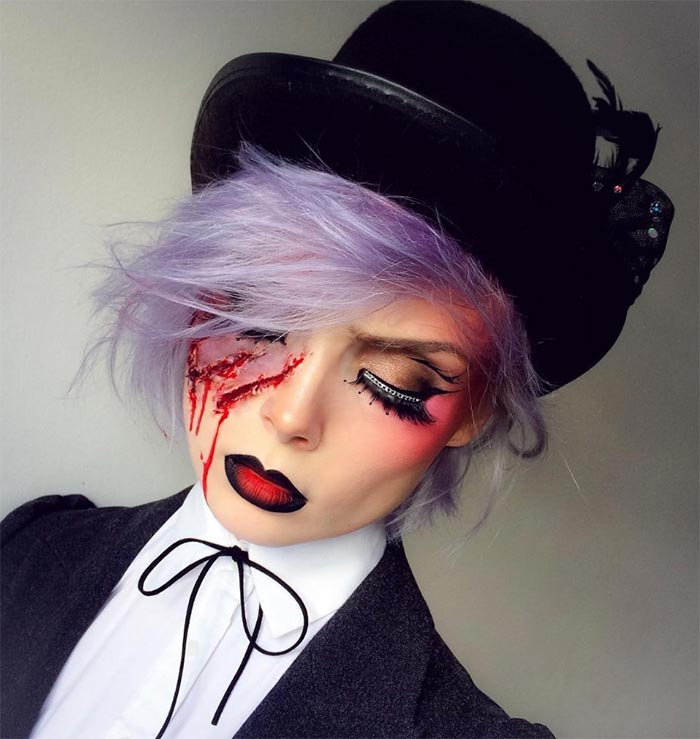 Here's another stunning makeup. It looks like the face of this girl is made out of wax and it's melting. You will have to google the internet to find the tutorial to this makeup look!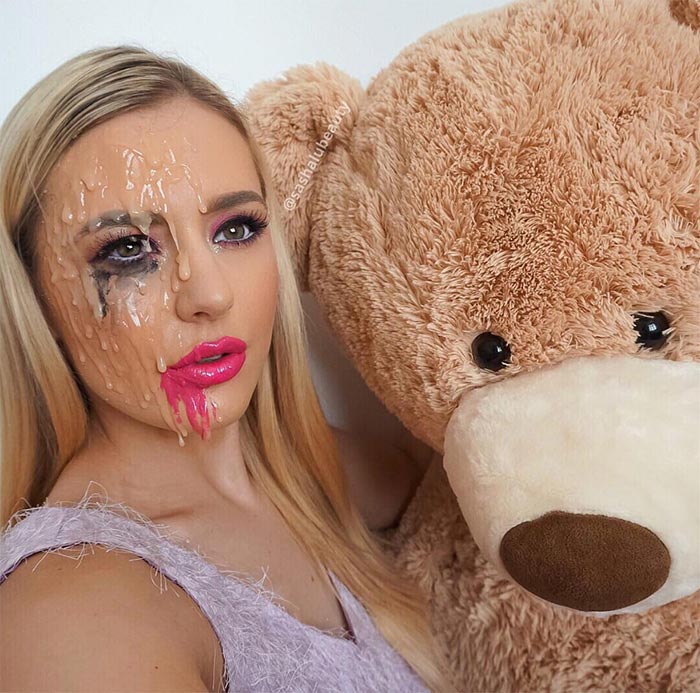 Here is one of my favorite Halloween makeup looks! I'm totally in love with this face which looks like it's pealing down. It's definitely a complicated makeup look and requires more time, skills, and patience.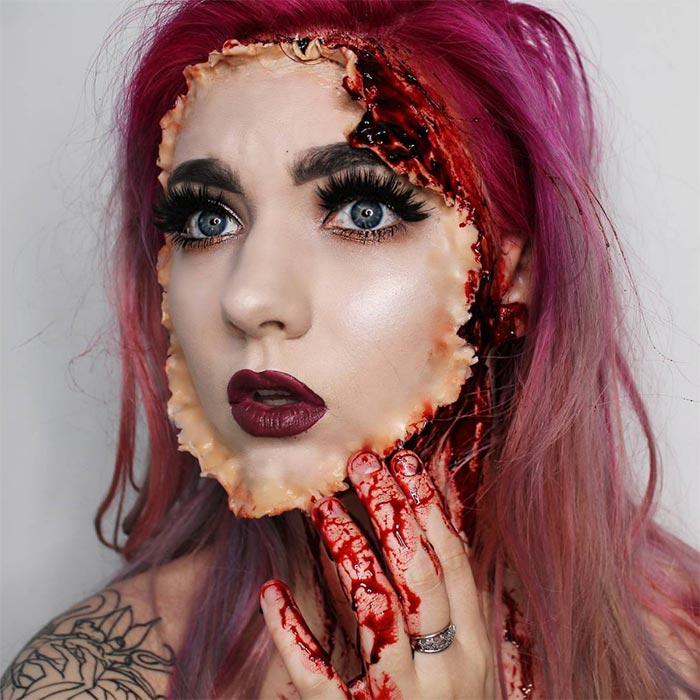 Not a single Halloween celebration can go without the skull makeup. It's such a popular look and lots of girls decide to embrace it. Have you tried it so far?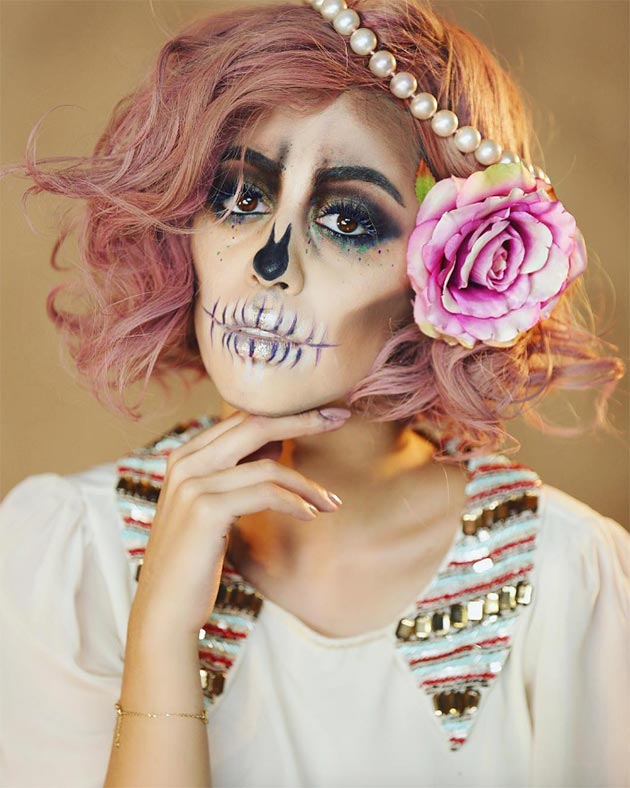 The black and gold makeup is so sophisticated and elegant. If you wish to look stylish, this may be the perfect idea for you.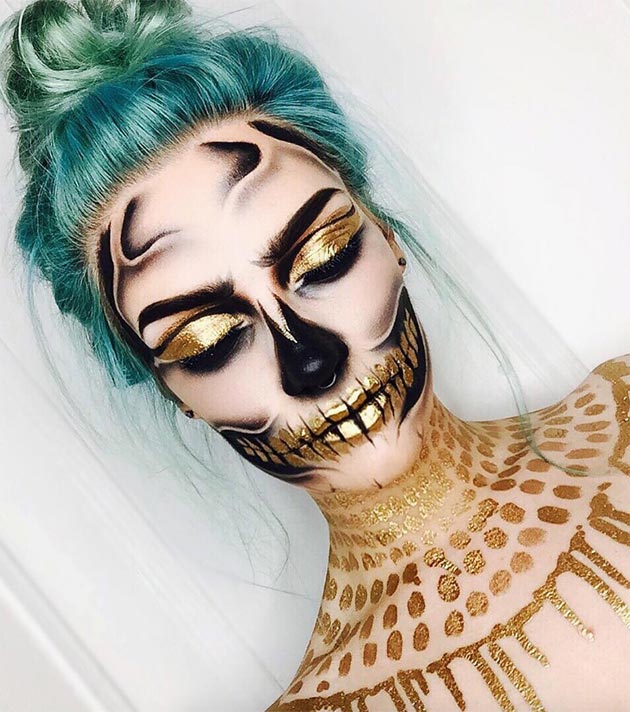 This is another look that managed to leave me speechless! The red riding hood which has half-wolf face is on the top of my favorite makeup ideas for this Halloween.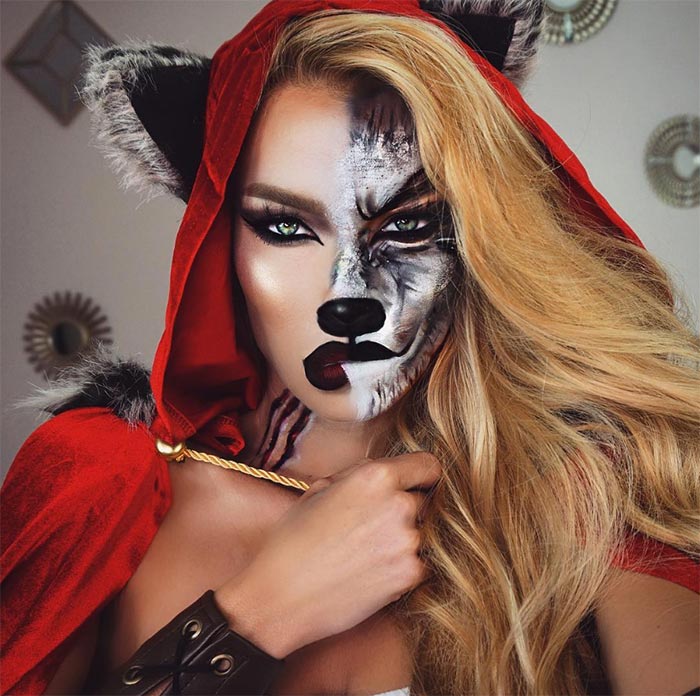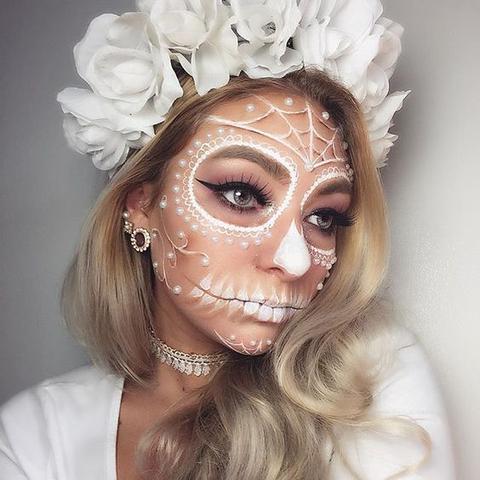 Are you running late and you are in a rush to get quick but good-looking makeup for the Halloween party that you are about to attend? Check this look out!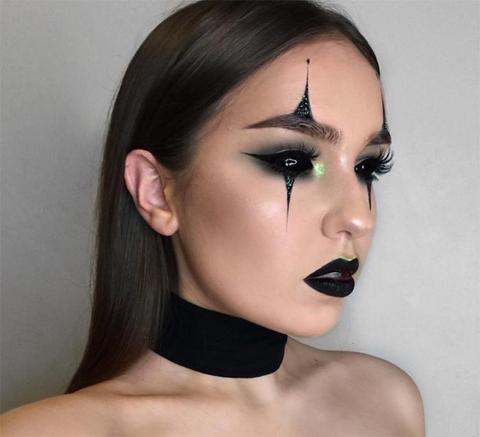 Are you a fan of tigers? If yes, this makeup look will make the most impression on you!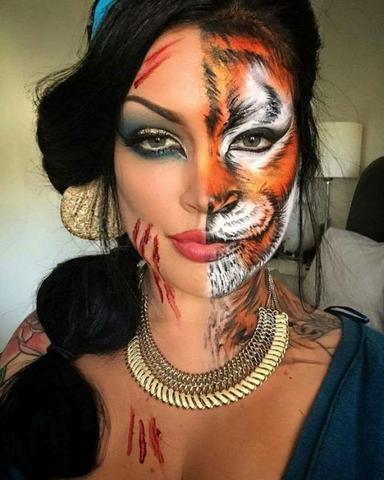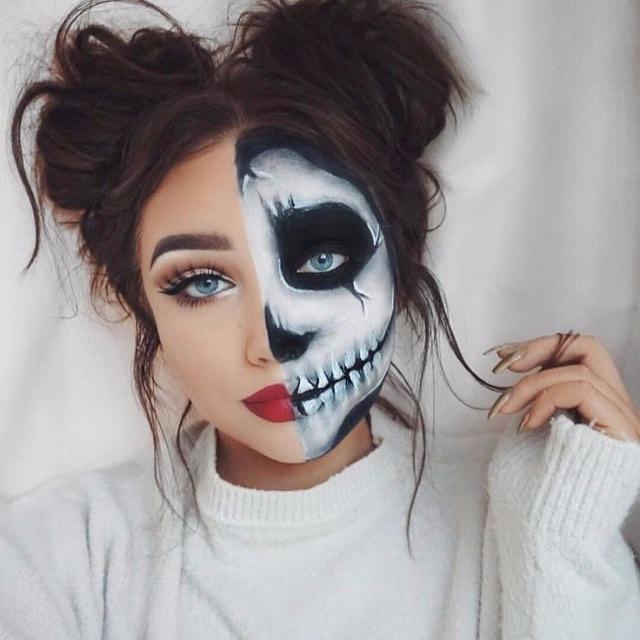 Have you found your favorite Halloween makeup ideas yet? If not, scroll through the photos once again.  When you find it remember to try the makeup idea beforehand which means several days before Halloween, so you can be sure that you can get it right. In this way, you will skip feeling frustrated if you can't make it on that day. Perfection requires practice, so if you are bored the days before Halloween this is a great way to keep yourselves busy and entertained!