Summer birthdays can be really fun since the weather is hot and you can celebrate it outside refreshing yourselves with lots of ice cold drinks, water games, pool activities, and tons of ice cream. The first thing that you should do before you start organizing the birthday party for your kids is to pick a theme. And is there a better theme to choose than an ice cream birthday theme? It's really sweet and the decorations can be pretty fun.
In this article I have rounded up some inspiring decorative ideas that will blow your mind. Check them out and pull up your sleeves to recreate some of them and host a magical birthday that will make kids happy.
These party ideas will help you get you back on track with your normal lives after the coronavirus, so take a look at them as well.
Ice Cream Treats
What's an ice cream birthday if there isn't ice cream? Here's a quick tip that will make serving easier. Make ice cream scoop, arrange them on a tray on baking paper and freeze them. In this way they won't melt immediately after you serve them!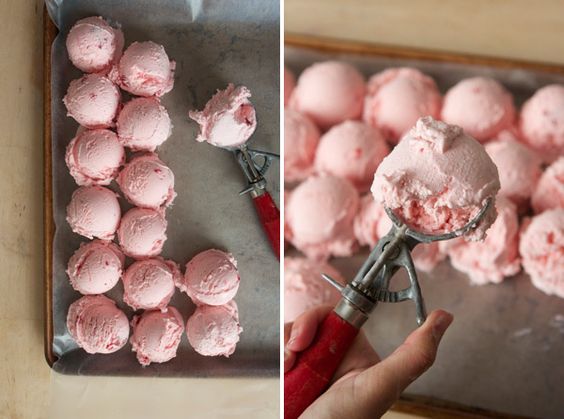 Ice Cream Bar
Set up a small ice cream bar and have the kids play selling and buying ice cream. I bet that they will be super excited and happy for a role play!
Ice Cream Cake
This ice cream cake is so simple yet stunning. What's more, you can even do it on your own. Are you in the mood for baking a cake and decorating it for this birthday?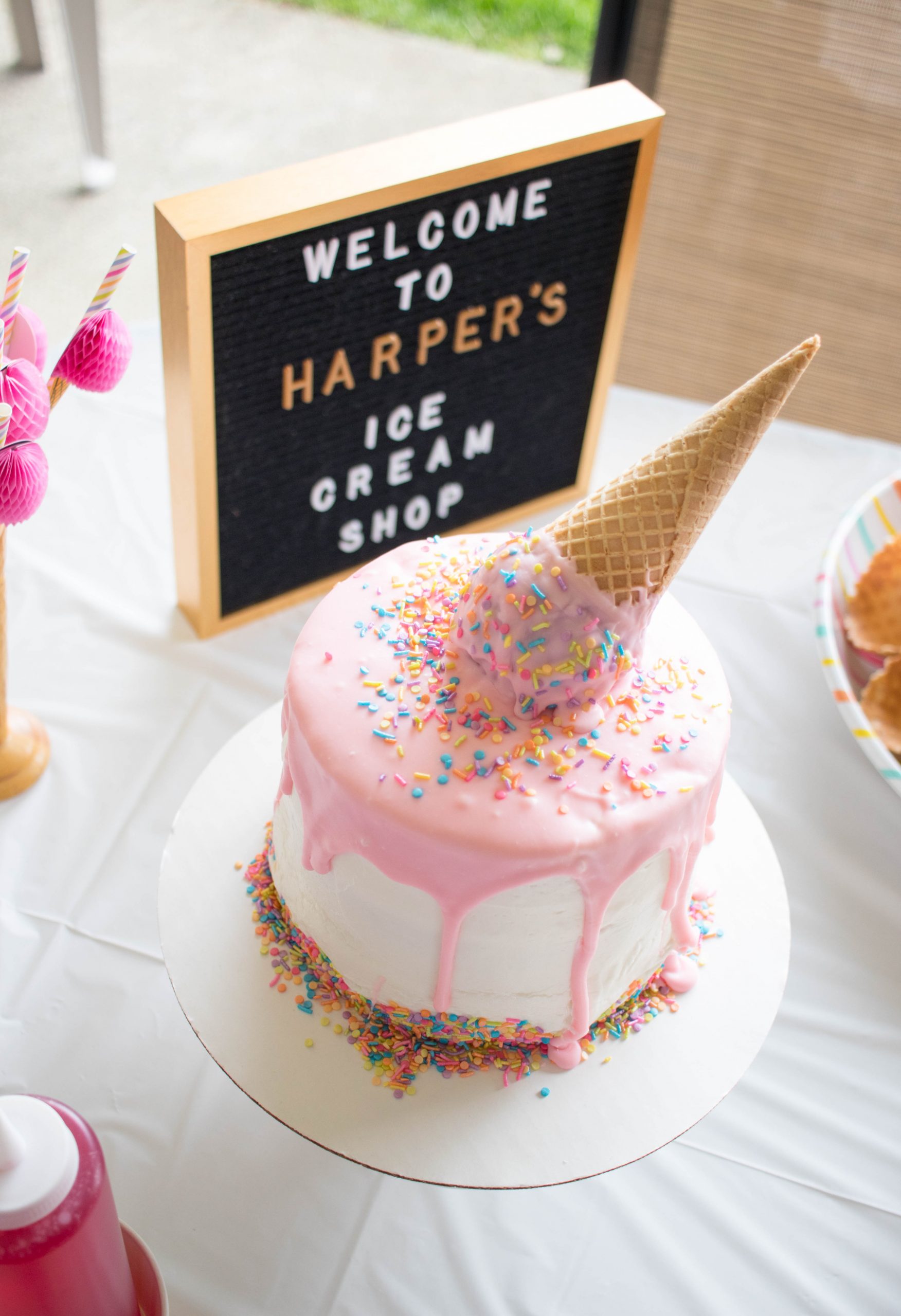 Ice Cream Shop
Sprinkles on top are a must. Get as many of them as you can and let kids decorate their own ice cream in the ways you they like.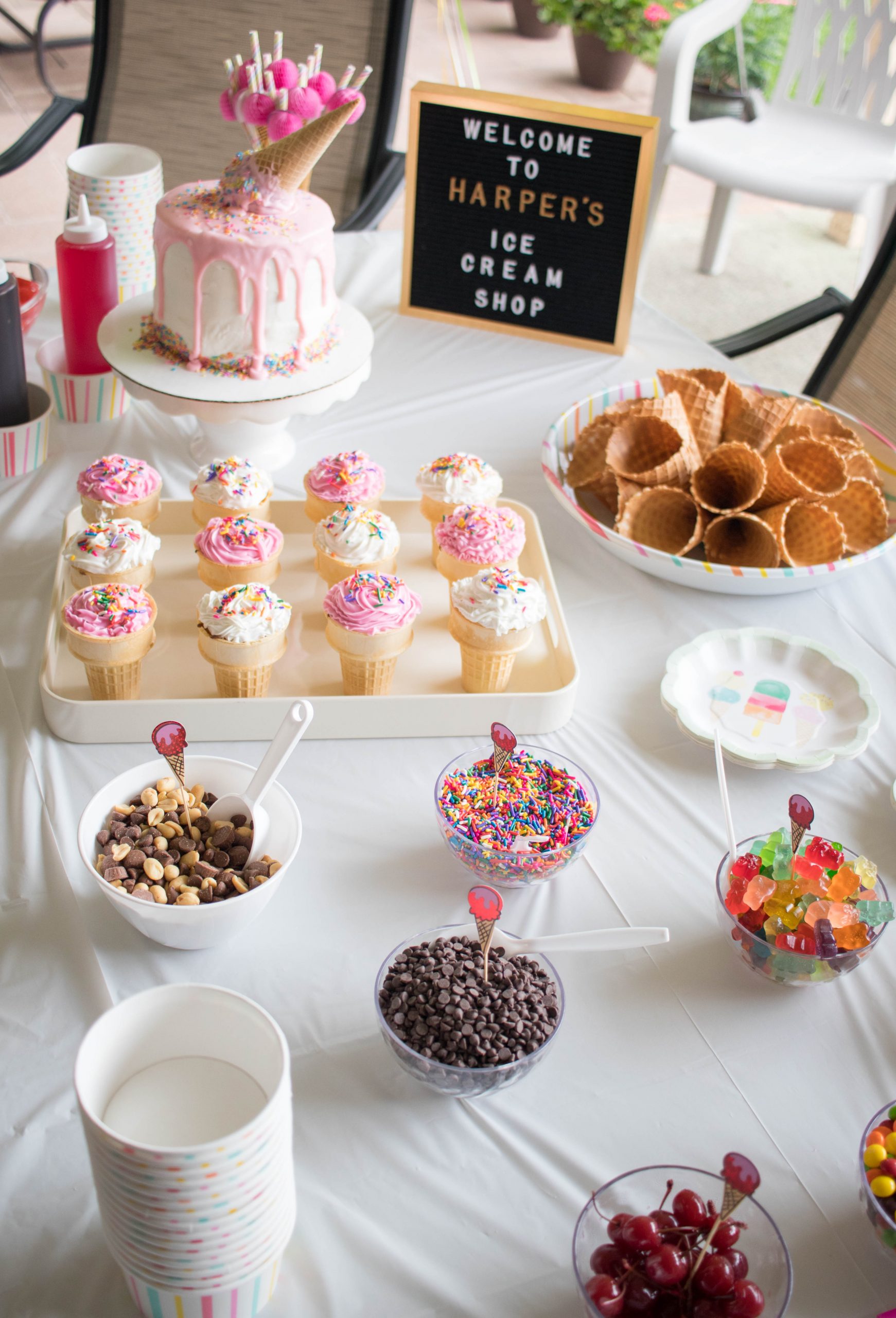 Hanging Decorations
Let's be honest, decorations are the ones that make the birthday setting so special and festive. Once you decide on an ice cream birthday theme be ready to have lots of hanging ice creams around.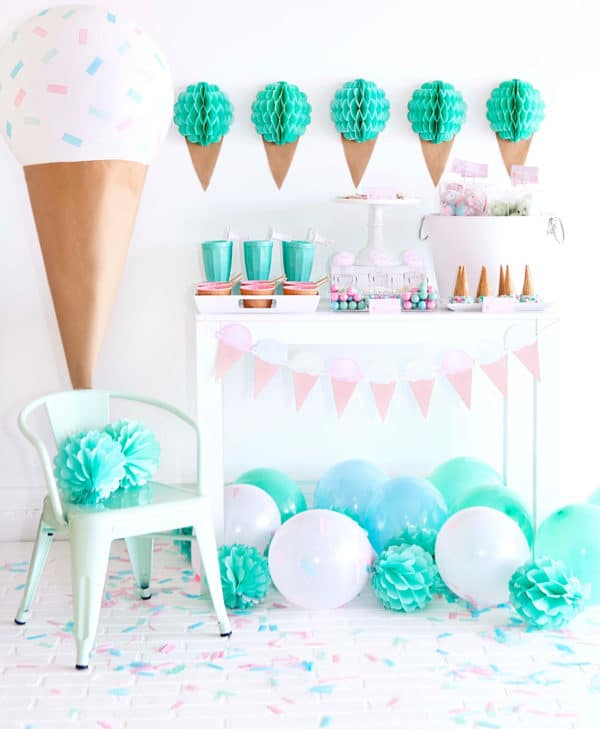 Marshmallow Ice Cream Cones
Serving real ice cream can be a little bit tricky if it's not consumer immediately. If you want to display some ice cream treats on the table with the cake, you can try another more safe alternative. Marshmallow is a great idea that will give you the desired effect.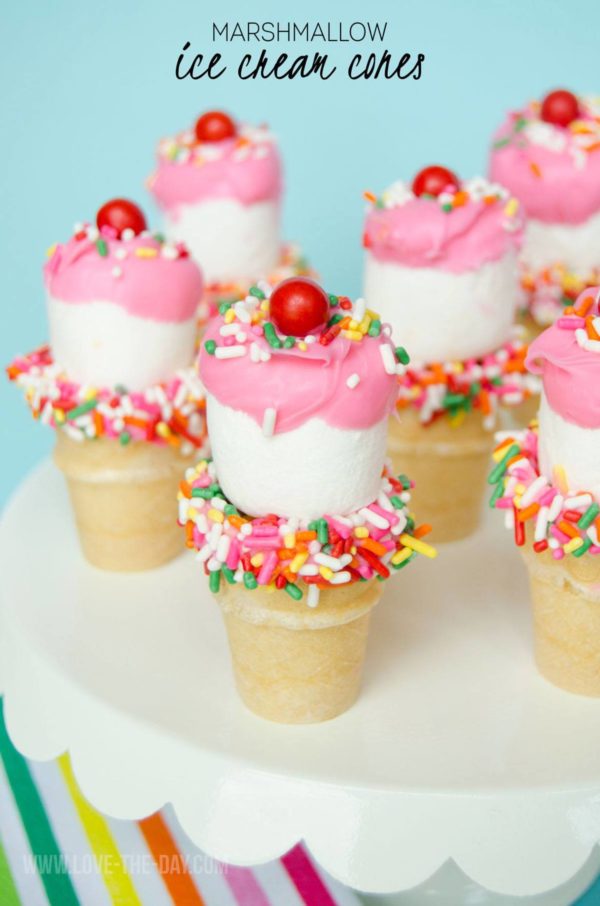 Birthday Cake
The birthday cakes for this theme can look fabulous due to the array of colors that are incorporated together. The pastel tones are definitely my favorite at the moment. What about you?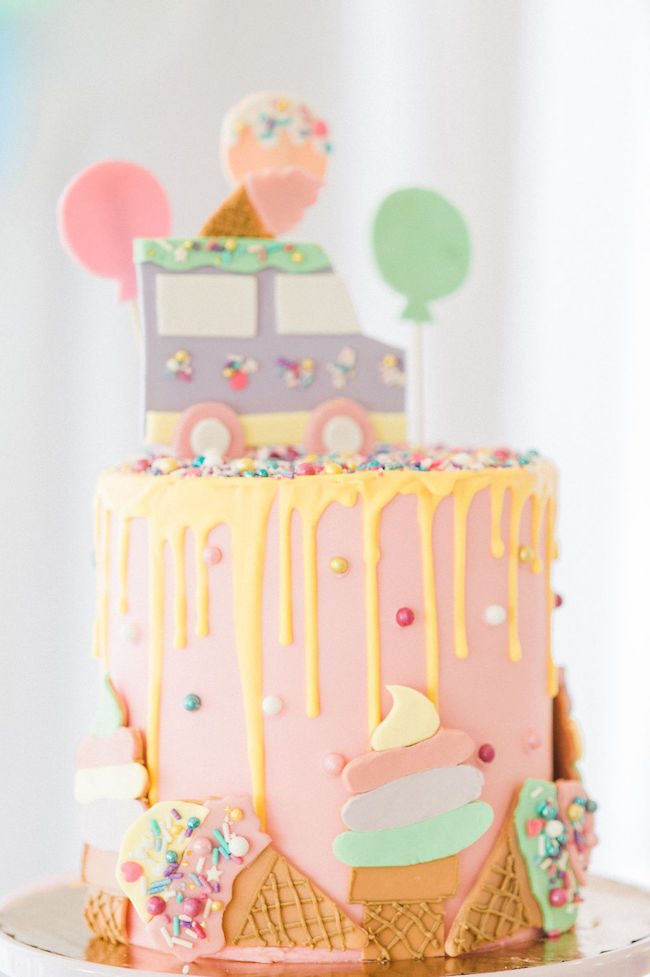 Pastel Balloons
Yes, pastels look amazing in balloons as well. Make sure you have plenty of them. The more the merrier! Here's another tip for you: Don't forget to add extra balloons on the ground since kids will like to play with them, and they will be asking you to remove some from the decorations.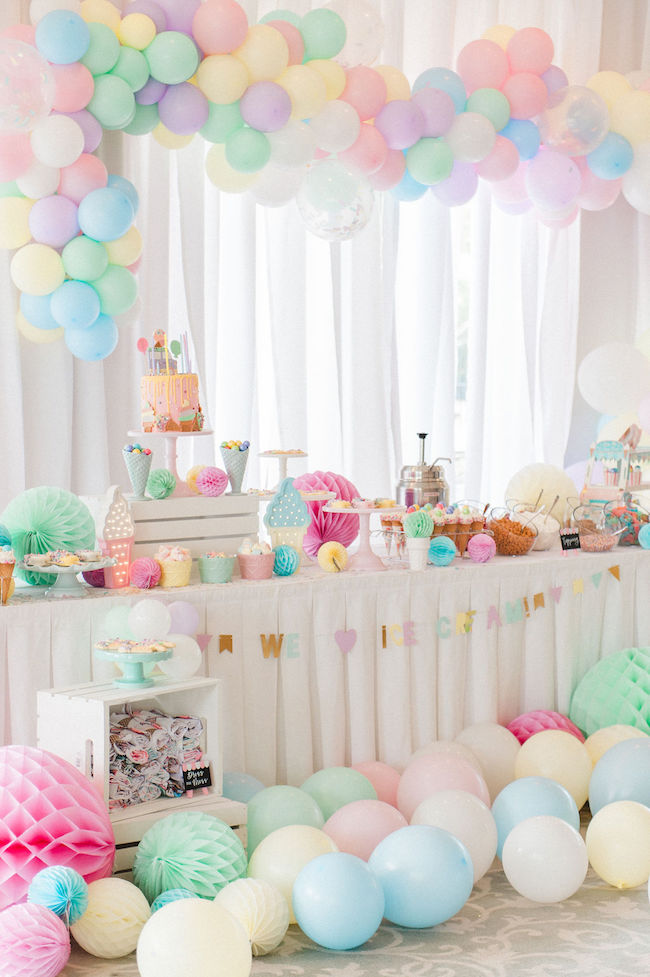 Ice Cream Piñata
Piñata is always a fun thing to do on a birthday, and this ice cream piñata is just ideal for this theme. Get a big one and let it take the central stage of the birthday decor.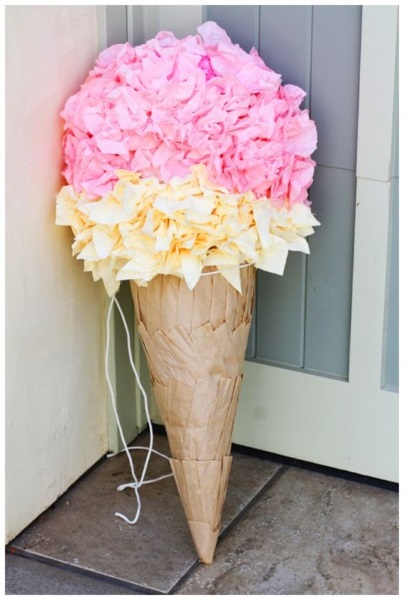 Hanging Ice Creams
Making ice cream cones is as easy as a pie. All you have to do is to cut paper like shown in the photo below and make scoops in different colors. Then hang them anywhere and see how the ambiance changes instantly and how these decorative pieces set the celebratory tone.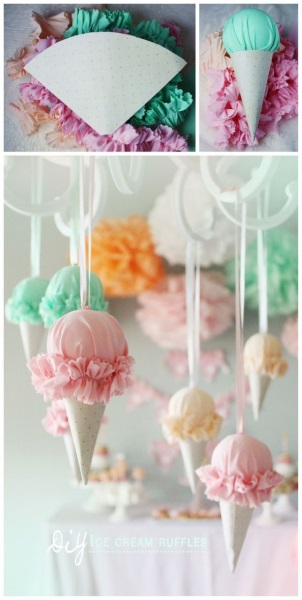 Ice Cream Treats
It's pretty easy to set a sweet table for the ice cream birthday theme. You need lots of ice cream cones, sprinkles, many other toppings and ice cream of course. Kids are going to love these refreshing treats for sure.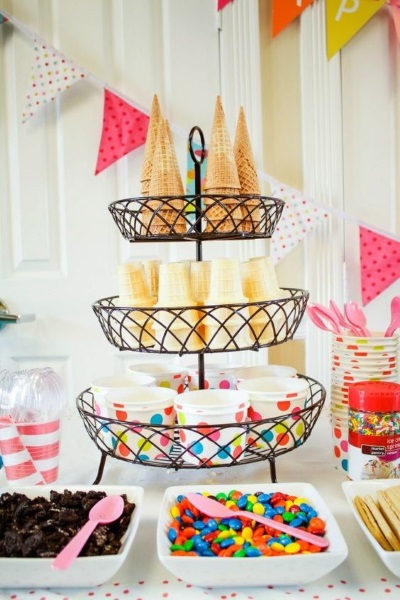 DIY Balloon Ice Creams
These balloon ice creams are the quickest and easiest way to play with the decorations. Don't hesitate to make them in different colors to make the setting more fun and playful. Do you have a certain color theme in mind?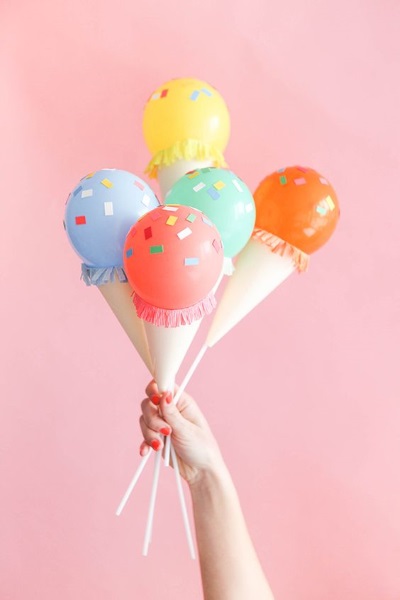 Isn't the ice cream birthday theme truly spectacular? Not only that everything will look amazing, but kids will have lots of fun having an ice cream shop and "selling" ice cream for their birthday. Lots of these ideas make easy DIY projects and you can in fact do them on your own. Start on time and you will have an outstanding birthday theme that will make everyone say wow.