Whether you're visiting Miami for a full vacation or you have a long layover and you'd like to explore the city a bit, it's undoubtedly beautiful, vibrant and full of perfect places for that optimal Instagram shot.
If you're visiting Miami for the first time, there's Ocean Drive, and while it is touristy, it's what you think of when you think quintessential Miami.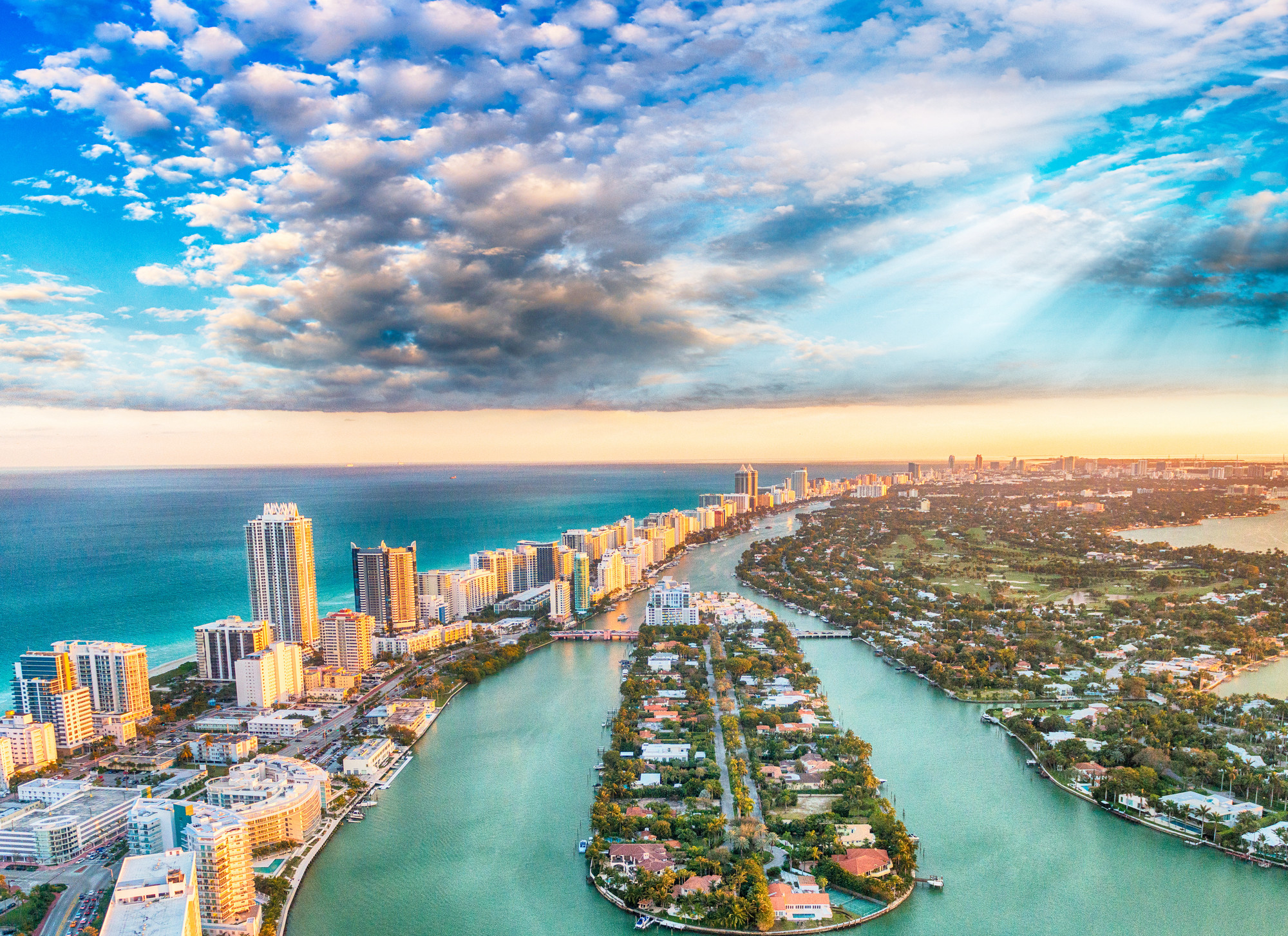 Ocean Drive and South Beach may be among the most well-known areas for visitors to frequent, but they're certainly not the only options. Along with the Art Deco style of South each, you might want to make your way to the waterfront Downtown Miami District, or you can rent a car and go to Coral Gables, which was first developed in the 1920s.
Little Havana is around 3.5 square miles, and 8th Street is the main drag, and for the more art-interested tourists, there's Wynwood which is a former warehouse district.
Overall the following are some of the best spots to grab that perfect Instagram shot, no matter how long you have in Miami.
1 Hotel South Beach Pool
1 Hotel South Beach is one of the most and stylish hotels in Miami, and its pool is amazing. There are actually four pools, but the Main Pool might be the best one for setting up that perfect Instagram shot, although some feel the Rooftop Pool is the best for photos and social media.
The Rooftop Pool at 1 Hotel South Beach is for guests who are 21 and older, and it's 18 stories above the ocean.
It's the only oceanfront South Beach hotel with a rooftop pool, and there are poolside cabanas that can be reserved.
The Wynwood Walls
For something that's quite a bit different than the 1 Hotel South Beach, head to the Wynwood Walls for Instagram photos that involve street art.
The Wynwood Walls was conceptualized in 2009 by Tony Goldman, who wanted to transform the city's warehouse districted.
The Wynwood Walls showcased Tony's dedication to street art and graffiti. Artists from around the world share their work on the Wynwood Walls, and there are more than 80,000 square feet of unique Instagram options.
South Beach Lifeguard Stands
South Beach is dotted with lifeguard stands that make a wonderful backdrop for your Instagram photos. Try to go around sunset when it's less crowded, and the light is fantastic, or perhaps in the early morning hours.
You can start at the Loews Miami Beach hotel, which is located on 16th Street, and you'll find all different styles and sizes of stands.
Miracle Mile
Miracle Mile is a shopping district in Coral Gables and there are galleries and wonderful landscaping that make it a good photography backdrop.
The architecture comes from the work of George Merrick, a historical architect, and there are Mediterranean-style buildings along with palm trees and lampposts that will transport you to a different era.
Vizcaya Museum and Gardens
Vizcaya Museum and Gardens is an estate that was built as a winter retreat in 1916. It is a stunning Italian Renaissance-inspired villa. The museum still has most of the original furniture and art, and the formal gardens that surround the house are magnificent.
The original owner of the home was James Deering, who was an industrialist and it's extravagant and unique.
One thousand workers built the home and gardens, and Deering went throughout Europe to find the best furniture, antiques, and paintings. There are fresco ceilings brought in from Tuscany and France, carved mantles and pieces that date back to the 15th century.
The gardens span for 10 acres, and it's similar in layout to Versailles outside of Paris.
Vizcaya is one of the most sought-after photoshoot locations in the country.
Villa Casa Casuarina
Villa Casa Casuarina is the former Versace Mansion, and it's now a luxury hotel. The property is on Ocean Drive and is part of the Miami Beach Architectural District. It was built in 1930 and Gianni Versace owned it from 1992 until his death in 1997.
Currently, the Villa Casa Casuarina is a luxury hotel that has ten suites and it's home to a gourmet restaurant called Gianni's.
Supposedly, the house was modeled on the home of Christopher Colombus in Genoa, and now, in addition to being a hotel, it's also a members-only club. The front steps are one of the most photographed places in Miami.
No matter your interests, there are some fantastic photography opportunities throughout Miami.