When touring the United States, too many travelers make the mistake of only visiting major cities and more commercial attractions. However, if you look beyond the thrills of theme parks and shopping centers, you'll have a chance to discover regions that are simply amazing in their natural beauty.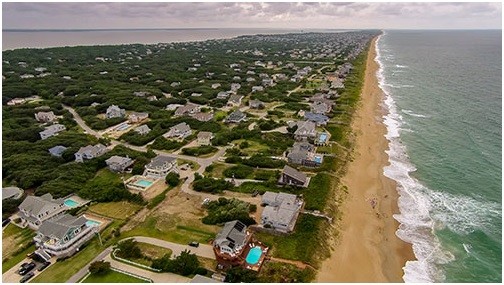 The Outer Banks of North Carolina is one of these areas, unsurpassed in its history, recreational activities and seaside charm.
Things to do:
Miles of untouched beaches
The Outer Banks comprise more than a hundred miles of shoreline along the barrier islands on the east coast of North Carolina. You'll find clean luxurious sand to sink your toes into and pure blue skies. Each beach is unique and offers space to explore for local residents and newcomers alike. Be mindful that lifeguards are on duty only between Memorial Day and Labor Day, which generally means the last weekend of May to the first weekend of September.
Wild Horses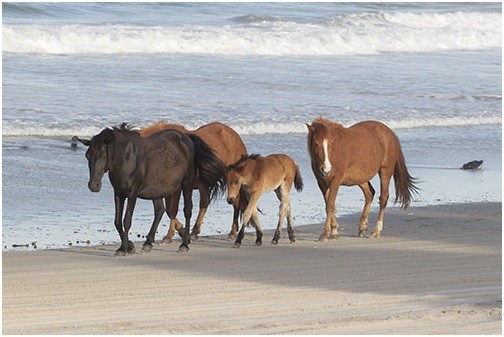 Wild horses can be glimpsed along the beaches of Corolla and Currituck. These horses are the descendants of Mustangs brought to the New World from Spain by the original explorers. The sheer majesty of these creatures is why the Spanish Mustang was named the official horse of North Carolina.
It is illegal to intentionally approach a wild horse. This means absolutely no feeding, petting or using any animal for a photo-op at close range. However, there are a number of companies offering official "Wild Horse Tours" that take groups and individuals closer to where the wild horses roam. For many travelers, these tours given by knowledgeable tour guides are the highlight of their time during their holiday or vacation.
Wright Brothers National Memorial
If you've ever departed or arrived at an airport, you undoubtedly have experienced the ingenuity of the Wright Brothers. It was on these very shores, that the brothers demonstrated their first successful attempts at flight using wind power in 1903. As a testament to their experimentation and genius in the field of aviation, a monument was erected on the site of their early efforts.
In addition to visiting their memorial, visitors of all ages will marvel at the museum dedicated in their honor. Here you can learn about the lives of the Wright Brothers and actually visit an airplane hangar restored to how it would have appeared in the early 1900's. In addition, exhibits about the discovery of flight are not just educational but highly entertaining.
Cape Hatteras
There are over seventy miles of beaches along the Cape Hatteras coastline that feature incredible beaches, brisk ocean waves and picture-perfect lighthouses. Hang out and picnic on the sand or take a dip in the water. Bring your camera and catch sight of the many sea birds that make the beaches their home.
Authentic island lighthouses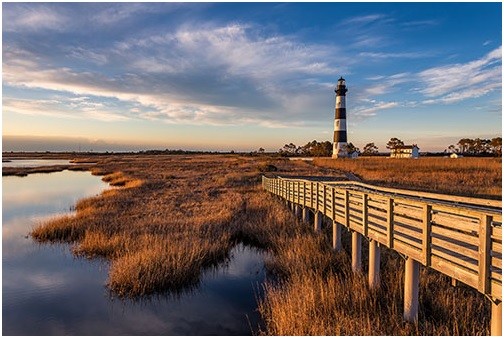 The Nags Head section of Bodie Island is home to the Bodie Island Lighthouse. This lighthouse has been steering ships as far as nineteen miles out at sea since before the Civil War. Renovated in 2013, the lighthouse is still in use today and shines bright at nightfall.
The Currituck Beach Lighthouse was created in 1875 to steer ships between Cape Henry (in Virginia) and Bodie Island. Still in use, the lighthouse steers boats through the blind spots between the islands. Unlike traditional lighthouse buildings, this one has retained its original brick exterior and was never painted white.
Elizabethan Gardens
These impressive gardens feature more than 500 species of flowers, plants and agricultural specimens. Open to the public, there are over ten acres of grounds filled with herbs, historic plantings and flowering plants native to the region. Among the highlights of these gardens are roses originally gifted by Queen Elizabeth II herself.
Jockey Ridge State Park
Jockey Ridge State Park is where you'll find the tallest sand dune along the coastline of the Atlantic Ocean. Located on Nags Head, one reaches the dunes by either hiking along a sandy trail or utilizing a firmly built boardwalk to the very top. Once you've arrived, learn to hang glide or take in the unbelievable view. If you would like to go sand-boarding along the dune, be aware that this activity requires a (free) permit from the park's office.
Roanoke Island
Roanoke Island Festival Park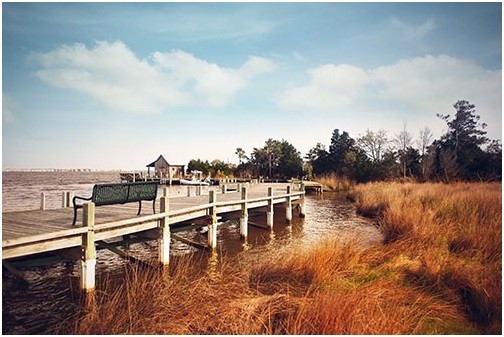 Experience the first settlement of the New World, as you take in the sights and sounds of Roanoke island throughout the 16th century. Children and adults have the opportunity to board a replica of the ship that brought the original British settlers to these shores. Once on board, young visitors have a chance to play games and try their hand at being a sailor themselves.
All ages are encouraged to interact with the park's authentically costumed townspeople, sailors and characters. In American Indian Town, lectures and live demonstrations illustrate the lives of Native Americans prior to the arrival of the first Europeans. Unlike merely opening a book on the subject, walking through Roanoke Island Festival Park makes history come alive with excitement.
North Carolina Aquarium
The North Carolina Aquarium located on Roanoke island is where you'll see beach wildlife up close and within splashing range. The aquarium features sea life and many hands-on exhibits for younger visitors. This includes a Sea Turtle Rescue hospital where these huge creatures are rescued, cared for and then released back into the sea.
One of the most impressive aspects at the aquarium is their Graveyard of the Atlantic exhibit. It contains the remains of the ship the USS Monitor. In what was once the tank of the ship, sharks, giant turtles and other forms of deep sea life now flourish. Elsewhere at the aquarium, you'll see everything from exotic fish to playful otters and native species of alligators in their natural habitats.
Golf Courses
The Outer Banks are home to golf courses that are open year-round. The temperate climate of North Carolina makes these golf courses an excellent playing ground for expert players and novices alike. In particular, these golf courses offer a chance to experience the links while taking in the fresh ocean air and spectacular landscapes.
One of the more picturesque golf courses is the Nags Head Golf Links. This professional eighteen-hole course was designed in the traditional Scottish style. It offers a challenging course for experienced players, along with magnificent views of the coastline. Classes, clinics and a championship golf shop are also available for all of your golf related needs. When the day is done, enjoy golden sunsets while relaxing at the course's comfortable bar and restaurant known for its fine chef-inspired cuisine.
Getting to your destination
Reaching the region by plane is most convenient when arriving at Norfolk International Airport, located just over 80 miles north. Also accessible is Raleigh Durham International Airport, located almost 200 miles to the west. All airports have rental car facilities, along with vehicles and drivers for hire.
For travelers who do not wish to rent a car and drive themselves, both airport locations offer a range of alternative options. "Shared Ride" vans, private limousine rental and group shuttle bus services are available. These travel services are best booked ahead of time via phone or company website.
When traveling between the islands, many travelers choose the convenience of passenger ferry boats. Ferry boats arrive and leave the islands daily, with schedules posted online. Ferry transportation offers both regularly scheduled transportation along island waterways and a chance to enjoy the thrill of the islands from afar.