It takes a little bit of additional thought and imagination to live in a small room. Such topics as smart storage solutions, how to arrange a tight space, and how to decide what a spot in your home deserves must be considered. Although it can sometimes seem stressful and daunting, it can be fun to design a small bedroom interior. You can turn your tight space into a dreamy escape with the right design tips and techniques. Such brilliant ideas will breathe new life into your compact scheme, from clever storage strategies to multitasking furniture. Regardless of the size of your room, your creativity will forever flow. You will decorate wonderful luxury small bedroom interior.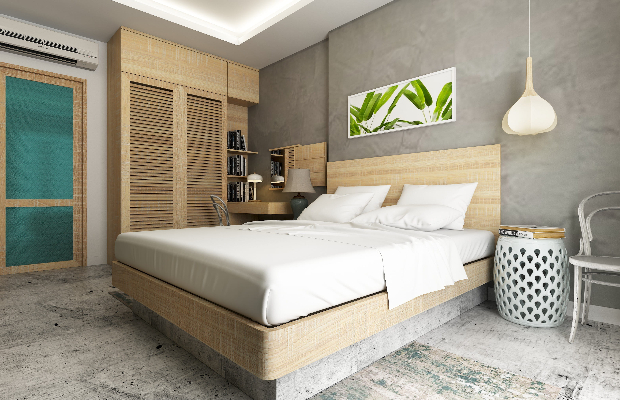 Add Some Greenery
As always, adding some greenery is the fastest and easiest way to upgrade your space from "normal" to "expensive-looking." In an expensive bedroom, one or two touches of the green stuff are a must.  We suggest you put it in one of your prettiest vases just to add some accent in your room, something that fits with your overall theme.
Use Mirrors Cleverly
With some smart planning, even a small bedroom can be made to look luxurious. Large mirrors add an instant expensive feeling, as well as light and sparkle, cut to match and hung on either side of the bed. The upmarket look is complemented by recessed spots in the ceiling, shown in the mirror.
Furthermore, search around for some matching mirrors to produce a similar effect if your budget does not extend to made-to-order glass. We suggest you look for circular mirrors that are on-trend or rectangular black-framed ones.
Add Some Proportions
Layering a simple bed frame on top of an oversized rug will amplify your room instantly and make it look larger. If it did not have simplistic furniture with sleek silhouettes, you might imagine how much more cramped space it would feel.
Give a sumptuous look to your bed by layering texturised bedspreads and blankets. To provide rich interest, incorporate a mix of materials, but stick to one or two shades to avoid making it look messy.
In addition to that, the beauty of this concept is its durability, as in the winter, you can layer thicker fabrics and exchange them in the summer for lighter cotton and linens.
Redesign Your Pillows
One of the things you can do to make your small bedroom luxurious is to modify your pillows. But it doesn't mean you'll buy new ones, although you can do that if you want, you just have to change your pillow covers.
To change the look of your pillows using upholstery fabrics are a famous trick to change the look of your room from normal to elegant. You just have to know what type of fabric you need to use to attain the look you want.
Make your Room Look Bigger
It is not recommended that you have too many things in your room, especially if your room is small. To get a luxurious look for your bedroom, you need to make space. You can do that by not adding too many things.
In addition to that, you can use space-saving furniture. If you are planning to buy beds, look for a bed with built-in storage beneath it. Also, you can utilise folding desk and chairs and put them aside when you're not using it.
Use All Available Surface Space
Finding places to put all your stuff is one of the biggest challenges in a small bedroom interior, because the bed takes up most of the space. When there's no room for an extra table, even a windowsill will provide extra storage space for furniture, lighting, and other necessities.
In a situation like this, you just need to be creative. You can store (and show off) your favourite trinkets and display your beloved baubles on a cool hanging shelf, and you won't take up an inch of floor space.
Use Light Coloured Sheets
Since this is the bedroom, the main element in the decoration of your room would be your bedsheets. Keep away from noisy, busy patterns when choosing your covers. To fit the flow of the room, try coordinating the colours and shapes with drapes.
Furthermore, get imaginative and use one of these photo quilts or woven photo blankets that are personalised.  Stick to a lighter, warmer colour over everything else like the one shown below to make space appear larger.
Coordinate the Placement of your Furniture
It is a very significant rule for making things feel bigger in your bedroom. Think of your space as a large drawing or painting. You want the movement lines to co-ordinate throughout, and it is also a way to make it look neater and elegant.
Furthermore, it breaks up the flow and divides the space, if you have vertical lines and patterns everywhere, but then suddenly a horizontal patch making it feel smaller. It's perfect to be either vertical or horizontal, but don't just mix and match.
Use a luxurious headboard
Not only will an eye-catching bedhead make your bed a more comfortable room, but it will also catch the eye of the audience. You draw focus away from the closeness of the room to the feature that adds complexity and personality when you build a focal point in a small space; in this case, a fabulous tufted fabric headboard.
Also, some people think that putting a headboard in a small room is unnecessary because it takes space. But if you know where to put your bed, you'll be able to use headboards. You can use headboards with multiple functions too.
Takeaway
To sum up, if you keep it clean and tidy, space will always feel larger. Experiment with furniture, beds, and bedding of various styles. To optimise your room's capacity, rearrange the layout, and create shelves.
Not only can a simple design with matching colours and patterns make it more visually pleasing, but it will also make your small bedroom interior look larger.