The no-bake dessert recipes are amazing for those who hate to bake, so in this article, I have gathered some interesting desserts that you can all make without having to use your oven. If you have a sweet tooth and you can't just go without something sweet, are definitely going to save these recipes and ask for more dessert ideas for sure. Check the list of ingredients, head grocery shopping if necessary, and get in the kitchen to make these delicious desserts that will amaze everyone.
I warn you, you are going to have a hard time deciding on one, so you may as well make more all at once. The no-bake desserts are quick, easy, and don't accumulate your electricity bill. Isn't there something greater than this? Scroll down and see what I have got for you today!
No-Bake Pumpkin Cheesecake
It's fall time, which means it's pumpkin season. Is there a better way to use pumpkins than to make a pumpkin cheesecake that's no-bake? First, combine the crushed gingersnaps, the sugar, and the butter so they resemble wet sand and form an even layer in the pan. Then, beat heavy cream in a medium bowl. Next, beat cream cheese in a large bowl and add the pumpkin puree. Add all the rest of the ingredients for the filling and mix well. In the end, make the topping and put the cake in the fridge for at least 4 hours or overnight.
Ingredients:
FOR THE CRUST
1 1/2 c.

finely crushed gingersnaps

2 tbsp.

granulated sugar

5 tbsp.

butter, melted
FOR THE FILLING
1 c.

heavy cream

2

(8-oz.) blocks cream cheese, softened

1

(15-oz.) can pumpkin puree

1 c.

powdered sugar

1 tsp.

pure vanilla extract

1 tsp.

cinnamon

1/2 tsp.

ground nutmeg

1/4 tsp.

kosher salt
FOR TOPPING
Whipped cream
Roughly crushed gingersnaps
Easy Icebox Cake
Are you looking for an easy recipe with just a few ingredients? Check out this easy no-bake dessert which you can make in just 5 minutes. Just beat the heavy cream, the powdered sugar, and the vanilla with a mixer, and spread the mixture in a thin layer. Then top with whole Oreo or cookies and then spread some more whipped cream on top. Repeat this until you have 4 layers of cookies. You are going to need 4 hours until the cookies are softened.
Ingredients:
3 c.

heavy cream, cold

1/2 c.

powdered sugar

1 tsp.

pure vanilla extract

64

Oreo thins or chocolate wafers, plus more for serving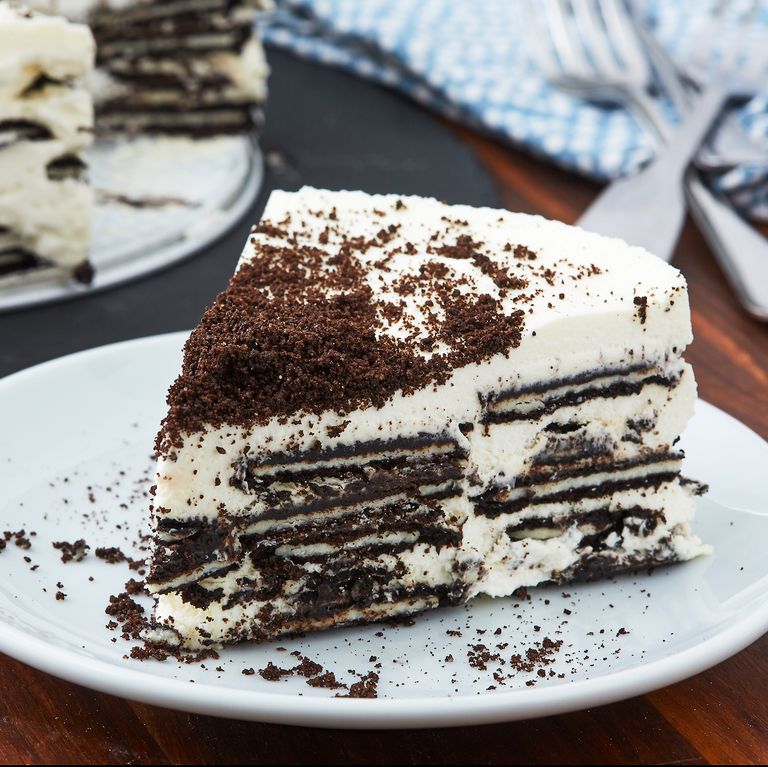 Perfect Banana Pudding
If you love pudding desserts, this one is going to become your favorite one ever! The prep time is 25 minutes, and the total time is 3 hours and 25 minutes. So, what are you waiting for? Click on the link below to get the whole recipe and the tutorials with each step, and this dessert can be on your table today. No-bake, no-fuss!
Ingredients:
1 1/3 c.

whole milk

1

(5.1-oz.) package instant vanilla pudding mix

1

(14-oz.) can sweetened condensed milk

3 c.

heavy cream

1 tsp.

pure vanilla extract

1

(12-oz.) box vanilla wafer cookies

4

bananas, sliced into coins

2 tsp.

granulated sugar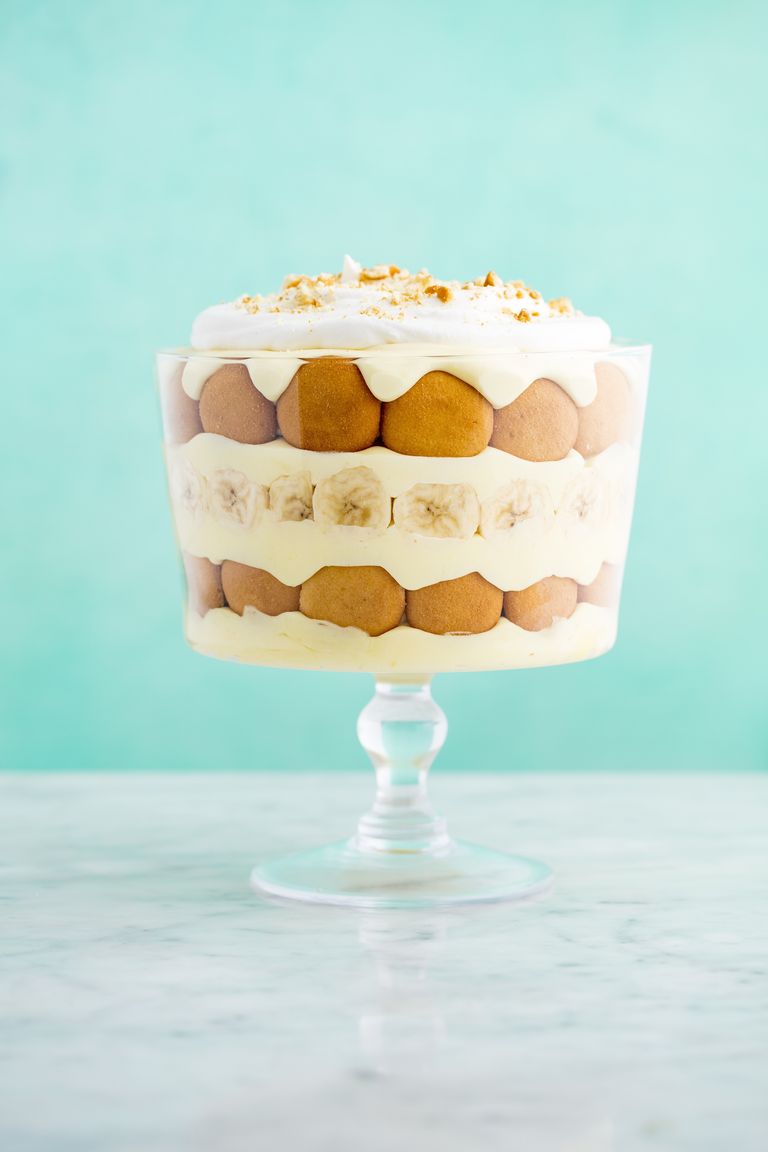 After-dinner choc-ices
Who says that you can't eat ice-cream during fall and winter? This no-bake dessert is perfect for those who are hooked on ice-cream all year round. Place scoops of vanilla ice cream on a tray covered with foil and freeze it until it becomes hard. Then melt the chocolate in separate pans on double boilers and set them aside to cool. Transfer the ice-cream scoops on a wire rack and pour dark chocolate over each scoop. Repeat the same with the milk chocolate too. Freeze them again and then serve them.
Ingredients:
700ml vanilla ice-cream
200g good-quality dark chocolate
25g milk chocolate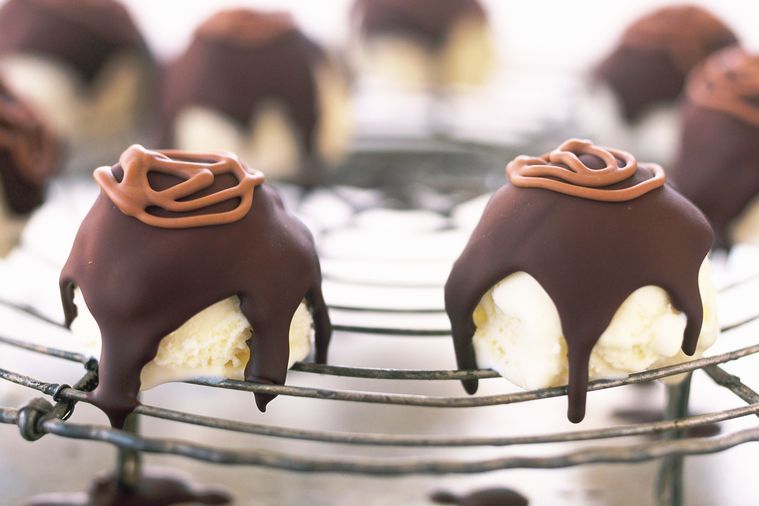 Banana Pudding Bars
These banana pudding bars are super easy to make and really delicious, but I have to warn you that you have to wait for 6 hours before you can eat them. Can you endure the temptation? I have a tip for you! Just make them before you go to bed, so you can enjoy them in the morning without having to think and stress about them for that long. Check the ingredients and find the whole recipe on the link before you get down to work.
Ingredients:
FOR CRUST
1 1/2 c.

crushed Nilla Wafers

5 tbsp.

butter, melted

2 tbsp.

sugar
Pinch sea salt
FOR FILLING
1 1/2

(8-oz.) blocks cream cheese, softened

1/2 c.

sugar

1 1/2 c.

whipped topping

1

(3.4-oz.) package instant banana pudding mix

1 3/4 c.

whole milk
FOR TOPPING
Whipped topping

1/2

banana, sliced
9 Nilla Wafers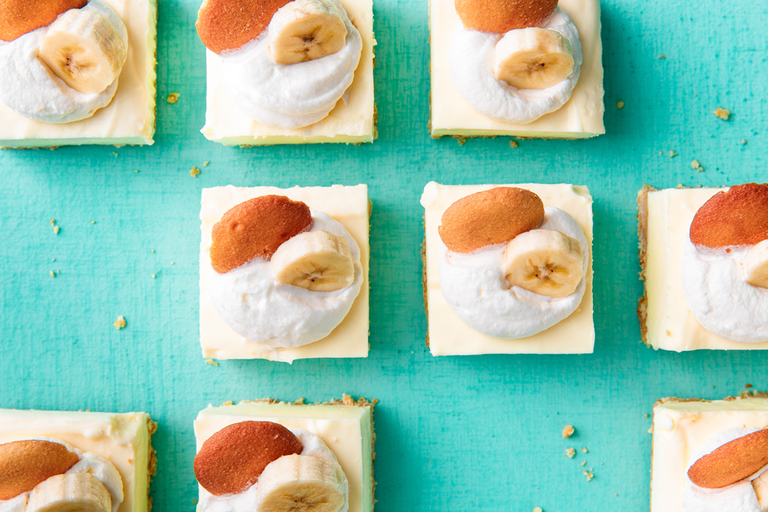 Oreo Cookie Balls
Can't you just get enough of Oreo cookies and you want to eat them in every possible way? This means it's time to give this no-bake dessert a try. The ingredients list is not long, so go grocery shopping and surprise your family and friends with this delicious recipe!
Ingredients:
1

(14-oz.) package Oreos

1

(8-oz.) package cream cheese, softened
Pinch kosher salt

1

(12-oz.) package chocolate chips, melted