After your lunch it is time for the dessert. And if you are not yet inspired what tasty to cook for tomorrow's dessert, let us inspire you with these adorable easy to prepare desserts that will take you not more than half an hour to be prepared. Scroll down the page to explore these delicious dessert recipes and try them all. We are sure you and your family will enjoy the sweet dessert moments.
1.Double Chocolate Mocha Mousse
Ingredients needed to prepare this recipe are 4 oz. semisweet chocolate, 2 oz. bittersweet chocolate, 2 large egg yolks, 1 1/2 tsp. instant espresso powder, 5 tbsp. granulated sugar, 1 1/2 c. heavy cream. Melt the chocolates in the microwave. Allow to cool. Meanwhile, whisk the egg yolks, espresso powder, sugar and a cup of cream into a bowl. Cook over medium heat, stirring constantly, so that it does not stick. Add the mixture to the cooled chocolate. Leave to cool for another 25 minutes. Serve in glasses and decorate with whipped cream.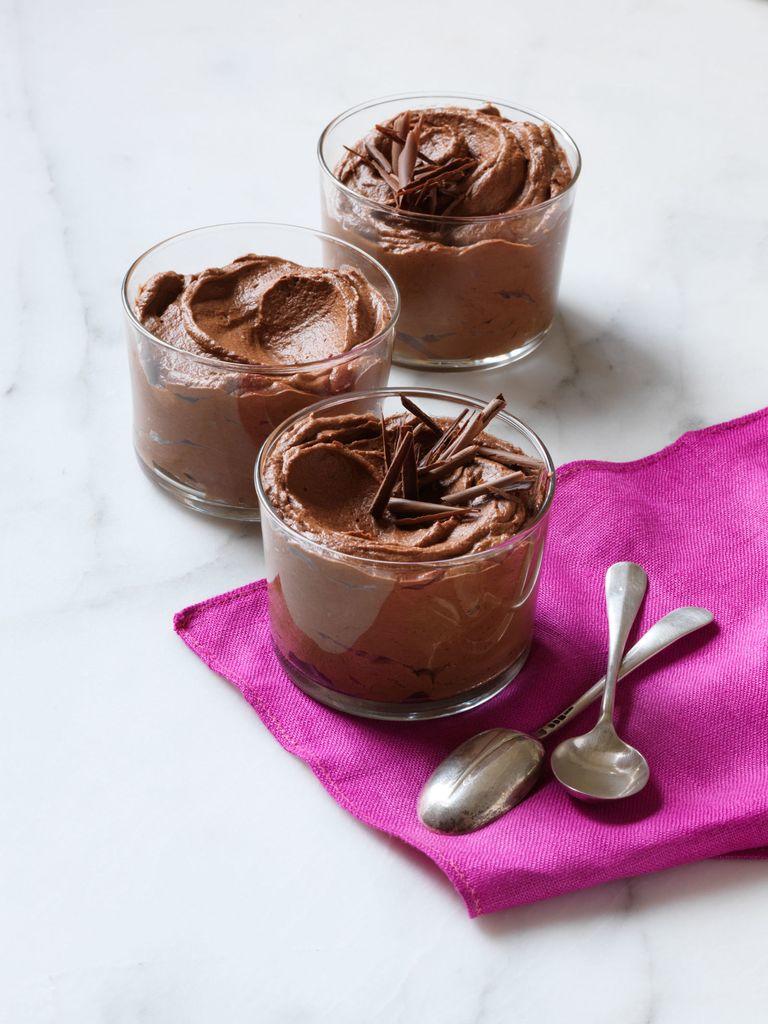 source
2. Maple, Bacon, and Pecan Sticky Buns
To prepare this recipe you need 6 slice bacon, 1/4 c. maple syrup, 1/4 c. packed light brown sugar, 1/2 c. pecans, 1 can Refrigerated Biscuits, 1/2 tsp. ground cinnamon. Heat the oven. Put the bacon in a bowl and bake until browned. Meanwhile, put maple syrup, brown sugar and pecans in a bowl. Add the bacon and place the mixture in a muffin tin. Arrange the biscuits on baking paper and sprinkle with cinnamon. Add the mixture. Bake the muffins for 20 minutes.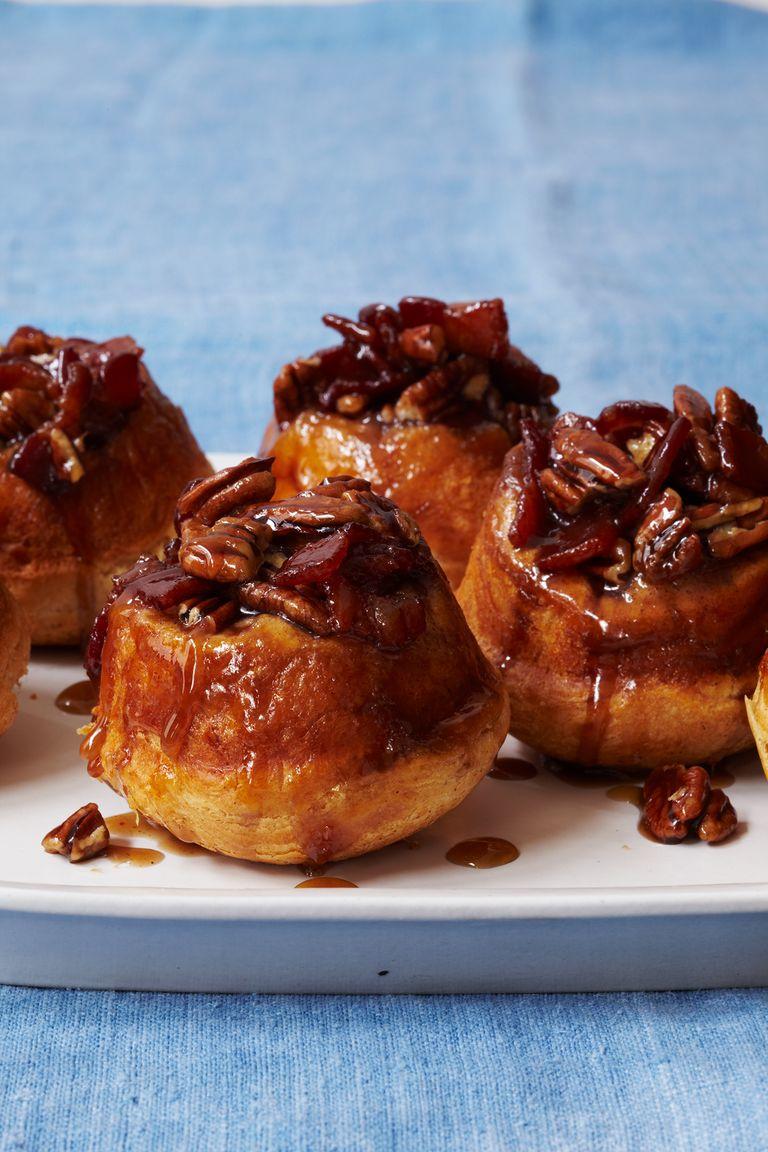 source
3. Flower Cupcakes
You need 1 batch butter cream frosting, Natural food coloring powder or gel paste food coloring, Decorating tips (petal tip, open star tip, small closed star tip) 12 vanilla cupcakes. Mix all ingredients well. Add the mixture to the muffin tin. Decorate as you wish.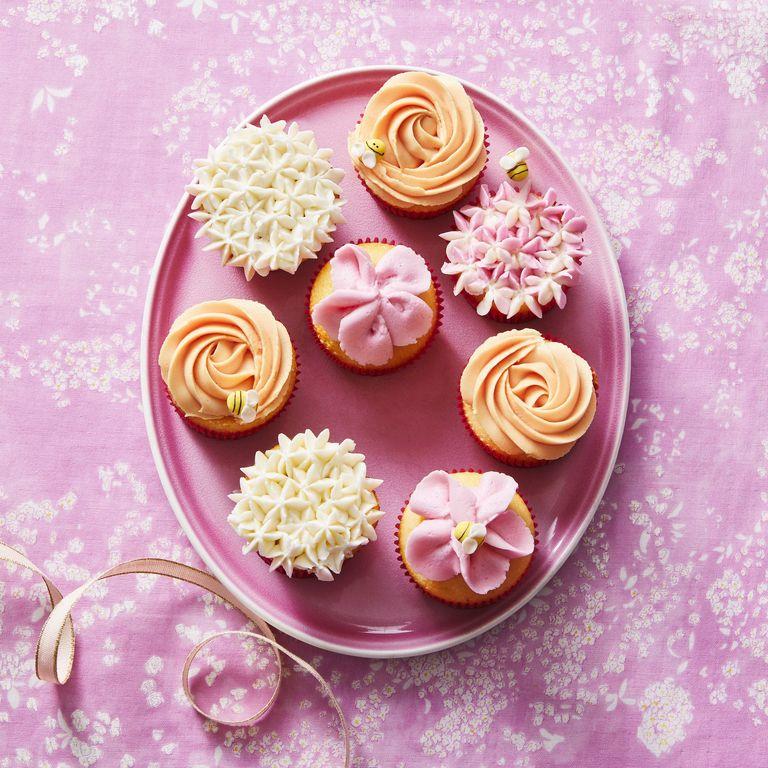 source
4. Chewy Chocolate Cookies
Take Cooking spray, for the pans, 3 c. confectioners' sugar, 3/4 c. Dutch-treated cocoa powder, 1/2 tsp. kosher salt, 2 large eggs, 1 tsp. pure vanilla extract, 1 c. walnuts, chopped, 1/2 c. bittersweet or dark chocolate chips. Preheat the oven. In a bowl, whisk together the sugar, cocoa powder and salt. In another bowl, whisk the eggs and vanilla. Combine the mixtures from the two bowls. Add the walnuts and chocolate. Make the cookies and bake for about 15 minutes.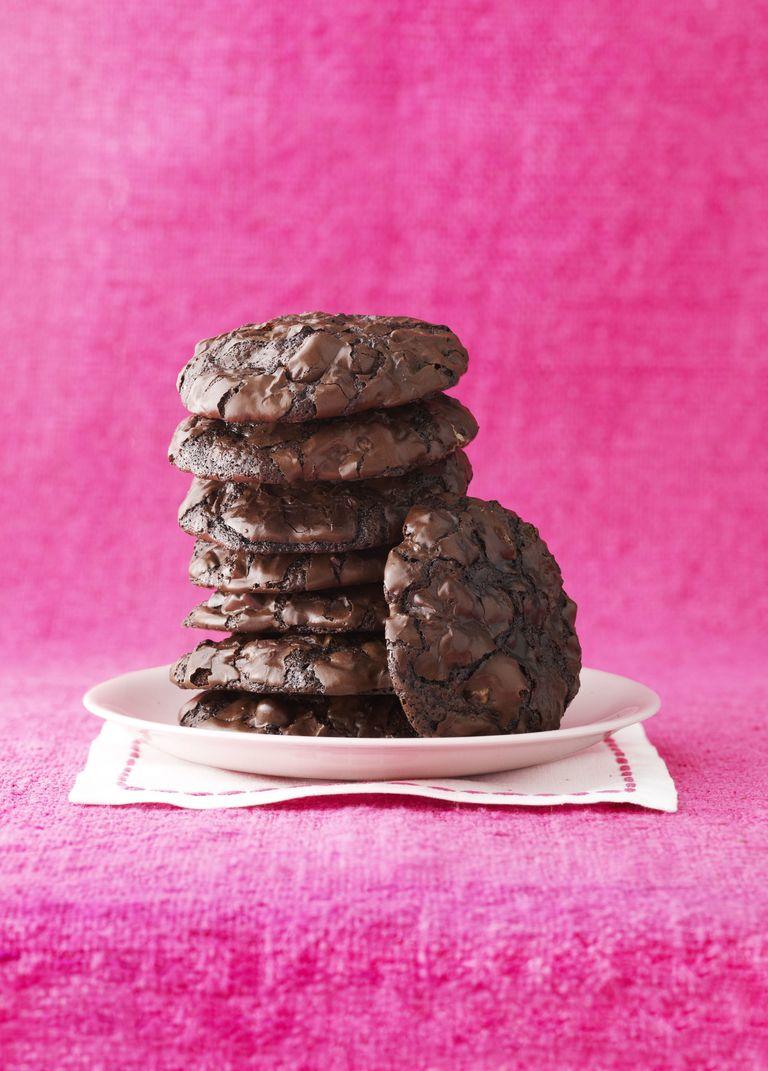 source
5. Hummingbird Cupcakes
Cupcakes need 3/4 c. all-purpose flour, 3/4 c. whole-wheat flour, 3/4 c. brown sugar, 1/2 tsp. baking soda, 1/2 tsp. ground cinnamon, 1/2 tsp. kosher salt, 2 large eggs, lightly beaten, 1/3 vegetable oil, 1/2 tsp. pure vanilla extract, 4 oz. crushed pineapple in juice (about 1/2 cup), 2 large bananas, mashed (about 1 cup), 1/2 c. toasted pecans, chopped. Frosting requires 1 (1.5-ounce) package of freeze-dried pineapple, 1 (8-ounce) package of cream cheese, at room temp, 4 tbsp. unsalted butter, at room temperature, 3 c. confectioners 'sugar, 1 tsp. pure vanilla extract. In a bowl, mix the flour, sugar, baking soda and cinnamon. Add eggs, oil and vanilla. Combine well. Add banana and pineapple. Put the mixture in a muffin tin. Bake for 30 minutes. Meanwhile, make the filling while baking. Combine the ingredients with a mixer. Refrigerate the resulting mixture to thicken. Add the filling to each muffin. For decoration, use pieces of pineapple cut in the shape of a triangle.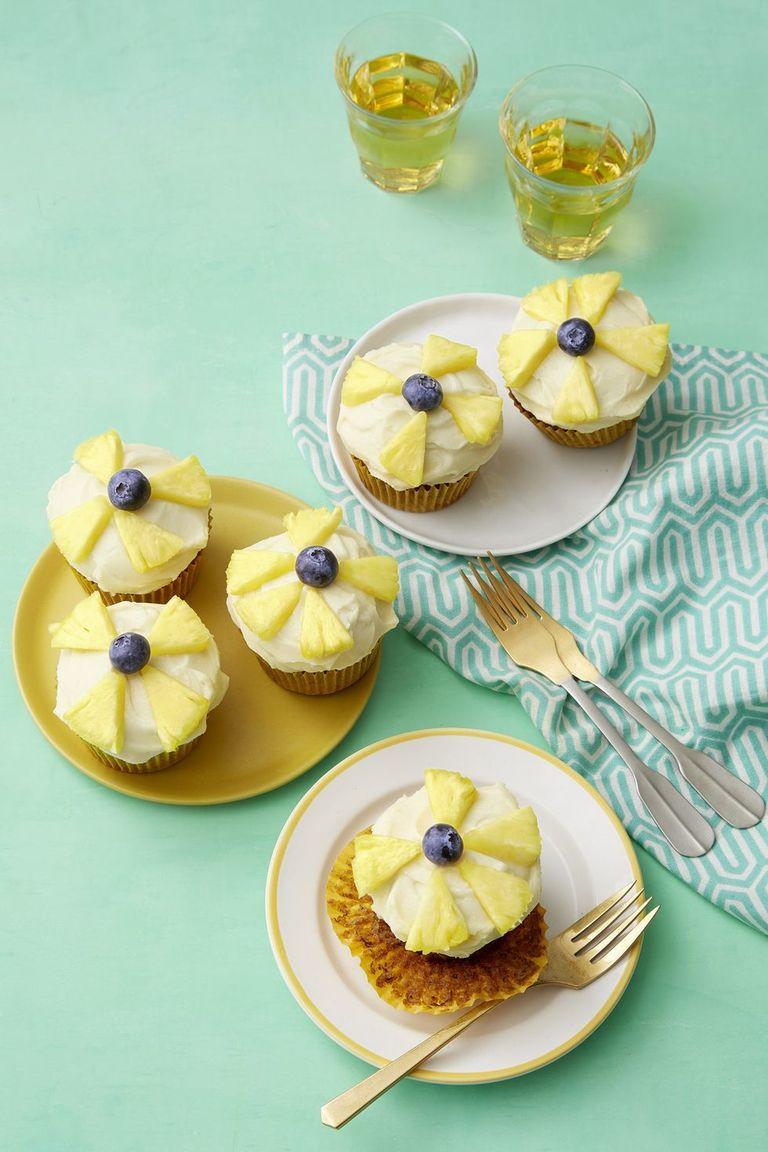 source