Eggs are one of the favorite meals for many people because of many reasons: they are cheap; they are versatile, and rich with protein, so they are the best way to start your day with a portion of eggs. Here we present you some delicious eggs breakfast ideas that will keep you energized all the day, and that are very delicious at the same time too. Read the recipes and prepare them.
1.Baked Eggs with Spinach and Tomato
Ingredients needed to prepare this recipe are 2 tbsp. olive oil, 1 medium onion, 5 oz. fresh baby spinach, 1 can whole tomatoes, 1 tsp. ground cumin, 1 tsp. salt, 1 tsp. Freshly ground pepper, 1/2 tsp. sweet paprika, 2 tsp. hot sauce, 4 large eggs, 1/4 c. crumbled feta. Heat the oven. Put oil in a bowl and heat it over medium heat. Add the onion and sauce, fry until soft. Add spinach. Put the remaining ingredients in another bowl and combine well. Add the mixture to the other bowl. Add the eggs, and finally sprinkle with feta cheese. Bake for about 15 minutes.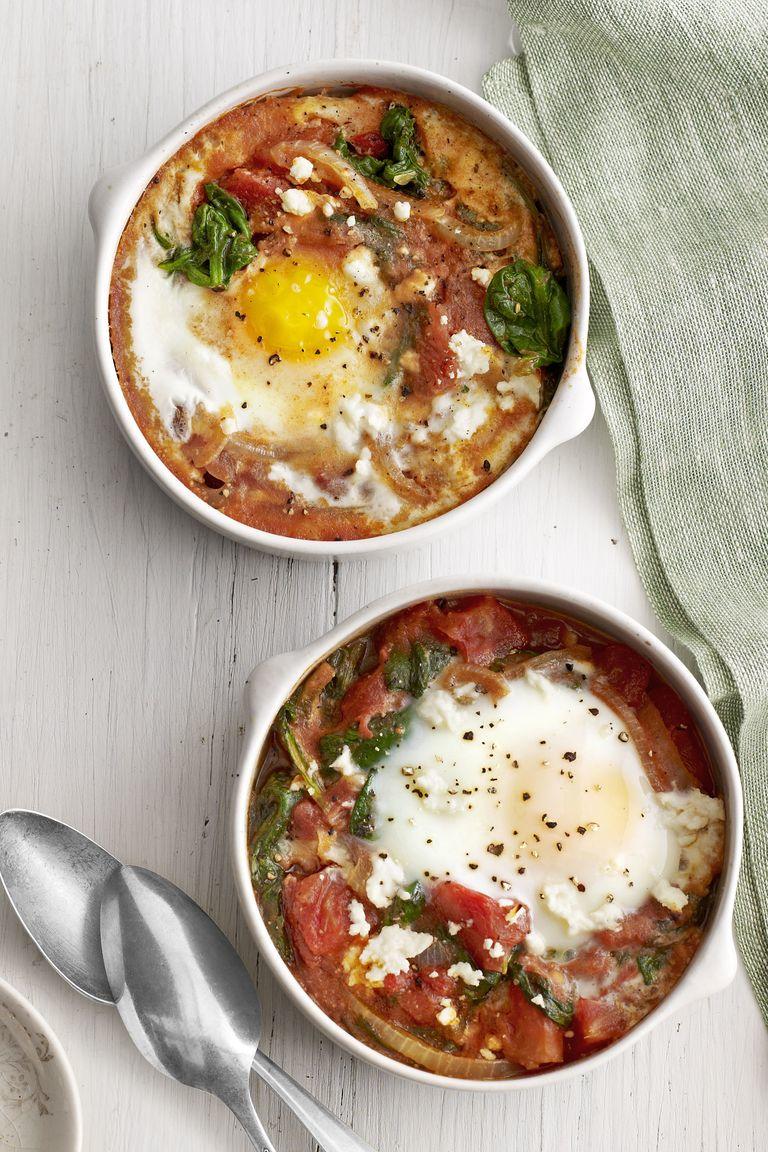 source
2. Egg and Tater Bake
To prepare this recipe you need 1 lb. (4 cups) frozen potato tots (such as Ore-Ida), 2 tbsp. olive oil, 1 medium onion, finely chopped, kosher salt, black pepper, 1 red bell pepper, cut into 1/4 "pieces, 8 oz. cremini or white mushrooms, halved (or quartered, if large), 1 clove garlic, finely chopped, 3 plum tomatoes, cut into 1 "pieces, 1/2 bunch fresh spinach, thick discarded stems, very roughly chopped, 8 large eggs, 2 oz. extra-sharp Cheddar, coarsely grated. Arrange the slices of bread in a baking dish. Bake for about 20 minutes. Meanwhile, fry the onions in heated oil. Add the red pepper, mushrooms and cook. Add the spinach. Finally add the eggs. Bake for 18 minutes.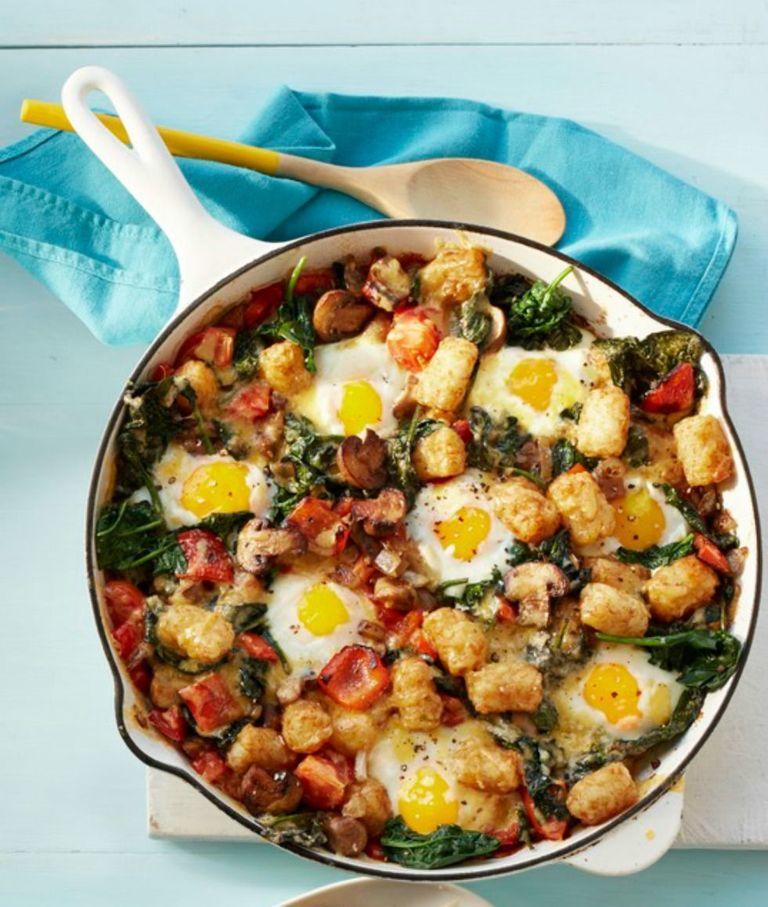 source
3. Cheddar, Pepper, and Avocado Scrambled Eggs in a Jar
It takes 1 oz. cooked ham, cut into 1/2 "pieces, 1 oz. extra-sharp cheddar, coursely grated, 1 scallion, finely chopped, 2 large eggs, 1 tbsp. milk, Kosher salt and pepper, 1/8 red pepper, chopped, 1/8 avocado. Put the ham, cheddar in a jar and leave them in the fridge overnight. The next morning add the eggs, milk, salt and pepper. Mix well until the mixture is combined. Decorate with red pepper, avocado.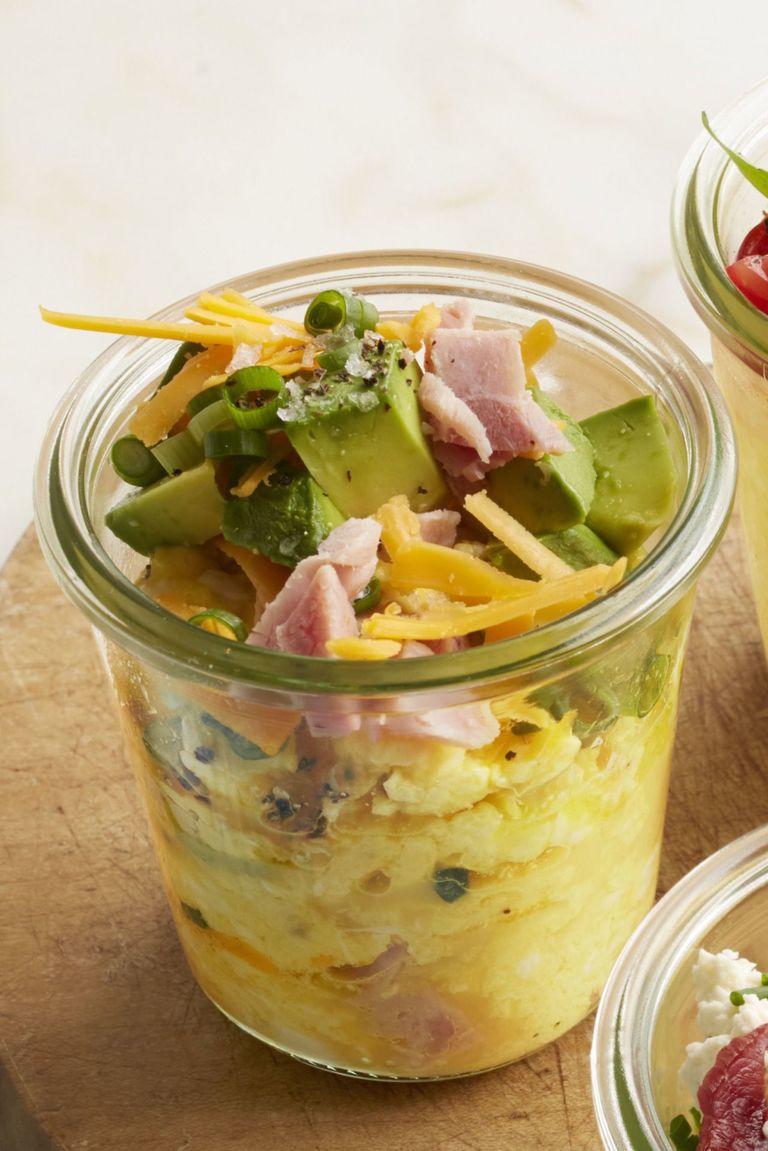 source
4. Pimiento, Cheese, and Ham Scramble
Take 8 large eggs, 1 tsp. hot sauce, kosher salt, Pepper, 1 tbsp. olive oil or unsalted butter, 3 oz. thinly sliced deli ham, 1 medium roasted red pepper, 2 scallions, 2 oz. extra-sharp Cheddar, 2 tbsp. cream cheese. Put the eggs in a bowl. Add the ham and fry for about 5 minutes. Serve with cream cheese.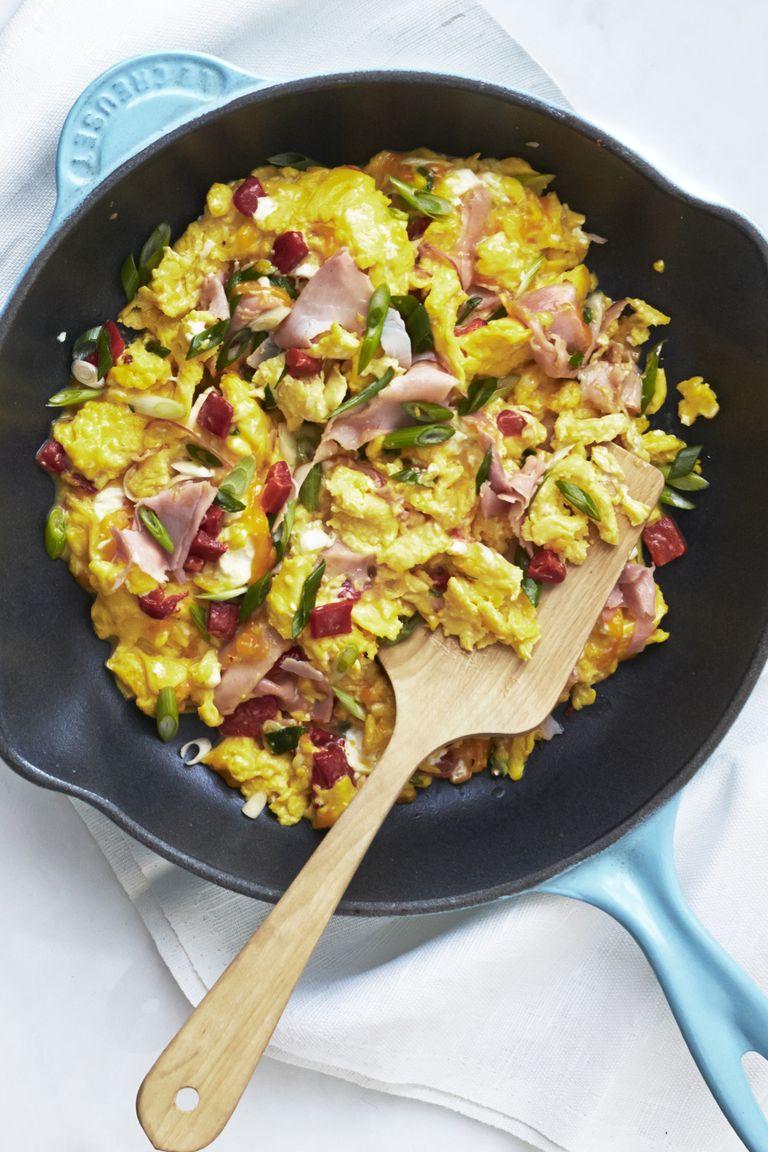 source
5. Buttermilk Waffle, Bacon and Egg Sandwich
The following ingredients are needed: 3/4 c. all-purpose flour, 1 1/2 tsp. baking powder, 1 tsp. baking soda, 1/4 tsp. kosher salt, 10 large eggs, 1 3/4 c. buttermilk, 3 tbsp. unsalted butter, melted, plus more for the eggs, 16 slices of cooked bacon, 2 c. baby spinach, Maple syrup, for serving. In a bowl, mix the flour, baking powder, baking soda and salt. In another bowl, whisk the eggs. Add them to the other bowl and add butter. Mix well. Put the mixture in a waffle iron. Cut the resulting waffles in half and form a sandwich with eggs, bacon and spinach.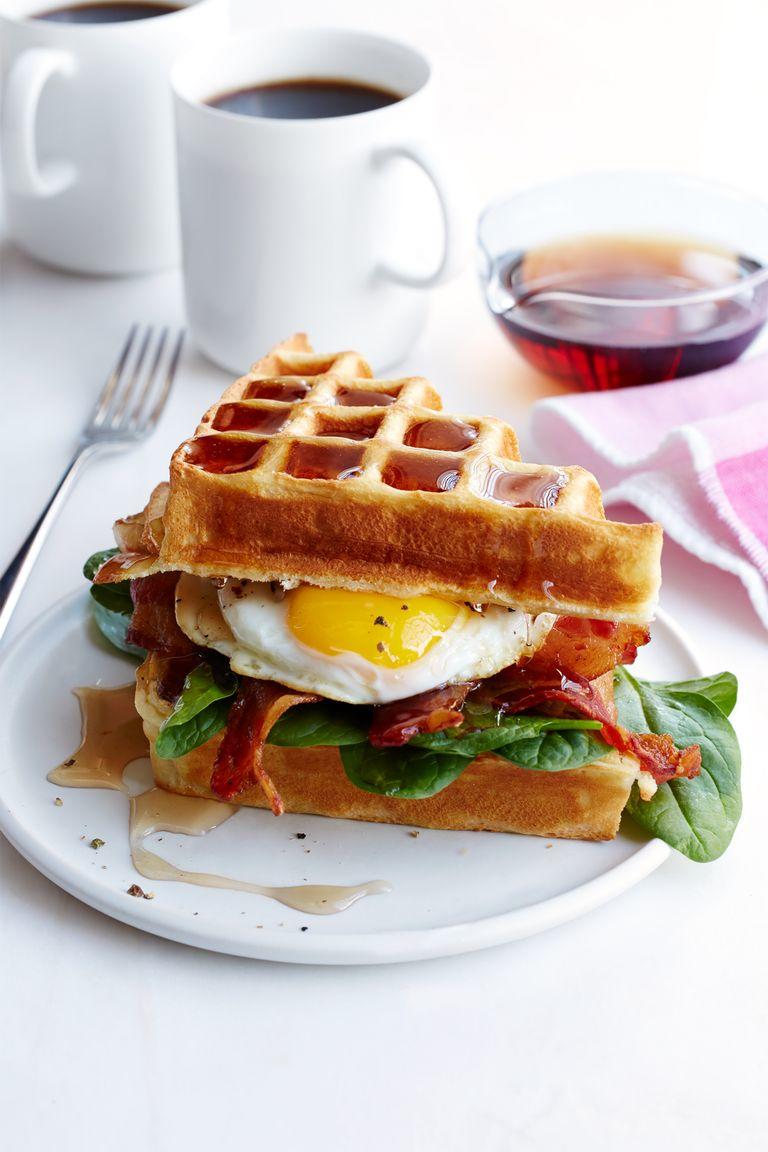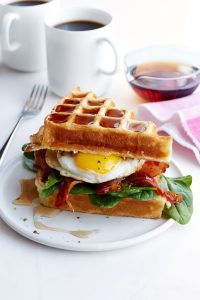 source