Each year, the world's most esteemed superyacht builders push the boundaries of yacht design and construction to deliver the biggest and most impressive superyacht projects in the world. From the boldest yacht designs to ground-breaking builds featuring the latest amenities, yachting enthusiasts have come to expect the best when it comes to their superyachts.
Discover the four stand-out superyacht projects set for completion in the next few months.
New Megayachts Under Construction
M/Y WITCHCRAFT, Amels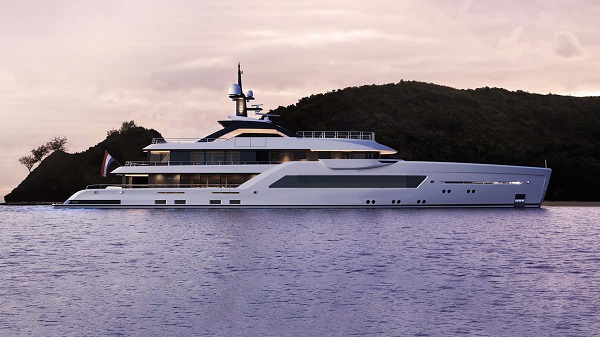 Superyacht project WITCHCRAFT is a 60m motor yacht built in the Netherlands by Amels and is scheduled to be delivered by the end of 2022. Project WITCHCRAFT features an exclusive exterior design by Espen Oeino, with future-proof hybrid technologies designed with the environment in mind. With a newly designed full displacement hull and tier III compliant main engines and generators, superyacht project WITCHCRAFT promises superb cruising abilities and a transatlantic range of over 4,500 miles.
Project WITCHCRAFT's interiors have been thoughtfully considered and designed as a floating oasis of luxury. She boasts timeless elegance, ultimate comfort, and a sense of serenity through a monochromatic palette with refined furnishings.
With a 1,744-square-foot sundeck, a touch-and-go helipad, and an interior volume of 830 GT, superyacht project WITCHCRAFT offers ample indoor and outdoor spaces for entertainment, rest, and relaxation for up to 12 guests in 6 spacious and well-appointed staterooms.
M/Y ASIA, Royal Hakvoort
Another exciting new megayacht under construction is Royal Hakvoort's 61m Project ASIA. This highly anticipated superyacht project is under construction at the shipyard Hakvoort in the Netherlands with a stunning design by the team at Sinot Exclusive Yacht Design.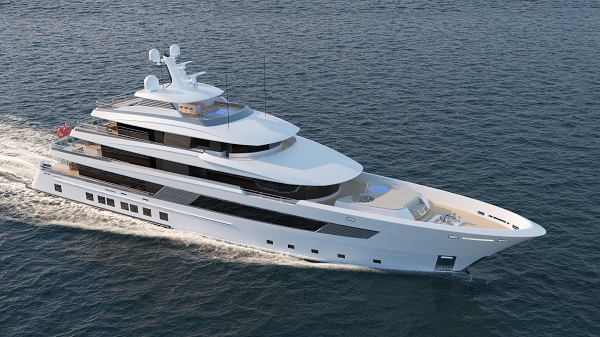 Superyacht project ASIA has been beautifully designed to make the most of life on the water. Suitable for charter for up to 16 guests, she offers well-configured accommodation for everyone. Superyacht project ASIA also offers a host of amenities, including a bountiful gym, a massage room, Hamman and a spacious beach club. In addition, the main deck features a full beam owner's suite with panoramic views featuring his and her bathrooms, a lounge with a large dining table, a seating area and a bar that provides a private escape.
Featuring a swimming pool, full-service bar, and ample seating areas and sun pads, project ASIA is set to be one of the most sought-after superyachts.
M/Y JAG, Lurssen
Lurssen's 122m project JAG is one of the largest new megayachts under construction in the world, scheduled for delivery in 2023. This revolutionary superyacht project is currently being designed by the talented Venice-based design firm Nuvolari Lenard and will feature an exquisite interior by the world-renowned Reymond Langton team.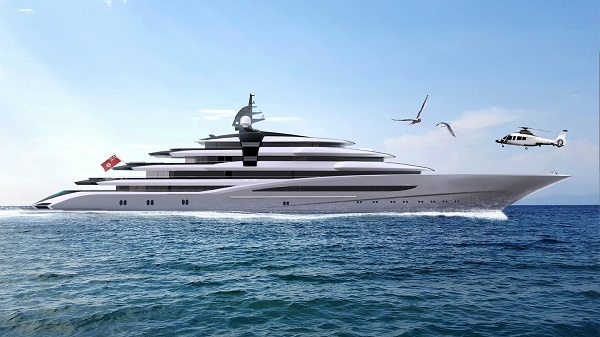 Commissioned by a repeat, experienced client as a replacement for his 96m superyacht, Project JAG is the owner's third Lürssen superyacht and is a beautiful and bespoke homage to the owner's lifestyle. The vessel features accommodation for 20 guests across 11 immaculately designed cabins. The new megayachts under construction can also accommodate a staff of 40, ensuring all your needs are taken care of.
JAG's standout features include a helipad, beauty salon, spa, sauna, swimming pool, indoor and outdoor cinema, dance floor, gym and elevator. There will also be ample room for a selection of tenders and toys, including a sailing dinghy, Sea Bobs, sea scooters, windsurfers and a submarine.
M/Y MARANELLO, CRN
Superyacht MARANELLO, also known as HULL 143, is a 67m luxury yacht currently under construction at the CRN shipyard. Project MARANELLO features an exclusive design both inside and out by the talented team at Nuvolari Lenard.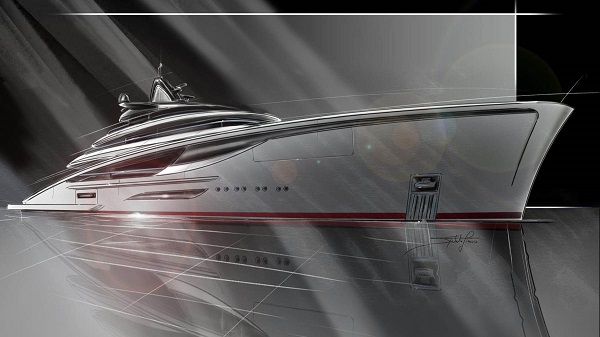 Superyacht project MARANELLO's appearance will be modern and aggressive, with sweeping lines seamlessly connecting the raked bow to the lower deck stern. The superyacht will offer exquisite accommodation for up to 14 guests over 7 en-suite cabins.
Announced features include a touch-n'-go helipad on the bow, a beach club and large outdoor entertainment spaces with diesel-electric propulsion for more environmentally friendly cruising.
The main deck, bridge deck and sundeck provide balanced indoor and outdoor social areas, with ample space on the bow for sunbathing with sweeping views of the anchorage.
It is without question that these new megayachts under construction will be some of the finest superyachts built to date, expertly designed to provide unmatched levels of luxury and comfort at sea.
Which luxury superyacht do you want to explore the world on?