Congratulations on your decision to become a LEED Green Associate and enhance your career. Earning a LEED credential is a great plus for architects, civil engineers, mechanical engineers, real estate professional and lots of other professions that are involved in the design/construction industry. LEED is currently the most widely rating system in the world and the number of LEED-certified projects is increasing each day. In this article, we will mention the top tips to pass LEED Green Associate exam on your first-try! However, before getting into details, let's give some information about LEED credentialing exams. If you are already in the stage of preparing, you can skip the following section and continue reading from the LEED Green Associate exam tips.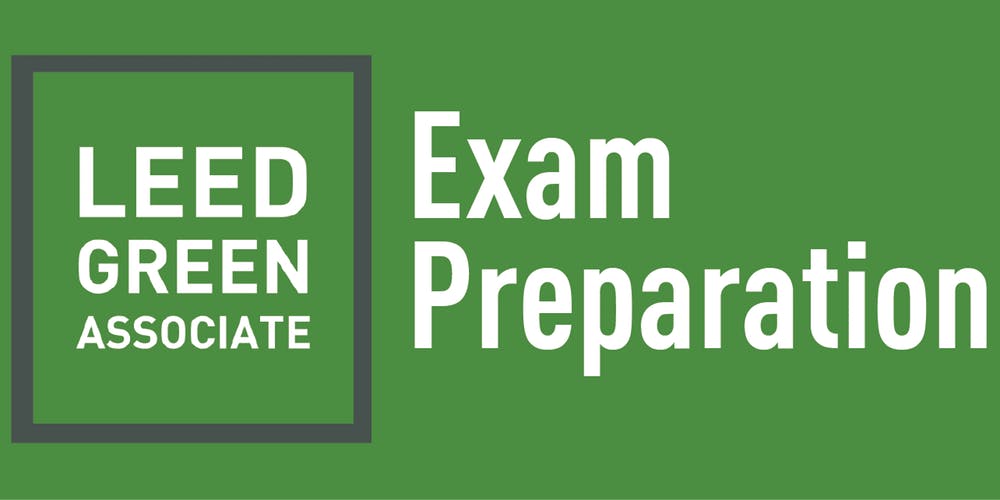 About The LEED Credentialing Exams
There is no eligibility requirement to take the LEED Green Associate exam. Anyone who is 18 years or older can take the exam throughout all the Prometric testing centers around the world. Becoming a LEED Green Associate is also the first step of earning your Professional (LEED AP) credential with a specialty. In other words, if you want to become LEED AP BD+C, you should first pass the LEED Green Associate exam and then pass the LEED AP BD+C exam. This rule is the same for earning all LEED AP with specialty credentials.
LEED Green Associate credential
It is for professionals who want to demonstrate green building knowledge and expertise in nontechnical fields of practice, to denote basic knowledge of green design, construction, and operations. LEED Green Associates have a proven, up-to-date understanding of green building principles and practices. On the other hand, the LEED AP with specialty credential is created for professionals with advanced knowledge in green building practices and with specialization in a particular LEED rating system. The LEED AP credential is divided into different specialties. Each credential is designed to show in-depth knowledge of a particular rating system. Below is the list of all LEED AP specialties:
LEED AP Building Design + Construction (LEED AP BD+C)
LEED AP Interior Design + Construction (LEED AP ID+C)
LEED AP Operations + Maintenance (LEED AP O+M)
LEED AP Neighborhood Development (LEED AP ND)
LEED AP Homes
That being said, let's talk a little about the exam format.
LEED Green Associate Exam Format
All the LEED credentialing exams are computer based. And all the LEED credentialing exams, including the LEED Green Associate exam, contains 100 randomly delivered multiple choice questions that must be completed in 2 hours. Exam questions and answer options will be displayed on screen. And in order to pass all the LEED Professional exams, candidates must score 170 points out of 200 possible points. The minimum score in all the LEED professional exams is 125.
In the exam there will be both scored and unscored questions. Unscored questions are used to collect performance data for USGBC. Test-takers will not know if a question will be scored or unscored. As there are both scored and unscored questions in the exam, and the questions are also scaled, there's no way to know how many correct answers you need in order to pass the exam.
Most of the exam questions are multiple choice questions that ask to choose the correct answer out of the displayed choices. However, some questions will have more than one answer, and those questions ask to choose 2 out of 4 choices, or 3 out of 5. And there will be no partial credit for choosing only one correct answer.
Top Tips To Pass LEED Green Associate Exam On Your First-Try!
Now let's go through the top 10 tips that you should consider while studying for your LEED Green Associate exam.
1- Even though the LEED Green Associate exams are sometimes referred to as conceptual exams, in reality the exam goes well beyond that.
Without diving into the LEED prerequisites and credits, a candidate cannot ever guarantee passing the test. For example, you may have learned the definition of the heat island effect, however, the definition itself will not be enough. You should also know the strategies that will aid in reducing the heat island effect. Or, you may be asked about which value to use for analyzing the heat island effect of roofing materials.
If you go through the Heat Island Reduction credit in LEED, you can easily see how those green building concepts turn into real life with LEED requirements. While the LEED AP BD+C exam will surely ask for some calculations and even required LEED documentations under that credit, the LEED Green Associate exam will test your knowledge on more basics.
2- Thoroughly know the ASHRAE and other important standards.
During your study, while you read about the ASHRAE 90.1 standard, you may very well not pay attention to the number "90.1". However, it is very likely that you will get a question asking which ASHRAE standard is an energy standard for buildings that is also used to identify project's climate zone. And the answer choices can be:
a) ASHRAE 90.1
b) ASHRAE 62.1-2010
c) ASHRAE 55-2010
d) ASHRAE 90.1-2010
Without thoroughly knowing these standards, there is no way to go for the correct answer on these types of questions. This is also true for some other standards such as REACH Optimization, SMACNA Guidelines, National Institute of Building Sciences (NIBS) Guideline and many others. You should know the scope of each program and standard that you have gone through during your study. These are important standards/programs because LEED refers to them under the LEED prerequisites and credits. Even though LEED Green Associate exam may not ask about the LEED credit that refers to a particular standard (LEED AP BD+C exam will surely ask for that), it will still ask for the scope of that standard. Is a particular standard used for increasing energy efficiency or is it used for lighting design?
3- Know the LEED definitions.
Knowing definitions such as albedo, bioswales, prius effect, linear approach, and many others will surely help you have an easy time on the LEED Green Associate exam. It is highly recommended to go through the Glossary and the Index section of your study material before taking the exam and make sure you are comfortable with them all. An example question that you may encounter may provide you a definition of a term and ask you what that term is.
4- Know the LEED prerequisites.
We mentioned that without diving into the LEED prerequisites and credits, a candidate cannot ever guarantee passing the test. However, knowing each LEED prerequisite in a little depth is essential. The prerequisites represent the minimum standards that all projects under a certain LEED rating system should meet. And you can expect to see a question asking for the minimum percentage of indoor water use reduction that every newly built LEED project should accomplish.
 5- Thoroughly know the refrigerants table.
Knowing the types and properties of the refrigerants is essential. You may be given different types of refrigerants in the answer choices. Also, you may be asked to choose which of them has the least ozone depletion potential. While studying the refrigerant table, it is important to pay attention to the details such as natural refrigerants do not have any ozone depletion potential. And HFCs' ozone depletion potentials are very close to zero.
6- Make sure you read all the questions and the choices very carefully!
If a question seems to have more than one answer, make sure you thoroughly understand the question. Also pay special attention to the wording. It doesn't matter how well you know the exam content. If you don't read the content very carefully, the exam can easily trick you into selecting the wrong answer.
7- Thoroughly know the LEED Minimum Program Requirements (MPRs).
This is one of the shortest topics of the LEED Green Associate exam, but it is worth mentioning. You may be asked the minimum gross floor area that a LEED BD+C project or a LEED ID+C should contain in order to be eligible for a LEED certification.
8- During the exam, if you forget something, some questions or answer choices can make you remember the answer of another question.
In the LEED Green Associate exam there will be 100 questions and roughly 4 answer choices in each question. So you will see 400 answer choices. This means that an answer choice you see after skipping a question can make you remember the correct answer. (Test-takers can leave a question unanswered and flag questions for later review. And also can change the answer of any test question before the completion of all LEED credentialing exams.)
9- If you want to take the LEED AP with a specialty after the LEED Green Associate, don't schedule both exams on the same day.
The LEED AP with specialty exam can be taken in one sitting. However, in this case, the exam will take 4 hours. Even if you are well prepared, your mind will get tired after concentrating for 2 hours exam. And you will surely need a better concentration level for the LEED AP BD+C exam. Instead, take the LEED Green Associate exam in one day and LEED AP with specialty exam the next day. If you have extra time at the end of your exams, it's highly recommended that you review all the questions.
10- If you are well prepared, you will have an easy time during the exam.
No exam is hard if you know what to expect and if you prepare well. Telling you what to expect on the exam is about your LEED study material and studying well is about you. We hope you to pass LEED Green Associate exam on your first-try.
We wish you all the best in your green career!
Author: A. Togay Koralturk
Author of LEED Complete Study Guides