Do you believe that Greece is a hot tourist location than you think? For some reasons, most of the vacation destinations in the country are under-reported. A visit will change your whole impression about the country. What makes it a better choice than most locations is the availability of numerous mind-blowing attractions, world class accommodation facilities, and food at lower prices.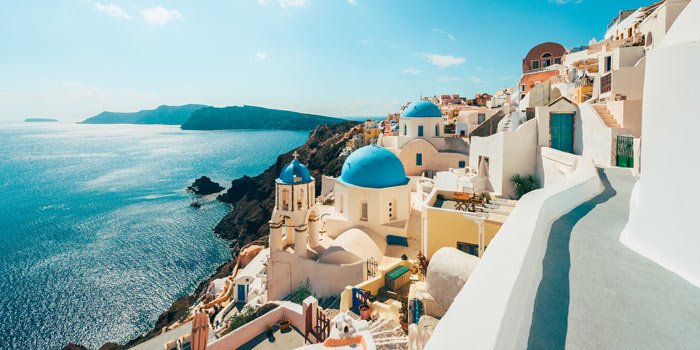 One travel challenge people usually face is not getting a direct flight to their exact destination city. So, they may end up taking a flight to another city of the country and then complete their journey with another flight or through other means of travel. To avoid that on your way to Greece, you can Book Aegean air tickets with Travelo.gr to get a direct flight to the exact Greek city you are going since it is a Greek-based travel agent and offers direct flights to many cities in Greece. It will make your trip faster, easier, and probably cheaper when you get a direct flight to your exact destination.
1. Rhodes Island
Even if you have not been to Greece, you should have heard on the Island of Rhodes. Located at the southwestern coast of Turkey. It is one of the most beautiful Islands around. One of the points of attraction on the island is its wonderful swimming spots to allow you cool yourself in a swimming session.
If you love the nightlife, you will get more than enough in Faliraki, in the island, there are numerous world class hotels there too. One thing that the island is also known for its super clean beaches. Some people can't just do without visiting the beach and if you are one of them, you will have a swell time in Greece.
Can you remember the mighty Colossus of Rhodes? It is one of the seven wonders of the world. Rhodes Island housed this wonder. This means that the island also has some historical touches that you will love. Most of all, you don't want to miss the wonderful scenery in the island too. Don't go without your camera.
2. Zakynthos
How does a combination of turquoise water, white sandy beach, and chalk-white cliffs sound to you? This is exactly what this destination offers and many more. However, what really makes Zakynthos famous is the Navajo Beach which is said to be the most photographed spot in the whole of Greece. To complete the package offered by this island is the presence of olive groves as well as fir trees.
If you have visited many vacation destinations, you will agree that some of these locations have feelings that words cannot really describe. Zakynthos is one of such. Nothing can really prepare your mind for what awaits you there.
3. Meteora
This is a little different from others. One of the oldest churches in Greece is housed in Meteora. You know what it means for a location to be named a UNESCO world heritage site. Yes, Meteora is a UNESCO world heritage site. It is filled with beautifully carved mountains and rocks and the church is located on some of the rocks. You need to have a view of the church from a distance even before you go into it. You will be twice as lucky if you come around when there is a service going on in the church.
Having discussed a few hot destinations in Greece, it is also necessary to add a few tips to make your trip a memorable one.
Learn how to say a few words in Greek as the locals are usually impressed by visitors who can speak their language.
Greeks are not excellent in giving directions so be careful to avoid missing your way.
In Greece, there are certain places you should not visit with a skimpy dress especially places of worship.
Punctuality is not important to them so don't always expect it from them.
The demand for travel related products and services peaks in Greece from late July through late August and so does their prices. You can avoid this period if you don't love crowd.
With these few tips, you should make the best of your trip to Greece. Also, don't forget to check out the attractions discussed above and many others. Do have a safe and fun-filled trip.