Did you know that Madrid is home to the world's current hottest neighborhood to visit? Yep, Spain's capital has grown into a bustling city full of art, culture, and delicious tapas. When you hear about people traveling to Spain, you often hear about dazzling paella-filed trips to Barcelona, a haze-inducing weekend in Ibiza or even a delightful vacation in Seville with sangria and lots and lots of flamenco. However, Madrid is full of hidden secrets and a wonderful magic that you'll enjoy if you know just how to look for them.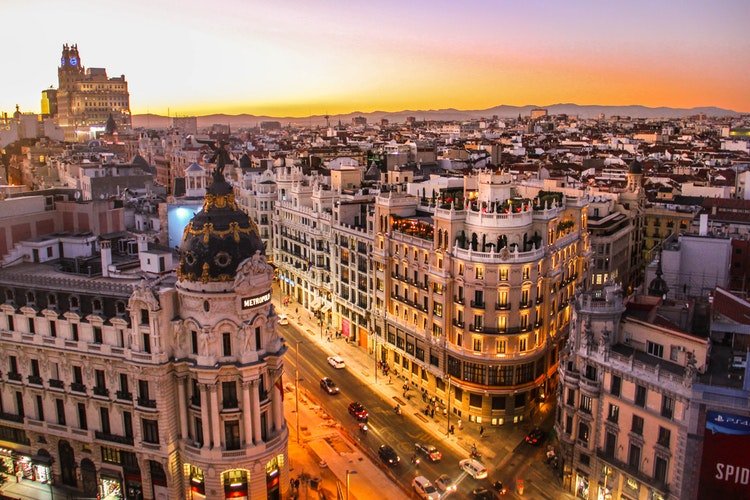 source
The Rich History and Stunning Architecture
Madrid's Palacio Real, or the Royal Palace, is actually the largest royal palace in all of Western Europe. The palace, which doesn't actually house King Felipe and the royal family, is nearly 300 years old and has over 2,800 rooms inside of it. The facade is impressive and still preserves some of the architecture of the original building that was burnt in a 1734 fire. As an added bonus, just a few minutes walking from the Royal Palace sits the Temple of Debod, a 2nd Century BC Egyptian temple. Because Spain helped Egypt preserve a few monuments and archeological sites in the 1960s, Egypt decided to dismantle the temple stone by stone and shipped it over to Spain as a gift. It looks impressive and sits atop a wonderful park where you can lay out on the grass, listen to a local Spanish guitar player and take pictures of the wonderful views of Madrid all at once.
The Ease and Safety of the Metro
London and Paris have nothing on Madrid when it comes to the ease and safety of the metro system. Covering basically any area of the touristic center you'd want to see and much more beyond that, the Madrid metro has nearly 2,400 trains in service and even connects directly to all four of the airport's terminals. This makes it an ideal city to visit for those looking for a cheap and easy way to travel safely in a capital city without expensive taxi fares and dodgy buses. Madrid, in general, is a safe city, particularly for being a capital city. With a rating of 85%, Spain is ranked 17th out of the safest cities in the world to travel in. While you'll still need to be vigilant about flashing money around in public and keep an eye on your things in crowded places, Madrid is known for being extremely safe. However, it's still a good idea to think about your safety during any stay abroad. Even though Spain continually ranks as having some of the lowest out-of-pocket surgery fees and hospital bills for unexpected stays, if you're going to be doing a lot of adventure sports or hiking through the mountains while in Madrid, it's a good way to protect yourself and your family.
The Abundance of Cultural Activities
Madrid was named a European Capital of Culture in 1992, and once you step foot in the city, you'll understand why. With a wide variety of cultural venues ranging from art museums such as the Reina Sofia and Prado to exhibits in the Matadero, an old bullfighting warehouse, you're never too far from something magical, impressive and rich with culture. A quick walk around any of the city's impressive yet varying neighborhoods will yield something delightful to engage in. You can head to an abandoned tobacco factory called Tabacalera to walk through artist-led expositions and dance classes or visit a bar slash movie theatre where you can get drinks, eat popcorn and watch an old black and white film play on mute at Sala Equis, which used to be the city's last X-rated cinema.
A Well-Kept Secret, But Not For Long
Following the recent ranking of the Embajadores neighborhood as the number one place to visit in 2018, tourists are beginning to flock to Spain's capital in hopes of discovering the magic it has to offer. Madrid, however, in reality, doesn't really offer anything that special to a traditional traveler. There's no Eiffel Tower, no grand river Thames and no particularly spectacular skyscrapers from which to witness a sunset. What Madrid does offer, however, are hidden little gems that will leave you breathless for their pure simplicity and charm. Cheap tapas, great wine, easy transport and some of the best people await you here in Madrid. What are you waiting for?