Home improvements are a necessary part of home ownership. They help to enhance the existing structure, while you are upgrading or altering the interior or exterior. They help lengthen the life of a home. Improvements can also be a key selling point for home buyers.
Sometimes repairs are necessary because of inclement weather. Thomas Miller from Proformance Orlando Roofing Contractors warned that during a hurricane an old roof can take on thousands of dollars in damage. While some minor repairs can be done in the better part of a day, other major roof repairs or roof replacement can take days, weeks or even months to complete. If you're a handyman or contractor, you could probably do a lot of this work yourself. However, for most of us, we're better off calling in the professionals to get the job done right.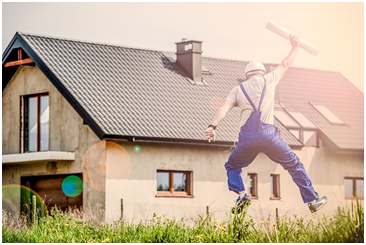 If you're not sure where to start, there are a lot of websites that you can turn to. You can learn about the typical kinds of roofing replacement and repairs that are done, inquire about average turnaround time and request a price quote. You can also check into commercial contractor services that are available in your area.
Here are a few important reasons why roofing should only be done by experienced contractors:
1. They know what they're doing.
Most roofing contractors have been in business for many years. They have plenty of experience in repairing or replacing roofs of a wide variety of homes. Many states also require contractors to be licensed before they can start their profession. They can usually give you a good estimate as far as what will need to be done, what kinds of materials are required and how much the job should cost. You could do it yourself, but without the proper experience, materials or know-how, the job could end up taking more time and be even more expensive than you initially expected. Also, be wary of any unlicensed contractors. They may offer to do the job for a cheaper price, but you are taking a great risk by hiring them. If they do a subpar job or leave without completing the project, you could spend even more money on getting their job fixed.
2. Experienced roofers never work without a contract.
Before beginning any kind of work on your roof, an experienced contractor will have a signed contract. This contract is signed by both parties, and expressly specifies the work to be done, a timeline for the project, the materials to be purchased and payment terms. This is good protection for you as a homeowner in case something goes wrong. It holds the contractor for the work that has to be done according to the contract. It also ensures that they will be paid for their work upon satisfactory completion of the job.
3. Licensed contractors are insured.
Every contractor is required to be insured. This is essential in case of workplace injuries or accidents. It also protects the homeowner from being liable for any costs that may be incurred should the contractor become injured while on the job or if they damage your property in any way. You can ask the contractor for proof of insurance before signing a contract. They should have both workman's compensation and liability insurance coverage. If the contractor employs subcontractors for any part of the project, ask if those subcontractors also have insurance. This is another way of protecting your investment.
4. Contractors stand behind the quality of their work.
Experienced contractors are proud of the work that they've done. They enjoy helping homeowners make improvements to their dwellings. That's why they stand behind their work. They perform their duties according to the details specified in the contract. They also do their work with ethics. Licensed contractors will not hide any additional costs or try to cut corners when working on your project. Complaints or disputes are taken very seriously. They want you to be satisfied with your work. Successful jobs usually lead to referrals of friends, neighbors or family members of their customers. Satisfied customers can sometimes lead to repeat business over time.
5. They will never ask for payments that aren't in the contract.
Most roofing repair or replacement contracts request a down payment at the start of the job. This is standard so that it helps cover their costs for labor and materials when starting a project. Experienced contractors will never ask the homeowner for anything more than what is in the contract that both parties have signed. They will also never ask for the entire cost of the project up front, or ask for additional funds beyond what's in the contract terms during the job. Any requests like that are the work of illegitimate roofers, who may take the money and leave their clients with a shoddy job or uncompleted project to handle.
These are just some of the many reasons why it's better to hire a professional, experienced contractor to complete your roof repair or renovation. For every legitimate professional, there are more than a few fly by night companies looking for an easy target. That's why it's important to research the right contractors carefully. You can ask for references and referrals if you'd like. You should only hire a contractor that has a physical address. If they only list a post office box, chances are that they either move around a lot, or could be less than reputable. Find out what companies or individuals that your friends or neighbors have used for their roofing projects.
Roofing projects are an investment in home maintenance. A good roof should last for a few decades or more. A job as important as this can't be left to a cut-rate worker or an inexperienced remodeler. It may take a little more time, effort and expense than you originally planned for, but hiring a professional contractor ensures that the job will be done accurately and within your budget. It can give you peace of mind, knowing that the project was done right. It's a job you can be proud of as you make more modifications to help your house feel more like a home.