If you are traveling abroad this winter and you are searching for some tricks for light packing, just scroll down the page and find the solution for all your packing problems. If you are always luck of space when packing for a trip, especially during winter trips, with all those bulky clothes, then read this helpful packing tricks you must consider in order to save some extra space in the suitcase.
Try to visualize what you will be wearing each day of your trip
This is the first rule when you are packing a suitcase. Always try to make a plan what would you be wearing every day so that you pack only clothes and accessories you will be wearing. Consider that, for example, one dress in just one outfit, but one pair of jeans and skirt and two different shirts makes four different outfits for four different days. Always keep that in mind, so that you won't have to bring many clothes that make your suitcase heavier.
Only pack items you will wear at least twice
This is the continue of the rule number one! Be sure to take clothes that you can wear at least twice. And of course, no one will notice that you are wearing the same outfit more than once, unless you. Those comfortable jeans and shirt combined with sneakers or boots you wore during the day for a long walk to meet the city can be a perfect outfit for a night out too, if you just switch the sneakers with high heels, can't it?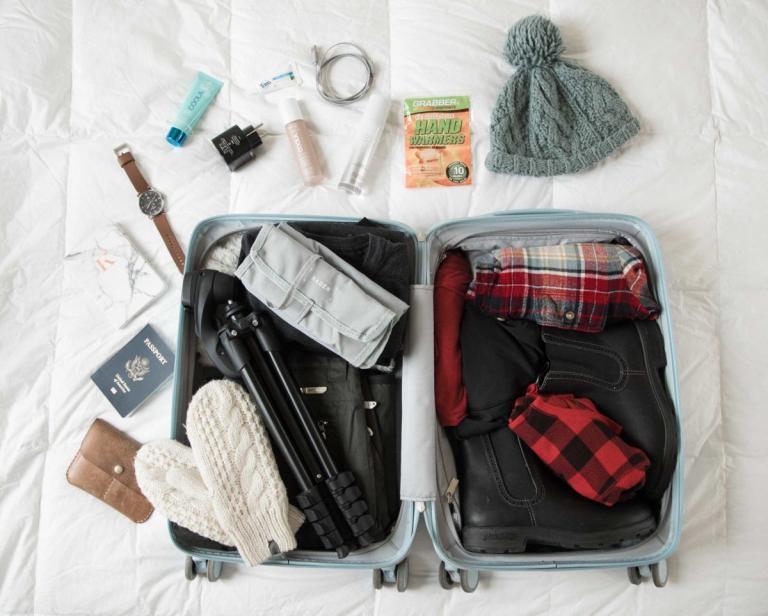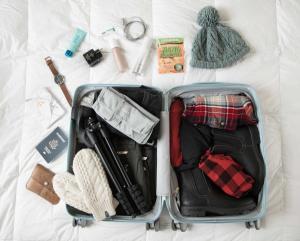 source
Compress your clothes and use space-saving bags
Most people use this space-saving packing trick most often. In order to save space in the bag they use space-saving bags in which they put jeans and other bulky sweaters and jackets and let the extraneous air out the bag using a vacuum cleaner. This is a very useful method and nowadays most people practice it because there is almost no hotel in the world without a vacuum cleaner and they can pack back their clothes when coming in return from the holiday.
Leave the heavy and bulky toiletries at home
Another packing rule you should consider in mind when packing your suitcase for the next trip. Don't take heavy and bulky toiletries with you because almost every hotel provides you bathroom products, and it doesn't make sense to take shampoos, lotions or make up. In the worst case you can just visit the local stores and get the similar products you use at home on low prices, and then bring them home after the holiday.
Wear or brig the bulkiest items on the plane
You may not wear your down coat during the whole flight, but you can certainly bring it with you so you save space in the packing bag. Once you take it to the place you can use it as a pillow during the flight or you can store it above your seat.
Bring multiple items of small items
Only one small accessories in different color than the one you used to wear yesterday can change the whole outfit today. So, when packing winter clothes that take more space in the suitcase take sure to take some small items and accessories that don't take much space but do help you create a totally new outfit. Two different colored scarves will keep you warm, won't take you much space and will create you two or even more different outfits. Smart, right?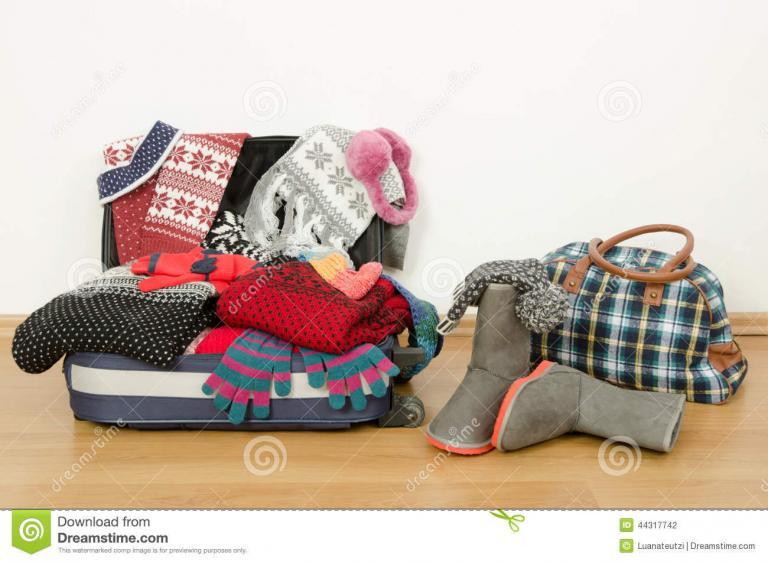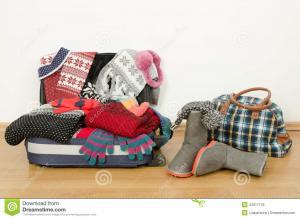 source
Choose a down coat over a wool one
We all know that wool coats are more fashionable and chic, but they also take a lot of space. So, if you are lighter packing a suitcase then you can consider switching your favorite wool coat with a down puffy jacket. You can use it even as a pillow on the fight or just squish it into your bag without taking any extra space.
Roll your clothes instead of folding them
In order to save space in the bag you can roll your clothes instead of folding them. This rolling method is a really space-saving trick all travelers should know. People who have tried the both methods have proven that you get some extra space when you roll the clothes rather than when you fold them in cubes. You can even put more than one cloth over each other and create a clothes burrito that won't take you much space in the suitcase.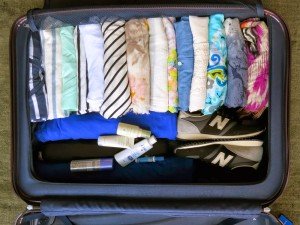 source