Are you ready to try some dessert recipes that will the whole show on your 4 of July party? These typical festive desserts from the gallery below are definitely going to do it. They are all so easy to prepare that you won't need more than half an hour to make them, so you can prepare them even the night before the holiday. Everybody will adore their taste and their symbolic decoration related with the biggest American holiday. Try these 4 dessert recipes for tasty and decorative 4 of  July and surprise all your guests with your cooking abilities.
1. Snow Cone Cupcakes
The preparation of these festive cupcakes requires  4 oz Styrofoam cups, ice cream scoop, 6 baked cupcakes, 5 cups of Red Cake Mate Icing, 2 containers of Red Cake Mate Sugar Sprinkles, 6 straws. Put the cake and ice cream in a glass and put it in the fridge for about 15 minutes to harden a bit. Then make red whipped cream. Apply it on the ice cream. Enjoy.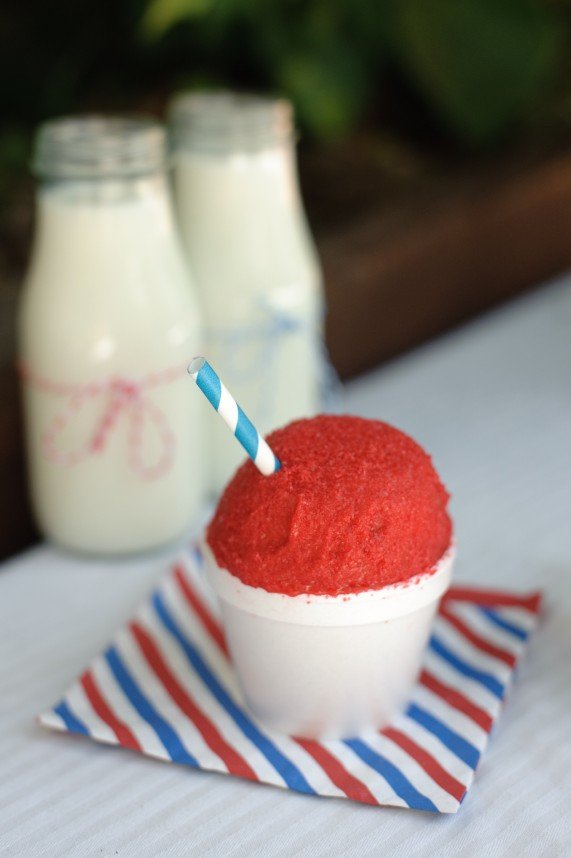 source
2. Patriotic Rice Krispie Treats
You need 1 Tbsp butter, 1 16 oz package mini marshmallows, 8 C rice krispie cereal, 12 oz white chocolate chips, patriotic sprinkles for garnish. Coat the baking dish with oil. Put butter in a bowl and place in the microwave to melt. Then, after it melts, add the rice cereals. Put the mixture in the bowl and bake. After baking, leave to cool. Cut into strips. Melt white chocolate and add patriotic sprinkles. Soak the rectangular pieces in the chocolate. Allow to cool, then serve.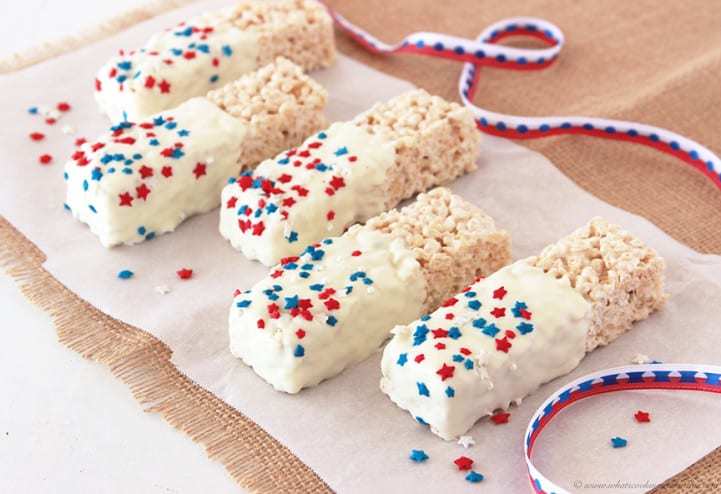 source
3. Patriotic trail mix
Take 3 cups corn chex, 15 licorice cut in quarters, 1 cup M & Ms red, white and blue, 1 cup mini marshmallows, 4 cubes vanilla candy coating. Pour the cereal into a large bowl. Melt candy in a bowl. Pour over cereals and decorate with leftover candy.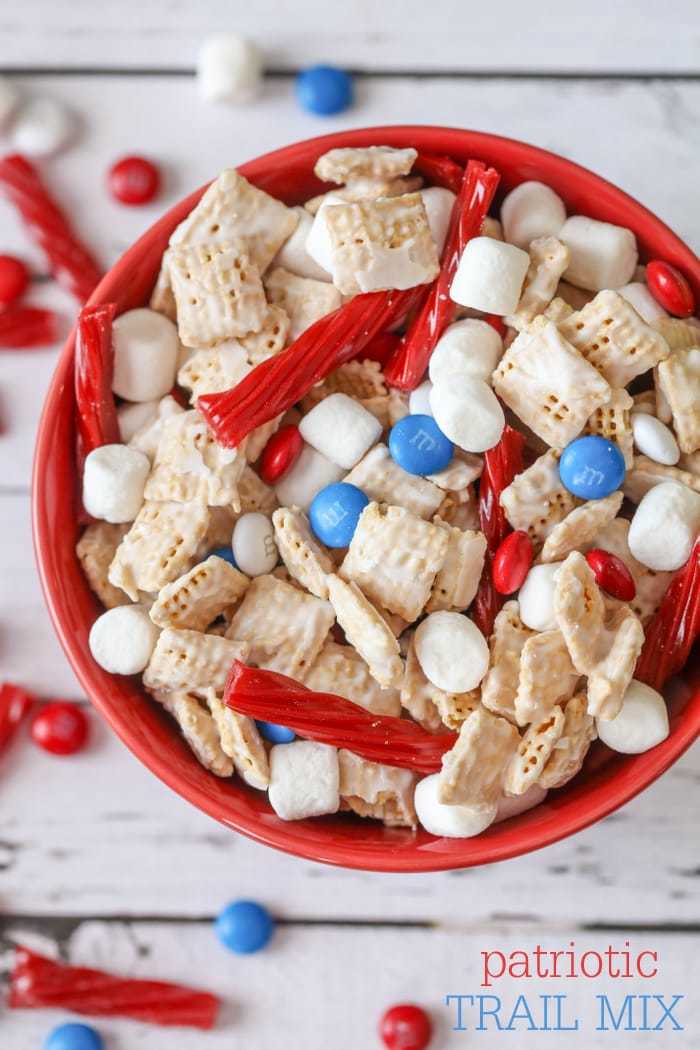 source
4. Rainbow Waffle Sandwiches
To prepare this recipe you need 2 c. all-purpose flour, spooned and leveled, 1 tbsp. sugar, 1 tbsp. baking powder, 1/2 tsp. baking soda, 1/2 tsp. kosher salt, 1 1/2 c. buttermilk, 2 large eggs, 4 tbsp. (1/2 stick) unsalted butter, melted, 2 pt. vanilla ice cream, softened, Multicolored sprinkles, for coating. In a bowl, mix together flour, sugar, baking powder, baking soda and salt. In another bowl, whisk together the eggs and melted butter. Add the flour to the other bowl. From the mixture in a waffle bowl, make the waffles. Allow to cool. Glue the waffles with ice cream evenly. Sprinkle them in colored crumbs. Before serving, cut each waffle into triangles.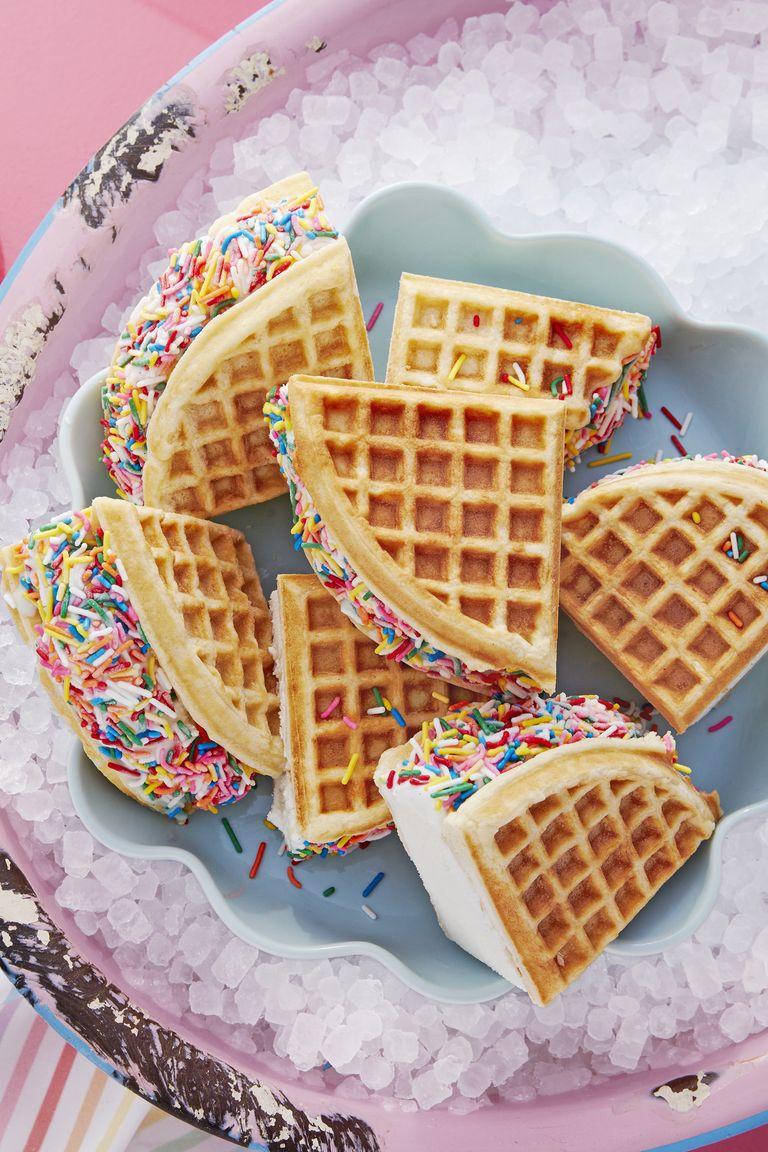 source