Travelling to explore the world is something many people love. It always gives you an opportunity to see what other places have to offer. Parents often work so hard to give their kids whatever they want. This might make them not to travel as much as they want. As a result, you might find them travelling in their old age.
Helping your old parents to travel around the world is one of the best gifts. Nevertheless, you will still need to know some tips for travelling with seniors. You need to make sure they are as comfortable as possible.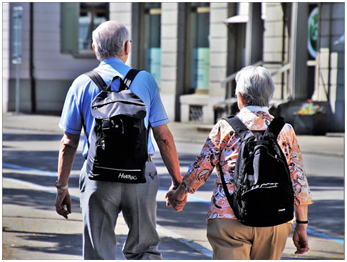 Let us check out some of the tips below.
1. Get senior friendly travelling agencies
First of all, you have to look for senior friendly travelling agencies and services. This means doing your research early enough. The research helps with finding services that make it easy for seniors to access and enjoy. This includes the airlines, buses, cruise lines and a lot more.
2. Reserve early for elderly accommodations
No one likes dealing with late reservations. To avoid this, make the reservations early to keep your parents less inconvenienced. You would also be in a position to find spaces where a wheelchair can access whenever necessary.
Sometimes the seniors might need special meal plans. It is the reason you have to make sure that the airline knows in advance about such. The same goes for trains and other services that might be offered while on the trip.
3.Keep hydrating but skip the alcohol
The elderly often need to hydrate many times a day. Keep a bottle of water close while travelling. As hydrating goes, make sure to skip the alcohol. It might not be the best idea to get your elderly parents drunk. Alcohol also makes them to pass urine more often, which can be problematic for sure. Well, if your elderly parent cannot hold urine for longer, the Best adult diapers could be a nice solution. They will help avoid embarrassing times while on the trip.
4. What is the senior's travel bucket list?
Sometimes you have to keep in mind that the trip is about the seniors. As a result, you need to consider their bucket list. Ask them where they would want to visit to have fun. This is important so that you can give them a trip that they have always wanted.
5. Keep the medications near
When you get to be a senior, chances are that you might have to be on medications most of the time. When packing for your elderly parents, one thing to keep close is the medication. You can have it in one of the carry-on bags which you can access fast if it is time to dispense the medicine.
Let the airline or any other travel service provide know about any serious condition that the senior might have. Just being prepared is good to keep your parents in good hands.
Travelling with your senior parents should not be a problem anymore when you have prepared for the trip. Choose a place that would make access to the seniors easier and also have the food they could enjoy. With just these few tips you should have a great trip now with your elderly parents.