Do you own a small bathroom? If yes, would you like to know how to make it better? If you do, then you are in the right place. Owning a small bathroom presents various challenges like where to configure the toilet and sink without compromising on shower space and where to place the towels and other toiletries. Fortunately, you can still achieve all you ever wanted in a bathroom even with your small space. If you happen to be living around Oklahoma, then try checking out this site for bathroom remodeling in Tulsa, OK, to ensure you are able to achieve the bathroom look you have. Now you must be wondering how you can squeeze everything into that tiny bathroom space. Well, this post will give you detailed options on how to achieve your desired look for your bathroom.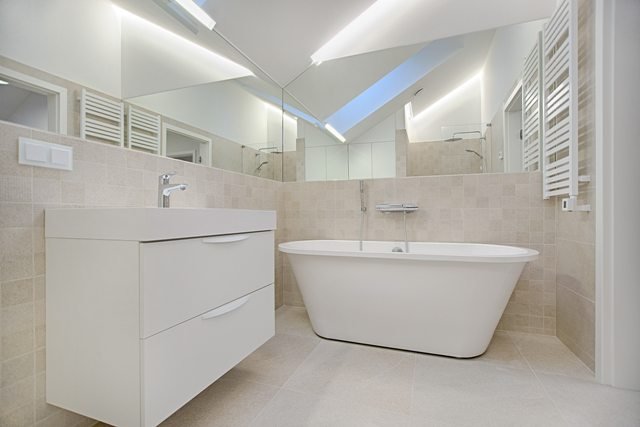 Tips for designing your small bathroom space:
1. Place the sink in the corner
Installing a sink in the wrong position of the bathroom can mostly interfere with the traffic in the bathroom. Placing a sink across the toilet instead of across the shower will help you create enough space for the traffic lane. This is the best solution because opening and closing of the shower door can make it difficult to use the sink if it is placed at the middle of the room or any other place that is not strategic.
2. Install shower curtains
Most conventional bathrooms have adapted glass doors that move in and out. This door movement consumes a lot of space which could be put into good use. A shower curtain that moves back and forth will help save this much-needed space.
3. Use glass panels
Imagine owning a small bathroom that is about 5 feet wide? This space is enough to squeeze in a small tub measuring 30 by 60 inches and a toilet. With such a small area, you should consider saving a little space to enable movement. For that reason, you should consider using a glass panel instead of a shower door.
4. Towel bar on the door
Considering the fact that your bathroom space is limited, it is essential to have one towel close for drying. And since there is not enough space to build a dedicated bar section, you should consider mounting it on the door. The rest of the towels can be stored in linen closets.
5. Extend the counter
The banjo-style allows you to extend the shelf over the toilet using stone or wood. This style will allow you to create extra space to store a few items. Amazingly, this style does not interfere with the toilet seat.
6. Extend the mirror
Mirrors are important components for any bathroom. However, tight spaces can leave you wondering how to install the mirror properly. Extending the mirror across the wall will allow more than two people to use it at once. Also, expanding the mirror will add a touch of uniqueness to your bathroom.
A small bathroom does not necessarily mean that you deprive yourself of an excellent bath experience. Instead, you should consider ways that you will put every inch of space into good use.