If you are ready to travel to NYC, congratulations. There are plenty of people who dream about visiting the Big Apple, but most are way too intimidated to actually set out and explore. Sticking to the same destinations depicted in postcards is fun, but if you actually go to NYC, you might as well see the real version of it. NYC is made up of a lot of different parts. There's Chinatown, where you can find traditional Chinese noodle shops and a long line of small, open-air stores on Canal street that sell everything from cheap purses to delicate porcelain trinkets. And if you want authentic Caribbean food, head over to Fulton Street in Brooklyn.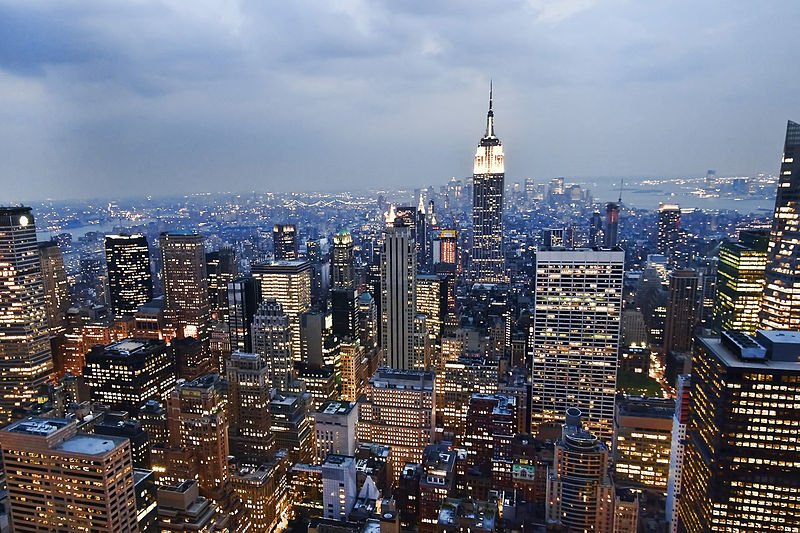 Here is a guide for NYC travel that every Toronto native should see before departing.
Getting to Your Destination
Flights from Toronto to New York City take around 90 minutes, and you'll find flights offered by most of the major airlines, including Air Canada, WestJet and Delta.  Because of their speedy check-in process, comfortable flights, and low fares, many Canadians are now choosing to fly with Porter Airlines.  And, with numerous flights every single day, finding a convenient time to travel has never been easier.  Better yet, you can book flights online.
After you book flights, touch down, and land in NYC, you will instantly learn why it is called "The City That Never Sleeps." All NYC airports are located on the outskirts of the city, so you will either need to take public transportation or a cab to get closer to the five main boroughs. Now, you can also rent a car and drive yourself to your hotel, but ultimately there is almost no reason for a traveler to rent a car in New York City. Try to familiarize yourself with MTA's subway map before arriving so you can learn which trains to take.
What Are Tourist the Traps?
There are areas in NYC that are safer for tourists to stay in than others. For instance, staying around Penn Station, 42nd Street, and in Chelsea would certainly be best for a Toronto native, as opposed to Alphabet City, for instance. At the same time, there are definitive 'tourist traps' that are always overpriced in every way. If you know where all of these tourist traps are, you can either elect to book your hotel somewhere else, or you can at least eat and explore in a different spot. Tourist traps in NYC are pretty much any place where you will find major transportation hubs or landmarks. So, consider staying in Midtown Manhattan as opposed to Central Park on the Upper East Side.
Know Your Boroughs
Most travellers to NYC want to stay in Manhattan as it is generally the safest and most diverse part of the city. While Manhattan might be really popular with tourists, there are plenty of other boroughs with their own brand of excitement. If you are willing to go off the beaten path, then there is plenty to be seen in Brooklyn, Queens, Staten Island, and the Bronx. Most notably, all five boroughs are connected via the subways so you can travel to every borough in NYC very inexpensively. There's Eastern Parkway in Brooklyn where the Brooklyn Botanical Garden and other museums are located. In Queens, you have the artistic enclaves of Long Island City as well as the residential neighborhoods in Sunnyside. The Bronx is world known as the birthplace of hip hop and it is also home to Yankee Stadium.
Where to Stay for Cheap
Hotels in NYC, mainly Manhattan, are notoriously expensive. To get a deal on a safe and clean hotel room, your best choice is to look for a micro hotel, a youth hostel, or a short-stay in someone's apartment. Micro hotels basically offer smaller hotel suites that are generally modern but sparse. So, if you book two beds in a micro hotel, you will likely have a room that features a bunk bed instead of a suite with two double beds fairly well spaced out. Youth hostels, including the YMCA in NYC, offer individual rooms along with shared bathrooms. Not all neighborhoods allow renters and property owners to sublet apartments to short-stay travelers, but this is among the better options in NYC. As eating out can get expensive, renting an entire apartment can give you a lot more options than your standard hotel.
Subways, Cabs, and Walking in NYC
No matter where you stay in New York City, everything you need is going to be within walking distance. The subway won't be more than a couple of blocks away, and even if it's further away than that you will easily be able to find a connecting bus line. There are so many food options in NYC, it is almost unbelievable. In addition, you can certainly find delis and bodegas open 24 hours a day with ease. The few places where taking the subway proves to be inconvenient will either be close enough for you to walk or far enough to justify railing a cab. NYC is built on a grid-like system, so you can walk without getting lost.
How to Eat on the Cheap in NYC
As long as you don't have a problem with eating fast food, you can eat on a modest budget in NYC. There are more pizzerias than you can count on your fingers and toes, with most featuring lunch specials that include two slices and a soda for around $5 USD. If you want something a little healthier than pizza, there are a number of street vendors that sell falafel, grilled chicken and veggies with rice, salads, peanuts, and other options. Whether you are a vegan or a full-on carnivore, you really don't have to pay more than a few bucks for a filling meal here.
Shopping in NYC Without Being Taken for a Ride
Plenty of Toronto based travellers come in to NYC to shop until they proverbially drop. See how much luggage you can take back with you on your return flight home. As Fly Porter offers various flights to and from airports in NYC, you can easily return with an impressive wardrobe. Considering the number of luxury brand flagship stores based in New York City, it isn't surprising that so many people come to pick up new threads. On the other hand, there are a number of up and coming designers as well as discount stores that enable visitors to load up on new clothes, accessories, and footwear at low prices. If you are going to shop with street vendors, remember to barter for the best deals. When going into a luxury store, see if you can get a loyalty card to get a better price. Also, remember that sample sales can help you to get high fashion pieces for a steal.
Entertainment and Safety
As you go around seeing new places and meeting new people in NYC, you have to keep safety in the front of your mind. Although NYC is by and large safe, it is also home to approximately 6 million people. Each day, the streets are filled with workers getting to and from work. The subways and roads get packed during rush hours, and visitors can sometimes unknowingly get caught in the middle. Wear a fanny pack or a bag that you can keep close to your body at all times. If you ever get lost, you should still act like you know where you are going until you see a police officer or can stop in a store.
You can fly out to NYC and have tons of fun with only a little money if you know which neighborhoods to visit and which events to attend. Visitors have spent hours roaming around Central Park for free, watching street performers and musicians doing what they do each day. Eating and shopping in New York can also be inexpensive so long as you take cues from the natives.