Are you trying to figure out how to create an enjoyable backyard? Read this article to learn more about small backyard ideas with relaxation in mind.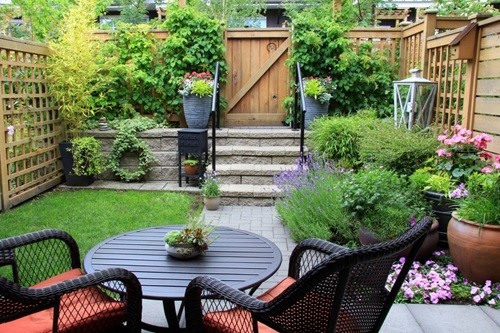 Americans love the great outdoors and don't mind investing money turning the backyard into an oasis. Spending between $1,000 and $5,000 dollars on this endeavor is common!
Is your backyard small? Think you can't do much with it? Think again!
Some of the coolest backyards are small and even tiny. Don't let a small backyard keep you from creating something amazing. Let your home space extend to the outdoors.
Read on for 10 small backyard ideas for creating a relaxing getaway of your own.
Container Gardens
A big complaint among small backyard owners is there's not enough room for a garden. Even if you don't have a big plot of tillable soil, don't let that stop you from having an amazing garden.
Use containers of varying sizes, mixing shapes and colors. Plant flowers, vegetables, and succulents. Small containers don't take up a lot of room.
Go Vertical
Don't forget about vertical space.
Use fence space for hanging planters or wall art. You can even build a tall planting column which gives you four times the space for hanging plants. When choosing plants, try adding some fragrant flowers.
Highlight your hanging plants with fairy lights for a whimsical look.
Let Levels Define Spaces
Use decking materials, stonework, grass, and pallets for making different levels of space. The different materials and levels are space defining.
Put a couple of chairs and a small table on one level, plants on another, and a small portable smoker or grill on another. A few defined spaces make the yard seem bigger, yet each space is intimate.
Looking for a smoker? Find the best portable smokers here.
Use a Privacy Enclosure
Looking for a true relaxing backyard hideaway? Make your small outdoor space private with a vine-covered lattice fence or pergola.
Screen the neighbor's view into your yard. Decorate the lattice with hanging plants as well as vines.
Don't Forget the Shade
Make use of your outdoor getaway even on hot, sunny days with shade elements. A big umbrella or retractable awning works great.
A small pergola or arbor also helps with shade. A nice touch for underneath the pergola? A relaxing backyard hammock.
Add a Splash of Style
Leave your mark with a splash of style. There are more comfortable, weather-proof furniture options available than ever before. Pick something with a pop of color and don't be afraid to accessorize your outdoor area.
Use fun pillows and weatherproof floor and table lamps. Looking for something stylish and functional? Try a rolling bar cart!
Don't Forget Lighting
As you enjoy the sunset from your backyard nirvana, let the perfect lights add to your experience. Use solar-powered walkway lights to see where you're going.
Dimmable lights for the conversation area create a relaxed atmosphere. Add a few dramatic spotlights on your yard's best features.
A Focal Point
Don't like the idea of breaking your yard into smaller defined spaces? Try one big dramatic feature.
A fire pit with clean-burning propane and lava rocks makes a great conversation piece. It also provides warmth in the fall and winter. Turn it down low in the spring and summer so it provides a beautiful ambient light without as much heat.
For a really small backyard, try a couple of strategically placed fire columns. These look fantastic and help keep things warm on those cooler evenings.
A water feature makes another great focal point. A tiny reflecting or fish pond or even a small wading pool are other good ideas.
Love to soak? How about a small hot tub? You don't have to go big to get that spa feeling.
Mini-Bar and Sports Area
Who doesn't love a mini-bar and outdoor sports area? Do you have a small patio with an overhang? Hang a T.V. on an existing wall where it's out of the elements.
A tall counter with several bar stools doesn't take up much room. A mini-fridge behind the counter keeps your adult beverages cold. Don't forget an ice maker for all those fun mixed cocktails.
Have a favorite team? Use your favorite team's colors for your decor. Incorporate the team logo on throw pillows and blankets.
Serve those beverages in team glassware and serve appetizers on color-coordinated plates.
When it comes to watching Monday Night Football, don't forget about surround sound. You can hide the speakers in cool outdoor rock features.
The Mini-Kitchen
You might not think you've got enough room for an outdoor kitchen, but even small backyards have enough space for a mini-kitchen. A two-burner stove and a mini grill fit into a small countertop space.
Put in a small sink and a below-counter mini-fridge and say good-bye to the overheated kitchen in the summer. This is another place to showcase your style. There are so many types of outdoor kitchen materials.
So Many Great Small Backyard Ideas
There are so many great small backyard ideas to choose from. Mix and match ideas and turn your backyard into a mini-getaway.
Use container gardens and don't forget to take advantage of vertical space. Defining your spaces offers the feeling of many rooms, even if the overall space is small.
From a sports-viewing space to a mini-bar and kitchen, there's a plethora of options for your outdoor space.
If you're looking for a hideaway, use privacy fences and shade features for a feeling of luxury. Don't forget to add your own splash of style and color. For the finishing touch, add great lighting.
Sit back, relax, and enjoy your backyard oasis!
Looking for more great ideas? Keep reading the blog!