Long loved and collected, fashion patches never go out of style. Check out these unique ways to customize your favorite items!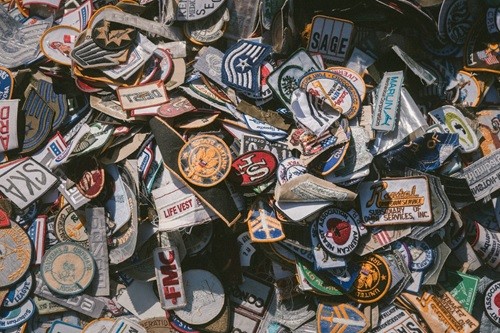 Embroidered patches have been around for a long time — thousands of years, in fact! They were originally made for use on the uniforms of the armies of the ancient world, and this is a role they still fill today, often found on military, police, and civic uniforms.
But in the modern world, they tend to find more mundane use: as a fashion statement.
Fashion patches became popular in the 1960s as an ascendant counter-culture movement was sweeping the nation. Cheap to produce and easy to apply, they were popular with hippies, bikers, and later punk rockers as a way to add a little bit of rebellion to otherwise ordinary clothing.
To carry on a decades-old tradition and add some personality to your wardrobe, shake out these ideas for customizing your favorite pieces.
Use Stick-On Patches for Some Non-Commital Flair
For many, the hardest part of applying a patch is finding that perfect spot to place it. It's not unusual for collectors to wind up with boxes full of unused patches. Not because they're deliberately trying to save them, but just because they agonize over where to place them!
In these cases, stick-on patches can be a huge relief. If you make a placement and decide against it down the line, it's as easy as just peeling the old patch off. This is also great if you'd like to shake-up your patch scheme now and then.
What's more, these patches can be popped onto surfaces that normal sew or iron-on patches normally couldn't. You could create a custom phone case, for example. Or pop one onto a bad that you'd prefer not to poke full of needle holes.
They work like high-quality textured stickers, so feel free to use them to liven up any item with a flat surface.
Add Some Life to an Old Blazer
The classic use for patches is one a denim jacket or and old piece of military surplus wear. But there's no reason that you can't go a little more upscale with design.
A plain navy blazer is about as basic as it gets. They're pretty much the gold standard of business wear because of how inoffensive they are. Which makes it all the more eye-catching when you decide to customize one to your unique sensibilities.
And don't stress too much about finding the right fit. If anything, going a size or two up can even add to the look, giving you that elegantly disheveled look that many people aim for but you effortlessly achieve.
Color-Coordinate
Picking a set color scheme can give your outfit a centered look.
Ideally, you'll pick a color for all of your patches that will best stand out against whatever you apply them to. Think pink on black denim, or the more classic red against blue.
Pop a Patch on Your Back Pocket for a Sassy Look
Patches aren't just for jackets and coats. They can liven up your shorts and jeans just as well.
But where do you place them? Just popping them over your knees or shins looks a bit random, after all. Well if you don't mind being a bit bold, putting a patch over a back pocket can send quite the cheeky message.
The Classic Battle Jacket
We probably couldn't talk about patches without talking about the all-time classic: the patched-up vest.
The concept has a long history with its roots in a broad swathe of different subcultures. Though they originated with the outlaw biker culture of the 60s and 70s, it wouldn't be long before they were co-opted by punks and metalheads of all stripes and creeds.
It's certainly a busy look, and possibly even an aggressive one due to the connotations of its outlaw roots. That said, we're now several decades removed from the heyday of biker gangs, so it's unlikely that you have to worry about anyone calling the authorities for sporting the patched-up look.
As it happens, the look has found a lot of popularity in various fandoms of all places. Even Disney fans have been known to get in on the act!
Go With a More Understated Look
In contrast to the previous example, sometimes it feels right to take a "less-is-more" approach to your patch scheme.
Whether on a plain shirt or one with an understated pattern, one good patch places where a breast pocket would be can have an eye-catching effect. It's a quick and cost-effective way to turn a basic garment into something personal.
Use Custom Patches to Make a Personal Statment
One of the major reasons that patches became so ubiquitous among so many different subcultures was the customizable aspect that they presented.
If you were a hippie protesting the Vietnam War, you could have any number of slogans or peace symbols embroidered onto your person. At the same time, if you were an all-American good old boy who bleeds red, white, and blue, you could get find patches to broadcast your patriotism, too.
And that much hasn't changed. Companies like Patches4Less specialize in turning your custom designs into wearable patches.
Depending on how in-depth you want to get, you can either use a pre-made template as your basis or submit a completely original design of your own making. It's the perfect way to make the mundane into the unique. After all, if you want a truly one-of-a-kind statement piece, you can't beat something tailor-made to your specs, can you?
Use Fashion Patches to Create a Unique Style
Though it seems humble, the impact of the embroidered patch has a broader reach than many appreciate. From the DIY ethos of the hippies and punk rockers to the "anti-fashion" popularized by top-shelf designers like Viviane Westwood and Jean-Paul Gautier, fashion patches are ubiquitous.
And because of their ability to turn the simple into the special, they're likely not going anywhere anytime soon. And all it takes for you to make your own personal fashion statement is a little imagination.
If you're looking for inspiration for your next fashion or DIY project, check out all the latest from World Inside Pictures to find your next creative spark.