Are you ready for some delicious and at the same time decorative sweets? If yes, scroll down the page to explore the best and easiest to prepare colorful fruit desserts you could ever imagined. These refreshing and very eye-catching desserts will catch both your mouth and your eyes They are also perfect for kids birthday parties because they are healthy, sweet ( as kids love the most) and so decorative. Try them.
1.Chocolate Covered Cherries
You need 1/4 cup cocoa or cacao powder (20 g), 1 tbsp liquid sweetener, such as pure maple syrup (15 g), 1/4 cup melted coconut oil, fresh cherries, with stems if possible. In a bowl, mix coconut oil and sweetener. Add cocoa. Stir until a liquid mixture is obtained. Then soak each cherry in the resulting mixture. Arrange them on paper. Store them in the refrigerator to harden.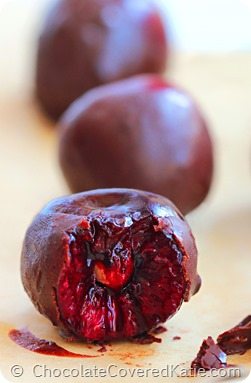 source
2. Peanut Butter Strawberries
For preparation you need 4 tbsp peanut butter (or another nut butter, or sunbutter), 1 tsp virgin coconut oil , stevia drops to taste, or 1.5 tsp agave or maple syrup, fresh strawberries (or bananas, or other foods to dip). Except for the strawberries, mix all the ingredients in a bowl. Then take the strawberries and soak them in the mixture. Freeze the fridge.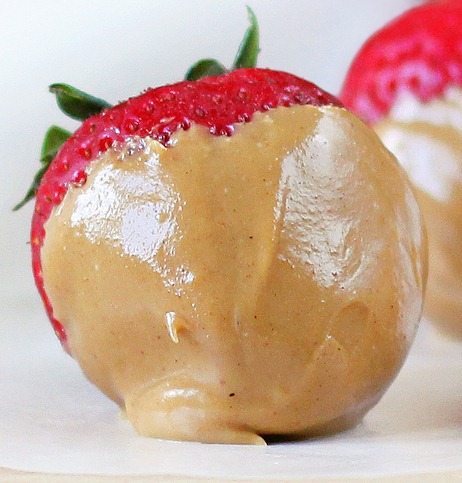 source
3. Unicorn Strawberries
Take 1 can coconut cream (Coconut-free filling options listed earlier in the post), 3-4 tbsp unrefined sugar, or stevia as desired, food coloring or a pinch turmeric, acai powder, spirulina, and blue spirulina, fresh strawberries. In a bowl, whisk the coconut cream and sweetener. Divide the mixture into several parts. Put a different food coloring in each section. Put the mixture in each strawberry. Serve immediately.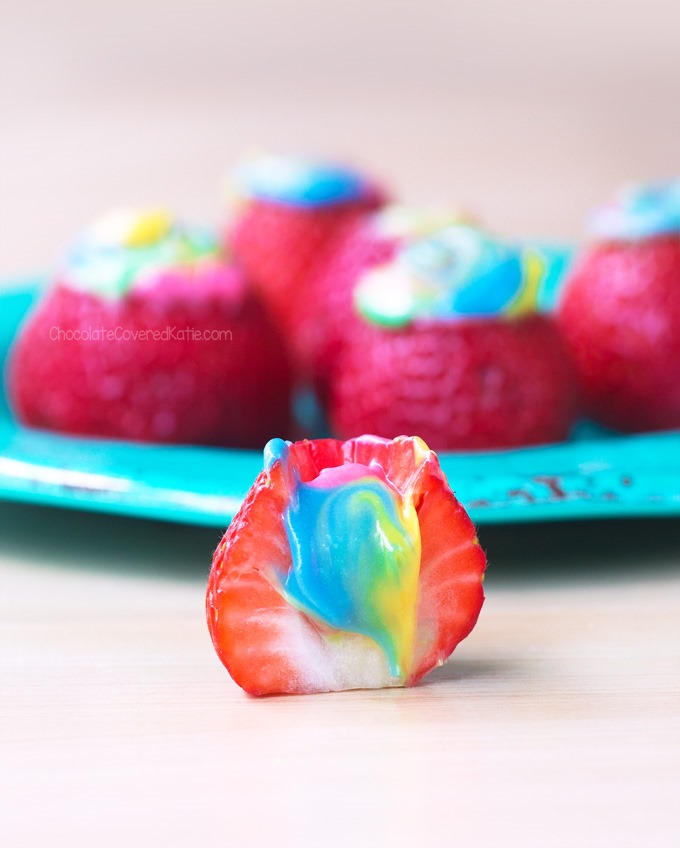 source
4. Vegan Candy Corn
You need the following ingredients for these vegan candy corns: 1 / 4 cup raw cashew butter (or peanut butter if you want pb-flavored candy corn) (58 g), tiny dash salt, 1/4 cup powdered sugar or Sugar- Free Powdered Sugar (28 g), Either red and yellow food coloring, or a tiny pinch turmeric and a few drops beet juice. First, make dough from the first three ingredients. Form 3 balls from the dough. Put red food coloring in one, red in the other and white in the third. Make thin strips from the balls. Put them one by one and make a crust. Make cookies in various shapes. Bake in a preheated oven for 3-5 minutes.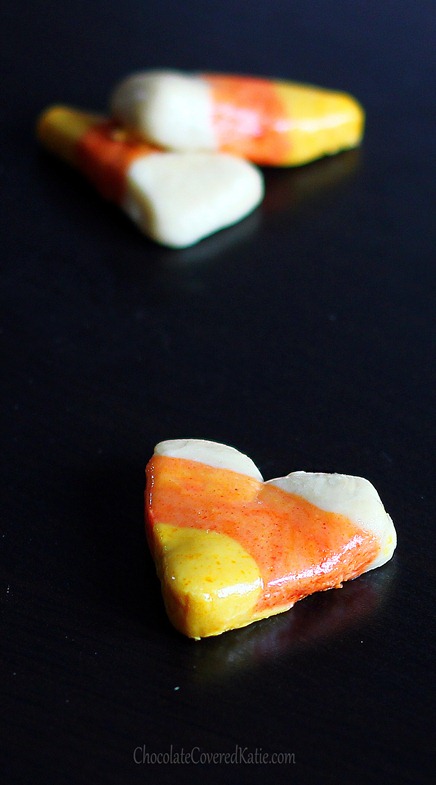 source
5. Chocolate Banana Penguins
You need bananas, 1/2 cup chocolate chips or healthy chocolate sauce, dried apricots or carrots, mini vegan marshmallows or white chocolate chips. Remove the peel from the bananas. Melt the chocolate in a bowl over medium heat. Soak each banana to make penguin heads. Freeze. Then make apricot legs and beaks. Place them on the bananas. Then freeze again.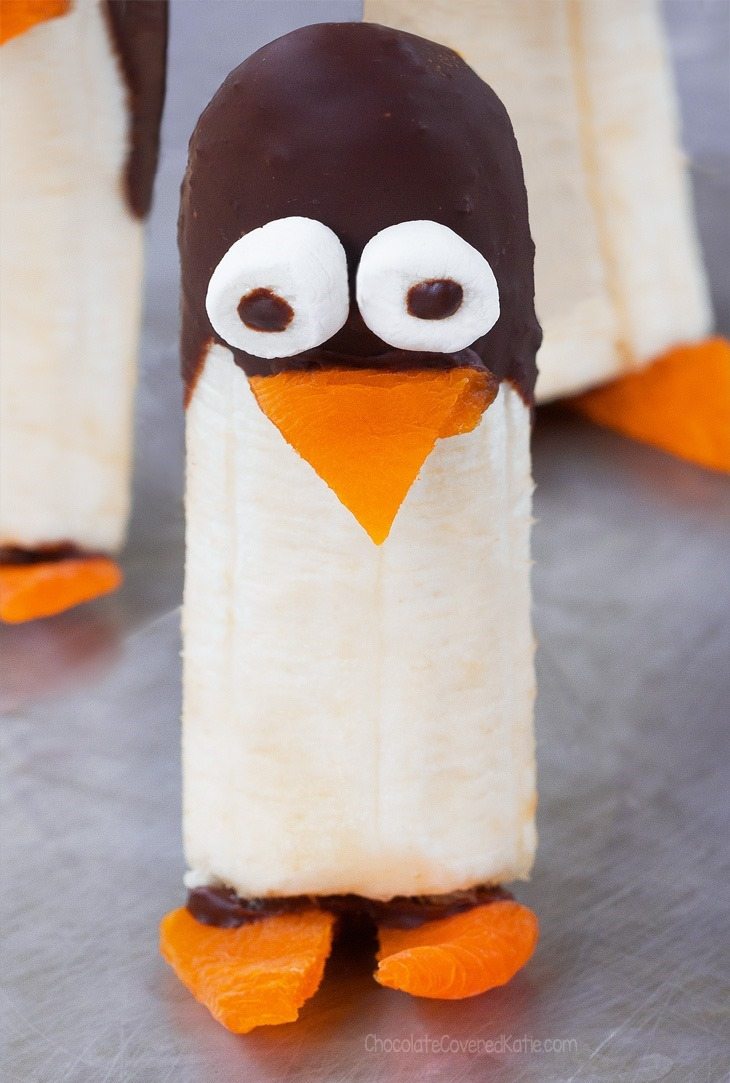 source