Summer is almost here, and the sunny days have already arrived. In order to refresh yourself after a long warm day, we recommend you to give yourself the pleasure called ice cream. And, when we say ice cream we refer to an ice cream you can prepare on your own. That is why we have selected the easiest homemade ice cream recipes you need to try right now. Delicious, refreshing and easy to prepare; can you wish for something more?
1.Cake Batter Pops
Ingredients needed to prepare this ice cream are: 1 box Funfetti cake mix, 2 1/4 c. whole milk, 1/4 c. whipped topping, 1/4 c. rainbow sprinkles. In a large bowl, mix the cake crusts with the milk. Add the whipped cream. Mix well until the ingredients are combined. Pour the mixture into the ice cream mold, put the sticks and put them in the freezer for 6 hours. Decorate with colored crumbs.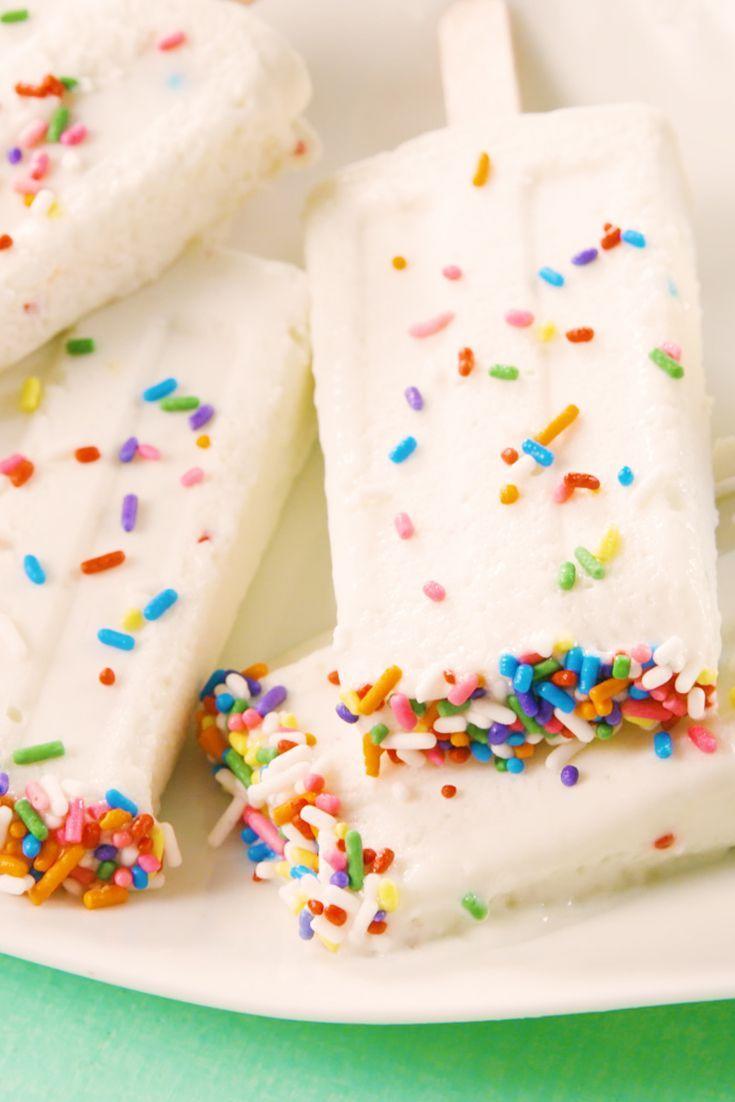 source
2. Iced Mocha Fudge Pops
The reparation of these ice creams requires 1 1/2 c. double-strength coffee, 3/4 c. sweetened condensed milk, 3 tbsp. unsweetened cocoa, Kosher salt. In a bowl, mix together the coffee, sweetened condensed milk and cocoa. Mix well until the ingredients are even. Divide the mixture into molds, add sticks and freeze for about 6-8 hours.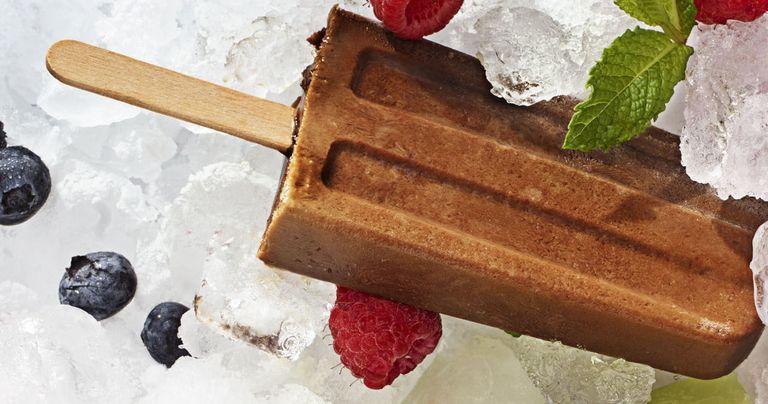 source
3. Prosecco Pops
It takes 1/2 c. Strawberries, sliced, 1/2 c. blueberries, 1/2 c. raspberries, 1 bottle Prosecco, Pink lemonade, Lemonade to prepare this refreshing ice cream. Put the fruit in a mold. Fill the mold with Prosecco. Add lemonade. Refrigerate for about 8 hours.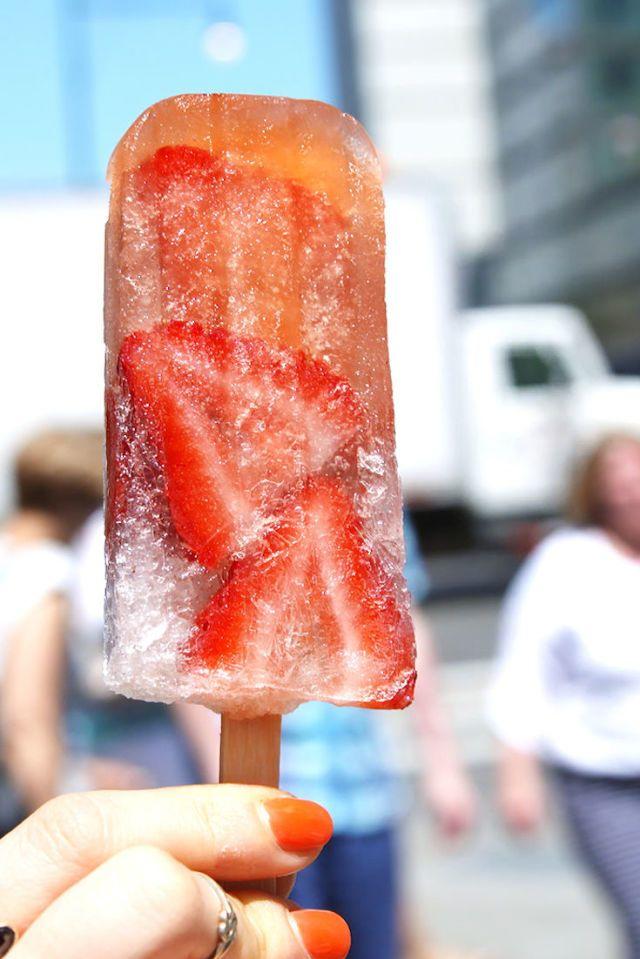 source
4. Mango Lassi Homemade Popsicles
Take 1 1/3 cup Greek yogurt very thick, 11.3 ounces mango nectar concentrate, 1 ripe mango peeled and chopped (about 1 1/2 cups), 1/2 cup granulated sugar, 1/4 teaspoon ground cardamom, 1 tablespoon crystallized ginger chopped, 1/2 cup chopped pistachios. Pour all ingredients into a blender. Mix well until the ingredients are combined. Pour the resulting mixture into a mold. Sprinkle with pistachios. Freeze in the refrigerator.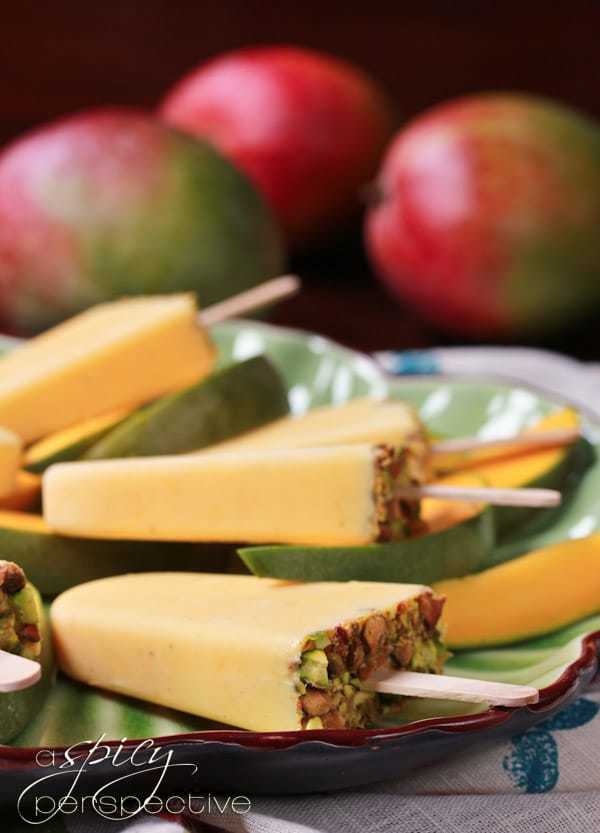 source
5. Peach Melba Breakfast Pops
You need 2/3 c. vanilla Greek yogurt, 2 tbsp. honey, 2 small ripe peaches, chopped (about 1 1/2 c.), 1/4 c. raspberries, halved, 1/2 c. granola to prepare these ice creams. Put peaches, honey and yogurt in a blender. Blend well. Put the mixture in a mold and freeze.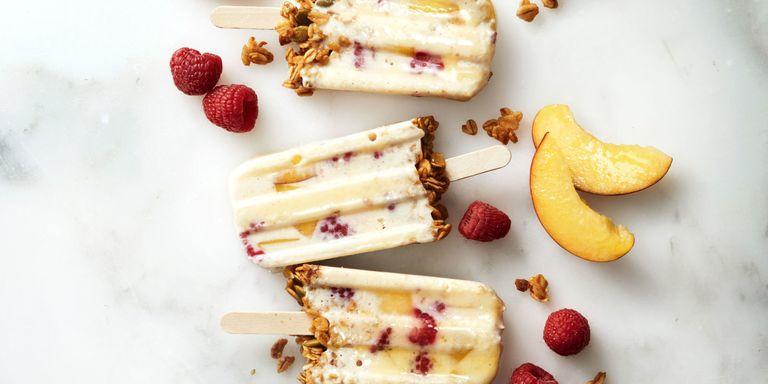 source