Eating healthy means including a lot of salads in your diet. People who practice healthy food now the importance of any vegetable you insert in your body, so they try to eat at least one portion of salad a day. If you want to start your own healthy life routine, then these healthy vegetables salads presented below will win you at first bite. Read the recipes on how to prepare them and start your healthy life now.
1.Broccoli Salad
You need 1 pound broccoli crowns, 3 tablespoons extra-virgin olive oil, 3 tablespoons mayo, I like Sir Kensington's or vegan mayo, 1½ tablespoons apple cider vinegar, 2 teaspoons Dijon mustard, 1 teaspoon maple syrup or honey, 1 garlic clove, minced, ¼ teaspoon sea salt, ⅓ cup diced red onions, ⅓ cup dried cranberries, ½ cup almonds, ½ cup pepitas, 1 tablespoon tamari, ½ teaspoon maple syrup, ¼ teaspoon smoked paprika. First, cut the broccoli into small pieces. Put the broccoli pieces in a bowl with olive oil. Season with apple cider vinegar, mustard, maple syrup and garlic. Put the almonds in a baking dish. Bake for about 15 minutes. Finally, pour the roasted almonds into the bowl with the broccoli. Add peppers. Season with salt to taste.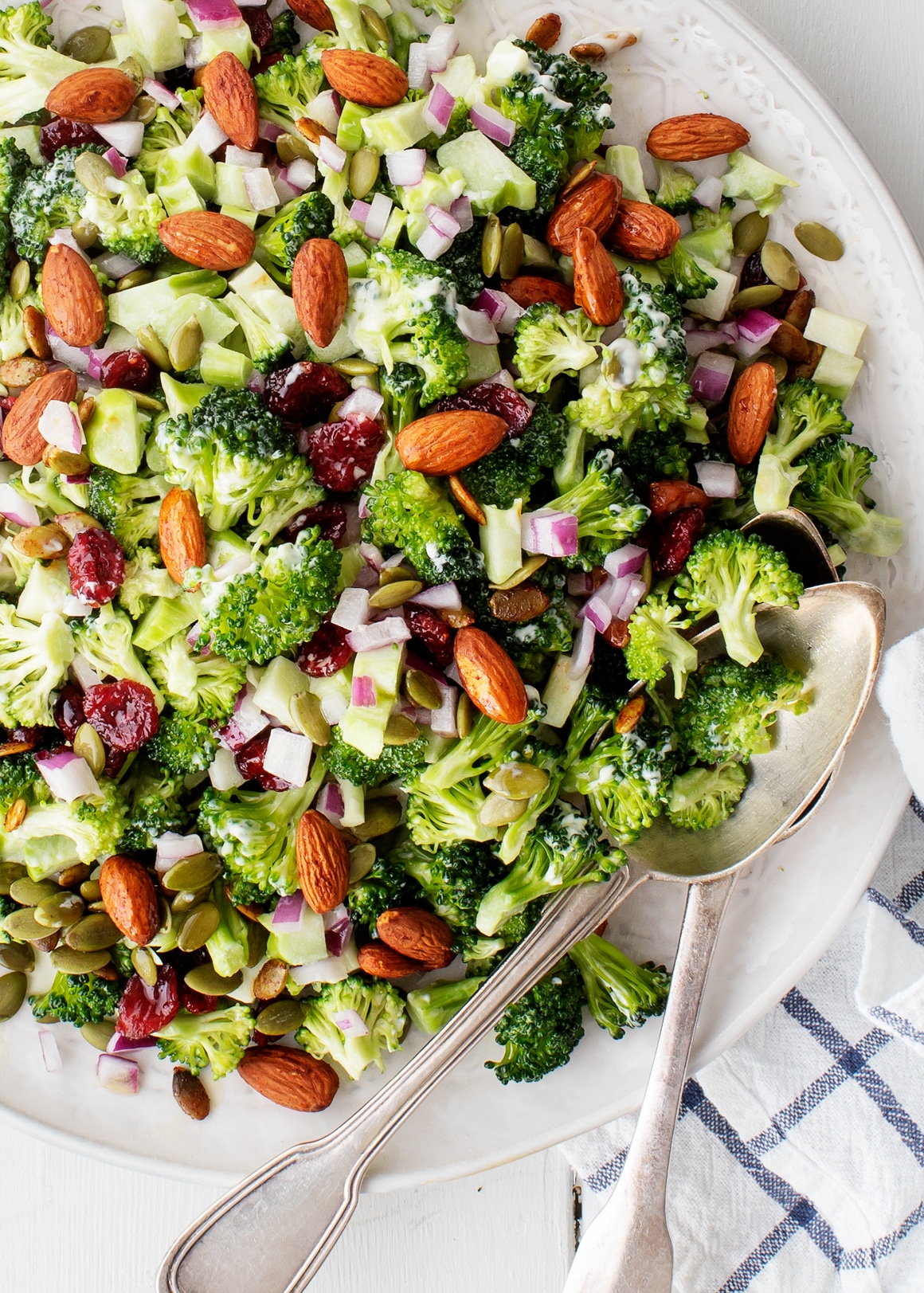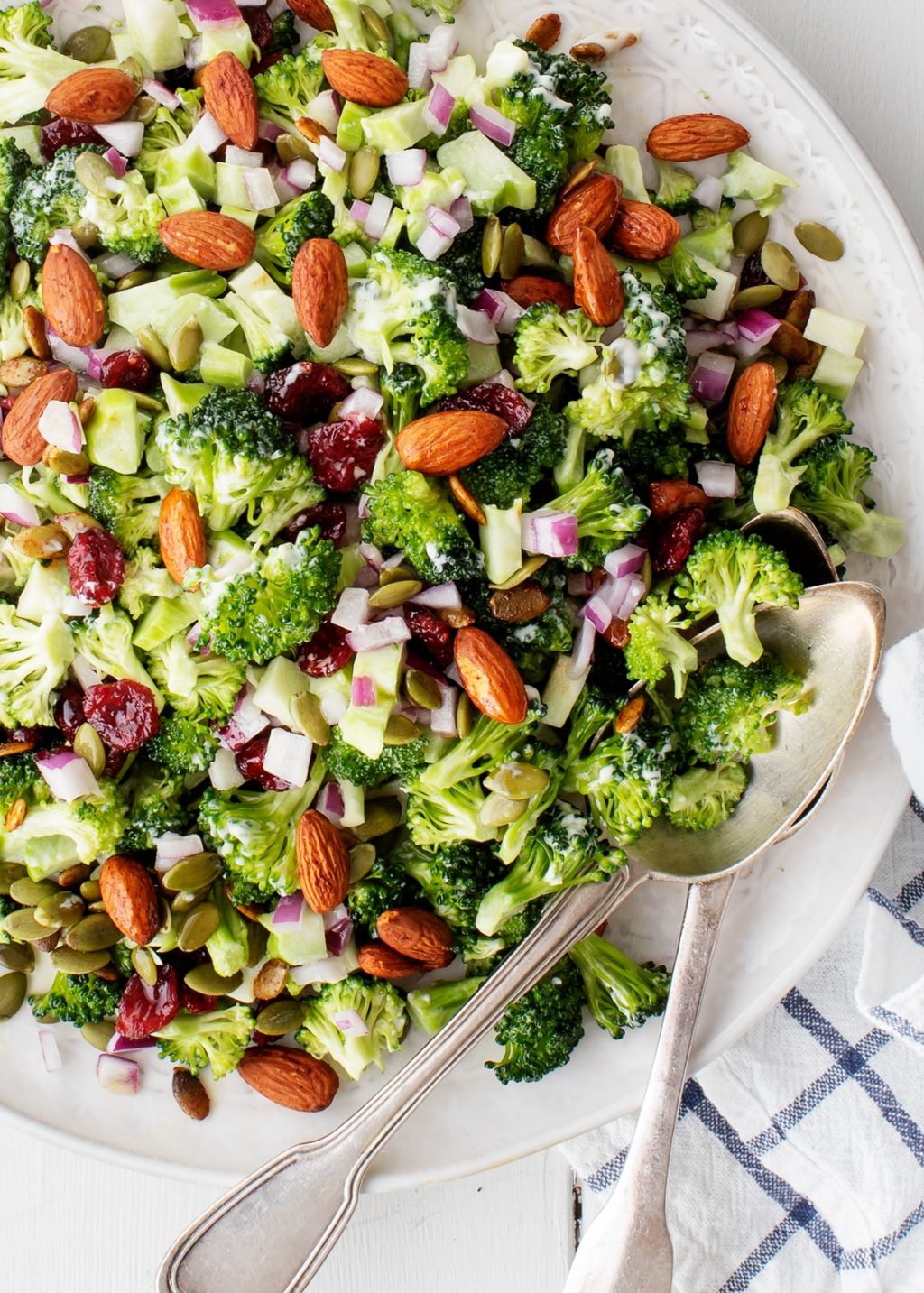 source
2. Sweet Potato Salad Recipe
To prepare this salad you need 4 medium sweet potatoes, peeled and chopped (2 lb before peeling), 1 onion, diced, 1/2 tsp salt + optional pepper, 3 tbsp oil, or spray (for fat-free option), 2 tsp minced garlic, 1 1/2 tbsp lime juice, 1 red bell pepper, diced, 1 1/2 cups cooked or 1 can, black beans, optional 1 cup canned or cooked corn, 3/4 cup fresh cilantro, chopped. Cut potatoes and onions into cubes. Season with salt and pepper. Put them in a baking dish. Bake for about 30 minutes. Add all remaining ingredients to a bowl. Add the diced potatoes and onions. Good appetite.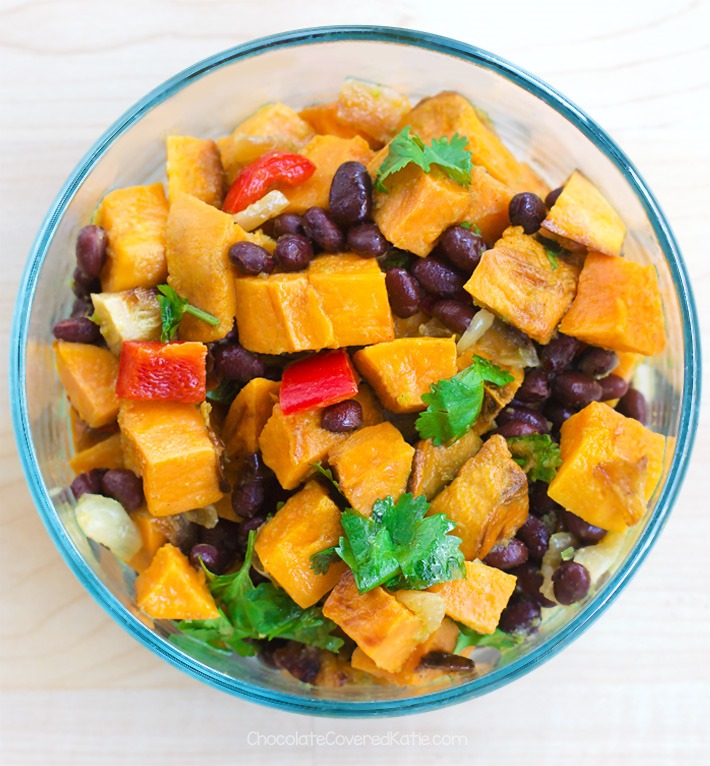 source
3. Yumicious Lentil Curry
Take the following ingredients to prepare this salad: 2-4 teaspoons extra virgin olive oil, 2 large onions, diced, 4 carrots, chopped, Optional: 2 zucchini, sliced, 3 minced garlic cloves (about 1 tbsp), 1 (28 ounce) can plum tomatoes, 1 cup (7 ounces) lentils, 2 cups vegetable stock, 2 teaspoons mild curry powder, 2 teaspoons fresh thyme leaves, chopped (I use 1/2 tsp dried), 1 and 1/2 teaspoons salt, optional: pepper. Heat the oil in a bowl. Add the onion and carrot. Cook for about 10 minutes, ie until soft. Add the garlic. Boil the lentils in another bowl of water. Mix with onions and carrots, add tomatoes, curry powder, season with salt and pepper, enjoy.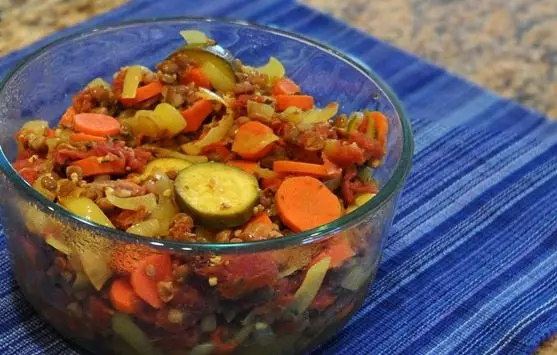 source
4. Avocado Salad Recipe
You need 2 avocados, diced, 1 bell pepper, diced, 1/2 cup each: diced onion and tomato, 3-4 tbsp cilantro, juice of 1 lime, 1/8 tsp salt, and black pepper to taste if desired, optional 1/2 cup black beans or diced cucumber. To make this avocado salad you only need to combine all the ingredients in a large bowl. Season to taste. Serve.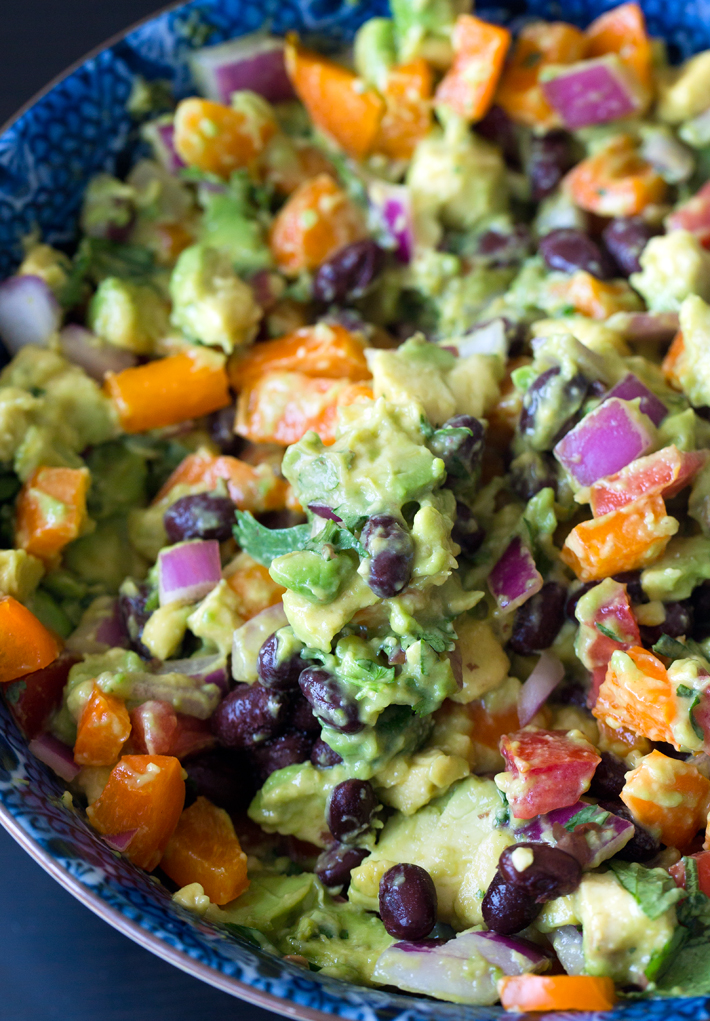 source