Honeymoon is an important event in the life of a newly married couple. So they always search for the most romantic place to spend their honeymoon, within their budget. Dubai is a great choice for a honeymoon spot, due to many aspects that are favorable for the tourism industry. They can enjoy sightseeing, shopping, dining, and various adventurous activities together, to make this time memorable.
Best time to visit in Dubai
The peak tourist season in Dubai is from November to March, due to the pleasant weather of a mild winter. New couples can enjoy outdoor activities at this time, rather than being burnt by the summer heat of the desert. They can also participate in various cultural festivals held during this season.
Image Resource: unsplash.com
How to travel to Dubai
Air route is the most common way of visiting Dubai from other countries. New couples need to buy flight tickets from Etihad Airways, Emirates, Flynas, Air Arabia, Ethiopian Airlines, or Gulf Air. You may also book your flights on Air Cairo to reach Dubai at an affordable price. The flight tickets for Dubai are available on the websites of these airlines and some reputed travel agencies.
Getting around Dubai
Lots of public transport can be found everywhere in Dubai, to take tourists to their destinations. New couples may board a public bus, taxi, or Metro rail for easy sightseeing in and around this city. They may also book a Big Bus tour for sightseeing across the city. They can also hire a car with a driver, to take them to all the tourist spots here.
Burj Khalifa: At the Top
Burj Khalifa is the tallest man-made building in the world and a landmark of Dubai, with a height of 829 meters. However, its top floor is at 585 meters, where new couples can enjoy a view of the city and the sky above from a luxurious lounge at 148th level, enjoying coffee or fruit juice with a tour of Dubai on a huge screen.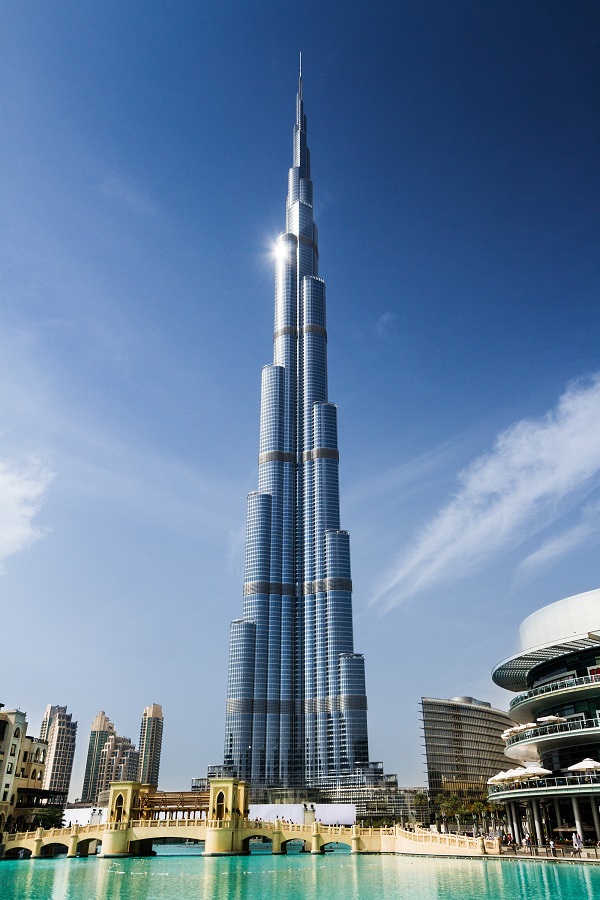 Image Resource: pexels.com
Desert Safari: Get the Real Desert Experience
New couples should go for a desert safari riding a camel or a suitable vehicle into the desert on the outskirt of Dubai. It is a thrilling experience of 5 – 6 hours, where they can enjoy the views of sand dunes and the sunset from the desert. They can dress up in traditional Arabic costumes and pose for romantic photos in the desert. People also love sand boarding down the dunes and they may also spend a night in a desert camp.
Hot Air Balloon Ride at Balloon Adventures Emirates
Adventurous couples love the experience of hot air balloon rides, hovering over the desert. They are usually picked up and dropped back to the hotels where they are staying. This ride gives an amazing view of the desert. These hot air balloons are provided with all safety measures for the security of riders. New couples also enjoy authentic Arabian breakfast on the desert camp before starting their balloon flights.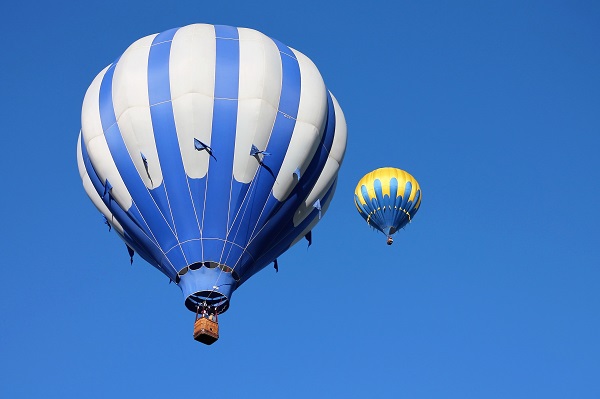 Image Resource: pexels.com
Cruise Through the Dubai Creek With Dhow Cruise
Dhow cruise is a romantic experience for a honeymoon couple, where they can spend 90 minutes sailing on a traditional wooden boat on the water of Deira creek, up to Bur Dubai.  Generally, this cruise starts in the evening so that passengers can enjoy the wonderful night view of Dubai. Couples enjoy quality time on the open-air upper deck or the air-conditioned lower deck of this cruise, relishing the delicacies offered for buffet dinner here.
Experience the Miracle Garden
Dubai Miracle Garden is a beautiful place with millions of flowers, including common species and rare exotic ones. Tourists enjoy watching the replica of Burj Khalifa and many other structures adorned with numerous flowers. The unique layout of this garden also amazes people, along with a lovely butterfly garden.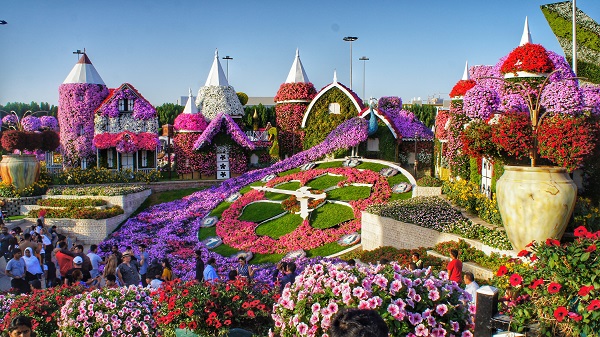 Image Resource: unsplash.com
Get Mesmerized By The Dubai Fountain
The attraction of Dubai Mall is hugely boosted by the presence of Dubai Fountain at the center of man-made Burj Lake, at the foot of Burj Khalifa. This fountain is designed to spray out 22000 gallons of water that can rise up to 140 meters in the air. The water of the fountain is illuminated by colored lights when it comes to life at an interval of 30 minutes.
Enjoy Rides at Wild Wadi Water Park
Newly married couples will definitely enjoy the view of the world-famous Wild Wadi Park, which was built by the Jumeirah International hotel group. This water park contains several thrilling water slides that boost the adrenaline with a spectacular view. They can also rest later in a restaurant or a cabana close to this water park, to enjoy the view.
Enjoy Arabian Horse Riding At Al Dhabi Stables
Al Dhabi Stable is also called Dubai City Stable, housing plenty of horses and camels. Honeymoon couples can choose and ride these horses or ponies to enjoy the adventure of riding through the desert. All the horses are maintained in the best condition and they are well-trained and friendly-natured to allow strangers to ride them anytime.
Feast through 18 courses underwater
It is a unique experience for anyone to dine underwater, which is now offered by Atlantis, The Palm. The underwater restaurant of this famous hotel is called Ossiano and it offers an 18-course menu for dinner, containing 5 appetizers, 7 main-course items, and 6 desserts. Usually, internationally popular spicy and sweet dishes are available here, along with various exclusive seafood cuisines.
 Have a Spa Day
Dubai houses several popular spas that contain world-class features for customers. The wonderful décor of these spas, expert massages, and aromatherapy sessions can help rejuvenate the tired muscles of the body. Honeymoon couples love to reenergize in the tranquil rooms of these spas, with the special treatment packages, including facial, manicure, and pedicure.
Ride in a private Limo
Tourists can hire a limousine car for a minimum of one hour in Dubai, just to enjoy a luxurious ride or for comfortable sightseeing. Couples only need to inform their itineraries to the chauffeurs of the hired limousines, to pick them up from their hotels and move around on the pre-planned routes.
Shopping in Dubai
Honeymoon couples love indulging in shopping while they are in Dubai, due to the presence of several shopping malls and marketplaces in this city. Dubai Mall, just adjacent to Burj Khalifa, is known as the largest shopping center in the world. Wafi Mall, Karama Shopping Center, Mall of the Emirates, Burjuman Center, Deira Gold Souk, Bur Dubai Souk, and Souk Madinat Jumeirah are other shopping sites of this city.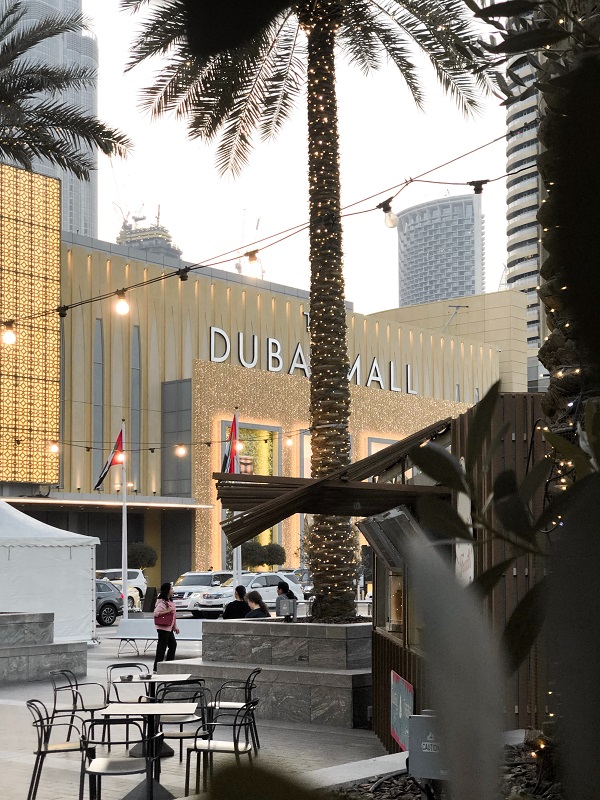 Image Resource: unsplash.com
Where to stay in Dubai
Hotel accommodation is a foremost of the tour planning and honeymoon couples need to find great deals on Dubai hotels while booking online. They can book expensive luxury hotels near Jumeirah Beach, or in Palm Jumeirah or Dubai Marina. Cheaper hotels are also available in Al Barsha or close to Dubai International Airport.
Therefore, Dubai can be a heaven for honeymoon couples, to make lifetime memories for them to cherish forever.