Are you looking for plants that can be easily maintained, don't require frequent watering and don't cost a fortune? I think you may be looking for succulents then. Recently, I ran across some stunning succulent gardens, and today I have decided to share with you some inspiring ones that will make you want to recreate them in your outdoor area immediately. These succulents have really charmed me with their vivid colors and unique shapes, and I bet that they will impress you as well!
Do you know what makes succulents so amazing? It's their ability to store water and to survive in places with scorching temperatures. Even if rainfall is a not common occasion in the place where you live, don't worry because succulents will make it!
Most people think that they live only in the dessert, but they can be found in coastal locales as well. It's interesting that some of they can remain really small while other can grow like small trees. It doesn't matter whether you will add the succulents to your indoor area or your garden, they are going to look stunning either ways. Now, scroll down and see how you can add them to your yard!
PVC Pipe Succulent Garden Planter
Who says that you have to make huge investments in order to create a stunning garden? Who says that you garden has to be huge in order to look stunning? This garden planter uses vertical space and it uses recycled PVC pipes, which makes it a great choice for you if you are limited both on space and budget.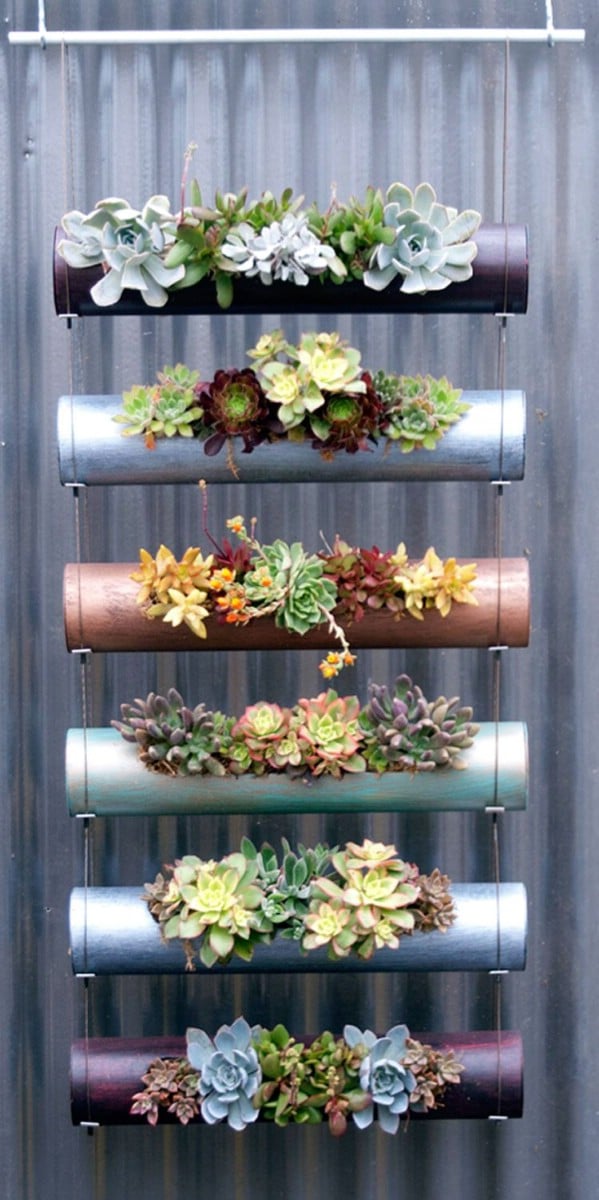 Old Wagon Wheel Planter
The old wagon wheel planter looks amazing in a rustic setting, so if your outdoor area has an existing rustic decor, think about this project.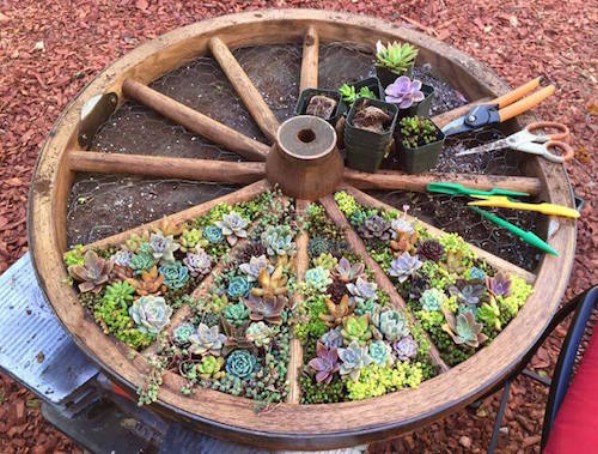 Path Of The Chameleon
Isn't this succulent garden totally stunning? The chameleon will fascinate both kids and adults, so you should definitely give it a try.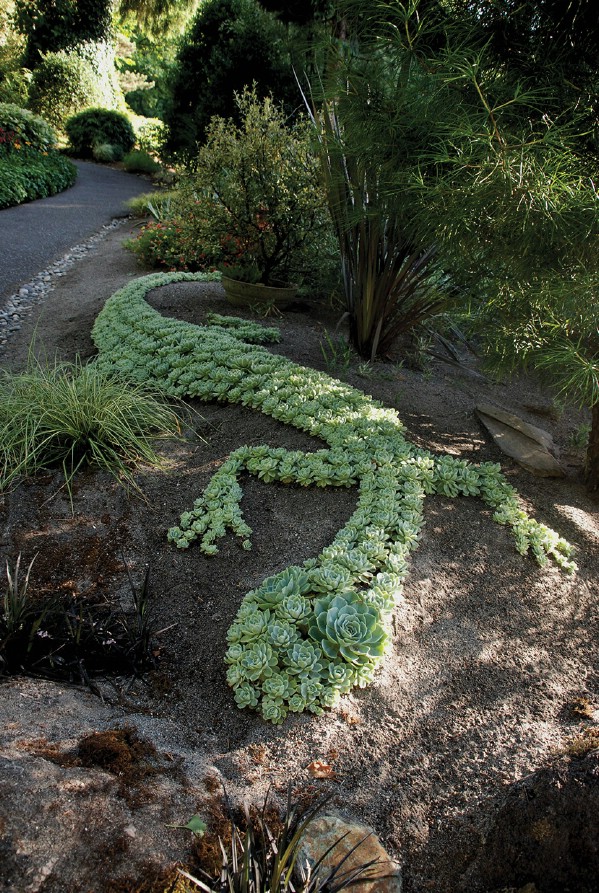 Tree Stump Garden
Here's another cheap project that will get you some beautiful succulent gardens in no time. Reuse any dead tree stump to create a focal point in your yard filled with succulents.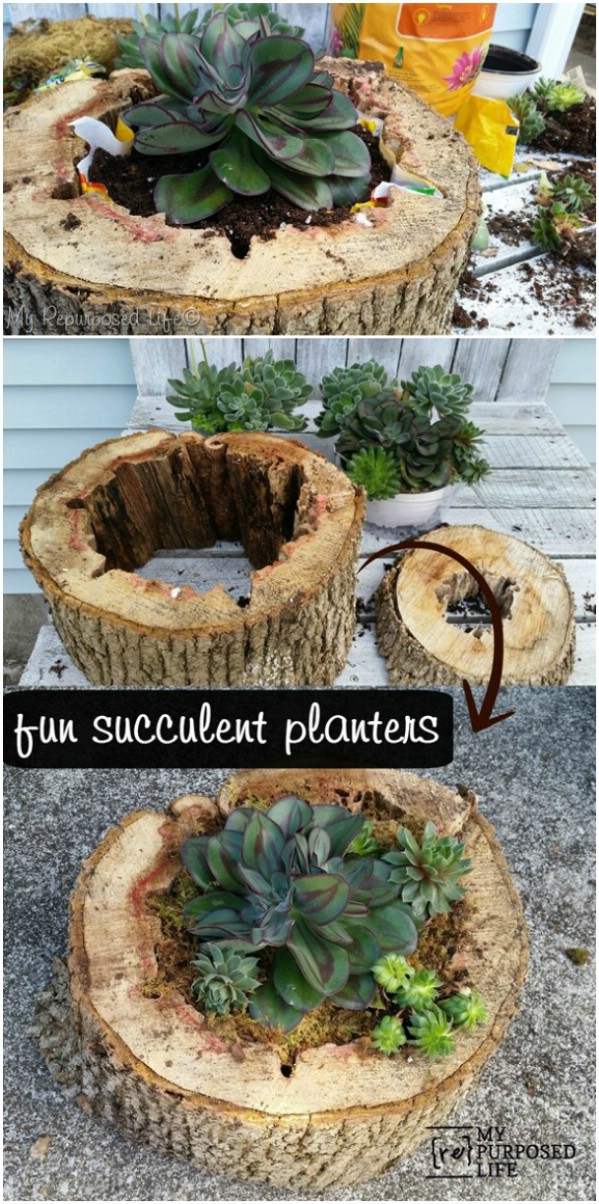 Outdoor Succulent Plant Shelf
Did you say that you don't enough space for a succulent garden? Well, it turns out that you had a wrong idea about the way your garden should look like. Any empty space on a wall can be turned into a mesmerizing succulent garden by just using a shelf and burlap. Build your shelf out of pallets and this unconventional garden will turn the heads of everyone who comes to your place.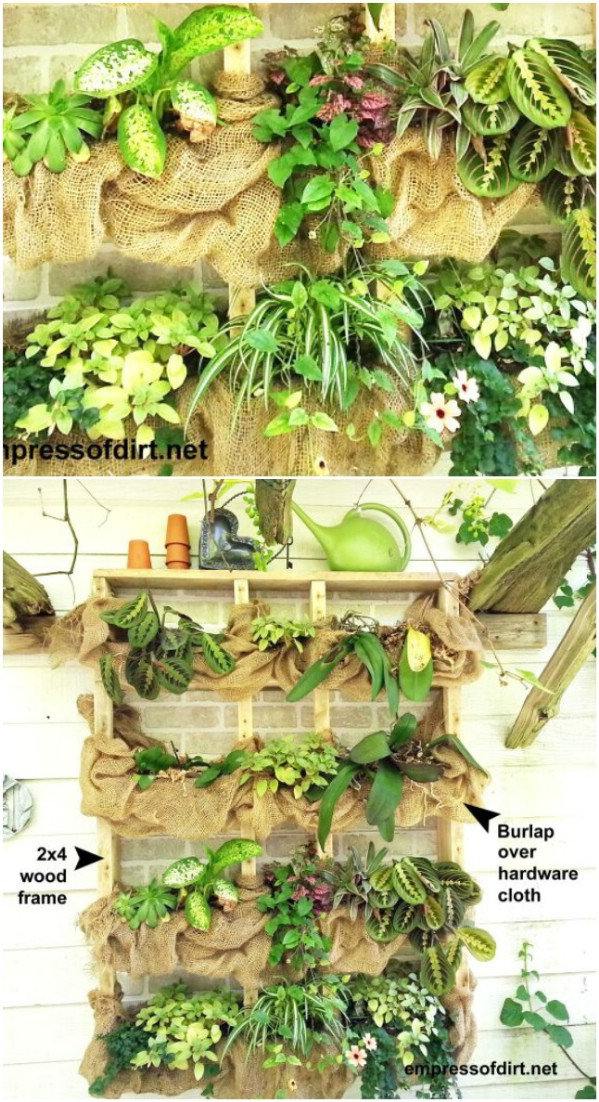 Succulent Garden Chair Planter
Are you about to throw an old chair away? Don't do it. Think creatively and create your brand new succulent garden in it. You are going to love the final result, believe me!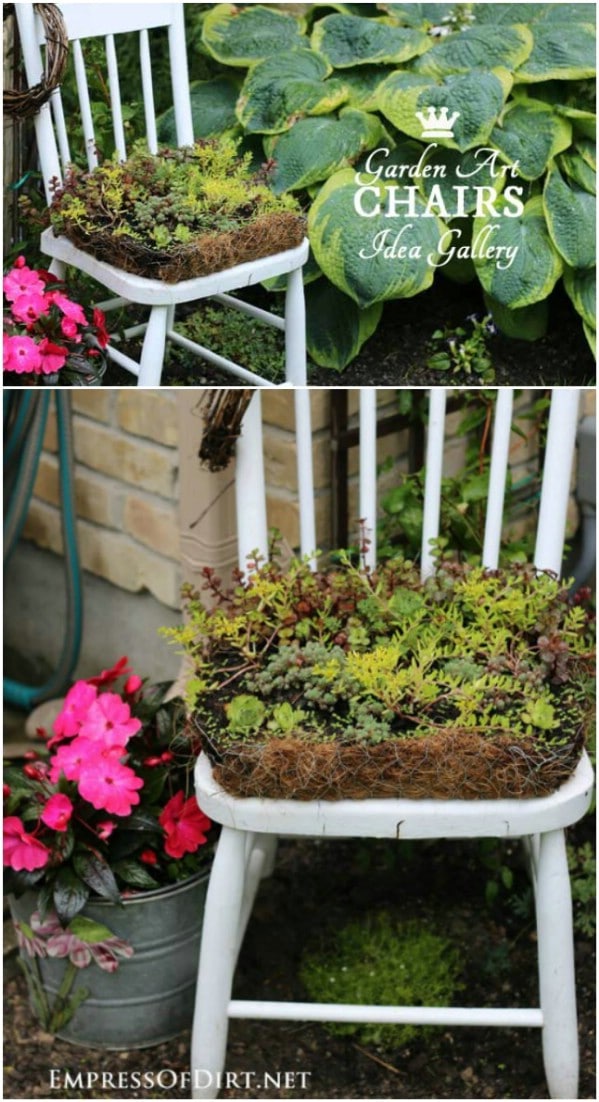 Old Boots Planter
I've seen boots planters at my friend's yard and I have to tell you that this unexpected mini garden looks fantastic especially when planted with succulents. You don't need to invest anything in it. All you have to do is to be creative and enthusiastic to recreate it.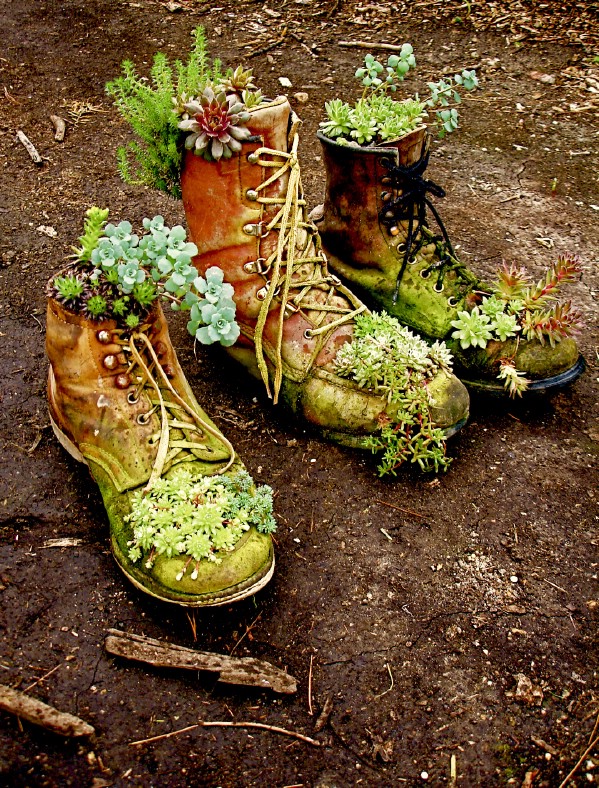 Gardening Can Succulent Planter
Were you thinking about using an old gardening can as a planter? Here's how it will turn out. What's more, you can turn it into a house number by just writing a number to it.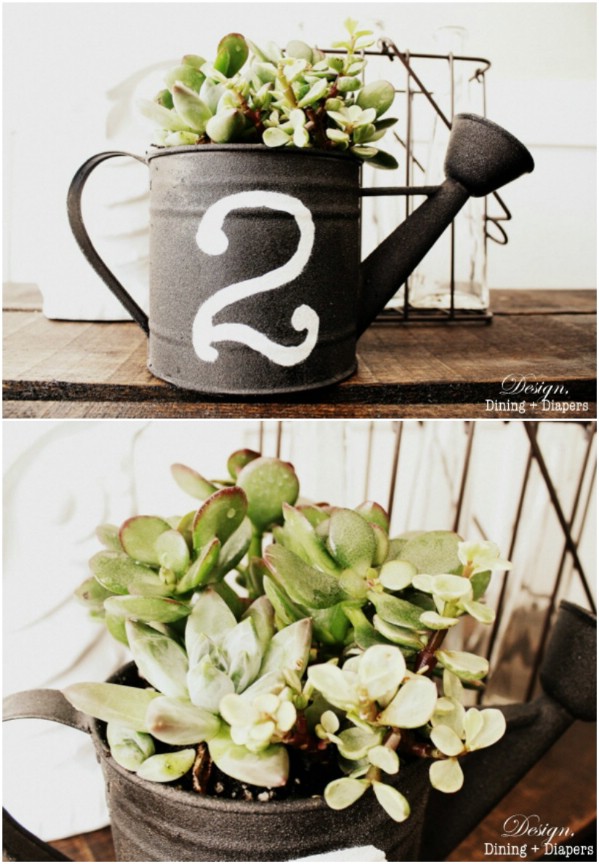 Succulent Wreath
Your succulent garden can take the shape of a wreath as well, so have this idea in mind before you get down to work.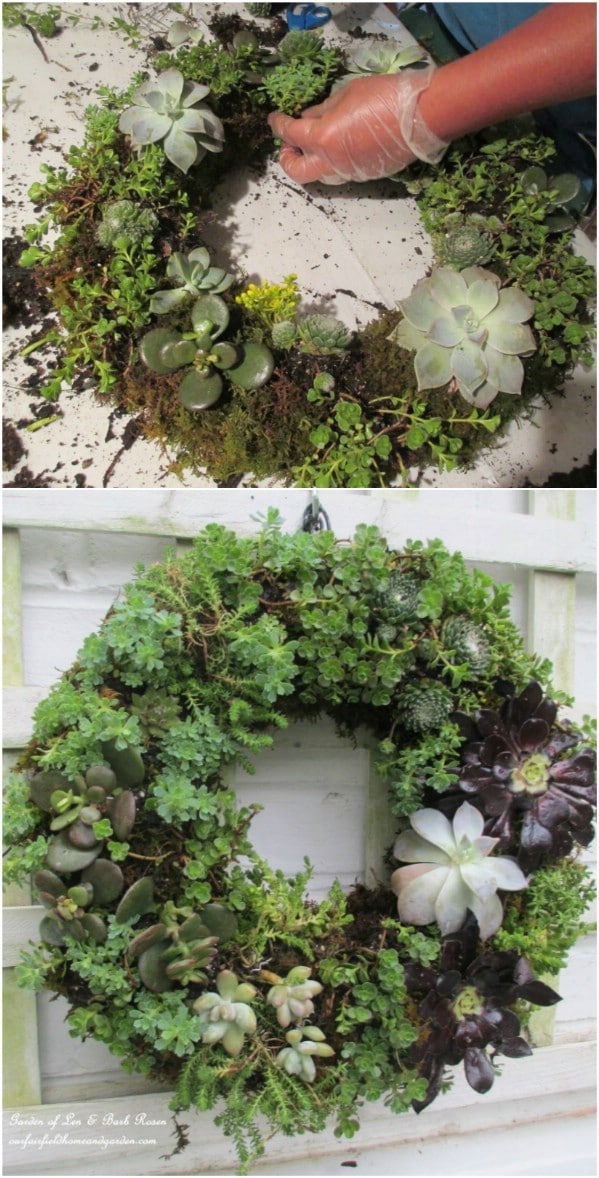 Tree Trunk Succulent Display
The dead tree stump that you were thinking about removing from your yard can be turned into a spectacular succulent display. Try to plant as many different succulent types in different colors as you can for a more remarkable and eye-catching look.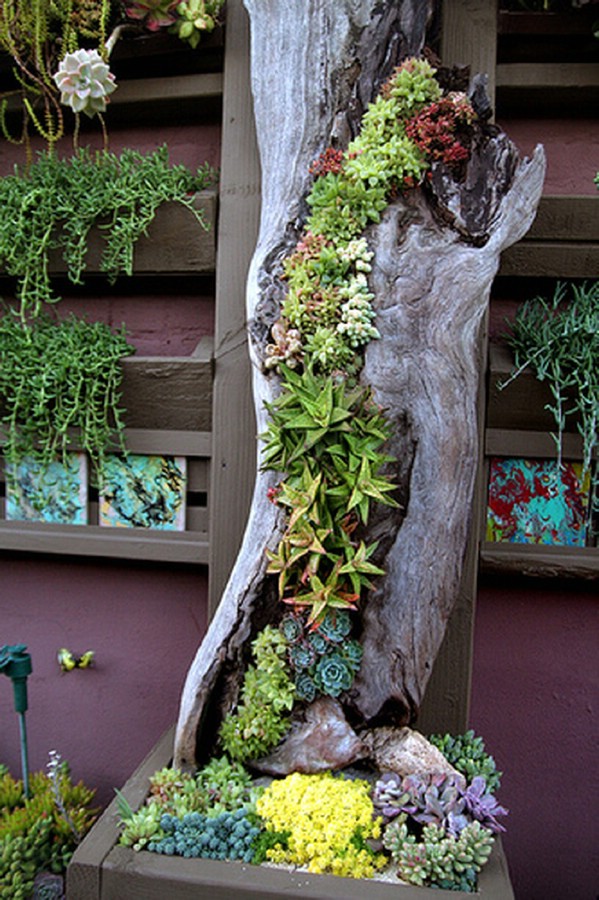 Container Succulent Garden
Containers are also good for planting your succulent garden in them since you can move them around whenever and wherever you want. You can either go for small or big ones depending on the succulents you choose.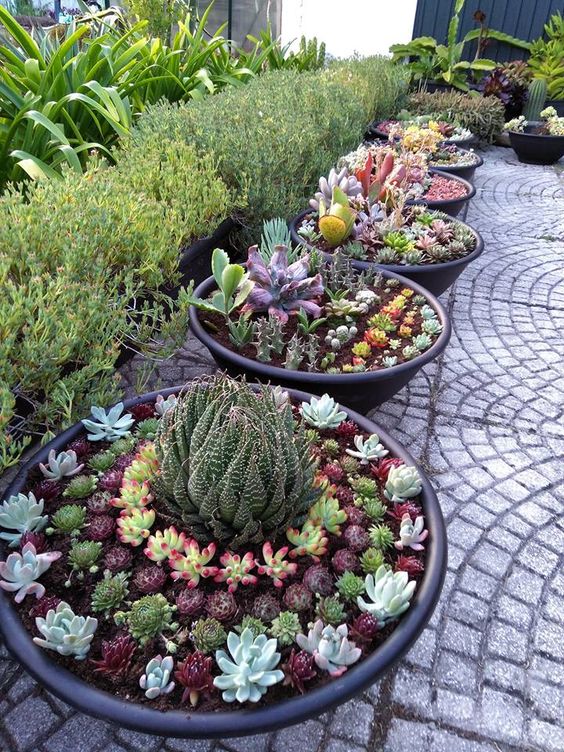 Succulents and Stones Garden
Do you want to use stones in your succulent gardens? This is the best deal that you can get because this combination works great together. Use your imagination and creativity and come up with interesting patterns that will make your outdoor area one of a kind. I bet that you will have plenty of fun creating it too!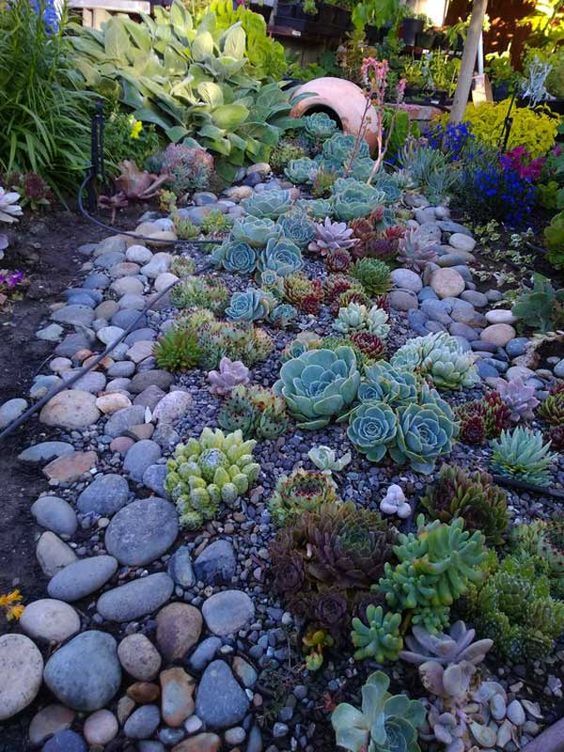 Have we inspired you to recreate some of these succulent gardens in your outdoor area? Let me know which one impressed you the most!