Back when you were younger, you might not have given much thought to how your bedroom walls appeared. Regardless of whether it was a plain white paint, or posters of your favorite movie stars, singers or sports players, you probably weren't thinking too much of perfect positioning or creating a talking point for guests. However, you're a little older now and the walls of your apartment are a chance for you to show off your creative side and your particular taste in art and photography.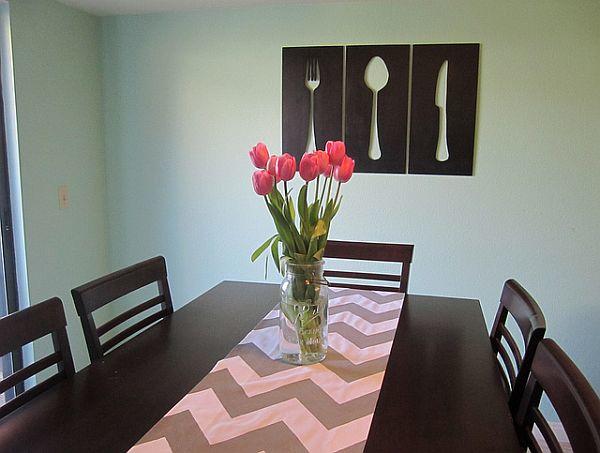 source
The books you read
A bookcase is great and everything, but the only problem is that the often beautifully-designed covers are hidden away, as the books are stored on their sides. However, one graphic designer thought of a fantastic idea to showcase all the books she loves in one giant piece of art. By attaching postcard-sized prints of book covers onto a large foam board, she was able to display all the great books she has read in one simple method. A book shouldn't be judged by its cover of course, but in this case we think it is okay!
Some book-lovers are known to project a page from their favorite book onto their wall, then trace the words with paint – essentially creating one giant page that can be read. As stunning and pretty as this is, simply exhibiting your beloved books by their covers will result in a fascinating piece of wall art.
High-class art and photography
Some of the most iconic photographs and pieces of art don't just belong in a gallery; the walls of your apartment are just as deserving. Of course, deciding on what prints you'd like to hang up is the hard part – as there are centuries of incredible images to choose from – yet many great online print stores do their best to make the decision easier. Lumas.com, for example, separate thousands of images into genres such as 'Landscape', 'Architecture', 'Fashion', 'Abstract', 'Black and White', and many more, so at least you can narrow down the choices according to your taste. After you've decided on a print you'd love on your wall, you can even have it framed for a little bit extra, but it's well worth not having to do it yourself.
Your child's art
Unless your child is an art prodigy, the creations they bring home from school usually aren't the most incredible drawings ever seen, if we're honest. However, there is an interesting way of displaying the art that will please both them and you.
This idea of making a clipboard wall of art is incredibly simple, but looks fantastic once assembled. With plain brown clipboards, your child's art, and a decent amount of space, your wall feature will look strangely intriguing, as unusual drawings with a mishmash of colors somehow all look great when presented as a collection.