Are you dreaming of a modern bathroom cabinet that will bring peace and serenity to your home? Minimalistic, cozy, retro-inspired or vivid, the bathroom is a room in itself that is just as beautiful as the other rooms in the interior. A modernly designed bathroom is a real peace oasis, characterized by a mixture of diverse styles and contrasting colors. It has the ability to adapt to all our wishes in terms of design and decoration. You just need to find the right furniture that will enhance your interior and at the same time, to turn it into a little haven of peace! Choosing modern bathroom furniture is not easy. Especially when you have a wide range of different choices related to the trends of 2022. Chic and incredibly original, the modern bathroom need to suit all your needs, to make you feel cozy and relaxed.
Modern Bathroom Furniture
How to choose modern bathroom furniture, and in the same time to add original touch to your bathroom? For bathrooms furnished with pure minimalist style, we advice to opt for pleasant furniture. A storage cabinet in warm tones, light wood, furniture with celan lines, etc…
How can you design a simple and original bathroom when you don't want to start major remodeling work? If you are looking for a design idea that's both smart and easy to achieve, then you've come to the right place. The bathroom is a place of well-being, synonymous with relaxation and tranquility. It evokes the rest of the body and mind, and we must be very careful and meticulous when designing it. On our website you can find many decorating ideas and tips for decorating simple, elegant and personalized bathroom!
The bathroom, like every room in your home, must reflect your personalit. Otherwise, you would feel like a stranger in someone else's house. Leave the fashion asaide and focus on what you really love. In addition, you will have to adapt the style of the bathroom to the rest of the style you have already chosen for the other rooms. It would be a bit strange to have a house in a full country style and then a bathroom decorated in the Provencal style, wouldn't it?
Cool Types Of Heated Towel Racks
The bathroom furniture should be practical and functional, and in the same time good- looking. You can opt for multifunctional bathroom furniture, that will save precious space. In addition to a beautiful appearance, bathroom furniture must be made of high-quality materials. Lacquered wood and painted MDF are good solutions, because they have increased resistance to moisture. Avoid bathroom furniture made of chipboard, because its porous structure is more sensitive to moisture and after some time may occur swelling and damage to the upper layers.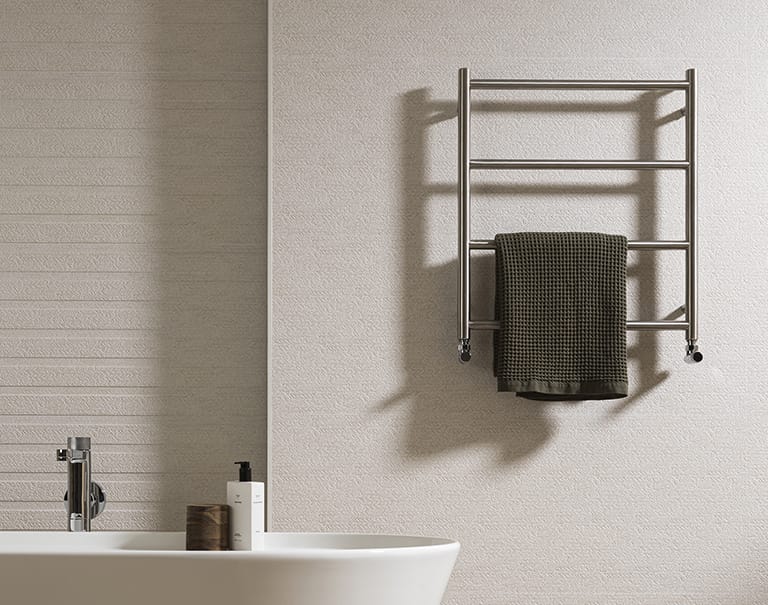 New trend for this season are different types of heated towel racks. Beside their modern look, they are very practical and helpful. Your towels will be always dry and well organized. Wall Mounted, Free Standing, Electric, the types of heated towel racks are very practical and affordable for every household. They are must- have item in the modern design. Nowadays, designers worldwide are using them very frequently. If you want to be in trend, opt for some cool heated towel rack.