We are already in the middle of spring which means summer will shortly be here. It's about time to think about redecorating (or designing) the pool area and getting it ready for the hot temperatures. The sun will definitely be more bearable if you have a pool, and you will certainly enjoy it to the fullest once you get the best of it. The tips that I'm sharing with you today will get you thinking about changes you should make, so don't miss them.
I can already imagine myself lying by the pool and enjoying a glass of a cocktail during the boiling summer months. All I have to do is to get a pool! But I'm on my way now that I have these beautiful settings here. If having a pool was considered to be a luxury, now it has become available to everyone especially with those above-the-ground pools that don't require digging. It doesn't matter what type of pool you have, these ideas here are surely going to spark your imagination!
And don't miss to check out the most marvelous swimming pools on the planet Earth!
Think minimalistic.
Sometimes less is more. Don't overdo the furniture and the decorations if your outdoor space is really small. Two lounge chairs, a privacy screen, and a wooden deck are more than enough to make this spot of the house stunning.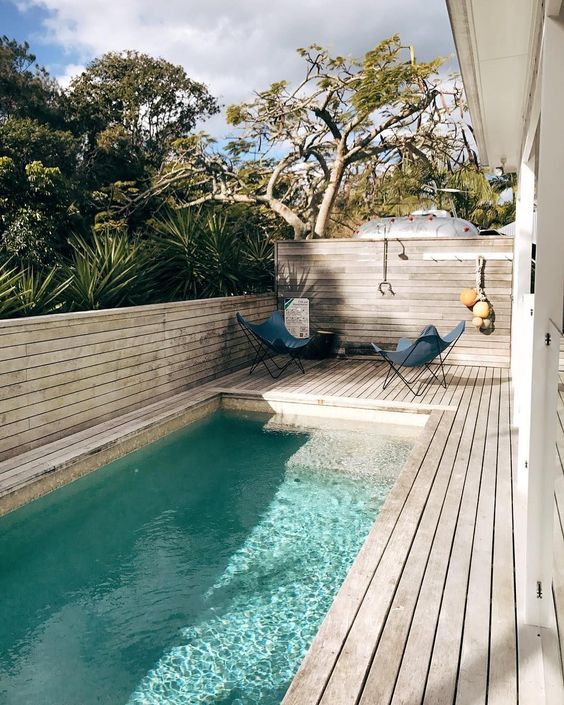 Create various seating areas by the pool area for maximum enjoyment.
Do you love to gather by the pool with your family and friends for different occasions? If the answer is yes, then you definitely need to create a dining area, a lounge area, and another area with sunbeds. In this way, you wouldn't want to leave your pool for anything in the world.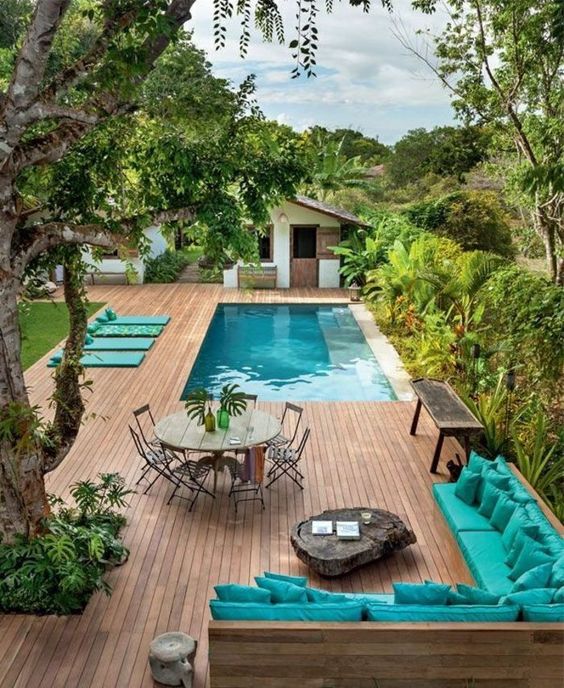 Surround the pool area with trees and plants.
The greenery will not only add up to the decor of this area but it will make it nice and fresh at the same time. Invest in some palm trees and other big plants which will provide you with some shades as well.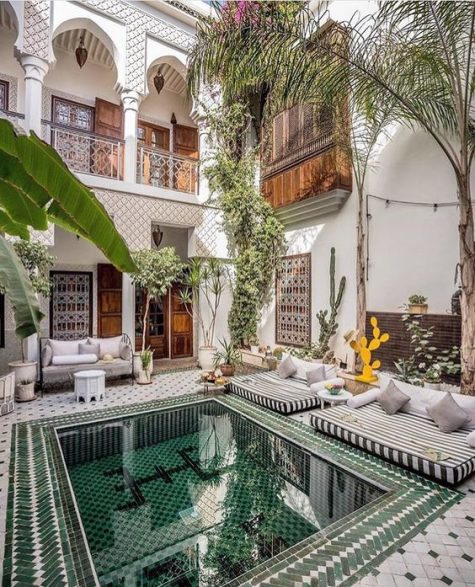 Invest in the right furniture.
What do I mean when I say right furniture? Before buying furniture pieces think about the things that you would do by the pool area and the time that you are going to spend here. You may want to add a lounge bed, some armchairs, and sunbeds at the same time! Plus, if your friends come over often, you will have a spot for everyone.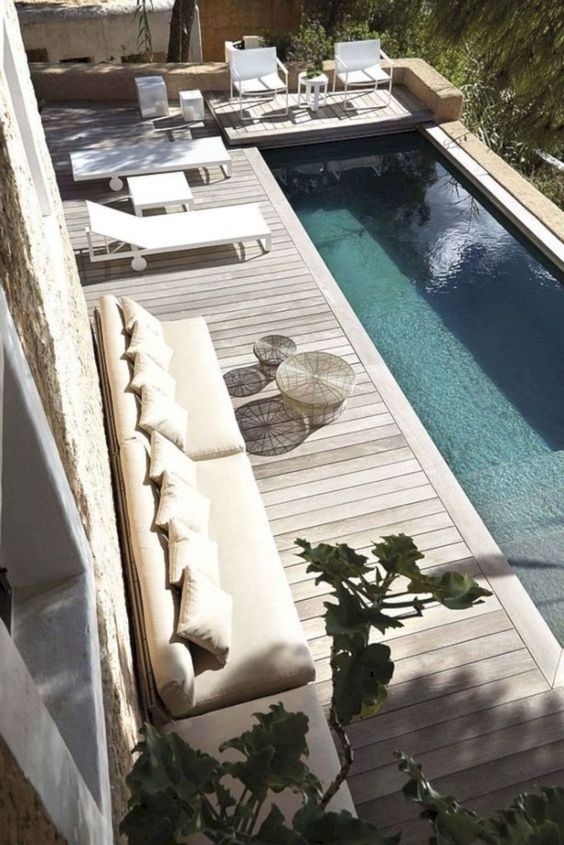 Add privacy screens.
The privacy screens are such lifesavers especially if you live in a busy neighborhood surrounded by plenty of houses. They will keep you out of the curious sight of the neighbors and you will certainly feel more relaxed and at peace. You can consider adding trees, wooden screens, or anything you like the best.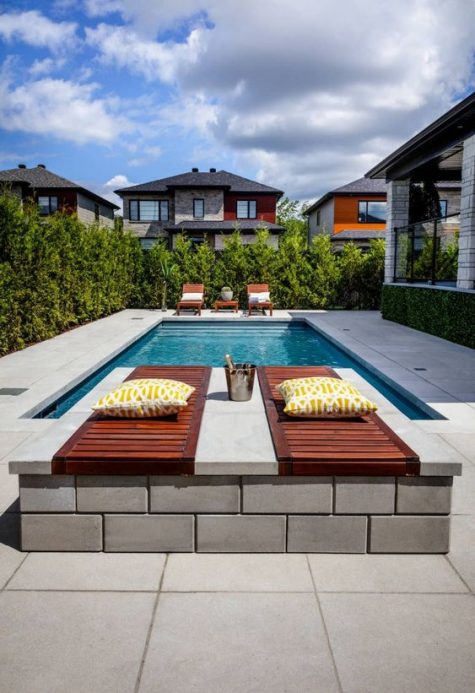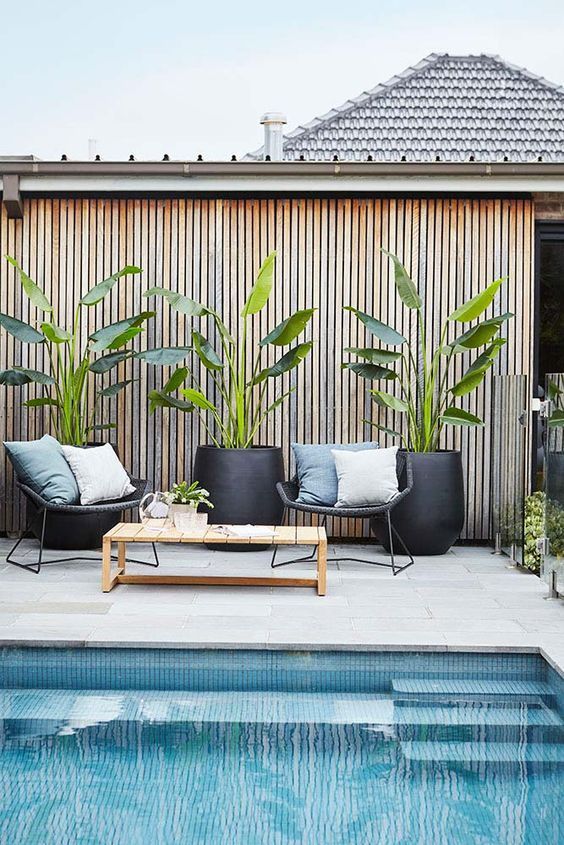 Don't be afraid to add a pop of color to the pool area.
Pop of color will make your outdoor area more playful, exciting, and fun. Bold colors look awesome especially in summer, so don't be afraid to experiment and give it a try. I just love those yellow pillows by the pool below. Don't you love them too?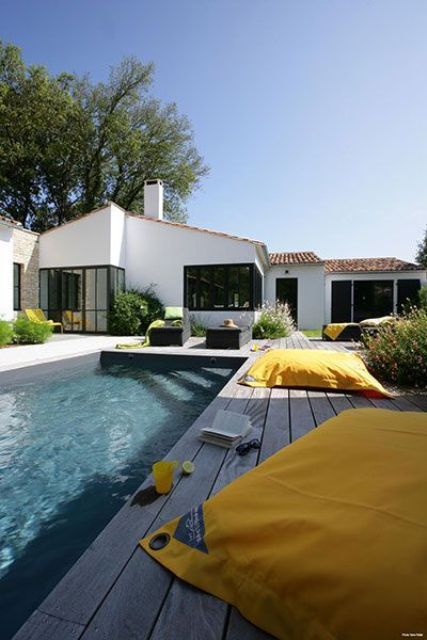 Consider building a pergola next to the pool area.
A pergola next to the pool is a great idea. You can hide "in" there when it's too hot or when it's raining. Add a bed or some pillows, a carpet and you will have a comfortable area for hanging out just by the pool.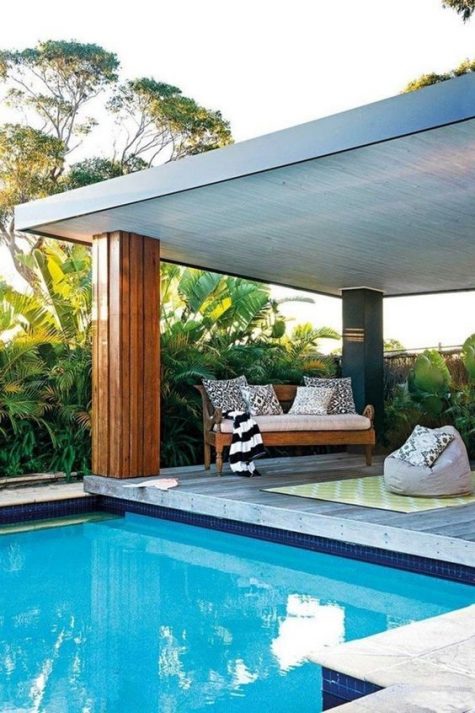 Make night swims possible with appropriate mood lighting.
If the nights are super hot you probably want to refresh yourselves and go for a night swim every once in a while (if not every night), don't you? Mood lighting will set the tone and will make the area more welcoming and enjoyable. Candles and string lights can also do the trick. What do you prefer?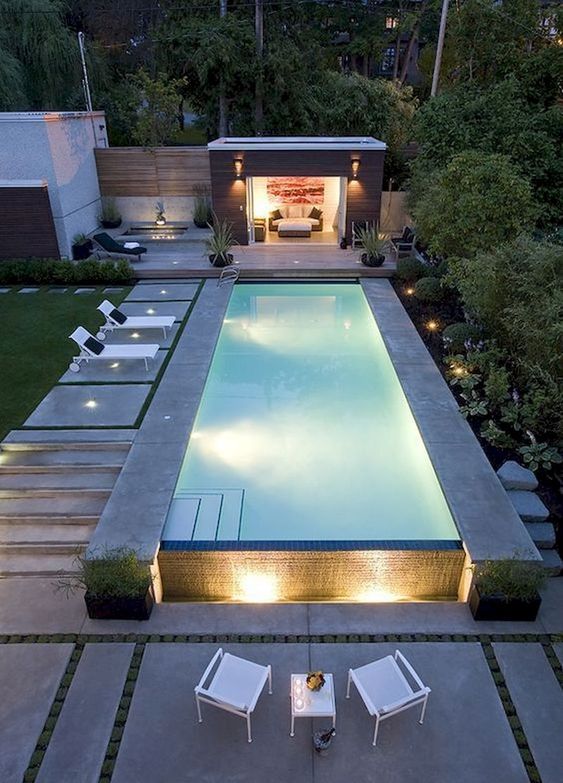 Raffia roof will give your pool area an unexpected twist.
Do you want to cover parts from the pool and the lounge area? Well, roofs can play a huge role here in the vibe that this area will have. One of my personal favorites is the raffia roof. I bet that you certainly didn't expect to see it! This is what makes it so special and fanscinating.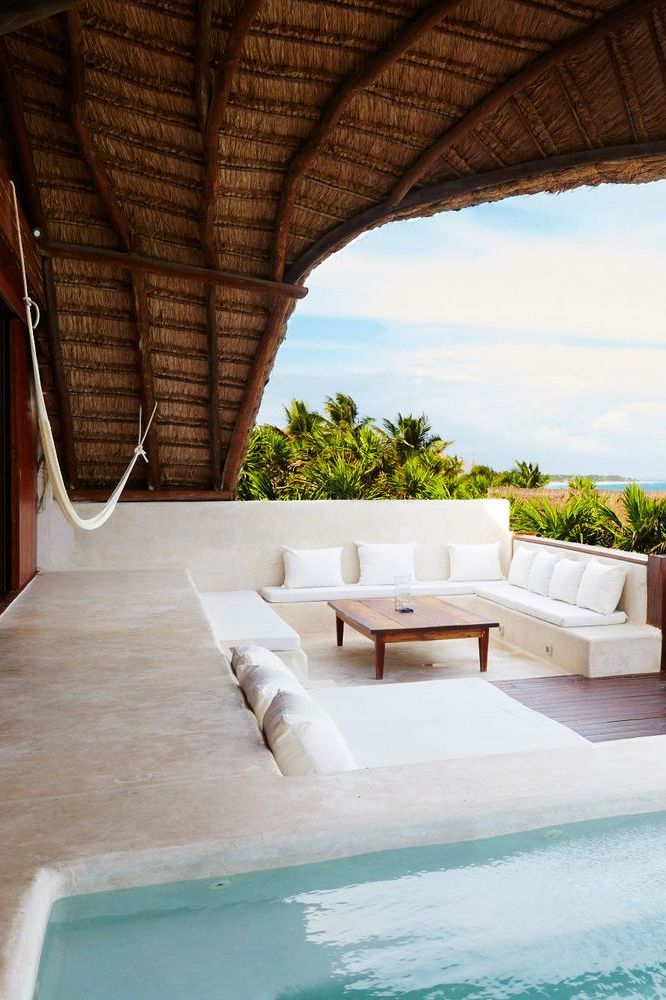 Create pathways to visually connect the different parts of your yard.
Is your backyard enormous and you have plenty of different areas? Make sure you create pathways that will help you to visually connect each one of them with one other.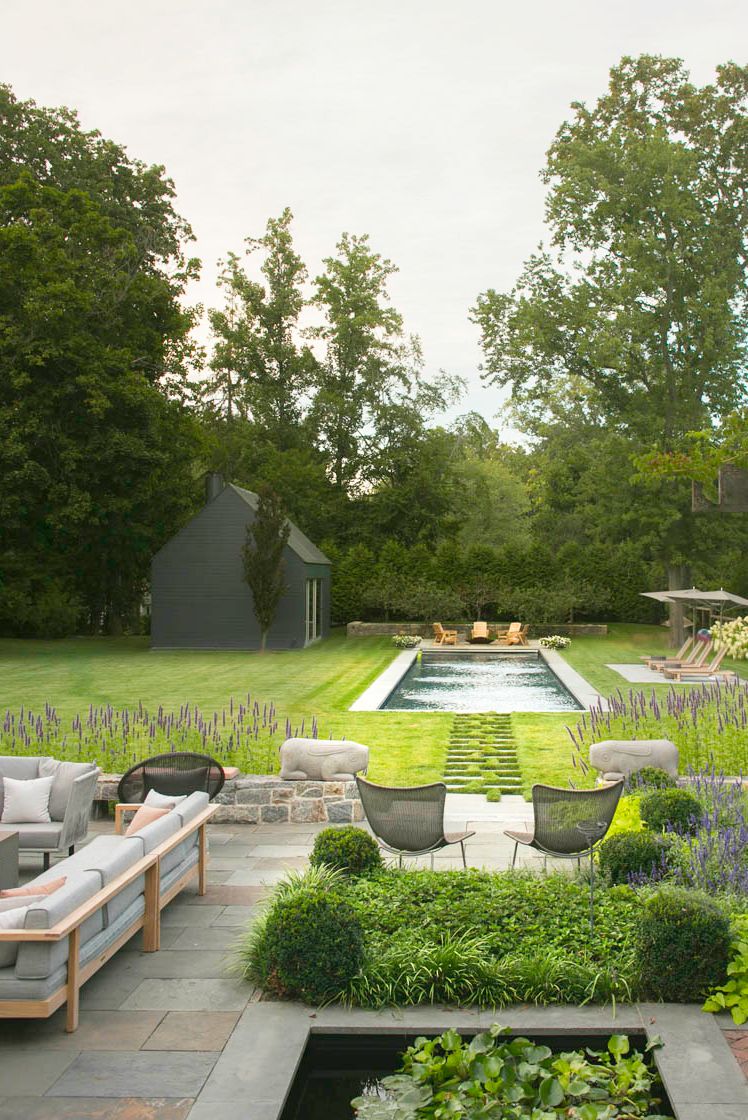 Add fire by the pool.
And last but not least, don't forget to add fire by the pool. It will definitely make the chilly nights better!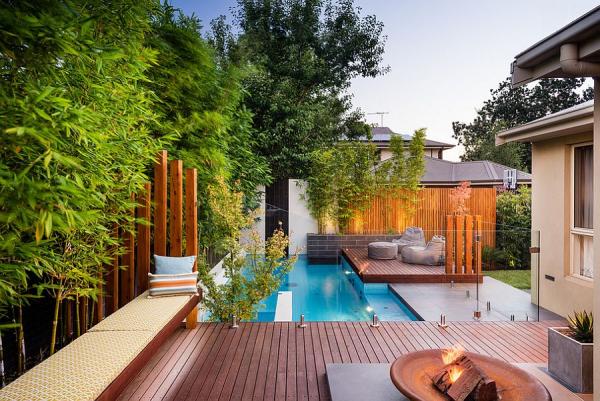 How do you like these pool areas? Let me know in the comments below if you have another tip that I have missed and that you would like to add!