If you're looking for the perfect staycation this summer, why not head to the delightful Eastbourne. Whether you're a local looking for something else to do or are travelling from a far, here's our top tips on how to spend a weekend getaway in this beautiful town and seaside resort.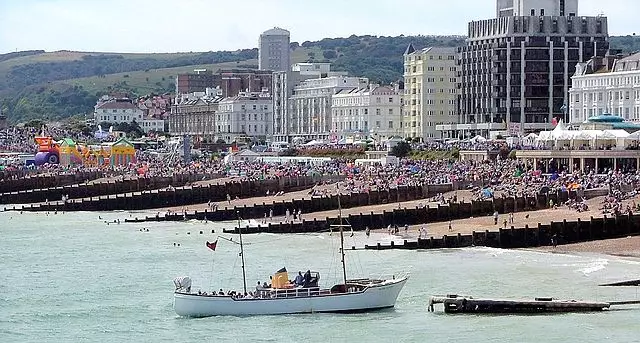 Travel
With the world beginning to open up again (slowly but surely), now is a great time to travel. If a staycation is on the cards for you and your family, why not catch a train to Eastbourne? No matter where you're travelling from, hopping on a train instead of taking the car can take the stress away from navigating the roads and parking. With a number of buses available and local taxis, you won't miss having your car with you.
Thanks to its southerly location, Eastbourne sees a wealth of sunshine throughout the spring and summer months. Being located right on the coast, it's the perfect destination to soak up some rays, enjoy some fresh seafood and experience the local activities.
Things to do
If you're searching for a staycation that offers a number of things to do, Eastbourne has something for everyone!
Contemporary art museums and culture – if you're a lover of art, history and culture, you won't be disappointed. With the likes of the Towner Gallery and the 1930s bandstand, it's easy to immerse yourself in the locations past and present.
Congress theatre – with the doors to indoor venues finally opening again, head to the theatre for musicals, plays and concerts, perfect for lovers of the arts.
Redoubt Fortress – for over 200 years, the Redoubt has stood ready and prepared to defend the Eastbourne coast. As one of the only three surviving Napoleonic Redoubts in the UK, take a step back in time and soak up some history.
Cliff walks, beaches and the seafront – what's better than exploring when you head to the coast? With a number of walks to experience, beaches to enjoy and shells to find along the seafront, grab your walking boots or dip your toes in the ocean.
South Downs National Park – whether you want to head there to navigate a trek or two, stargaze as the night roles in or learn more about the history, there's more to do in this stunning national park than you might think!
Tea rooms and seafood restaurants – for all the foodies out there, Eastbourne is perfect. With a wealth of independent tea rooms and cafes as well as fresh seafood restaurants, you'll never go hungry here.
Promenade and arcades – who doesn't love a good walk along the promenade or through the arcades? At 3.3 miles long, Eastbourne promenade is lined with palm trees, creating the illusion you're abroad for sure.
With its cosmopolitan marina and cultural attractions, you'll never be short of things to do and places to see in Eastbourne!