Have you ever thought about incorporating a kitchen in your outdoor area? Outdoor kitchens are simply the best thing that can happen to households!
They can have plenty of benefits and one of my favorite ones is that the indoor kitchen will remain neat and clean and my home won't smell of cooked food every day. Another great benefit is the celebratory feeling that it gives. I bet that once you build it you are going to have tons of parties, beer nights, pizza gatherings, barbecues, parties, and picnics with your friends and family.
Spring, summer, and late autumns are the best seasons to enjoy the outdoors, and an outdoor kitchen will make you want to spend more time in your garden. Running back and forth to your indoor kitchen to grab the things you need will exhaust you, so spending money on building a backyard kitchen is the best investment that you can make. The designs can vary, and in this article, I have gathered the ones that impressed me the most. Check them out. I'll be sharing more tips along the way as well!
Choose stainless steel.
If you want your outdoor kitchen to have a long life, stainless steel is the best material to choose since they are rust-resistant and you won't have to worry whether your kitchen will stay in good shape throughout the winter. Other materials are an option if you can protect them during the months you won't be using it.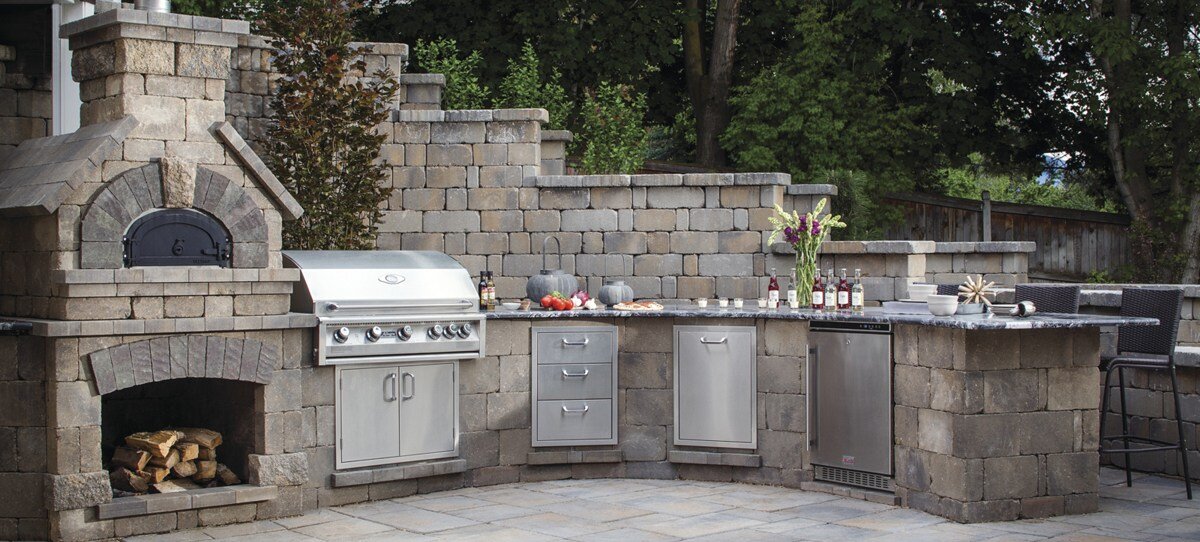 Add storage space to your outdoor kitchens.
Every kitchen deserves a decent storage space and outdoor kitchens are not an exception either. And although you may think that you will be using the kitchen just a couple of months in the year and you may not need regular storage space, believe me, you do need it.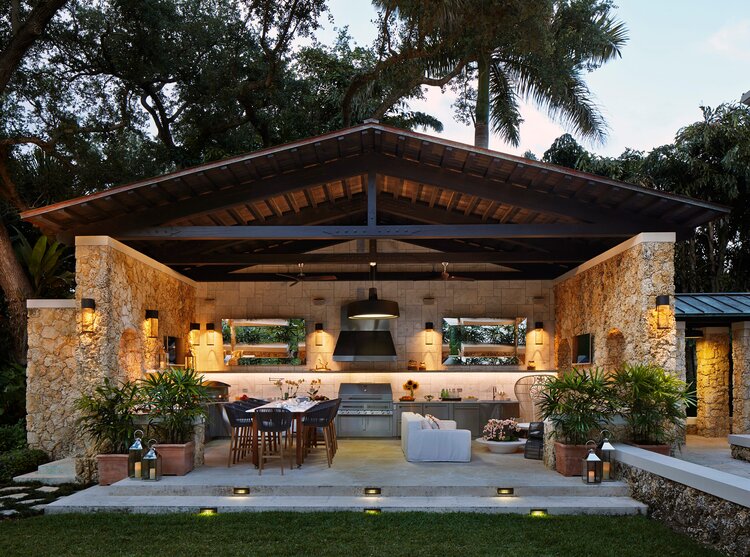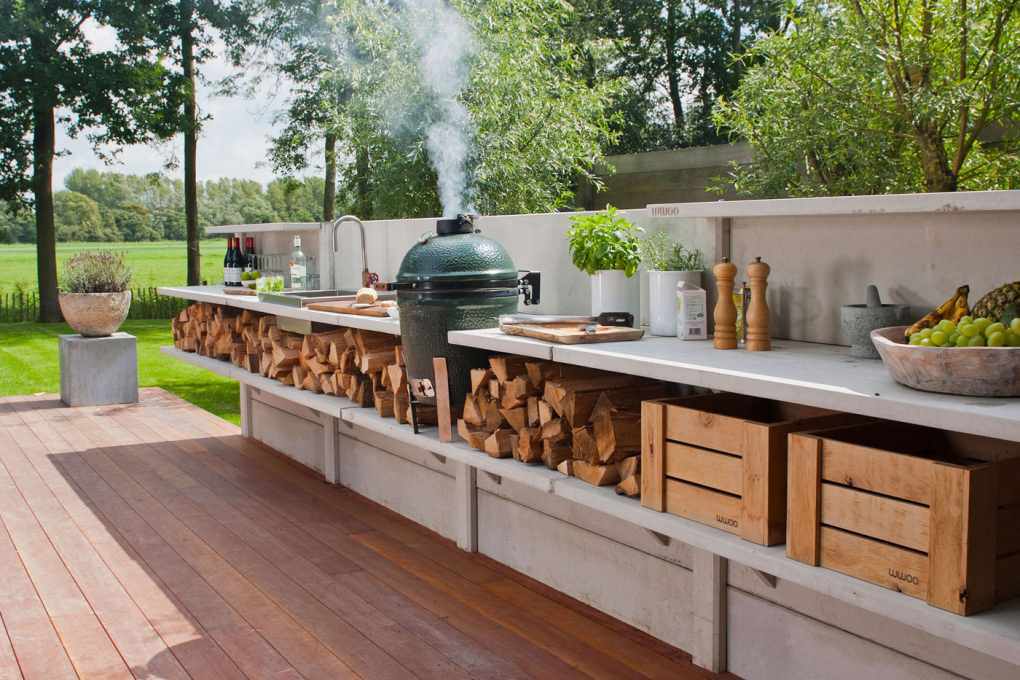 Incorporate a wood-fired oven.
The flavor of your food will be a lot more different when cooked on a wood oven rather than on an electric one. Outdoor kitchens are giving you the opportunity for one, so grab it as soon as possible! Your electricity bill will change as well.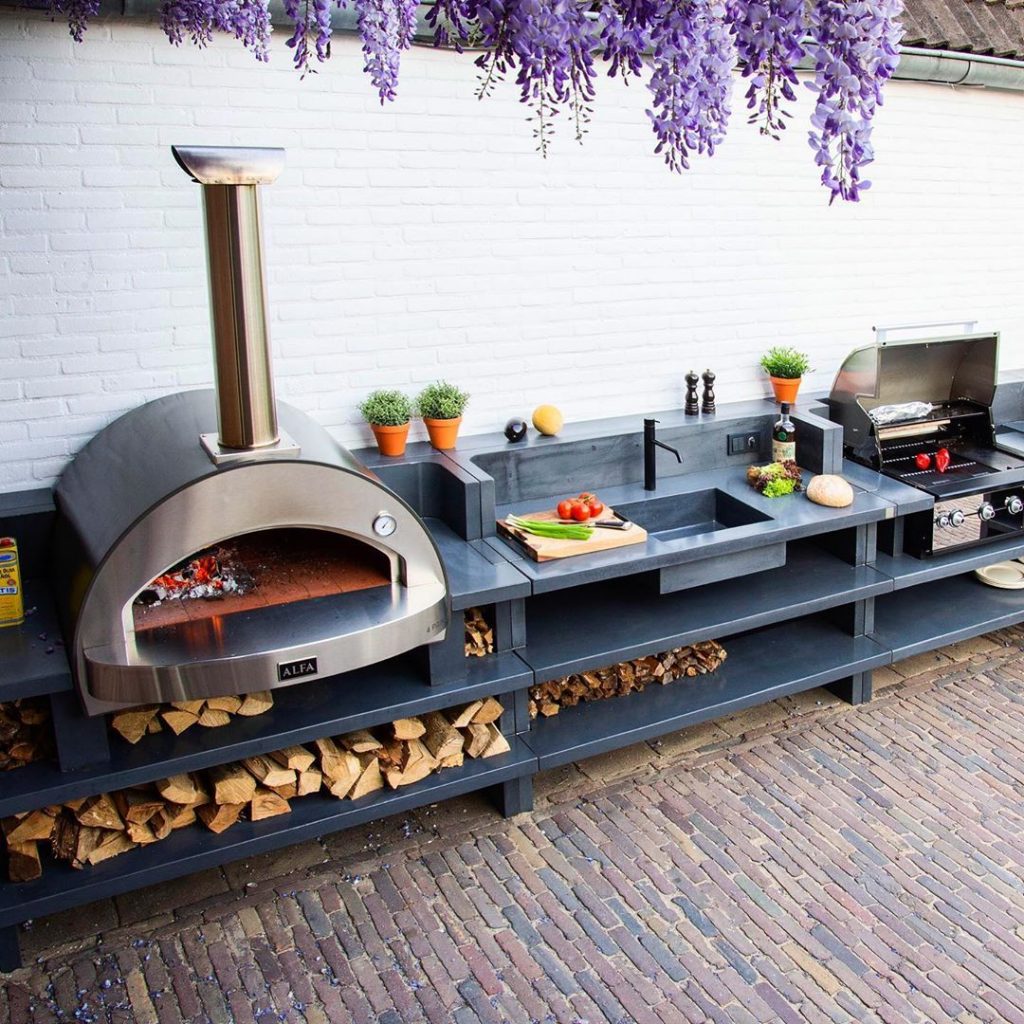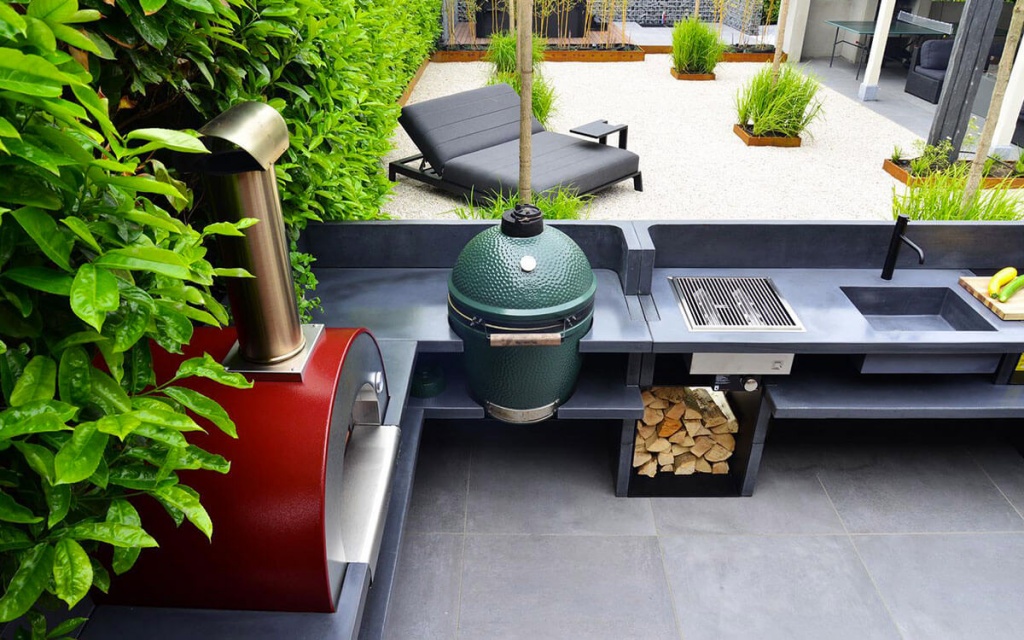 Add a bar.
The bar will be the most visited spot in your outdoor kitchen especially during the summers when your friends and family will gather to have a cocktail or two. If you have enough space and the opportunity, don't hesitate to do it. I already see myself seating here with my favorite drink in my hand and some great music playing in the background.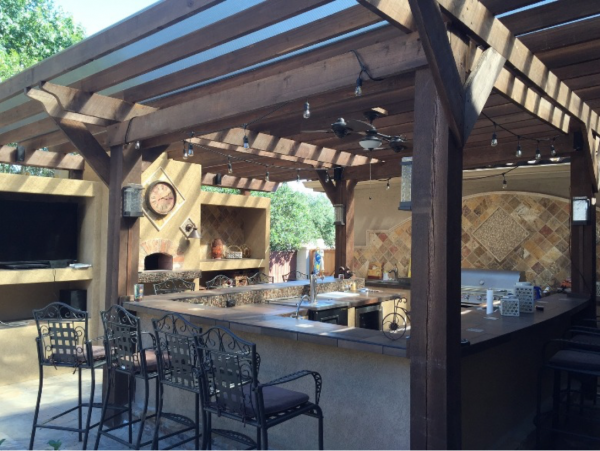 Think of your outdoor kitchen as a regular room.
All the amenities that you like to have indoors should be inserted here too in order to make the best of it and enjoy it to the fullest. A roof, a fan, a TV, and a dozen of other cooking appliances should be found in your backyard kitchen since you will be spending lots of time outdoors.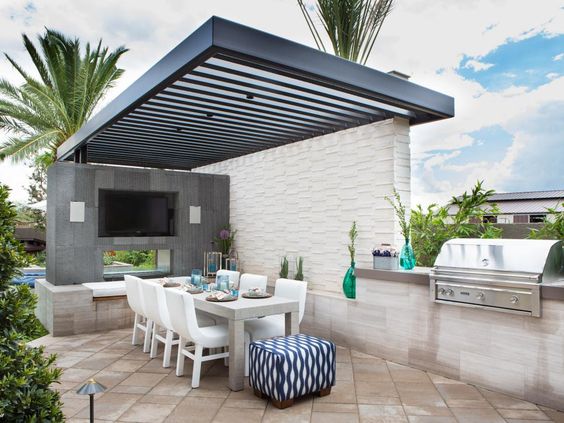 Don't even think about skipping the sink.
Did you think that a sink is not a big necessity in outdoor kitchens? You are completely wrong! If you cook a lot, the sink is a must for you. The sink is a must for you even if you don't cook, because you will certainly need a spot to wash hands and utensils too!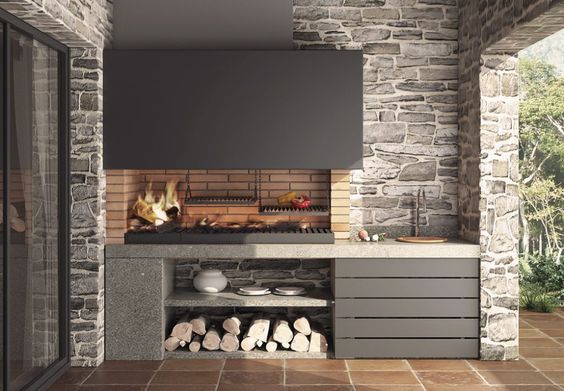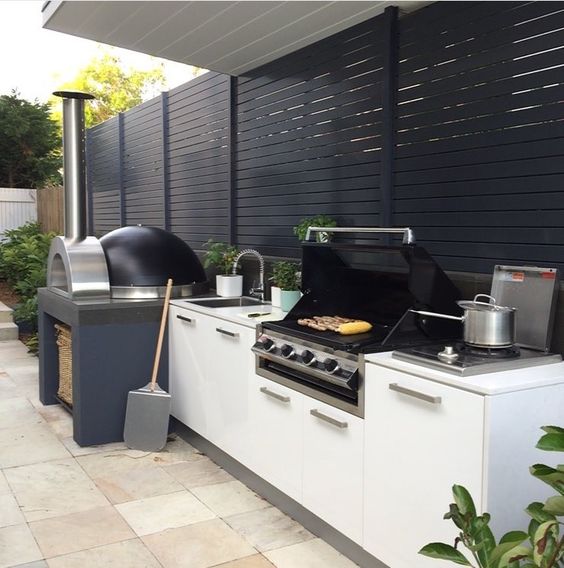 Don't neglect the lighting.
The lighting in outdoor kitchens is crucial since you will be using it both day and night. I bet that you wouldn't like to cook by using a flashlight, would you? Not only that you will have a well-lit area for your cooking activities, but you can adjust it to create a comfortable and cozy ambient when you are just enjoying yourselves outside.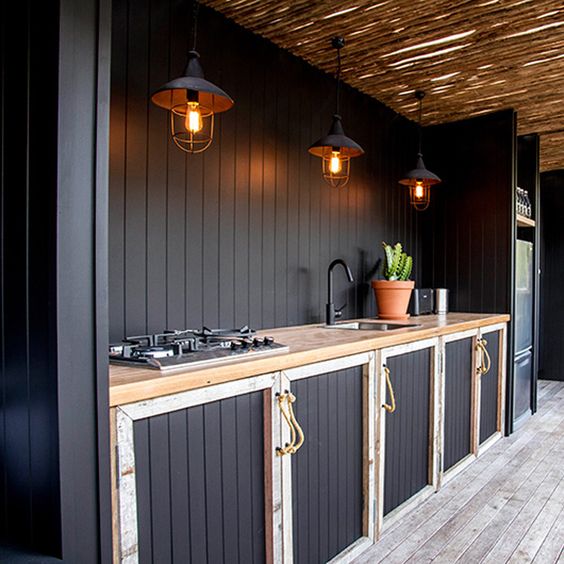 Think about outdoor seating.
You didn't think that you will cook your meal outdoor and then you will bring the plates indoors to eat, right? No outdoor kitchen is complete without a seating area where you will enjoy your meals. Make your kitchen more comfortable and functional by incorporating a regular dining area or a bar.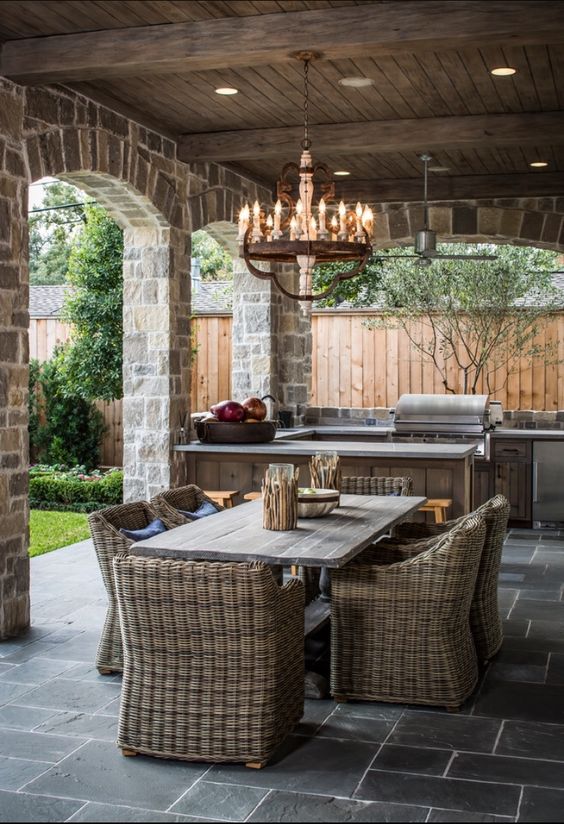 Not a single outdoor kitchen can go without a refrigerator.
You will certainly need one to cool your drinks during the hot summer day and keep your food from rotting. Summers can be extremely hot and a fridge or fridge drawers are a must for your outdoor kitchen.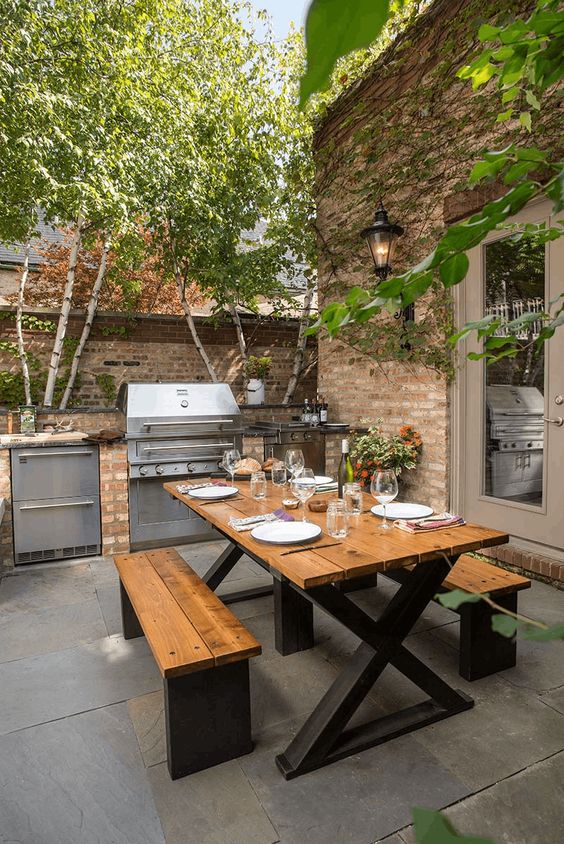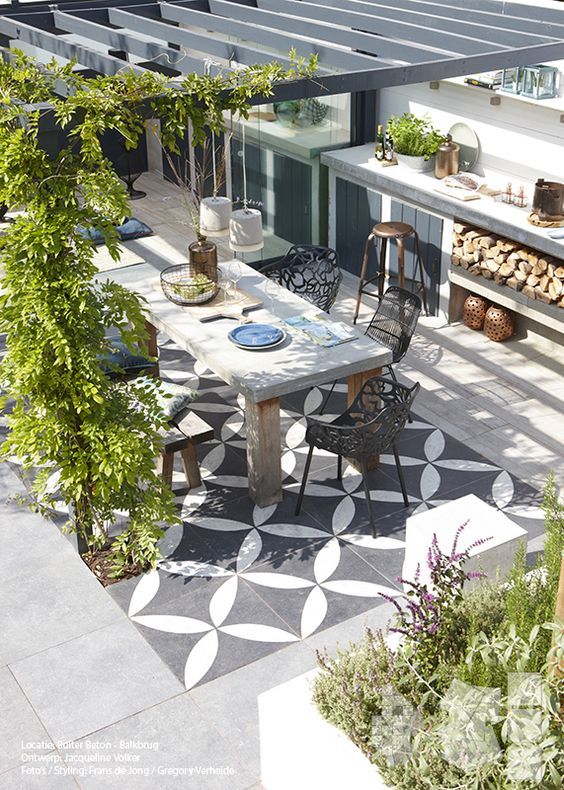 When the weather is nice, everyone wants to spend more time outdoors. An outdoor kitchen is the smartest investment that you can make, so don't even think about it twice before getting down to work. The benefits will be immense and you will be sorry that you didn't do it earlier.
Do you already have a favorite design in mind? Keep me posted in the comments below because I'd love to hear from you!