While home trends come and go, one trend will always stay around: wooden blinds. They add warmth and coziness with graceful elegance in the rooms of your house where you wouldn't want anything less. When you don't want a plain window looking you straight in the face, wooden blinds can be your ideal solution. Real wood is an organic and luxurious looking material, stimulating a sense of comfort and style, making your home a haven.
So let's take it to step by step and help you choose your blinds.
The Style
To provide more richness to your windows, wooden blinds are an ideal solution. Whether you're opting for wooden venetian blinds, roman blinds or roller blinds, most are available in various sizes, colors, textures, designs, materials, and functionality. There's much to take into consideration, but you'll definitely find something for you.
Vertical vs horizontal
Vertical blinds are preferred for large and wider windows, as well as patio or sliding doors. You can opt for horizontal blinds for narrow, taller and small windows. Vertical and horizontal blinds have different decorative and functional advantages, including systems for opening that maximize access to light. Generally, vertical blind slats are larger as compared to the slats of horizontal blinds. But if privacy is your main concern, horizontal blinds might be the better option.
The mounting
Inside mounting will give the best tailored look. They fit inside the window frame to be mounted as deep or as shallow as you like. Outside mounting give the flexibility of choosing almost any window covering. Inside mounting can provide contrast against the trim; the blinds can be darker than the trim or vice versa. If the depth of the window doesn't allow for inside mounting, hang appropriate-sized blinds that extend barely past the side trim for best results.
The layered look
These beautiful blinds can work just fine on their own, but they also play nicely with others, if flanked by curtains, for instance. Because of the hard-like look of wood, some people like to add drapes for a touch of softness. Hang your curtains high and wide, which stretches the look of the window horizontally. Go with complementary tones that work with your room's scheme.
Too much wood
A favored blunder when designing any room is using too much of one element. A wooden blind can already be the focal point of the room. It's more stylish to mix it up with other elements, such as iron or other metal items or crystal. You can find a lot of tips on how to make all the items and permanents of a room, such as flooring and walls, blend together and how to tie everything together.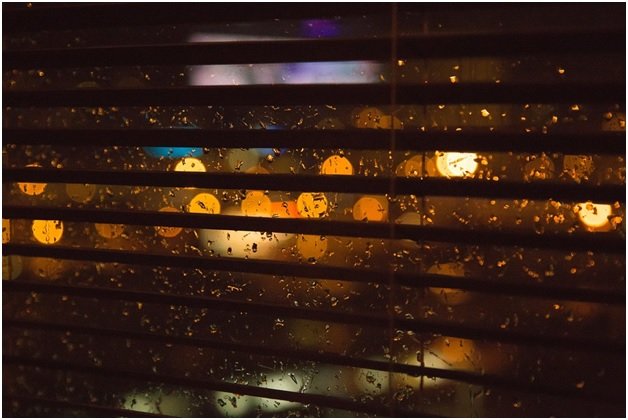 As much as they keep a room snug and warm in winter, wooden blinds are versatile and work nicely for warmer seasons to block sunlight when you want shade. They create a classy look, and best of all they're durable. Added to that, a simple dusting with a clean cloth can keep the look for years on end. So, definitely a win in all aspects!