There are many ways to redesign your kitchen in 2018 and so many variations to choose from. Open shelving, bold paint colours, hidden LED lighting under the cabinets, a beautiful kitchen backsplash, and ornate handles are some of the trends that becoming popular this year. And, of course, multi-purpose kitchen islands are a must in 2018.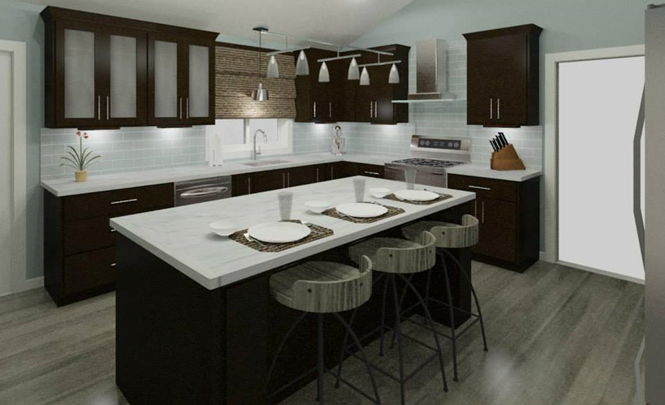 U-shaped Kitchen Island
One of the trends becoming popular this year is a u-shaped kitchen island. It's not an easy feat to pull off because this type of kitchen island takes up a lot of space. The benefits of a u-shaped island include massive amounts of hidden storage space, a decent size eating area, and so much workspace. Consider one of the trendy u-shaped kitchen islands if you have the room for it.
Single-Level Islands
A recent kitchen island trend has been a two-tiered island, which helps separate the preparation area from the seating area. This year, consider single-level kitchen islands. Choosing a single tier island has many benefits: it helps create the illusion of a larger kitchen; it provides a beautiful, large space for a buffet; and it fits better in a smaller kitchen. A single-level island also provides more side storage space.
Different Heights
While some people want more space, some cooks opt for kitchen islands with two tiers. Kitchen islands with different heights offer a clear separation between the prep area and the eat-in dining area. This separation helps protect your family from the preparation of hot food. If you choose a two-tiered kitchen island, consider incorporating a sink and a stovetop into the higher level.
Side Storage
One of the benefits of installing a kitchen island is the amazing space options available. Not only do you get more workspace on top of the island, you also get side storage all around. Want extra drawers for your kitchen gadgets? How about shelving for your cookbooks? A kitchen island will provide all of that, and more. Adding storage is a great way to prevent obstructing the view of your kitchen backsplash, now that all your things are safely tucked away.
There are so many ways you can improve your kitchen space this year. Paint your kitchen blue, install some pretty handles and knobs, or play around with recessed lighting. Whichever way you improve your kitchen, adding a kitchen island is sure to delight you and make your cooking and prep time easier and more satisfying.