In a perfect scenario, every couple would have the means to secure both a professional wedding photographer and a top-of-the-line photo booth to capture their special day from every angle in every way.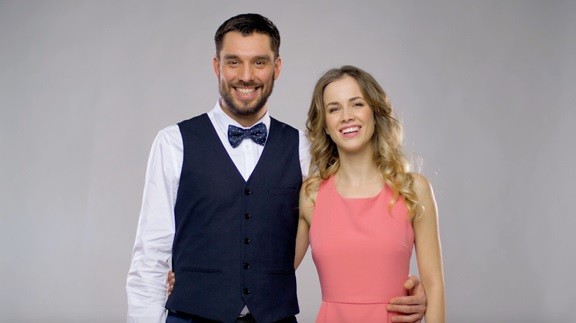 As it happens, many couples may not have the budget at present to splurge on all the wedding items they'd love to have, such as young military or college aged couples who are just getting started in life. Other couples may simply be financially conservative and not want to spend their savings on a one day affair.
So if one must choose between a photo booth and a photography service, which is best?
Naturally, this all depends on the couple's unique priorities, wishes and budget. Based on the direct experience of a company that provides Buffalo wedding photo booths and works alongside talented photographers at events, this article breaks down the differences between each option to help sort out which approach is best for each situation.
The Pros of a Wedding Photo Booth
Affordable: The cost of most photo booths is thousands of dollars less than a typical photographer.
Guest Interaction: Photo booths bring out the silly side in everyone and break the ice early on to get guests out of their seats. They have fun and become part of the captured memory making plus it breaks the ice and gets people out of their seats. With a photo booth, guests can help create the wedding album in a way that reflects attendee personality and moments too.
Nearly Everyone Makes It Into the Album:Because guests want to capture fun, special photos with their partner, close friends and family without hoping and praying the photographer will be available to take that shot, they make it a point to take pictures at your photo booth station – which ensures you capture just about everyone at the event, even if the photographer doesn't.
Instant Wedding Album: Waiting for the printed album, or even digital copies, of photos taken by a photographer can take weeks or months. But a photo booth delivers instant access to all the pictures taken with it and some photo booth packages include a nicely bound physical memory photo book filled with a copy of every photo strip printed at the event.
It's a Great Backup Plan: Most photographers don't have a Plan B if they become ill or unable to attend a wedding. Thus, a photo booth is an excellent backup option to ensure that professional quality photos are taken at the event of all the guests.
Social Sharing: When a couple is highly social online, they want to be able to share snapshots of their wedding as it's happening. Unfortunately, this isn't possible with a photographer because all the photos are stuck on their camera until they get around to downloading and editing them. However, certain photo booth products allow guests to access and share pictures instantly online so that they can be enjoyed by everyone in real time.
Guest Mementos: Most photo booths include various on-site, on-the-spot photo strip prints of every session that guests can take with them, like a sentimental memento of the wedding.
Gifs & Unique Media: Many photo booth products generate more than just digital static images. Some can create "boomerang" gif videos, slow motion videos and more.
The Pros of a Professional Wedding Photographer
Capture Every Segment: One of the biggest benefits of having a photographer is that they roam with the couple and capture each milestone throughout the day, from getting ready to first looks to ceremony, portraits, cocktail hour, first dance, parent dances, cake cutting, garter/bouquet traditions and more.
More Choice in Photo Style: Every couple has their own preferred photography aesthetic, from light and airy to dark and modern and everything in between. Couples can choose the photographer that has a style closest to their preference.
Wish List Granted: Hiring a photographer allows the couple to specify exactly which critical pictures must be taken on the day, such as family portraits. This ensures that the most important people of the day are captured, even if they never make it into the photo booth.
Setting Selection: Because a photographer can travel with the couple and wedding party, the couple has more freedom to choose the setting of their wedding photos, whether outdoors or in unique rooms. This isn't possible with most photo booths because they are stationery.
Journalistic Story: A photographer has the ability to compile a more comprehensive start to finish story of the wedding day unfolding than a photo booth, which is typically only capturing guest portraits at the reception.
The Cons of a Wedding Photo Booth
Posed, Not Candid: Pictures taken with a photo booth are posed, whether silly or serious, and capture an orchestrated moment rather than an organic unfolding of a moment. While this is a beautiful option, some couples want to see a more natural storytelling of their wedding day.
Limited Environment: Typically a photo booth will have a background of the couple's choosing to use throughout the event, whether open air style or closed canopy style. However, photo booths are typically too big or fragile to move around so a single unit can't take pictures outside and at multiple locations.
Misses the Milestones: Unless a couple physically places themselves in front of the photo booth for a specific tradition, like the cake cutting or first dance, a photo booth isn't going to capture all the milestones of the day like a more mobile photographer could.
The Cons of a Professional Wedding Photographer
Investment: The cost of a talented, reputable photographer is often quite high, easily in the thousands and up to 5 figures depending on the region and status of the artist. This can put a serious dent in many couple's budgets.
Less Guest Interaction: A wedding photographer acts as more of an observer and, outside choreographing portrait shots, doesn't inspire much guest interaction or involvement the way a photo booth does.
No Backup Plan: Few photographers are able to offer any type of backup plan if they are sick or unable to attend the wedding. Typically, wedding photographers are all booked up on the same days so the chances of another local photographer being available to pick up an event at the last minute are slim.
Photo Reveal Delays: Most photographers require several weeks or months to download, edit and organize the wedding photos before delivering them to a couple. This is a long time to wait to see memories. A photo booth offers photos instantly.
No Social Sharing: For couples and guests that are heavy social media users, a photographer won't be able to provide any professional grade photos to share online during the event, whereas a photo booth can.
Guests Excluded from Photos: A photographer simply can't be everywhere at once and doesn't know a couple's guest list the way they do, so it's likely that many guests may be absent from the photo collection and wedding album. A photo booth is a more reliable way to get photos of all guests because people tend to want to take their own pictures at the booth.
While it's ideal to be able to book both a professional wedding photographer and a wedding photo booth, in the cases where this isn't feasible, this guide should help couples determine which offering is the better fit.