Videos undoubtedly make up the majority of the online content we consume every day. And with the demand is probably going to rise even further as days go by. Does that make you want to get started with video-making?
If you are a total beginner, it takes hard work to keep your audience engaged in your videos. After all, you want people to watch your videos.
Video-making ideas are all over the internet but ideas that you can actually implement and benefit from are few and far between. In this article, you will learn the best video-making ideas that will help you get started and attract the right audience in sufficient numbers.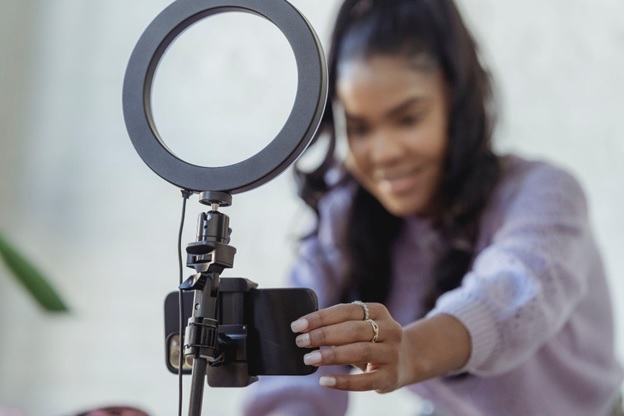 Video-Making Gears for Beginners
Finding the best video equipment as a beginner looking to get started can be a real brainteaser. As the competition is high in this line of work, the audience will look for a video-making quality that is professional and top-notch.
You will need a minimum of resources to grab the attention of your audience on social media. For instance, the following video equipment is essential for beginners:
Video Camera
This is the most essential and crucial equipment of all. This is the backbone of video making. Smartphone cameras, DSLRs, mirrorless, and GoPro offer a wider range of features, flexibility, and better quality.
Tripod and/or Gimbal
Tripods are essential for mounting DSLRs indoors and to avoid shaking if you are vlogging outdoors. A gimbal is used to stabilize your smartphone camera for better professional quality.
Light Shades and Reflectors
Depending on the video scope, using both natural and artificial lighting is vital. Light shades help eliminate shadows in your video.
Microphone
While video cameras and smartphones already come with a built-in microphone, relying on an external microphone can improve your sound quality to an extent.
Video editing software is also a requirement for editing your source video. This helps you with cropping unnecessary clips, animations, color gradients, and more.
Apart from these, you will also need a VPN for your privacy if you are or want to be a photographer or videographer who travels a lot. This ensures online privacy even on public WiFi networks and also helps you access geo-blocked content. For the best VPN available for traveling videographers, visit https://cameragroove.com/best-vpn-for-videographers/.
Top Ideas for Video Making
One of the main reasons for video making is to earn money from views, thereby creating a source of full-time passive income. There are many social platforms like Youtube, TikTok, Facebook, Instagram and IGTV, and Vimeo, where you can upload your videos, varying on the content you make.
Depending on the resources you have, here are some of the video-making niches you can consider as a beginner.
1.  Unboxing and Review Videos
People adore unboxing videos. There is just something about unboxing new packages and stuff that give the audience pleasure. They resonate with the feelings associated with unboxing a new purchase; for instance, the feelings generated by the sound of the plastic tearing away from the boxes and the popping of the bubble wrap.
Making review videos around the products you are enthusiastic about is another excellent option. If you have a passion for technology or any topic, you can start regularly reviewing the newest gadgets or products. Both of these ideas require fewer resources and are an ideal choice to start video making for an absolute beginner.
2.  Training, How-to, and DIY Videos
Training, educational, and how-to videos are among the most highly-watched videos on Youtube. As a beginner, this could be your perfect choice for your video-making journey.
If you are a programmer or web designer, you can teach and share your knowledge via video tutorials. Some ideas could be developing a website using WordPress, mastering Java or Python programming language, etc.
If you are a digital marketer, you can teach online marketing skills and tips through your videos to the target audience.
Creating a DIY video on any topic seems to be one of the best YouTube ideas you can adopt these days. Since not everyone is skilled in the arts or is creative, these kinds of visual content have proven to be quite helpful for people who still want to give it a go.
3.  Travel Vlogs and Tour Videos
A common and trending video-making idea of recent times, travels vlogs are very popular all over the world. To make your audience feel as though they are right there with you, experiencing everything you do, vlog the best portions of your adventure.
Show them around your hotel, the food you're eating, the things you're buying, and explain the history of the places you are visiting. If you enjoy traveling, describe how you organize your schedule and spending plan and provide your readers with a trip guide.
4.  Health, Wellness, and Beauty
Post-pandemic, people frequently look for workout and fitness guidance online, especially on YouTube, Facebook, and Instagram. All age groups desire a fitness routine and good nutrition in order to lead healthy lives.
As a doctor or fitness guru, you can easily provide the necessary instructions to your subscribers by making videos on a timely basis. You can also hold live Q&A sessions with your audiences and get an idea of new topics based on their health or fitness-related queries.
Another well-sought-out video content type on social media is beauty blogs. This is a go-to idea for beauticians who are willing to share their makeup journey, tips, and ideas right from the comfort of their homes.
Inform your audience about the newly announced products and how to use them. Talk about the advantages of utilizing these products, their prices, brands, and many other things.
5.  Compilations, Prank, and Reaction Video
Compilation videos are wonderful since very little video production work is necessary to create them. Finding the perfect clips to blend, though, requires some patience and time. Other related ideas for compilation videos can be funny videos, sports, best movies, and music albums.
The internet is full of memes that relate to most people in quirky ways. Imagine collecting the best ones from the web and creating a single video with them. You can also use memes in any video for a humor kick.
Another beginner's idea can be prank videos. These were once among the gems of Youtube content. But with time, the video makers specializing in prank videos started to cross boundaries to become viral online.
If you are into prank videos as a beginner, go for fun prank ideas with your family and friends, something light-hearted yet funny and enjoyable at the same time.
6.  Daily Life, Live Game Streaming Videos
A "Day in My Life" is a type of storytelling video where you describe your lifestyle on a daily basis. Capture your entire everyday routine and make a video. Give your viewers a glimpse into your everyday activities, daily schedule, and personal life.
You can demonstrate anything you want in order for them to be inspired by you. Creative themes for this video category can be things such as – how you are setting up your video equipment, the little quirks and tips you follow for making videos, or your daily breakfast routines and daily chores.
If you are an avid gamer, then live streaming your game could be a potential hit among gaming enthusiasts. Use your talent on these video ideas if you are a game-obsessed person. Show the world how you play certain games by recording them and adding some additional elements like fun animations and voice-over using tts voice tool.
7.  Food and Cooking
You don't necessarily have to be a chef to make food videos. If you enjoy cooking, share your favorite recipes or cooking tips in your videos. Try covering cuisines from different countries for a better global audience reach.
Cooking ideas and tips may include preservation tricks for frozen food items, baking recipes and tips, kitchen hacks, food ASMR shorts, and more.
Not all restaurants serve good food. If you have the correct palate and are aware of the exact location where those delicious foods are prepared, you can share them with everyone. With your food review videos, you can guide a lot of foodies in their search for the best foods and restaurants.
8.  Motivational and Career Guideline
People need motivation in their lives. As a beginner, you can provide life lessons to your viewers by sharing your experiences. The reason motivational videos are effective is that they evoke specific emotions in viewers. Additionally, these kinds of videos spark conversation.
Online career counseling is another great way to start your video-making journey. As a graduate or job holder, you can provide career advice to people based on your own career history and the ups and downs of your success and failure story.
If you are studying or have studied abroad, you can also guide prospective students who also want to study abroad with advice, tips, and things they should know to go on the same journey as you. You can also make videos chronicling your life as a student studying abroad.
Conclusion
Over the years, videos have become and are increasingly becoming a potent tool for digital marketing and advertising. As a beginner, some ingredients to quality video making are authenticity, creativity, and consistency.
You can also get creative with the ideas mentioned above. For example, if you are a food reviewer, consider making a video concept series where you avoid eating junk food. We hope our article points out all the necessary initiatives and concepts to help you get started on your video-making journey.