Rainbow Cheesecake is a wonderfully colorful spin on your classic cheesecake recipe. This no fuss dessert will have guests falling over themselves trying to find out your secret to the beautiful layers of the rainbow! Whip this up with ease for any get-together or even a birthday party! We promise you'll find the same rich creaminess in this as your favorite tried and true cheesecake recipe.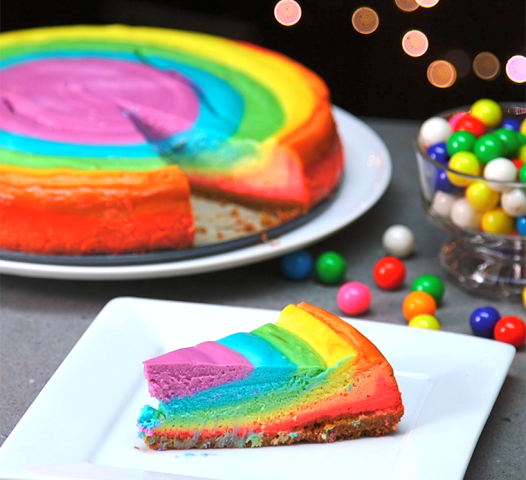 Ingredients:
1-1/2 cups graham crumbs
1/3 cup butter, melted
4 pkg. (250 g each) cream Cheese, softened
1 cup sugar
2 Tbsp. flour
2 tsp. Vanilla
1 cup sour cream
4 eggs
red, orange, yellow, green, blue and purple gel food colorings
Directions:
Heat oven to 325°F. Combine graham crumbs and butter. Press onto bottom of parchment-lined 9-inch springform pan. Bake 10 min. Meanwhile, beat next 4 ingredients in large bowl with mixer until blended.
Add sour cream; mix well. Add eggs, 1 at a time, mixing on low speed after each just until blended. Measure about 1-3/4 cups batter into separate bowl; tint with red food coloring.
Measure 1-1/2 cups of the remaining batter into separate bowl; tint with orange food coloring. Continue to divide remaining batter into 4 additional bowls, decreasing measure of batter in each bowl by additional 1/4 cup as you work your way down to the last bowl which should have only about 1/2 cup batter.
Tint each of the remaining plain batters with a different color food coloring, adding in order listed in ingredient list. Pour red batter over center of crust.
Repeat with remaining batters, one color at a time, starting with the batter with the most volume and working your way down to the batter with the least volume, and always pouring batters over batter in center of pan.
Bake 1 hour to 1 hour 5 min. or until center is almost set. Turn off oven. Open oven door slightly. Let cheesecake stand in oven 1 hour. Run knife around rim of pan to loosen cake; cool completely before removing rim. Refrigerate 4 hours.
via shared videos