The outdoor Halloween decor can be pretty majestic, and I believe that every single one of you is counting the days until the most exciting and fun holiday of fall. Do you want to make your neighbors envy your Halloween setting? Are you struggling to find the right decorations about your yard? If you want to make it look outstanding, you should definitely check out the ideas that I have gathered for you today.
The Halloween props can be devastating for your budget and they can really cost an arm and a leg. They can be quite expensive and if you don't feel like spending a fortune on them you can always consider making them on your own. You may even ask your kids to give you a hand with the crafts and involve them in some interesting activities which will make them even more excited about the holiday. In this way, you will not only save money but you will have customized decoration according to your preferences and taste. It's a good idea to start on time, so scroll down and make your picks because the countdown begins!
Tower of Terrifying Pumpkins
There's not a single chance to skip the pumpkins for Halloween, but if you are looking for something that will make waves, you should definitely recreate this tower of terrifying pumpkins. It looks especially scary at night when the candles in them are lit. Don't you just love it?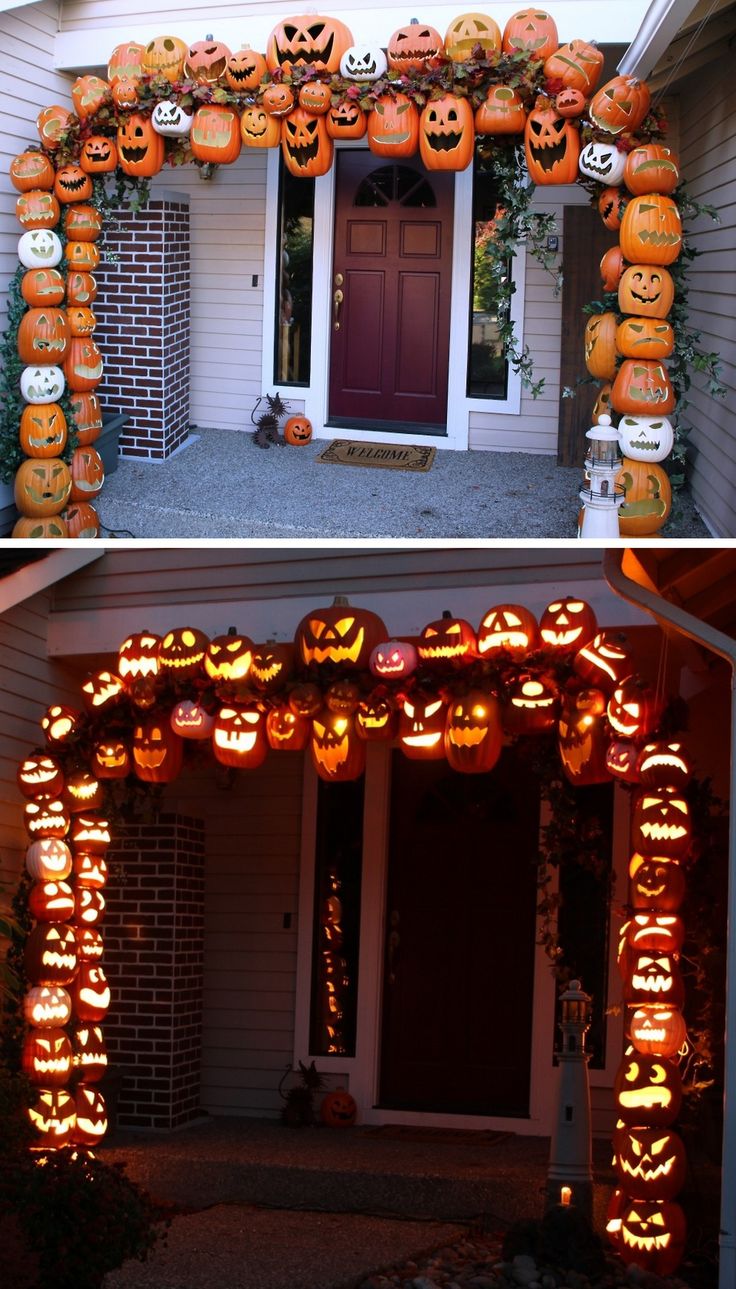 Ghost Leaves Bag
The graveyard setting is really popular. Despite the gravestones get some white bags and turn them into scary ghosts. Use the leaves that have fallen from the trees to fill the bags. It's such a cheap and interesting way to add a wow effect to your yard, isn't it?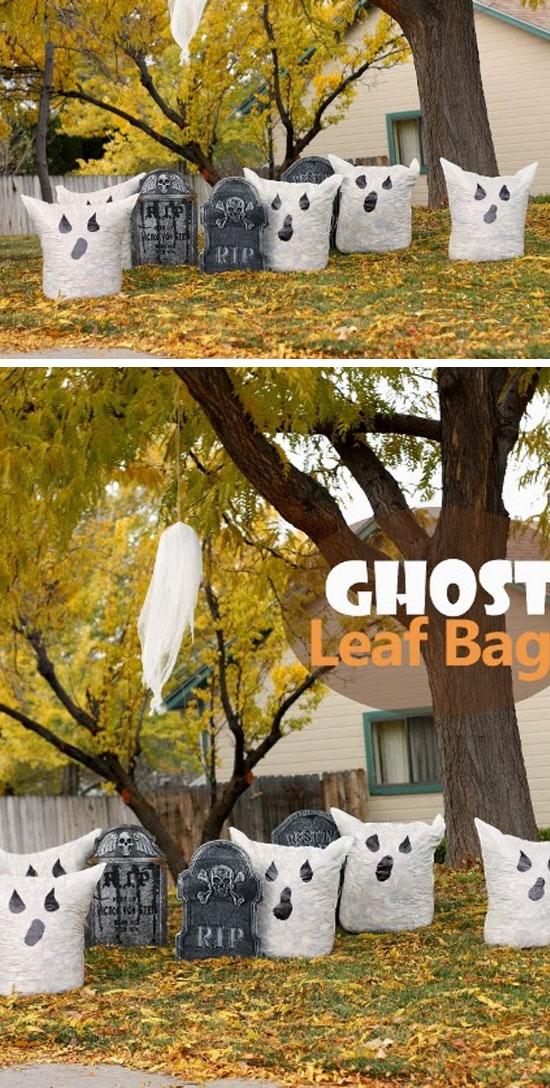 Clear Packing Tape Ghost
Halloween decorations can look pretty stunning if you make an effort. Ghosts made of white cloths are so last year! This ghost made of clear packing tape looks spectacular. The lights inside it make it more frightening at night! It's definitely not so easy to make it, but it's definitely worth it.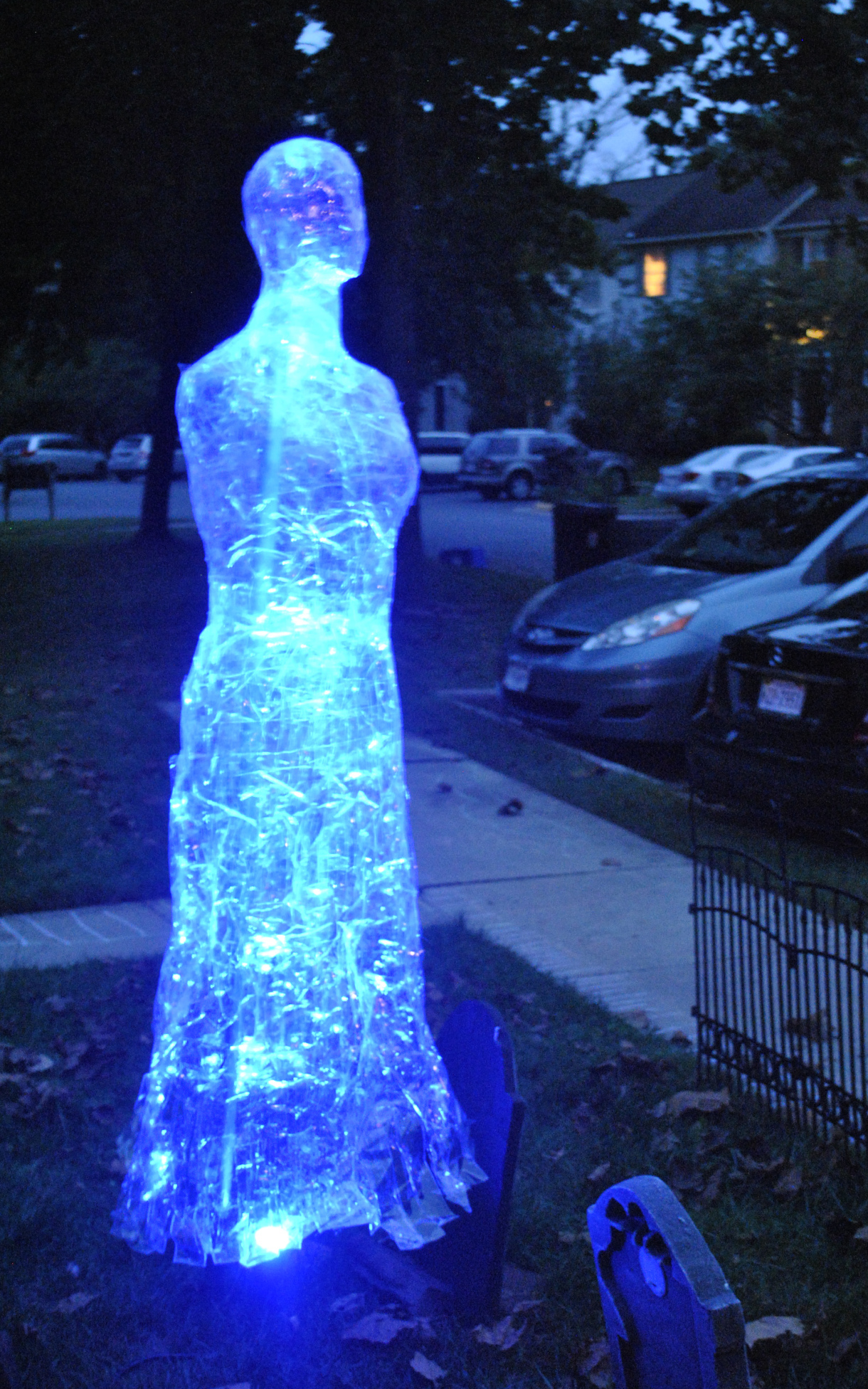 The Birds
There are some decorations that won't take you much of your time. You are going to love it especially if you are running late. Get some branches, buy some black ravens, display some pumpkins and you are ready to go.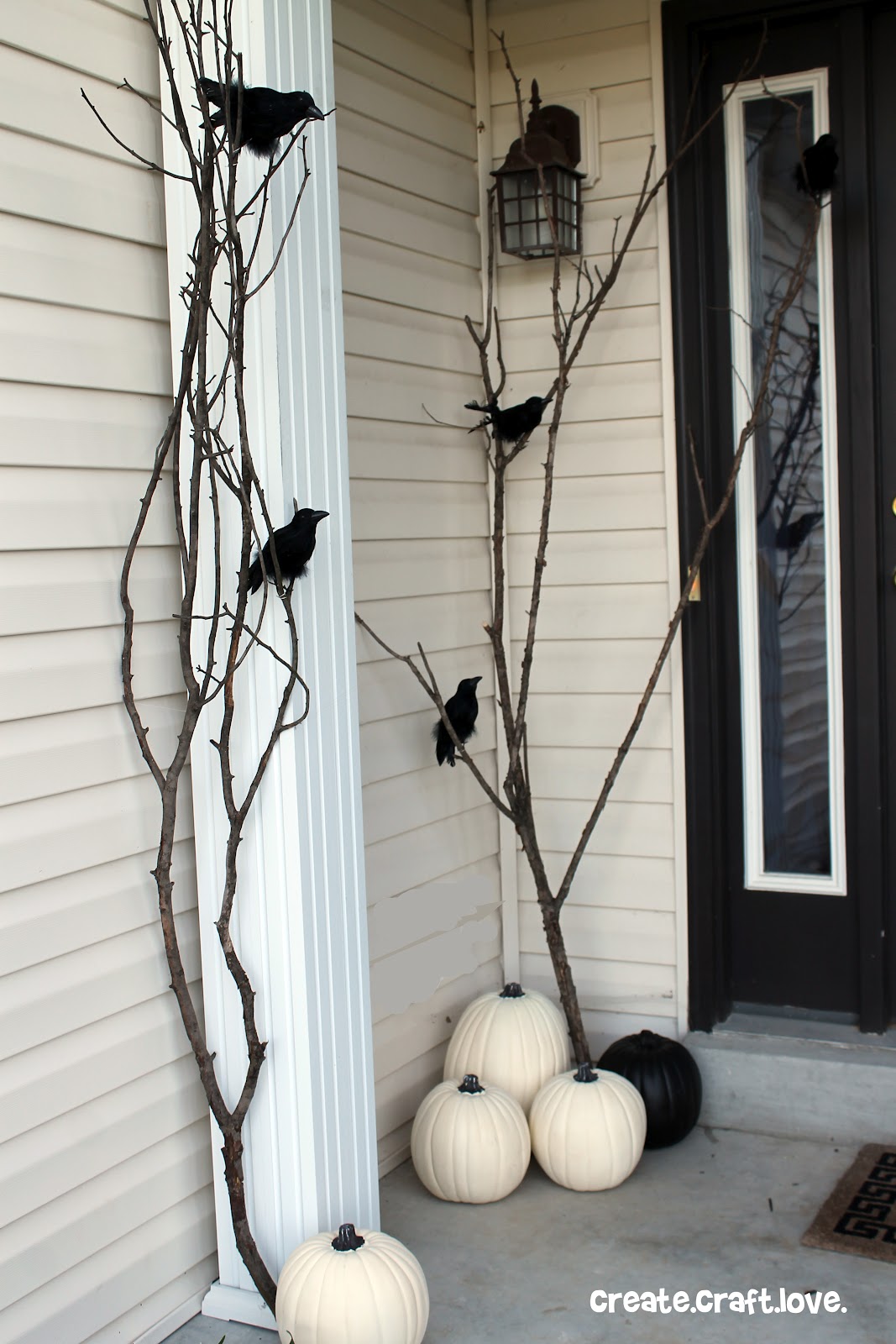 Cryptic Coffin
Have you just bought the biggest pumpkins ever? Make them as scary as possible and create a graveyard scene around them. Yellow leaves and string lights are other small details that will add up to the whole look of your Halloween decorations.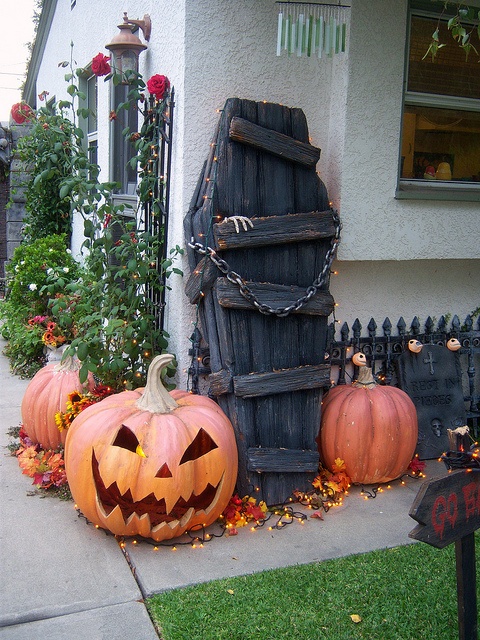 Haunting Hooded Ghouls
This is one of the scariest Halloween decorations that have really managed to leave me speechless!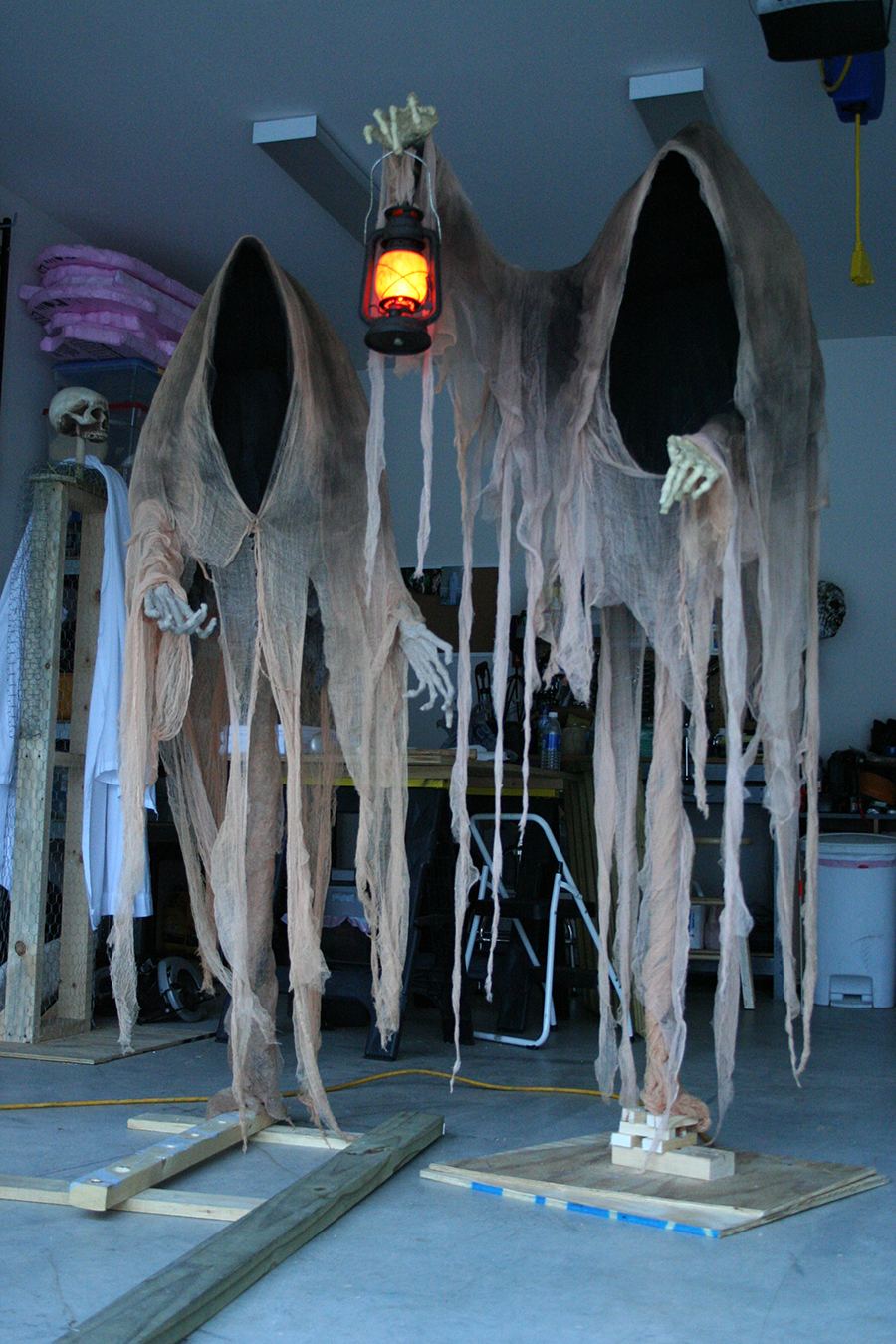 Sweet Sacks of Spiders Halloween Décor
There are tons of people who are afraid of spiders, so make sure you add them to plenty of visible spaces out there.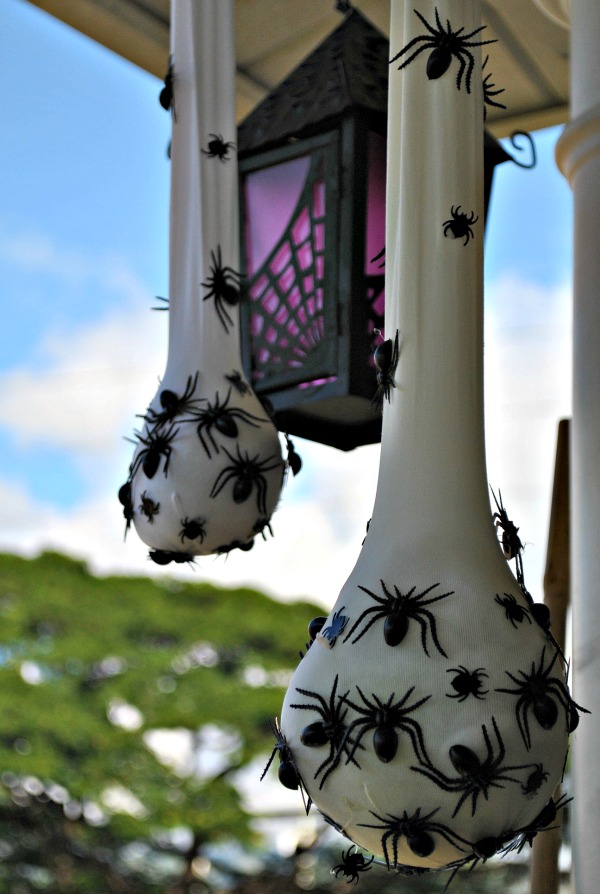 Outdoor Halloween Pumpkin Decor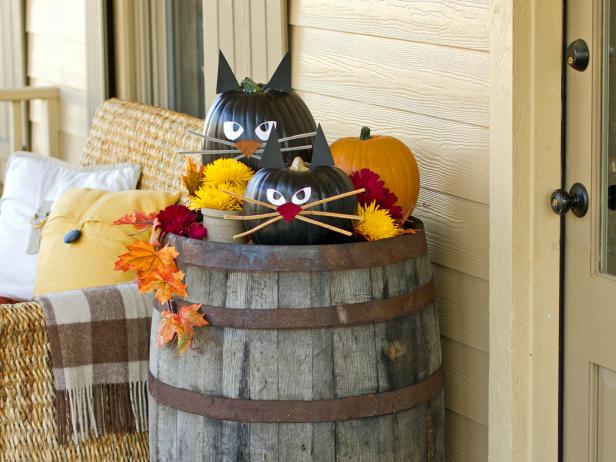 Ghostly Draperies
Do you have some cheesecloths collecting dust in your basement? It's time to reuse them and turn them into some spooky ghostly draperies!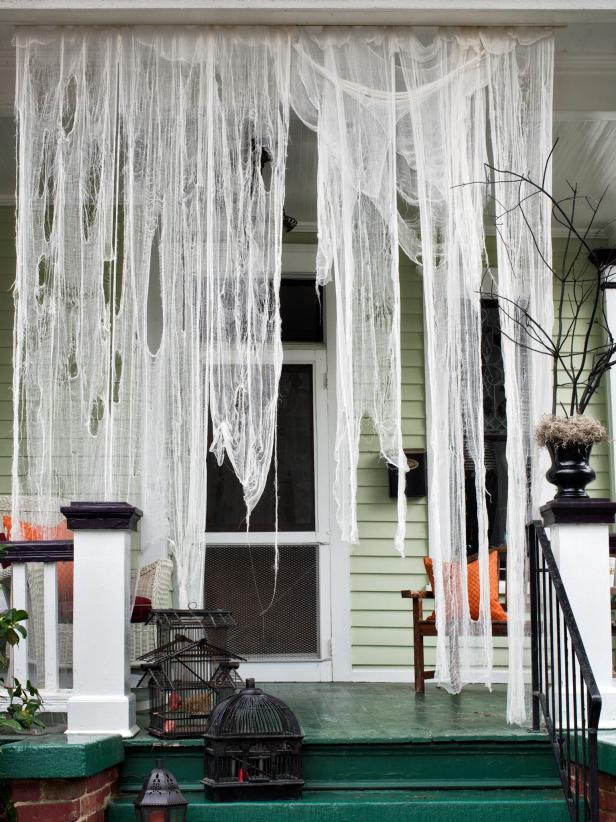 Pumpkin Witch
Adding a statement to your front door can be pretty fun. Get a pumpkin and turn it into a mean witch. Feel free to repaint the pumpkin in any color you want and then draw the face. Put the hat, decorate with some leaves around and that's it!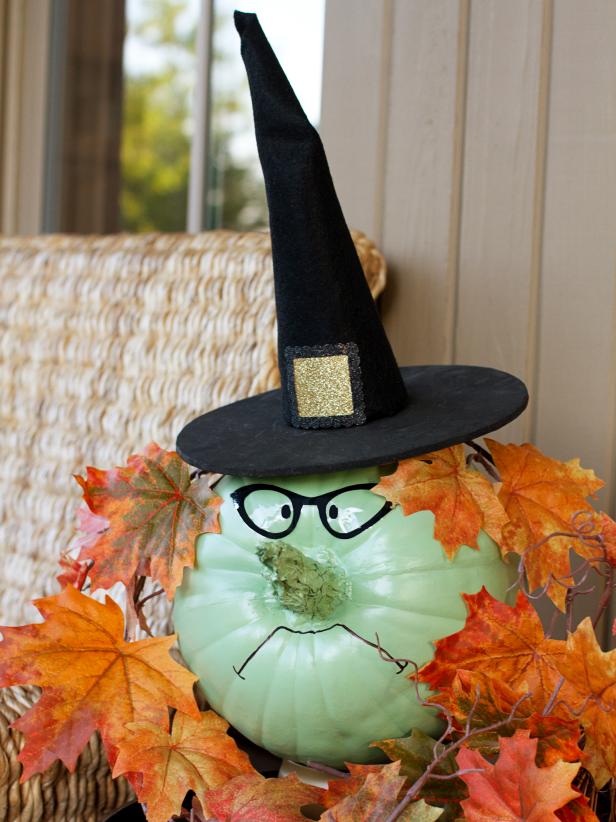 DIY Foam Hanging Foam Bats
Are you looking for an easy material to work with to make your Halloween decorations? It's foam! You can cut it in any shape you like, color it, and hang it without any trouble. What do you say about recreating these bats?
DIY Bloody Foot Runner
This is a terrifying bloody scene over here! Get a white foot runner, and make some footprints with red paint. You can even stick wallpaper to the door of a bloody crime scene and scare people away!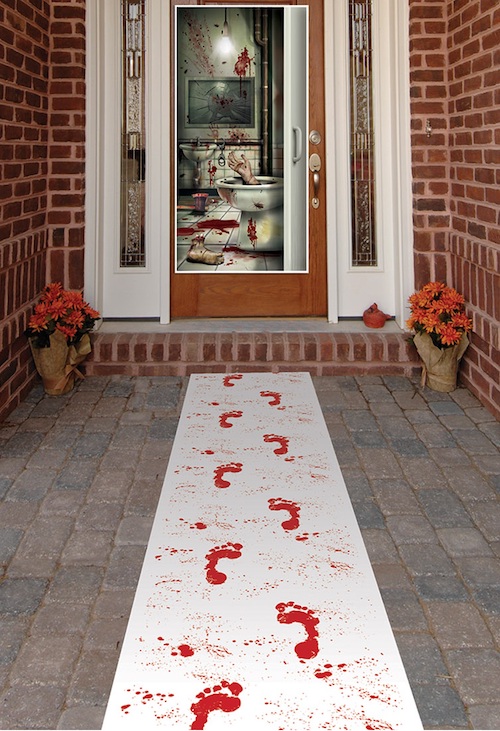 DIY Monster Face Archway
Don't skip your garage door when you are decorating your yard for Halloween. The monster face archway looks fantastic!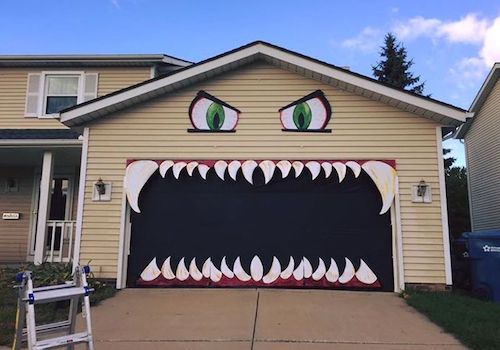 DIY Wicked Witch Legs
The wicked witch legs have always managed to amaze me. Have you decided to make them this year and make your yard look spectacular for the holiday?
Closure
There are so many different ways to impress your neighbors for Halloween. I hope that these ideas have got you thinking in the right direction and that you have found the crafts that you would love to recreate. I have plenty of favorites on my list, and I'd love to hear what are yours. Don't hesitate to keep me posted in the comments below! You can even share other ideas that you consider to be amazing. Have a wonderful holiday and trick or treat!