Halloween is just behind the corner and there is not a better period of the year top wake up your creativity and use it in order to create the best possible Halloween decorations ever. This year skip the traditional orange and black pumpkin decorations and decorate your home with new interesting and unique Halloween decorations.Welcome the trick and treaters and your Halloween guests with inspirative decorations that look incredibly interesting and chic.
Follow the Halloween magic and you will have the best holiday ever. Pumpkins , candles, scary, masks… are just some of the ideas you can use to create a festive world around you. Below are some inspiring ideas that will help you surround yourself with Halloween spirit. Scroll down the page and you will find the best decorations ever. Ready to start the Halloween magic? Don't wait and start decorating right now! 
Creative Ideas for Unique Halloween decorations
From the first cold days of autumn, it is inevitable to think about Halloween night and how we can use our creativity and imagination for the perfect decor. In addition to the very symbolism of this day, which has been celebrated as if it were a holiday in the last few years, Halloween is also associated with the arrival of autumn and is a perfect opportunity for fun and good mood.
We have prepared a series of ideas for you to easily decorate your home for the perfect Halloween night. This is cool especially if you are planning a party for your loved ones or a meeting that is cozy and full of charm. A proper Halloween decor is incomplete without a few carved pumpkins. Regardless of whether you decide to buy already carved ones in the store or make them yourself at home, carved pumpkins are an important symbol of this event. Carved pumpkins can play a major role in your Halloween decor, or you can just use them as decorative details. You can use those made of artificial materials as baskets for sweets, as imaginative candlesticks or as vases for flowers in the living room.
Decorative spider web
Placed ingeniously, an artificial spider web can personalize the atmosphere of the home and can help create an original Halloween decor. If you have decided on this type of decoration, you can buy it in specialized stores. Or you can improvise with a spider web that you made yourself. Choose a spider web in bright colors if you intend to organize a party, or for one in neutral colors, i.e. jute decorations, if you prefer to create an intimate atmosphere, perfect for telling stories.
Halloween light
If we talk about light, we recommend that you do not invest too much in lighting that you will use once a year. If you want an unique Halloween decorations, you can buy a string of lights or decorations in the shape of spiders, bats or pumpkins. But our advice is to adapt the lights you already own or buy new ones that match your decor.
1.DIY Halloween Candy Door Hanger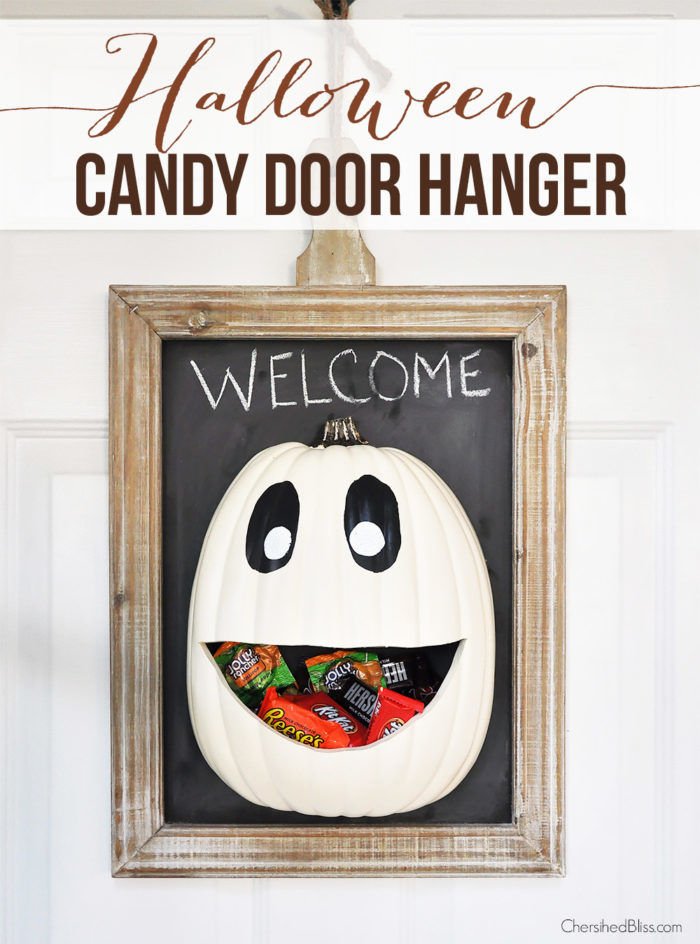 source
2.Halloween magnetic spiders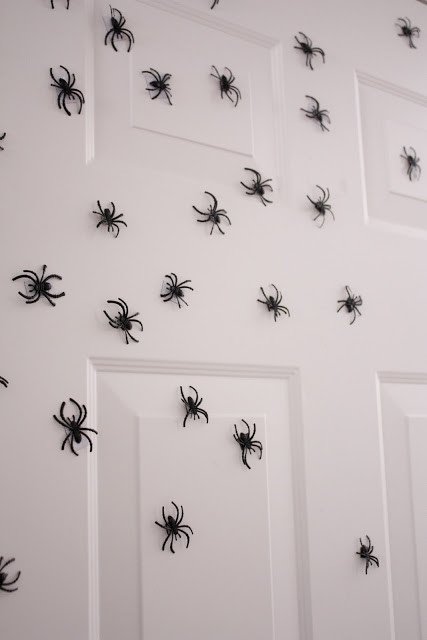 source
3.HALLOWEEN CANDY JAR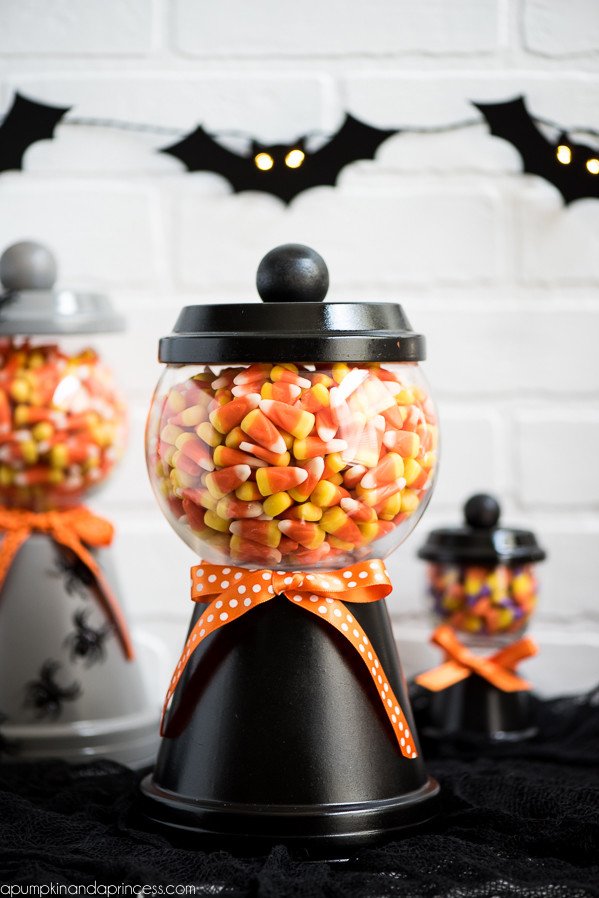 source
4. Googly Eyes Halloween Wreath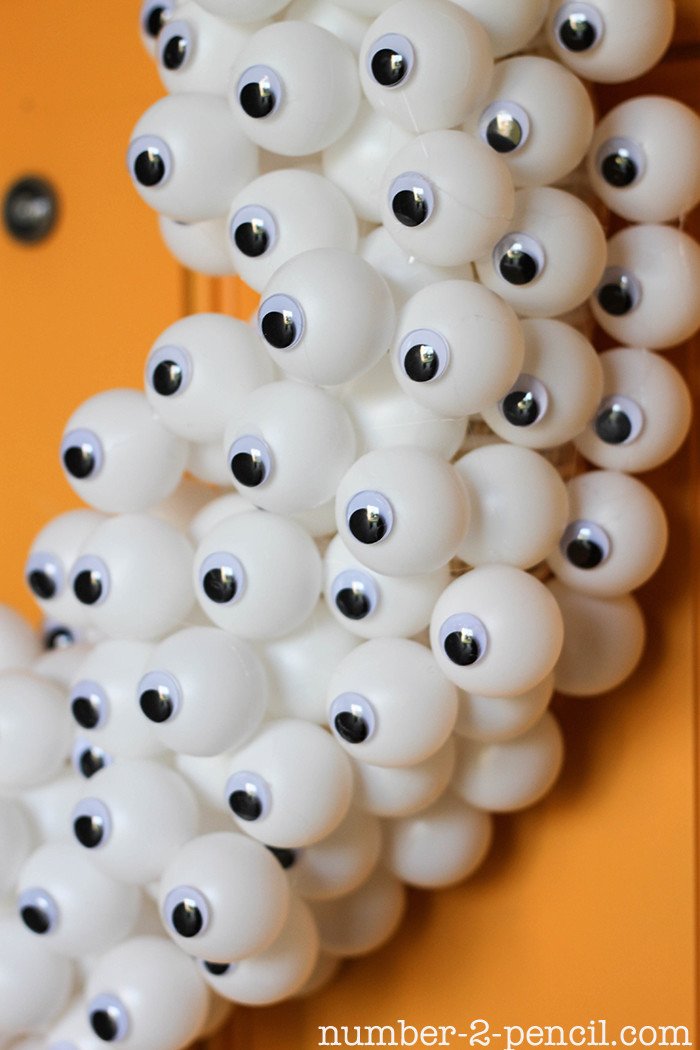 source
5.HALLOWEEN CRAFT: GHOSTS IN A JAR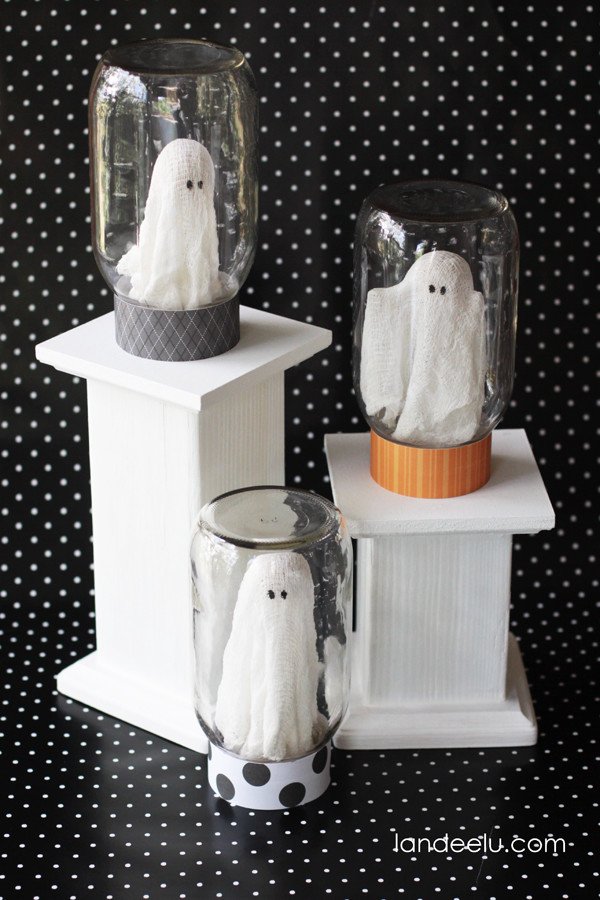 source
6.Halloween Ghost Party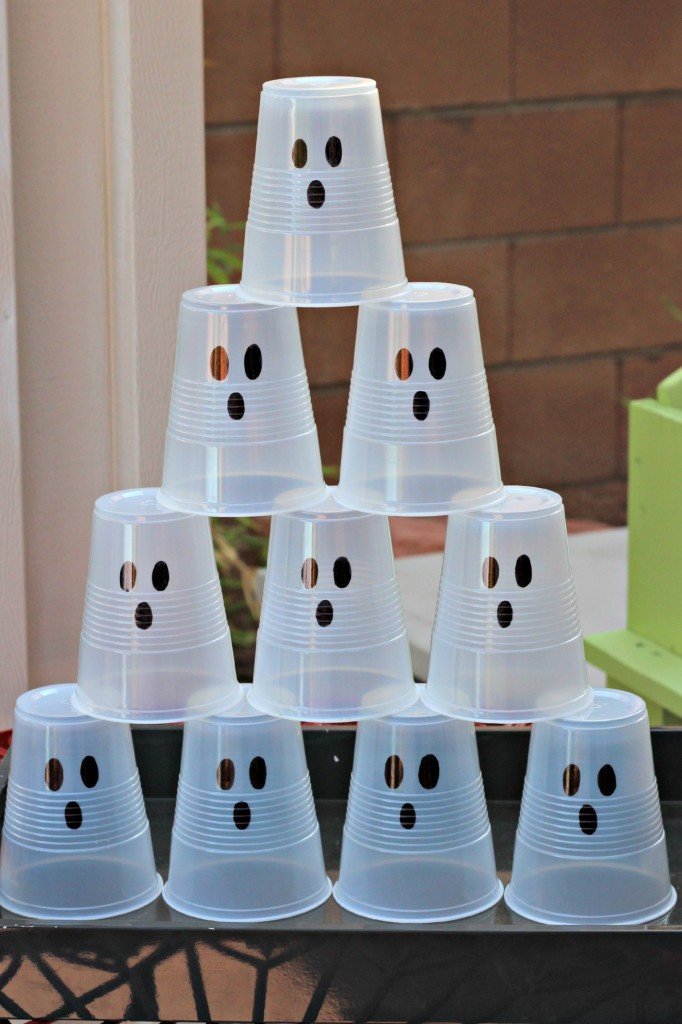 source
7.Dollar Store Witch Brooms with Spray Paint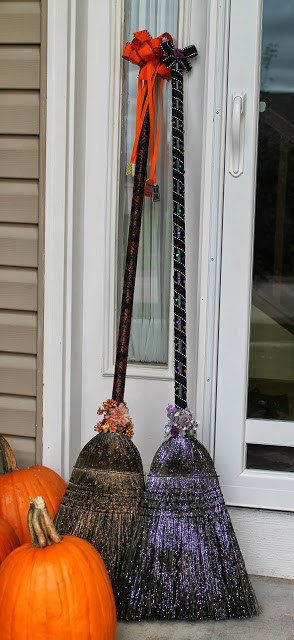 source
8.DIY Tin Can Ghost Windsock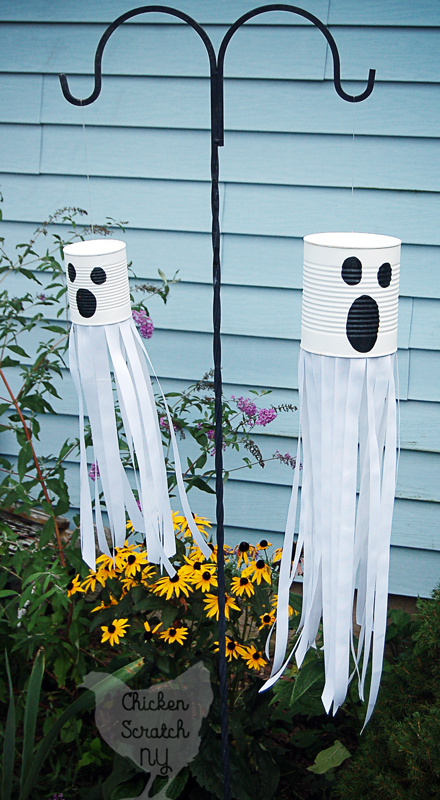 source
9.FLOATING WITCH HAT LUMINARIES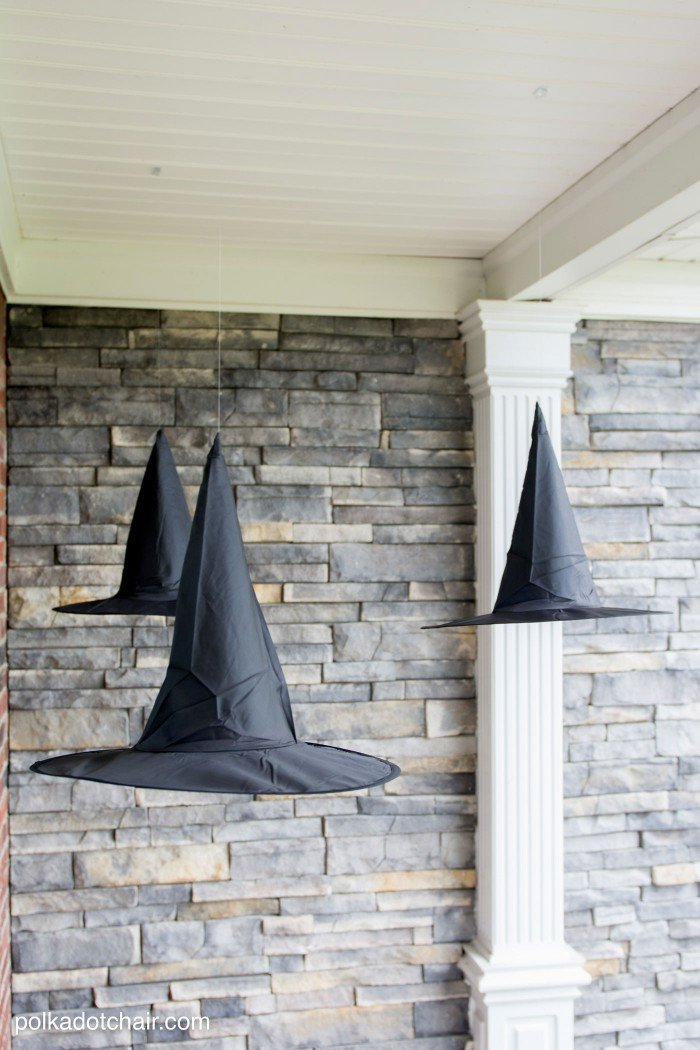 source
10.SUGAR SKULL WREATH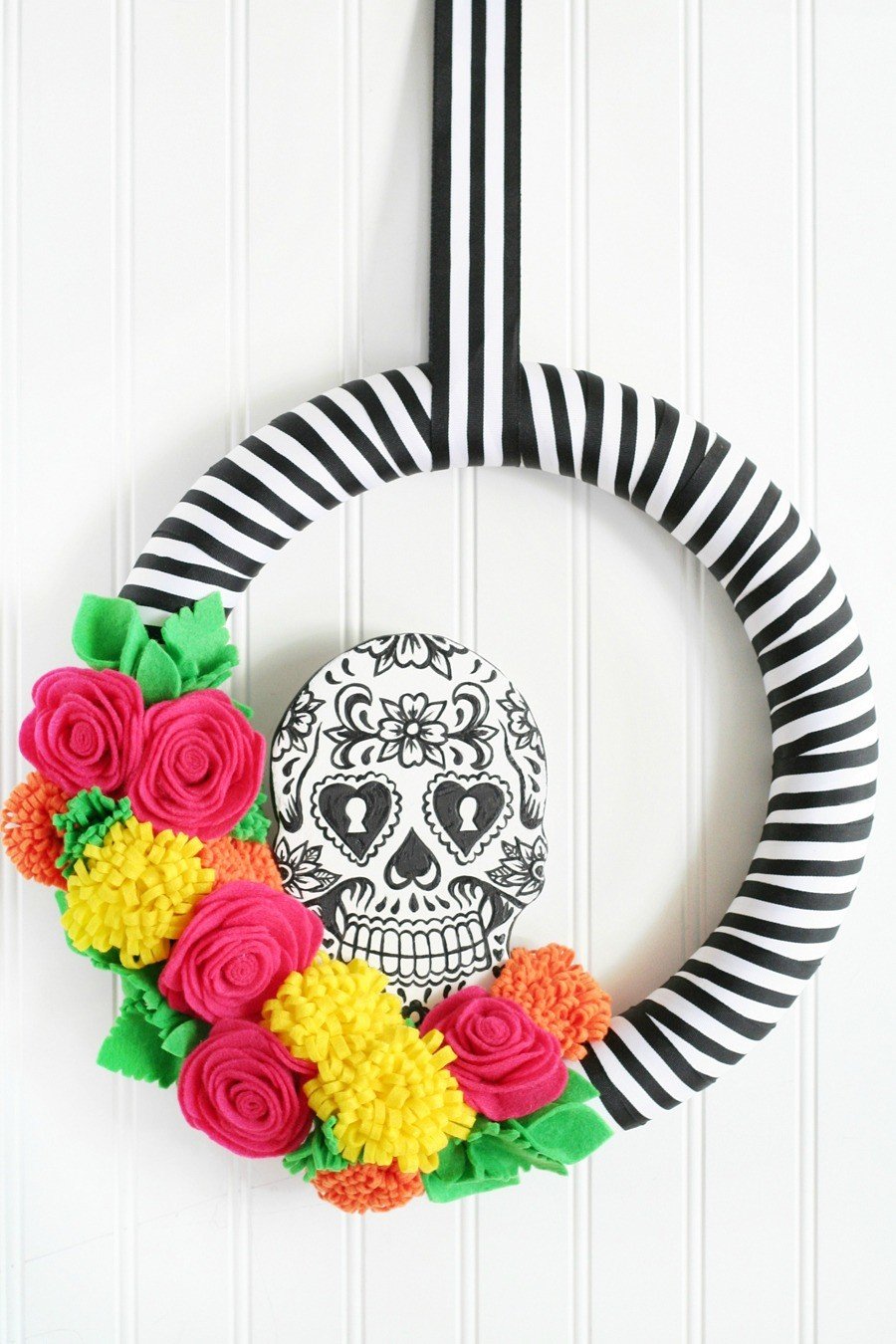 source