With fall already here the season of homemade desserts is officially opened.  If you are wondering what tasty to prepare for dessert and surprise everybody at home, here are some of the most delicious desserts you must try this fall. Fall is the season of pumpkins, so pumpkin desserts are relay popular these days, but here we offer you wider list of fall desserts you can prepare easily and without having to waste a whole day.
1. Black & Blue Berry Grunt
Ingredients that you will need  for this dessert are the following: 2-1 / 2 cups fresh or frozen blackberries, 2-1 / 2 cups fresh or frozen blueberries, 3/4 cup sugar, 1/4 cup water, 1 tablespoon lemon juice, 1/8 teaspoon ground cinnamon, 1/8 teaspoon pepper, 2 tablespoons sugar, 1 teaspoon baking powder, 1/2 teaspoon baking soda, 1/8 teaspoon salt, 2 tablespoons butter, 1/2 cup buttermilk and 1 tablespoon cinnamon-sugar. Put the first 7 ingredients listed in a bowl. Put the pan on fire and leave until it boils. Then reduce the heat and allow the pot to simmer for another 5 minutes. In the meantime, mix the dumplings, butter, buttermilk in the other bowl. Finally, mix the two bowls and your dessert is ready. Serve warm and you can decorate it with whipped cream.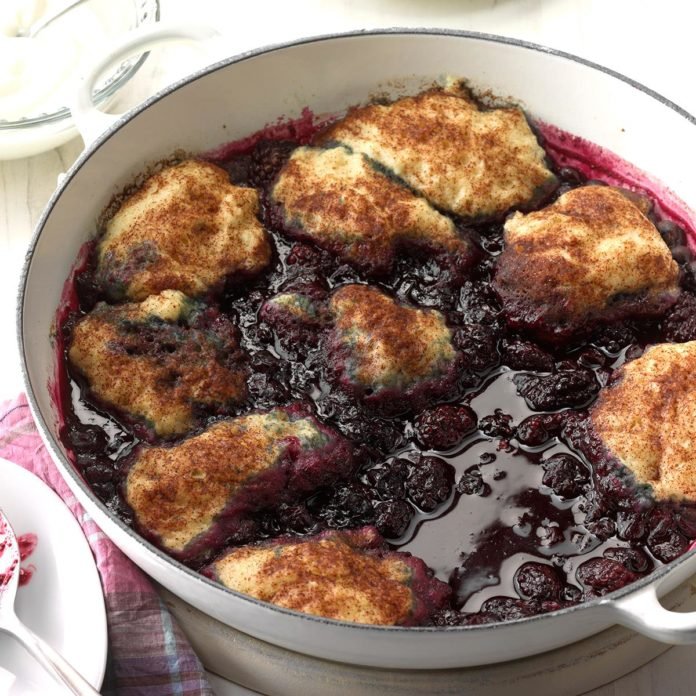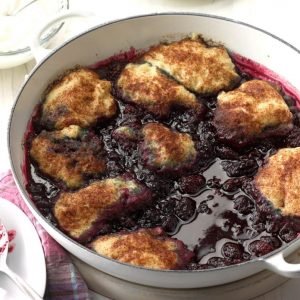 source
2. Dutch Apple Cake
This recipe requires 3 medium tart apples, peeled and cut into 1/4 inch slices, 3 tablespoons plus 1 cup sugar, 1 teaspoon ground cinnamon, 2/3 cup butter, 4 large eggs, room temperature, 1 teaspoon. vanilla extract, 2 cups all-purpose flour and 1/8 teaspoon salt. In a bowl combine the apples with 3 tablespoons sugar and cinnamon. Leave to stand for 1 hour. In another bowl mix cream butter and remaining sugar, as well as one egg. Add vanilla. Then add the mixture of both dishes to the flour and mix well. Place the dough on a baking tray and place apples on it. Bake at 300 degrees for about an hour.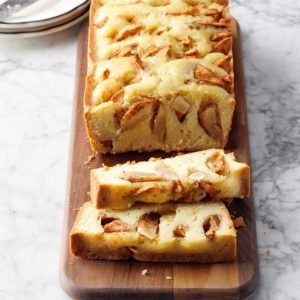 source
3. Apple Dumpling Bake
To prepare this dessert you will need: 2 medium Granny Smith apples, 2 tubs (8 ounces each) refrigerated crescent rolls, 1 cup sugar, 1/3 cup butter, softened, 1/2 teaspoon ground cinnamon, 3/4 cup Mountain Dew soda and Vanilla ice cream. Preheat oven to 350 degrees. Then peel the apple and slice it into 8 pieces. Make eight triangles of dough. Wrap each triangle with a piece of apple. Place in a baking tray. Sprinkle sugar, butter and cinnamon on them. Bake for 35-40 minutes.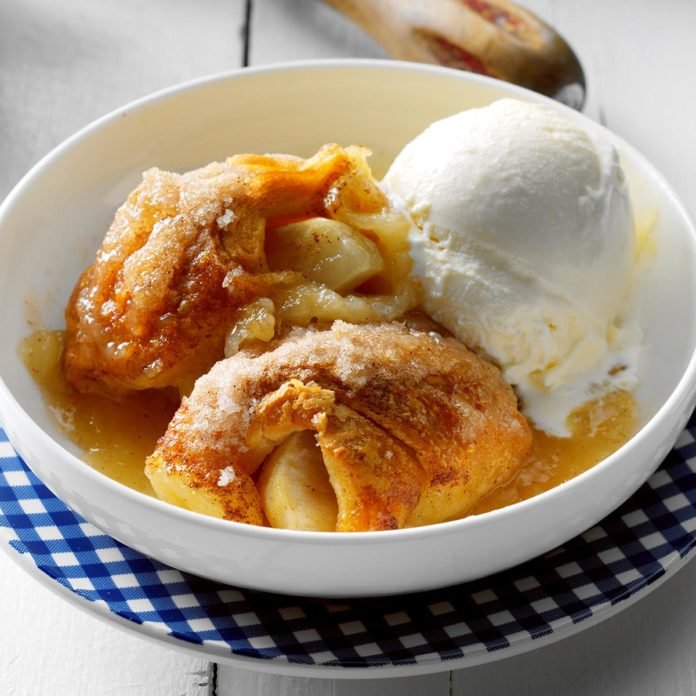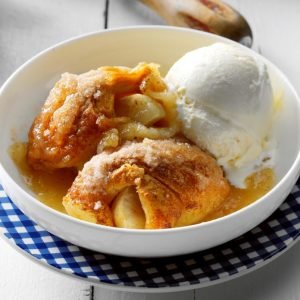 source
4. Old-Fashioned Rice Pudding
Ingredients for preparing this dessert are the following: 3-1 / 2 cups 2% milk, 1/2 cup uncooked long grain rice, 1/3 cup sugar, 1/2 teaspoon salt, 1/2 cup raisins, 1 teaspoon vanilla extract and Ground cinnamon, optional. The first thing to do is to cook the rice. Then mix all the ingredients in it. Optionally you can also add cinnamon.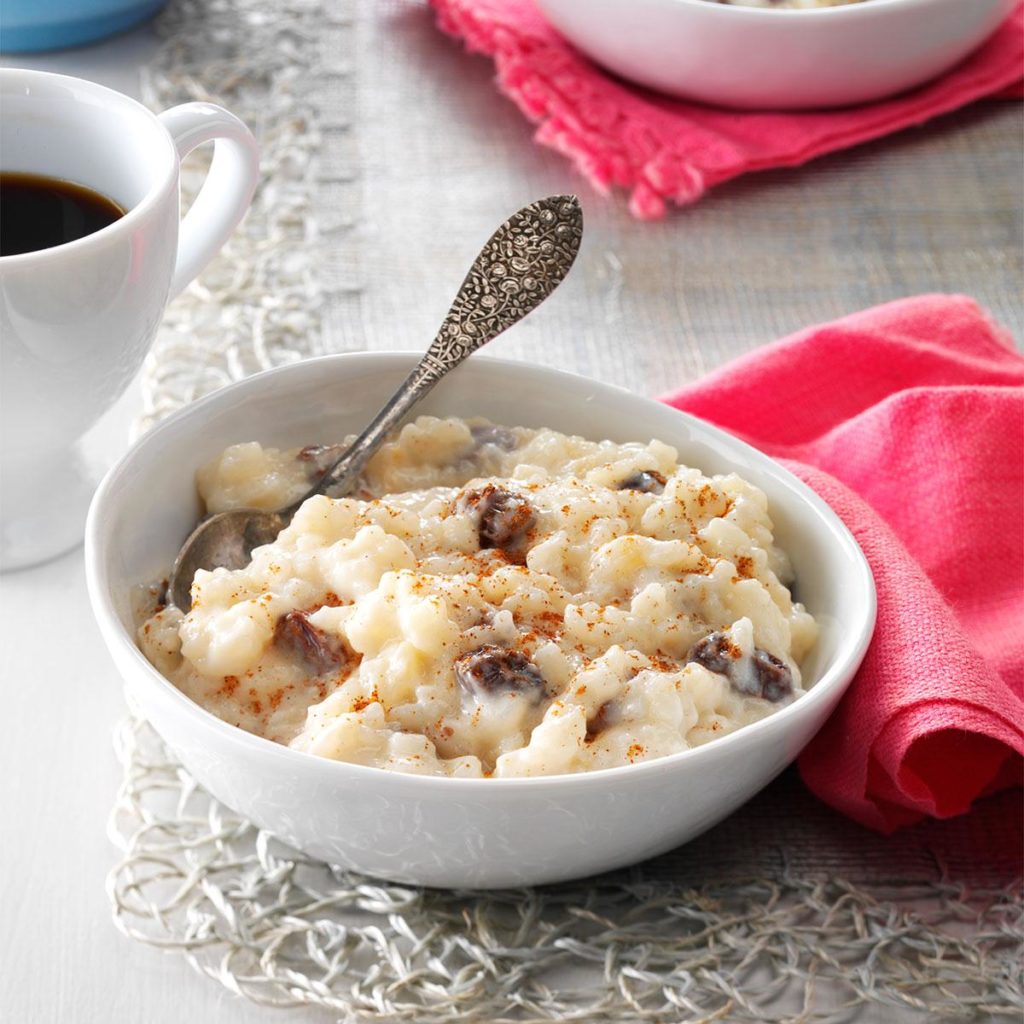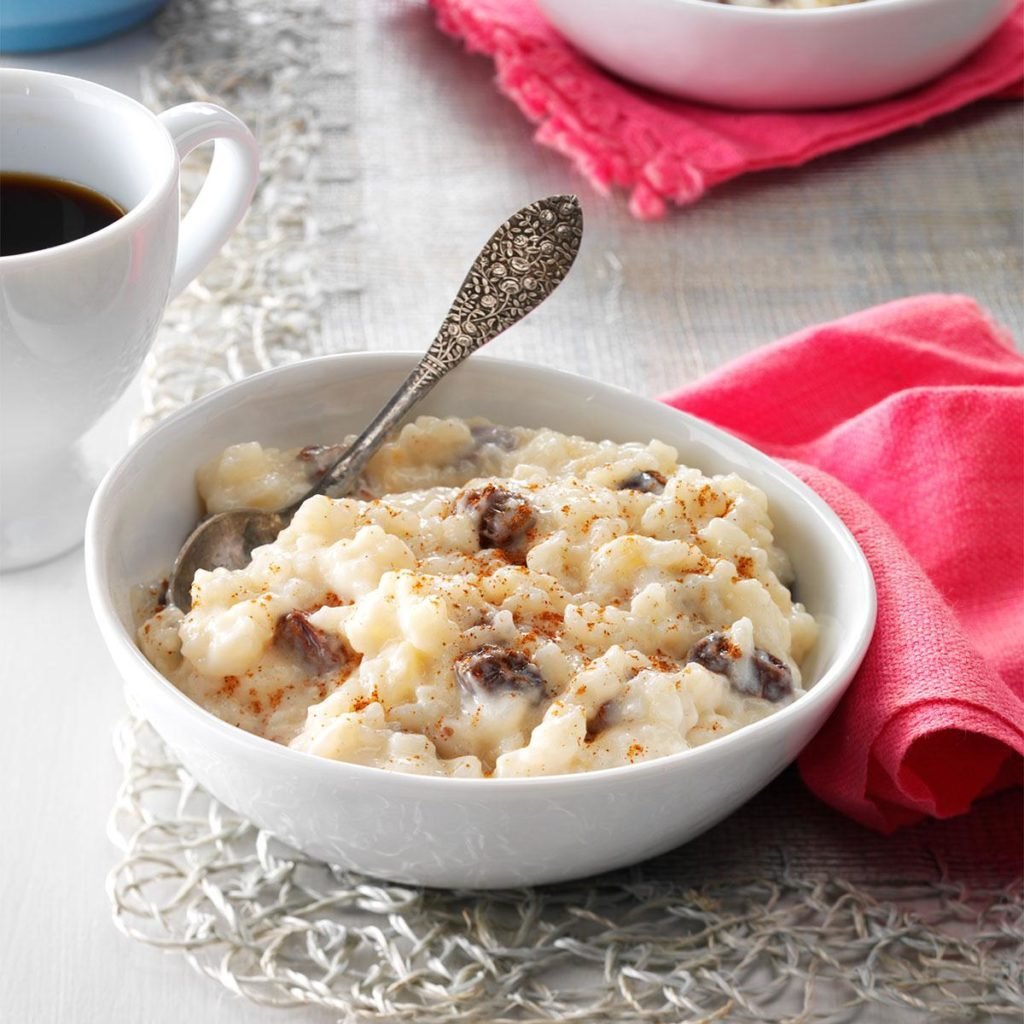 source
5. Bread Pudding with Bourbon Sauce
For this dessert you will need: 3 large eggs, 1-1 / 4 cups 2% milk, 1/2 cup sugar, 3 teaspoons vanilla extract, 1/2 teaspoon ground cinnamon, 1/4 teaspoon ground nutmeg, 1/8 teaspoon salt, 4-1 / 2 cups day-old cubed brioche or egg bread and 1-1 / 4 cups raisins, 1/4 cup butter, cubed, 1/2 cup sugar, 1/4 cup light corn syrup and 3 tablespoons bourbon. In a large bowl, mix all ingredients. Stir in bread and raisins. Bring the pan to a boil and allow it to cook for about 3 hours on low heat. For the sauce, put butter, sugar and corn syrup. Let it boil. Once ready, allow to cool and mix in a glass.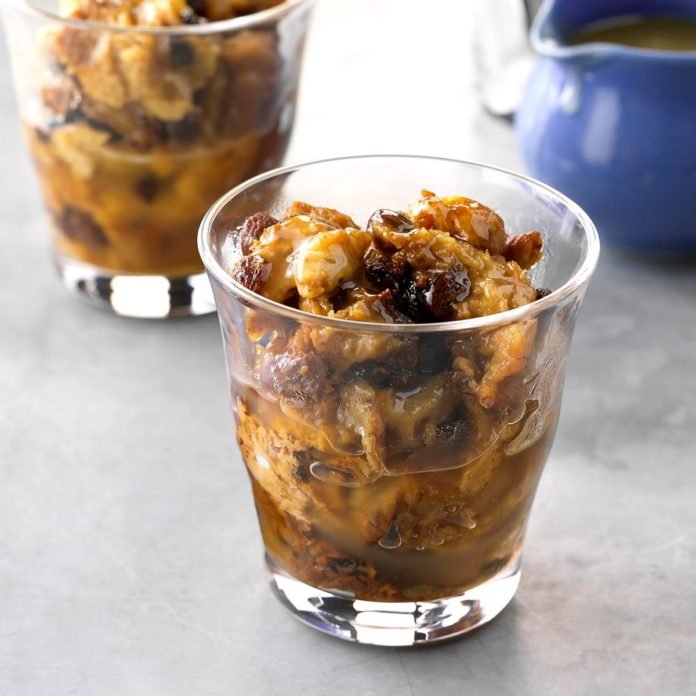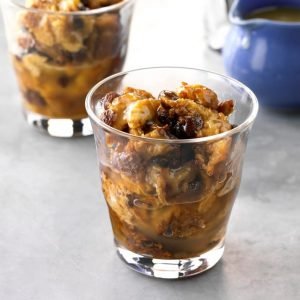 source