Selling your boat is a very significant decision. However, it is also a daunting task and therefore, you could use some hacks to get the sale quickly on free boat listing platforms.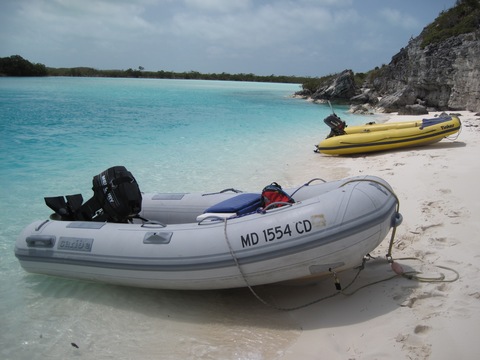 This post will walk you through everything you need to do before selling your inflatable boat, plus a handy list of things you need to do to sell your inflatable boat fast and for big bucks, so let's get started.
1. Prepare Your Boat for Sale
You need to do some prep work to get the best price for your boat. For example, the boat's quirks and mechanical conditions that you've been living with for years and have grown accustomed to may turn off potential buyers.
That clatter in the engine and the door held open with a rubber band may not be a big deal to you but will make your boat less appealing to potential buyers. Before you show the boat to potential buyers, ensure that everything is fixed.
Because of the inflatable nature of the boat, it is also extremely important that you conduct thorough tests and inspections for things such as holes or small punctures before you move forward with the listing. Problems like these can cause serious structural problems to the boat and can often result in a buyer disputing their purchase if this renders their boat inoperable shortly after purchase.
2. Take Some Boat Videos and Photos
Once your boat is in its most excellent shape, it's time to get some brilliant on-the-water photos and videos. Always keep in mind that the first impression is key.
A captivating photo or video will be the first reason a buyer would consider your listing over other sellers' listings. Importantly, avoid taking pictures of the boat on a trailer, in poor lighting, or with a messy background.
Typically, listings with videos sell faster than those without, so it is worthwhile to shoot some captivating videos. It's also critical that you capture the main purpose of the boat within the videos and pictures.
Since you are selling an inflatable boat, highlight some of its main use cases such as Rubber Duckies being used to rescue people or non motorised inflatable boats being used for rafting and leisure. This will filter your potential buyers further, saving you time and money.
3. Set Your Price
Your next significant step is determining the asking price. However, researching how to price your boat before making important decisions is essential. You can use this tool or other pricing techniques to determine a reasonable price.
Lastly, decide whether or not to conduct a survey. While this is usually thought to be the buyer's commitment, carrying out one before time will help shorten the time it takes to sell the boat and reveal any potential problems that are better treated ahead of time.
4. Create a Sales Plan
Now that you have the most appealing photos and the asking price for your boat, you can proceed to the decision-making step. Here, you'll have to create a sales plan by answering essential questions. For example, you'll have to figure out whether to handle the entire sales process solo or seek the services of brokers and dealers.
And when you're ready to advertise your boat, you'll have to make some more decisions, such as whether to use ad placement, target audience, negotiation room (the "reserve price"), and so forth. Will you use print, online advertising, or go with the old-fashioned approach for sale signs and park the boat in a high-traffic area?
5. Advertise Your Boat
Can you recall where you saw your boat advertised? That could be the ideal spot to resell it. Alternatively, you can use websites such as Grays.com, which is a 100% free boat listing website and has the potential to reach over three million shoppers.
Newsletters, newspapers, and other online classifications can provide additional access to specialty buyers. Furthermore, there is a wealth of information and more detail on why selling your boat online is the best option in most cases.
6. Show Your Boat
You must answer several questions about the boat model, its standard and common features, as well as any add-ons you've added. Again, there will very certainly be a slew of questions, so have your sales presentation ready.
When displaying your boat model to your consumers, you should be cautious if the conditions are less than ideal. They wouldn't want to go on a boating trial during bad weather since the boat may bang about and frighten off a possible buyer.
Remember that you're not just aiming to turn your boat into cold, hard cash at these times. You're looking for the "right" buyer—someone who will fall in love with your boat, take care of it as you would, and be a happy boater.
7. Sell Your Boat With Proper Documentation
Remain steadfast, tell yourself that the world will not end, and begin discussing pricing. Avoid being taken advantage of, and handle the paperwork yourself if you can.
First, ensure you know precisely everything you'll need in advance so that you don't hamper the final sale. It's always a good idea to notarize all paperwork, though it's not always necessary.
Remember to request a deposit on the big day. It is also good to verify with the buyer's bank to ensure that they are solvent and creditworthy.
To minimize disappointments, scams, frauds, etc., ensure you have met the possible buyer before the transaction. Accept no cash or Western Union payments; instead, insist on being paid through bank transfer or check.
Final Thoughts
After completing the transaction, it's always a good idea to stay in touch with the buyer for a few weeks to ensure that they are content with their purchase or to answer any questions they may have. This minimises the potential that they will request a refund or leave you a negative review on a sales site, impacting your potential for selling boats in the future. With these tips in mind, selling your inflatable boat will be a breeze and you'll be back on the water in no time. Happy boating!