Worldinsidepicutres have find some intresting natural wonders,  by our opinion , for you look and enjoy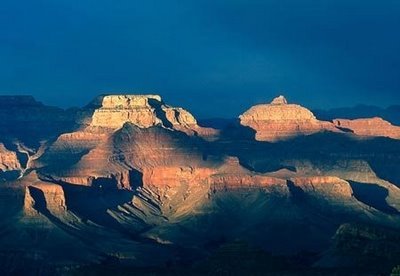 Grand Canyon: One of the United States' top tourist attractions, the canyon is 277 river miles long, up to 18 miles wide and a mile deep. The immense and powerful landscape, carved by the Colorado River, awes and inspires many of the nearly 5 million people who visit each year.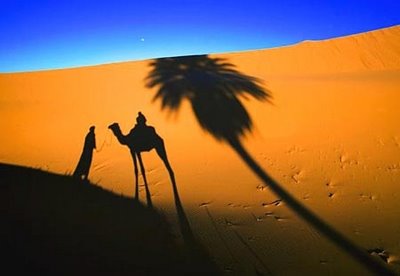 Erg Chebbi: The only Saharan erg in Morocco. Ergs are large and relatively flat areas of the desert that are covered with wind-blown sand, forming dunes; Erg Chebbi's dunes can grow to nearly 500 feet high.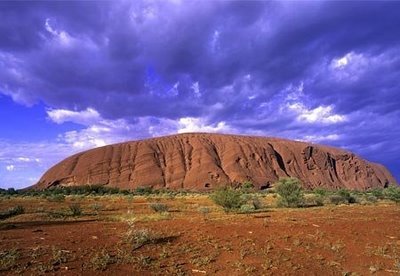 Ayers Rock: A natural icon of Australia, Ayers Rock (also known as Uluru) is one of the largest monoliths in the world. The sandstone formation, which appears to change colors with different amounts of light, was once an island in a large sea. It rises 1,142 feet from the desert floor and has a circumference of about 6 miles; much more of its mass remains undergroun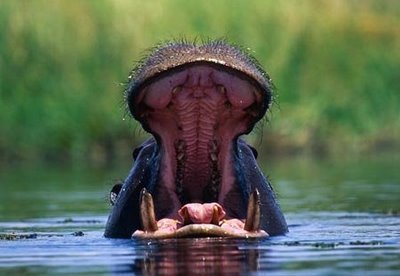 Okavango Delta: The world's largest inland delta supports one of the highest concentrations of wildlife in Africa, including large numbers of crocodiles, wild dogs, elephants and hippos. Seasonal flooding expands the delta's area from fewer than 3,500 square miles to more than 6,500 square miles; about 95 percent of its water evaporates in the Kalahari Desert.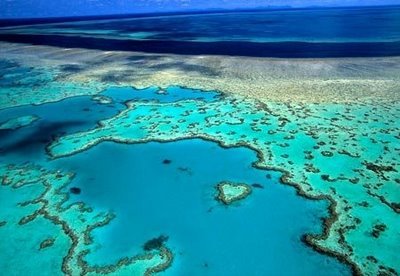 Great Barrier Reef: The planet's largest coral reef system, which can be seen from outer space, comprises 3,000 individual reefs and 900 islands, with a total area of about 14,300 square miles. Some 1,500 species of fish and 30 species of whales, as well as dolphins, sea cows and giant clams, are found here, off the coast of Australia.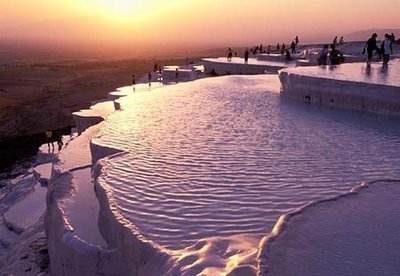 Pamukkale: The name of the hot springs in southwestern Turkey means "cotton castle." At 8,900 feet long and 525 feet high, Pamukkale can be seen from the town of Denizli, 12 miles away on the opposite side of the valley. Flowing water from the springs leaves limestone deposits down the mountain slope, forming what appears be a frozen waterfall.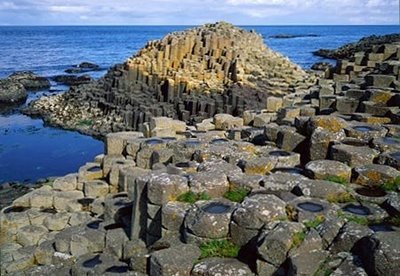 Giants Causeway: Science says that this fascinating site on Northern Ireland's northeast coast was created by a volcano that erupted in ancient times. But imagination says that giants built a road to Scotland with stepping stones that lead from the foot of the cliff into the sea. The causeway consists of approximately 40,000 interlocking basalt columns, most of them hexagonal, ranging as tall as 20 feet.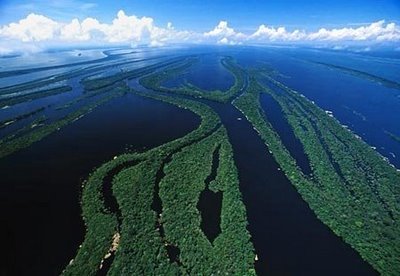 Amazon River: The massive Amazon River dumps between 9 million and 32 million gallons of water per second into the Atlantic Ocean. It has more than 1,000 known tributaries, and 17 of those are at least 1,000 miles long. No bridges cross the river, whose main stream is 50 miles wide.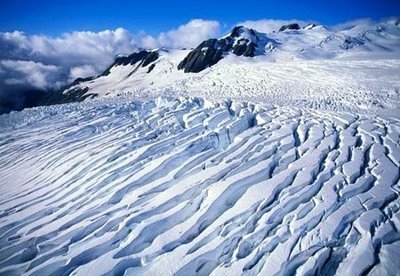 Franz Josef Glacier: One of the world's steepest and fastest flowing glaciers, the Franz Josef plunges more than 8,000 feet in six miles. Located in the Southern Alps of New Zealand's South Island, it is also unique in its descent through a temperate rain forest.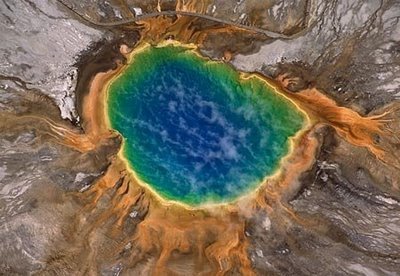 Yellowstone National Park: The world's first national park, established in 1872, is known for its geothermal features, most notably Old Faithful Geyser. Located in the central Rocky Mountains, Yellowstone features more than 300 geysers, along with hot springs, mud volcanoes (also called paint pots) and fumaroles (vents that release gas and steam).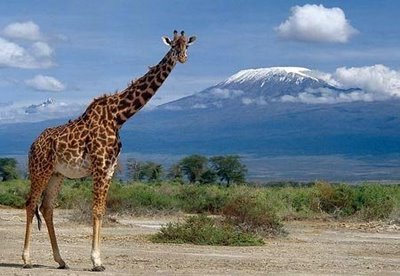 Mount Kilimanjaro: The tallest free-standing mountain in the world and the highest mountain in Africa is a dormant volcano with two peaks. Kibo, the higher peak, looms over northeastern Tanzania at 19,341 feet above sea level; the summit of Mawensi is seven miles away and rises to 16,893 feet.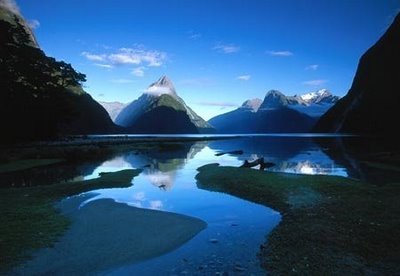 Milford Sound: The centerpiece of New Zealand's Fiordland National Park on the country's South Island, Milford Sound stretches nine miles inland from the Tasman Sea with sheer rock faces that rise 3,900 feet or more on each side. Residents of the sound include seals, penguins and dolphins.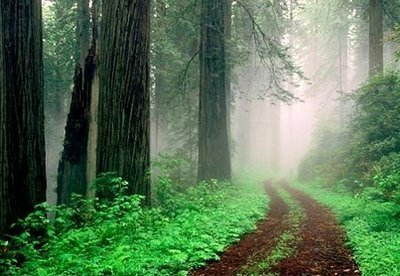 Redwood National and State Parks: The coast redwood, the world's tallest tree and one of its most massive, is protected in these four parks, which comprise 112,613 acres along the Pacific Ocean in northwestern California. One of the world's tallest trees, 378.1 feet, is found here in the virgin forests of ancient redwoods, along with ponderosa pine, Douglas fir and Sitka spruce.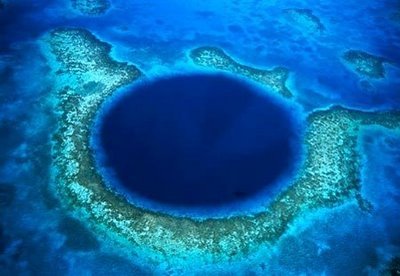 Great Blue Hole: This underwater sinkhole, a system of limestone caves that was flooded after the last ice age, lies 60 miles off the coast of Belize in Lighthouse Reef. The almost perfectly circular hole is more than 1,000 feet across and 400 feet deep, with otherworldly stalactites and limestone formations along its walls.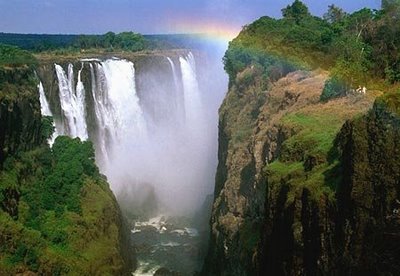 Victoria Falls: Located on the border between Zimbabwe and Zambia, the mighty Zambezi River, more than a mile wide, falls 360 feet – noisily – down a series of basalt gorges. An iridescent mist that rises from the falls can be seen more than 12 miles away.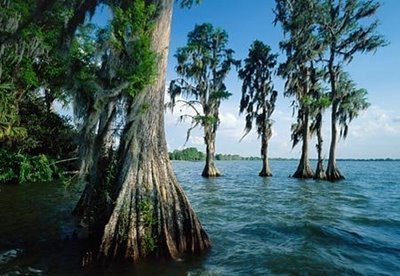 The Everglades: Known as the "River of Grass," this Florida park is the largest subtropical wilderness in the U.S. Some 15 threatened and protected species live within the Everglades, including the American crocodile, Florida panther and West Indian manatee.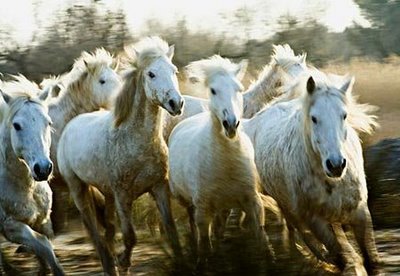 The Camargue: France's brine ponds are one of the few habitats for the greater flamingo in Europe (and for some of the most voracious mosquitoes in France), and are also home to wild bulls and white horses. At 360 square miles, this region of marshes, lagoons and farms in southern France is Western Europe's largest river delta.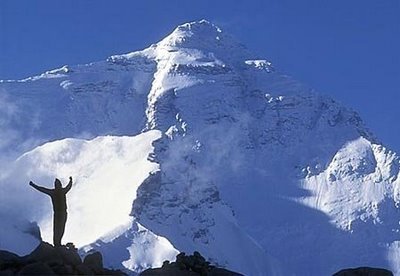 Mount Everest: The highest mountain on Earth (29,035 feet), and perhaps the peak most shrouded in mountain-climbing lore, Everest is part of the Himalaya range, located on the border between Nepal and Tibet.