There is no denying that a towel rail in any bathroom doesn't immediately make the room feel that little bit fancier. Being seen as fancy, it used to be that towel rails were a luxury item, but that's no longer the case. Heated towel rails are now easily affordable. Still, that doesn't mean it is hard to make a mess of things and get a towel rail which doesn't look the part.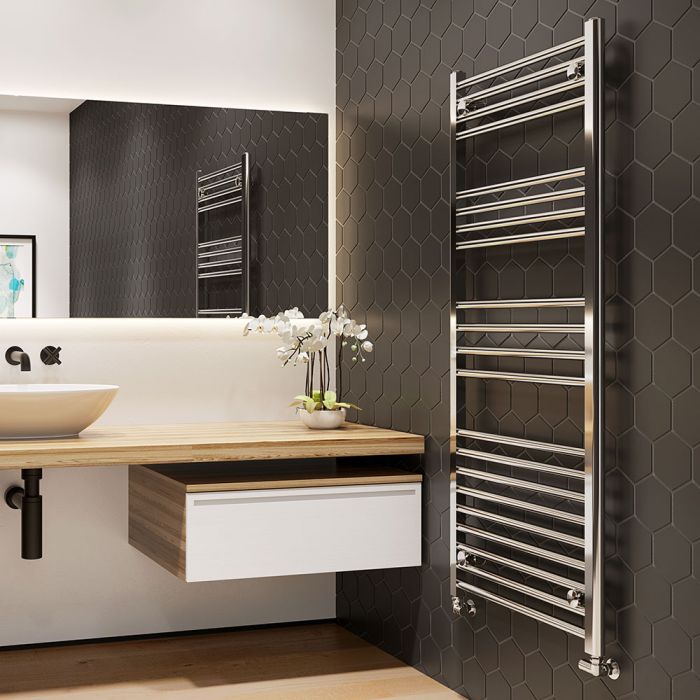 So what can someone do to make sure that their ideal new towel rails look the part? It's incredibly easy. Just follow my advice and avoid these hiccups when shopping around for a new towel rail!
Hiccup: Your ideal towel rail is too big
Bigger is better, except when you have a towel rail. People tend to think that with it being a vertical item (before you ask, yes horizontal rails are a thing), you can get away with going larger and having rails galore to hang towels and robes on. Don't make the mistake of getting the biggest rail you can find.
Not only will it take up too much room, but it can also see you wasting energy. My basic rule of thumb is that you'll want at least a foot from the ceiling to give hot air a decent chance of circulating the room; otherwise, your rail could end up creating a literal hot spot due to poor air circulation.
The same goes for under the rail too. Remember, cold air has to rise through, so don't go putting a rail close to the floor or behind a cabinet.
Hiccup: Your ideal towel rail is the wrong colour
You tend not to pay much attention to the colour of a radiator. After all, they're mostly below waist height in a room. So why is it that the colour/ finish of a towel rail stands out straight away? With it being directly in your eye line, I liken it to having artwork on the wall. A good piece of art(rail) will complement the space. A bad piece will draw eyes for all the wrong reasons.
I strongly recommend taking the time to learn the different types of finish you can have on a towel rail, especially if you're concerned with the shine/reflectiveness the paint will have on light. It would help if you visited Trade Radiators for an idea of what works best, be that a chrome rail in your kitchen or black in the bathroom.
Hiccup: Your ideal towel rail won't connect
Remember those wooden games you would find in waiting rooms? The ones with beads and blocks trying to get circles in squares etc. If you buy a towel rail which doesn't match your valve entries, it will be like an adult version of that game. Don't make the mistake of buying a towel rail with a completely different connection/entry to what's in the room.
The majority of rail valves are at the bottom and simply require a straight connection to pipes, so as long as you've measured your pipe centres correctly you shouldn't have a problem. If your new rail will be hung high on the wall, and the pipes come out of the wall, you need to make sure you have angled valves to make a proper connection. Most good stores will highlight what valves to get before you buy, but if they don't, keep this in mind.
Those are just a few hiccups to keep an eye out for when buying towel rails. Honestly, it is much easier to buy one than how I've made out here. Make sure you follow the advice, and you shouldn't have any trouble. For anyone in the midst of redecorating at home and buying radiators, I recommend reading this recent article on turning your dining room into a functional space.