Are you ready for some delicious and colorful deserts your kids will adore? In this article we are sharing with you some of the easiest to prepare colorful cookies that no one can resist to. Scroll down the page to see the recipes.
1.GRINCH CRINKLE COOKIES
You need 1 box white cake mix, 1/3 C vegetable oil, 2 large eggs, red and green gel food coloring, white sanding sugar. Preheat the oven. Mix vegetable oil and 2 eggs in one with a mixer. Then add 1 box of white cake mix. Put the dough in two bowls. Put red food coloring in one and green in the other. Make dough shapes out of dough. The resulting cookies are smeared in sugar. Bake for 8 minutes.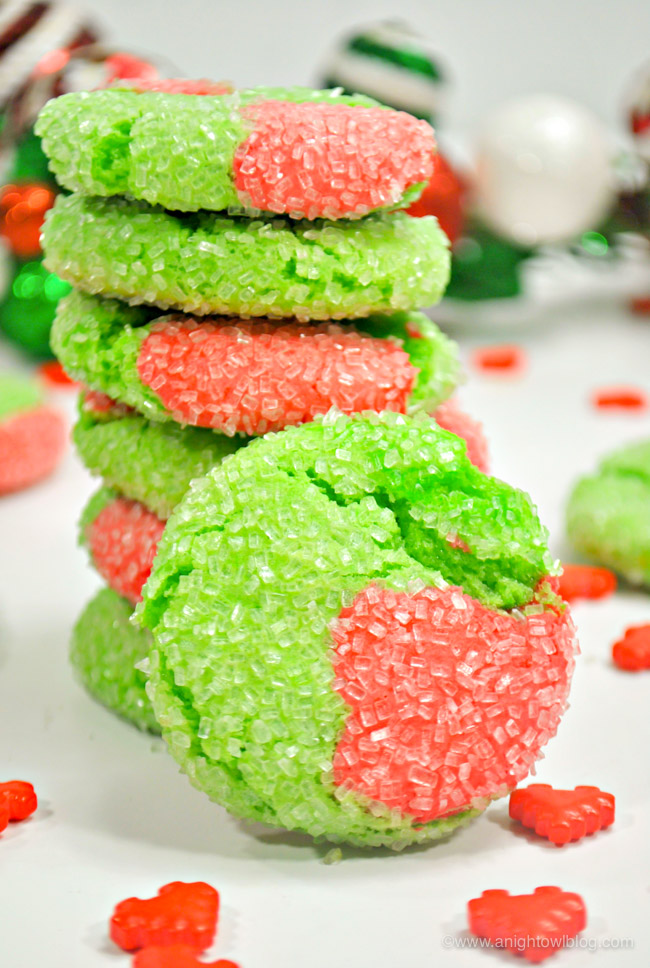 source
2. M&M'S PEPPERMINT FUDGE
For preparation of this desert you need 1 11.4 oz bag M & M'S Holiday Milk Chocolate candies, 2 12 oz bag white chocolate or vanilla chocolate chips, 1 14 oz can sweetened condensed milk, 1 tsp peppermint extract, 1 tsp vanilla extract. Put paper in a square container . Melt the white chocolate and sweetened condensed milk in a bowl. Add peppermint and vanilla extracts. Add the M and M candies. Put the resulting mixture in the bowl. Place the remaining candies on the mixture. Cool for 2 hours.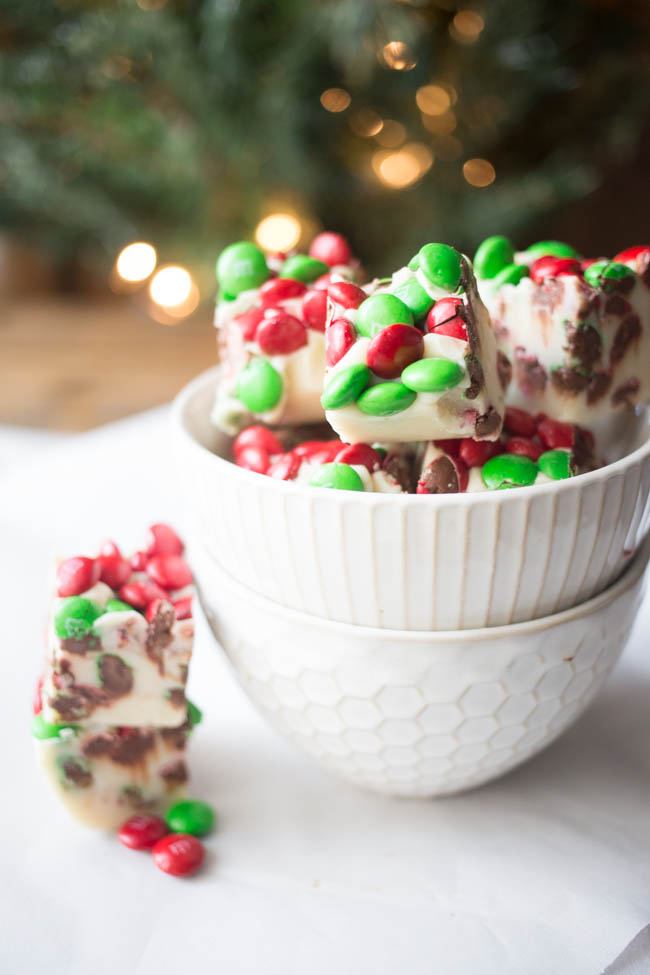 source
3. PUMPKIN CHURRO CHEESECAKE BARS INGREDIENTS
Take 1 – 8 ounce package cream cheese softened, 3/4 C sugar, 1 C pumpkin puree, 1 egg, 2 tsp pumpkin pie spice, 2 cans refrigerated crescent rolls or dough sheets, For Topping-, 2 Tbsp of sugar, 2 tsp cinnamon, 1 C of powdered sugar, 5 tsp of milk. Heat the oven. Mix all ingredients together. Put the resulting mixture in a bowl. Bake. When baked, cut in rectangular pieces.
source
4. WHITE CHOCOLATE FUNFETTI PUDDING COOKIES
For preparation of these cookies you need 1/2 cup 1 stick butter, softened, 1/2 cup packed brown sugar, 1 tsp. baking soda, 1 large egg, 1 large egg white discard yolk or save for another use, 1 cup flour, 1 pkg. 3.3-3.4 oz. instant white chocolate or vanilla pudding mix, dry, 11/2 cup white chocolate chips, 1/2 cup sprinkles. Heat the oven. Place paper on a baking tray. In a large bowl, mix brown sugar and  butter. Then add egg whites, flour and dry pudding. Mix well to combine the mixtures. Finally add pieces of white chocolate. Form the resulting mixture and bake for 10-12 minutes.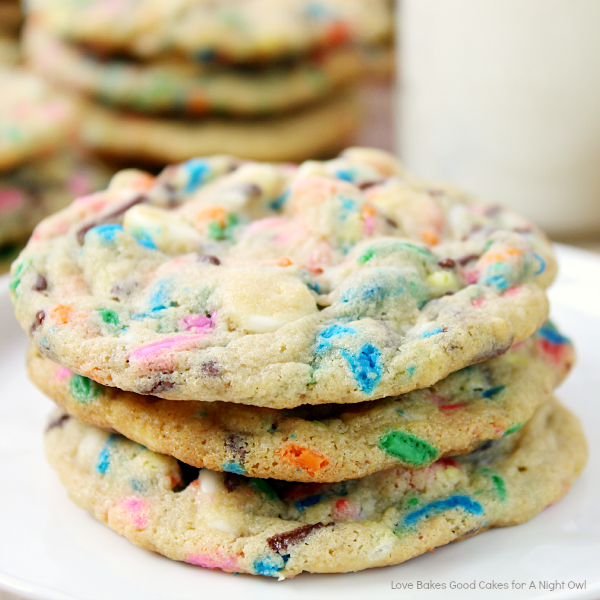 source
5. MAPLE CHOCOLATE PECAN PIE BARS
You need 1 cup Organics Sweet Cream Unsalted Butter softened, 2 cups Organics All-Purpose Flour, 1-1 / 2 Organics 100% Pure Maple Syrup, 1 cup Organics Semi-Sweet Chocolate Chips, 4 Organics Eggs beaten, 2 cups sugar divided, 1 / 4 tsp. salt, 1-1 / 2 tsp. vanilla, 2-1 / 2 cups chopped pecans. Preheat the oven. Put the mixture of butter, flour, sugar, salt in a baking dish and bake for 25 minutes. Meanwhile, while baking, make a mixture of maple syrup, sugar, vanilla, egg and melted chocolate. Pour the mixture evenly over the warm crust. Bake for another 30 minutes.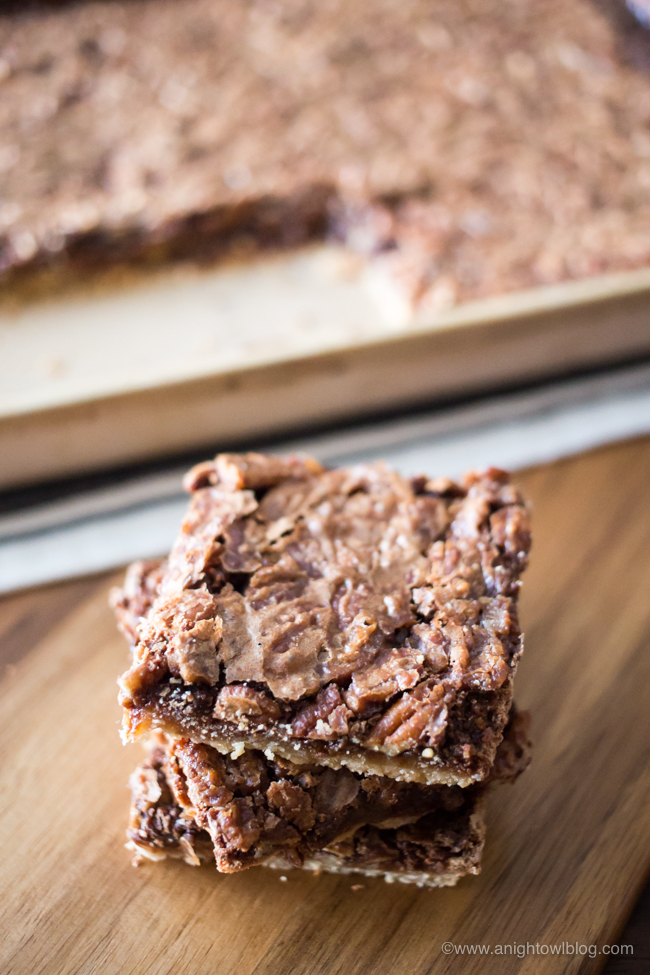 source