Hello to all creative moms. Are you wondering yourself how to surprise your little ones on the Christmas morning? If you want to wake them up with a smile on their face here are some inspiring delicious and very healthy vegetables breakfast ideas inspired by Christmas to prepare them. These vegetables snacks that are decorated in some Christmas symbol shape will be both healthy and interesting to your kids and they will pleasantly eat them.
1. Christmas Tree Vegetable Platter
Ingredients for preparing this breakfast are 1 / 2  cup sour cream or crème fraîche, 1 / 4 cup mayonnaise or salad dressing, 3 tablespoons fresh chopped parsley, 3 tablespoons finely chopped fresh chives, 1 / 2 teaspoon Worcestershire sauce, 1 / 4 teaspoon salt, 1 / 4 teaspoon freshly ground black pepper and 1 small clove garlic, finely chopped.For Vegetable Platter raw we need  3 cups fresh broccoli florets, 14 grape tomatoes, 1 / 2 yellow bell pepper, cut into strips, 1 / 2 cups fresh cauliflower florets and 3 / 4    oz (about 40) pretzel sticks (from 15-oz bag). In a small bowl, place the vegetables and water. Allow to stand for at least one hour. Then rinse and dry the vegetables thoroughly. Remove the stems from broccoli and cauliflower. On a plate, place the broccoli in the form of worms, tomatoes to form  wreath, carrots to star strips, and cauliflower to form snow.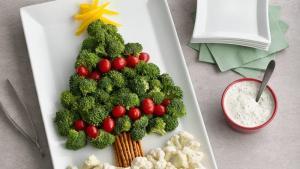 source
2. Pita Tree Appetizers
For this pita trees you will need 4 flavored or plain pita folds or pita breads (about 6 inches in diameter), 16 thin pretzel sticks, halved, 1 /2 cup fat-free sour cream, 1 /2 cup guacamole, 2 tablespoons finely chopped parsley, 1 /4 teaspoon garlic-pepper blend and ¼ cup very finely chopped red bell pepper. Cut each pie into a triangle shape. In a small bowl, mix sour cream, guacamole, parsley and garlic. Apply this mixture on each triangle. Use red peppers for decoration. Keep them cool for 8 hours before serving.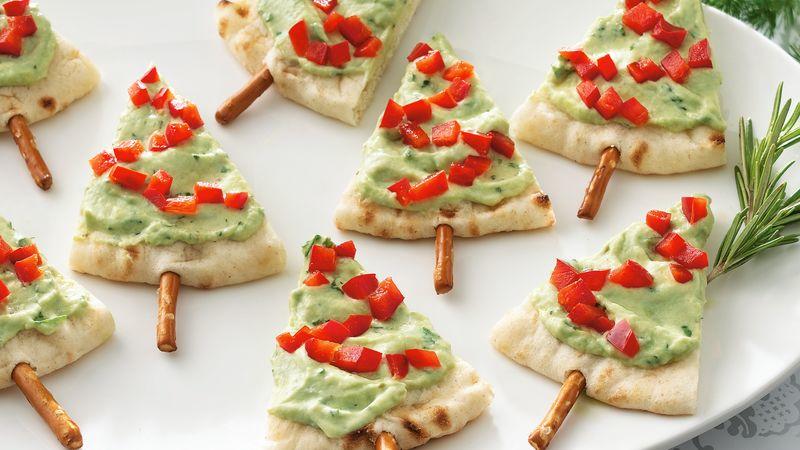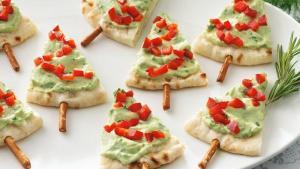 source
3. Christmas star sandwiches
Preparing this breakfast requires White Bread, Primula Cheese of choice, Chives – finely chopped, Red Chillies – finely chopped And Cucumber cut into ribbons. Stick two pieces of bread for each sandwich. Place the pre-made mixture between them. Cut a large star from the second piece and then a small star out of the center.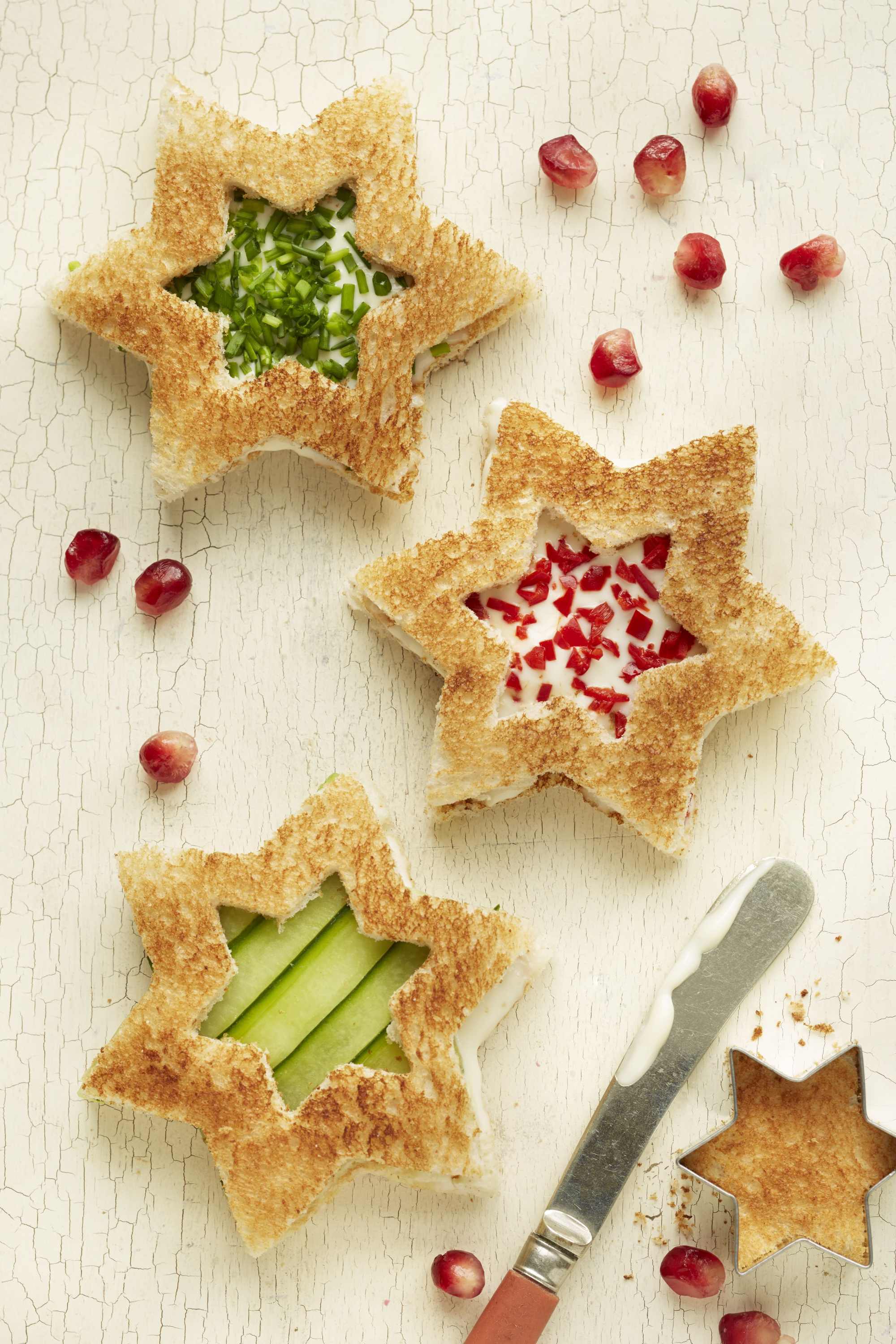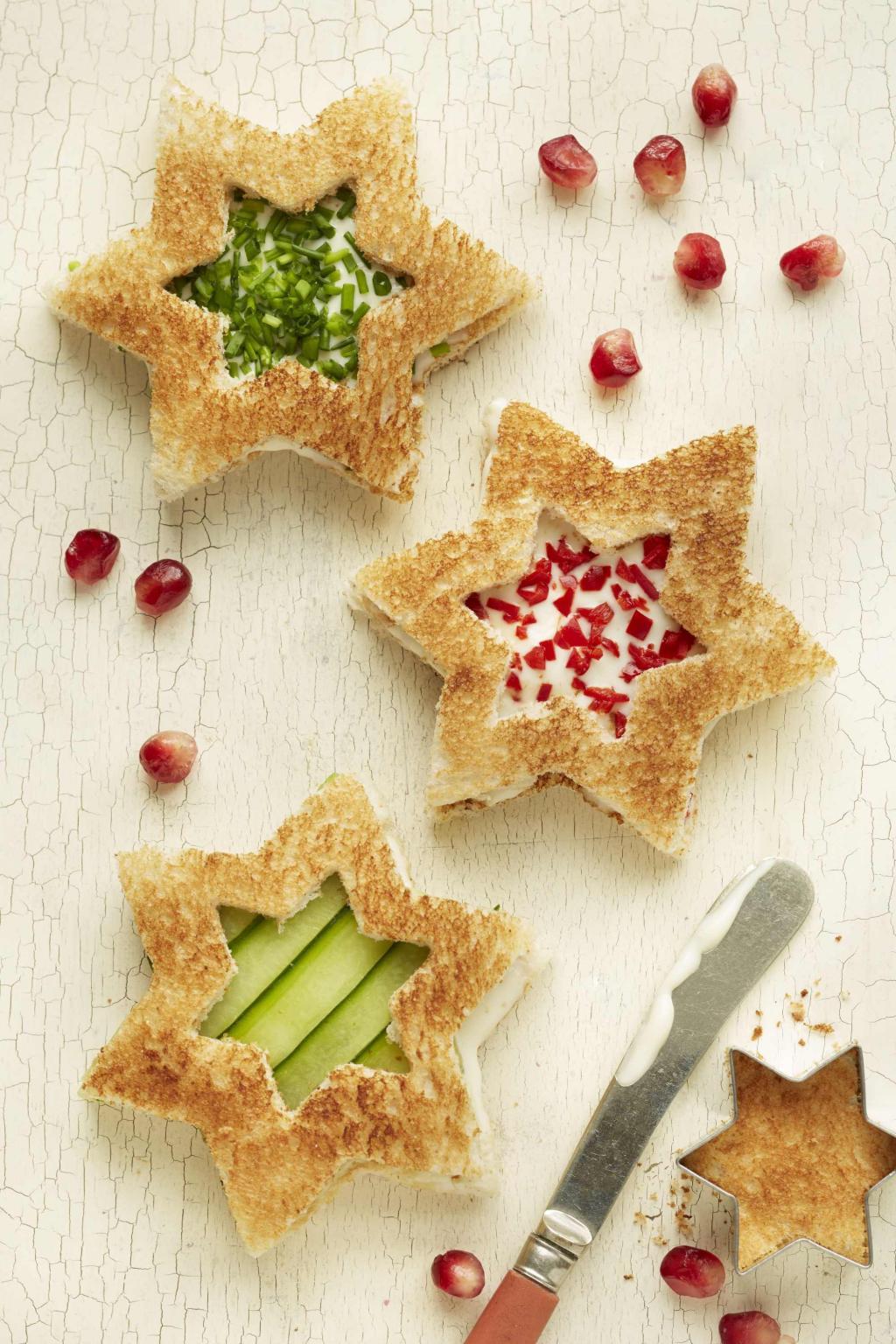 source
4.Peanut butter celery reindeer sticks
 You need the following ingredients: 5 celery ribs, ends trimmed and cut in half, peanut butter (or seed butter of choice), 20 gluten free pretzels, cut in half, 20 homemade googly eyes and 10 fresh raspberries. Put the butter or walnut seeds in the celery peel. Decorate to make Rudolph's face. Your kids will love this snack.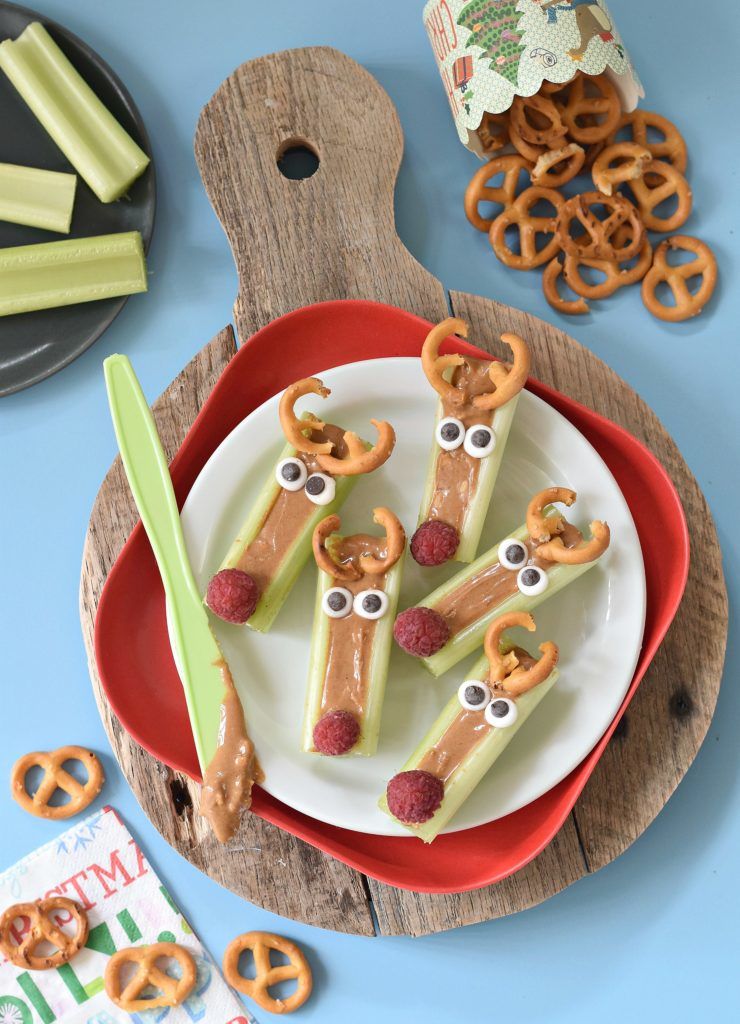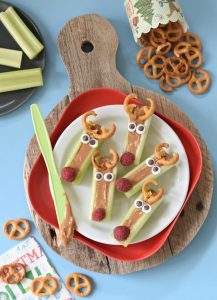 source
5. Christmas Tree Roll-Ups
Get 1 package (8 oz) cream cheese, softened, ½ cup chopped roasted red bell peppers (from 7.25-oz jar), 1 /4 cup chopped ripe olives, 1 / 4 cup chopped fresh basil leaves, 1 / 4 cup shredded Parmesan cheese and 4 spinach -flavor flour tortillas (8 to 10 inches in diameter), Ripe olive pieces. In a bowl mix all ingredients except the tortillas and olives. Apply the mixture to the tortillas and roll firmly. Press each tortilla roll in the shape of a triangle. Store in refrigerator for at least 2 hours. Place a piece of olive on each triangle to make it look like a tree trunk.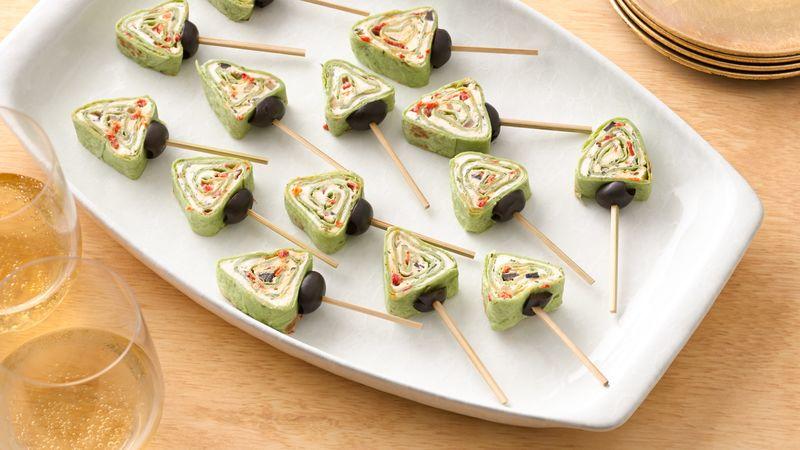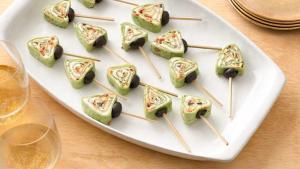 source