Is hot dog your favorite fast food? There is almost no person who will not enjoy eating some delicious hot dog, but did you know that there are so many more recipes you can prepare a hot dog, that are different from the traditional one, but still tasty and delicious? In this article we are sharing with you some unusual hot dog recipes to prepare fro the whole family. We are sure they will love them all.
1.Grilled Cheese Dogs
To prepare these delicious grilled cheese dogs you need 4 hot dog buns, 2 tbsp. butter, softened, 1/4 tsp. garlic powder, 1/4 tsp. onion powder, 4 hot dogs, split lengthwise (be careful not to cut all the way through), 3 c. shredded cheddar, 4 Green onions, sliced. Set the sausages in a pan over medium heat. Bake and fry a little. Put the sausages in the hot dog and  add cheese inside while they are still hot to melt. Add the onions.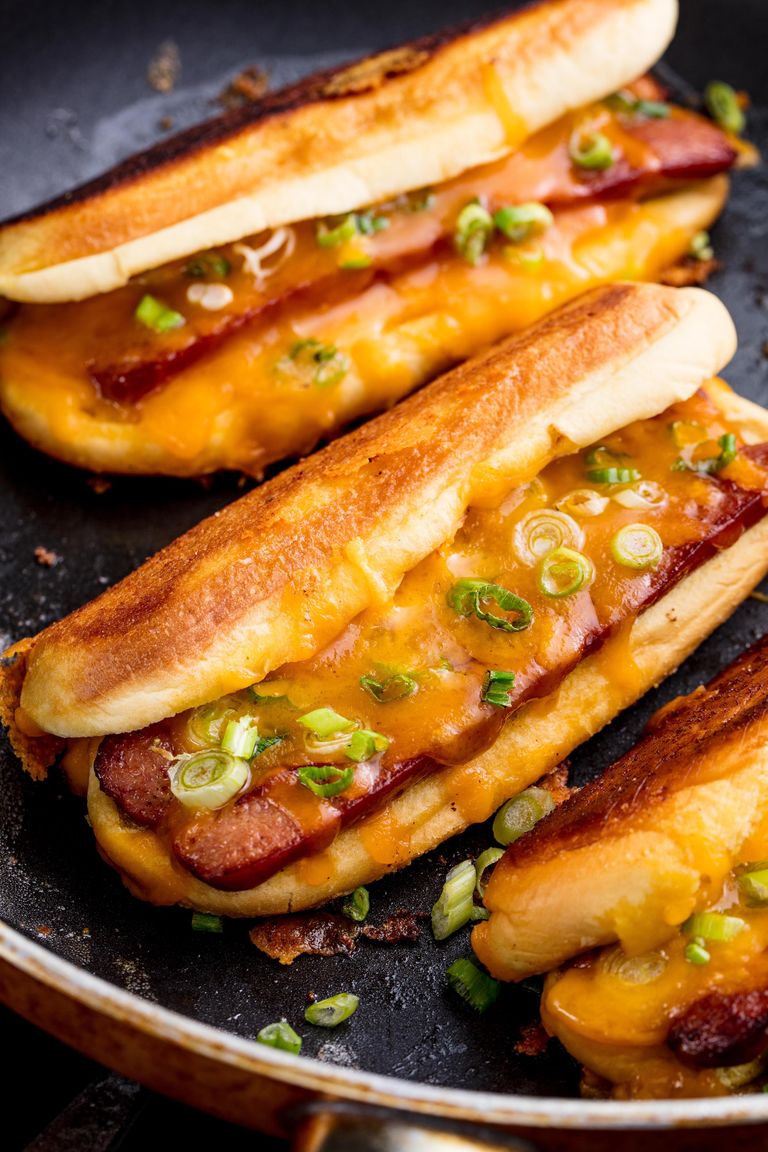 source
2. Pigs in a Quilt
For the preparation of this recipe you will need  Cooking spray, All-purpose flour, for dusting, 1 (11-oz.) Tube refrigerated Pillsbury French bread, 12 hot dogs, 1 tbsp. melted butter, Coarse salt, for sprinkling, Yellow mustard, for serving. Preheat the oven. Cut the bread into thin slices. Arrange the bread strips in a baking dish. Alternately apply the sausages to form a braid. Apply butter. Bake for about 20 minutes. Serve with mustard.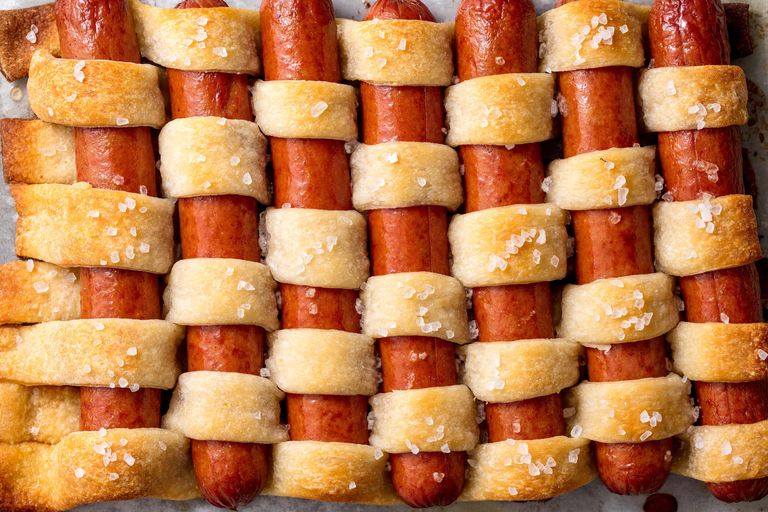 source
3. Pickle Dogs
Take 3 oz. cream cheese, softened, 1/2 c. shredded Cheddar, 2 tbsp. Chopped chives, kosher salt, Freshly ground black pepper, 1 tbsp. vegetable oil, 5 hot dogs, 5 large pickles, Mustard, for drizzling, Ketchup, for drizzling. In a bowl, mix cream cheese, cedar and garlic. Season with salt and pepper. Mix well. Grill the hot dogs on the grill. Put the sausages in the pickles cut in half. Add the resulting mixture. Moisten with mustard.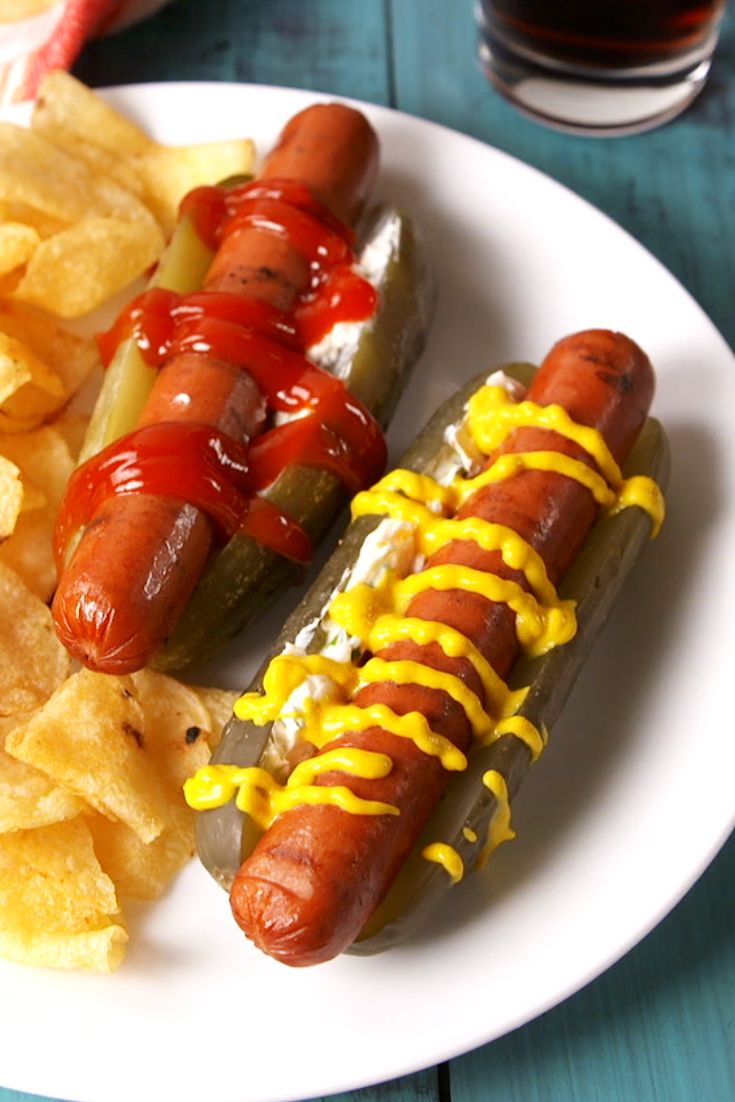 source
4. Jalapeño Popper Dogs
You need 12 extra large jalapeños, 8 slices of American cheese, 4 thin hot dogs, halved lengthwise, 4 hot dog buns, Mustard, for serving. Preheat the grill. Cut the sausages in half. Put yellow cheese inside. Remove the seeds from the pepper. Put the hot dog inside the pepper. Bake on the heated grill. Put the baked hot dog in a hot dog bread. Apply mustard.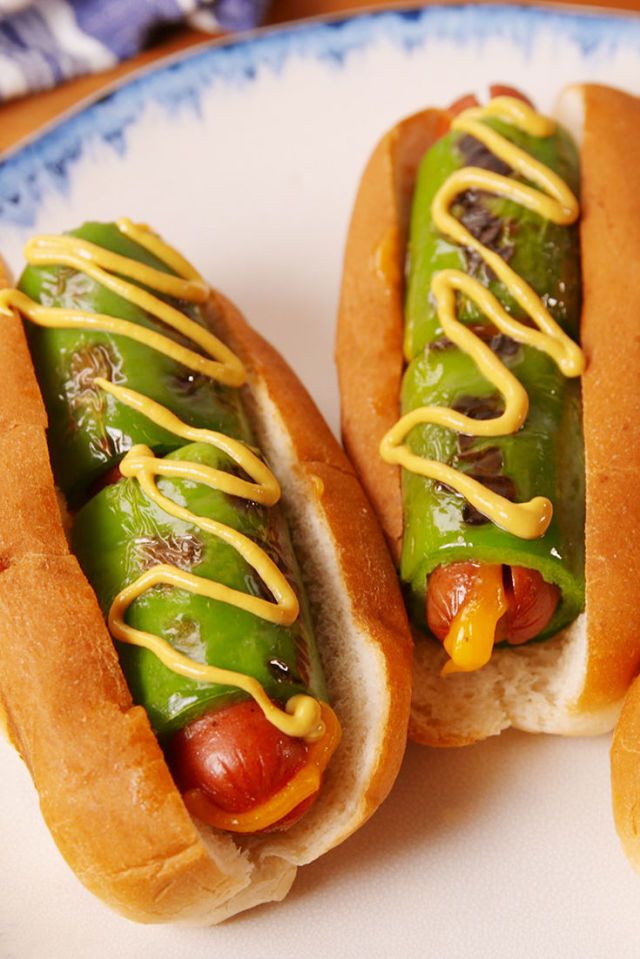 source
5. Quesadogs
For these quesadogs you will need 8 Small flour tortillas, 1 c. shredded Cheddar, 1 c. Monterey Jack, 1 jalapeño, minced, 2 green onions, finely sliced, 1 tsp. chili powder, 1 c. nacho cheese, plus more for dipping, 4 hot dogs, 1 tbsp. vegetable oil, Sour cream, for drizzling. All you have to do is put the tortilla in a pan and apply the above ingredients on it. Put another tortilla on them and bake for a few minutes. Put a hot dog in the tortilla and wrap it. Serve with sour cream.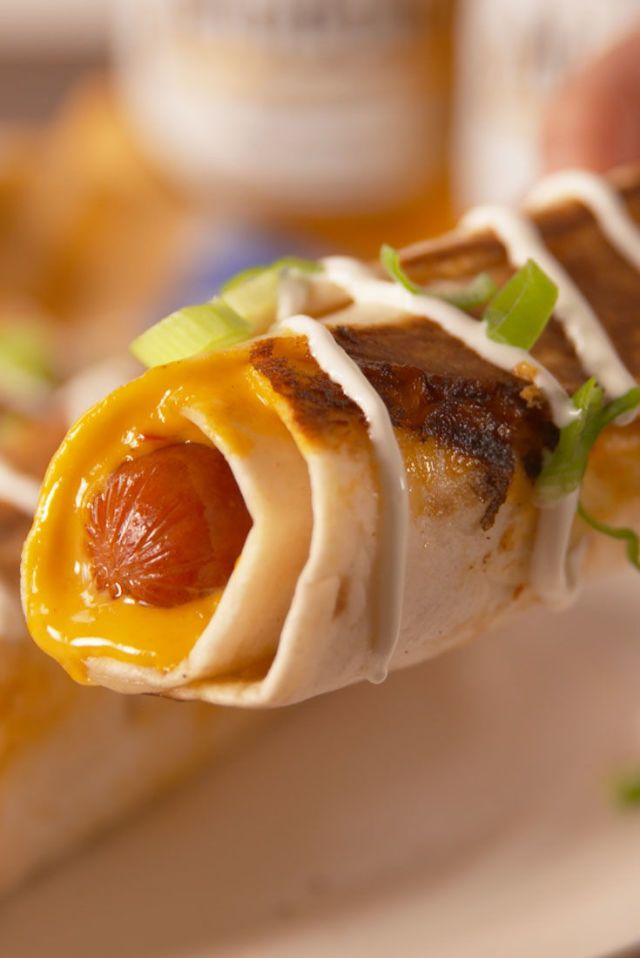 source