Hello to all gourmets. Are you ready for new delicious specialties to enrich your lunch menu? In this article we are presenting you the easiest to prepare recipes that you can prepare for the whole family. There is something for everyone's taste so you can prepare something for meat lovers, for vegetarians or for pasta lovers. Read the recipes below and try them all.
1. Creamy Blue Cheese Slaw
Ingredients needed for preparation of this salad are 1/2 c. reduced-fat sour cream, 3 tbsp. fresh lemon juice, 1 tsp. granulated sugar, kosher salt, Pepper, 1 tbsp. fennel seeds, 1/2 small red cabbage, 1/2 small Red Onion, 1 Granny Smith apple, 1/2 c. chopped fresh flat-leaf, 2 oz. blue cheese. In a large bowl, combine sour cream, lemon juice, a pinch of salt and pepper. Add the cabbage, onion and apple. Sprinkle with cheese before serving.
source
2. Orecchiette with White Beans and Spinach
It takes 2 tbsp. extra-virgin olive oil, 4 cloves garlic, finely chopped, 2 tsp. vegetable bouillon base (we used Better Than Bouillon), 12 oz. orecchiette or other short pasta, 2 tsp. fresh thyme leaves, 1 can small  white beans, rinsed, 2 c. baby spinach, 1/2 c. finely grated Parmesan, Freshly ground black pepper. Put the garlic in a pan of heated oil and fry for about 2 minutes. Remove the pan from the heat and add 4 cups of water. Add rice and thyme and put on the fire until it boils. You can serve it with beans, spinach, and Parmesan.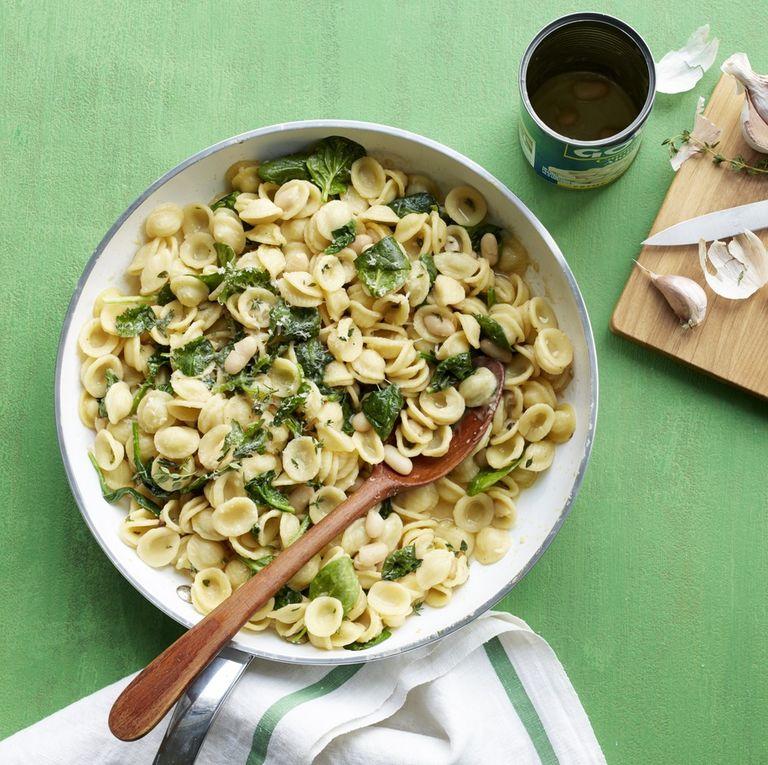 source
3. Summer Pesto Pasta
To prepare this recipe you need 1 lb. spaghetti, 2 ears corn, shucked, 1 medium yellow squash, cut into 1/2 "-thick slices, 1 medium zucchini, cut into 1/2" -thick slices, 1 small bell pepper, seeded and cut into sixths, 4 green onions, trimmed, 2 tbsp. olive oil, 1 lemon, 1/2 c. store-bought refrigerated pesto, 1 pt. grape tomatoes, halved, 1/4 c. packed fresh parsley, chopped. Boil the spaghetti first. Drain them from the water and leave them to cool nicely. Put corn, squash, pepper and onion in a large bowl. Fry for about 10 minutes. Season with salt and pepper. In another bowl, mix pesto and lemon juice. Add to the other mixture. Mix well. Pour the mixture into the spaghetti.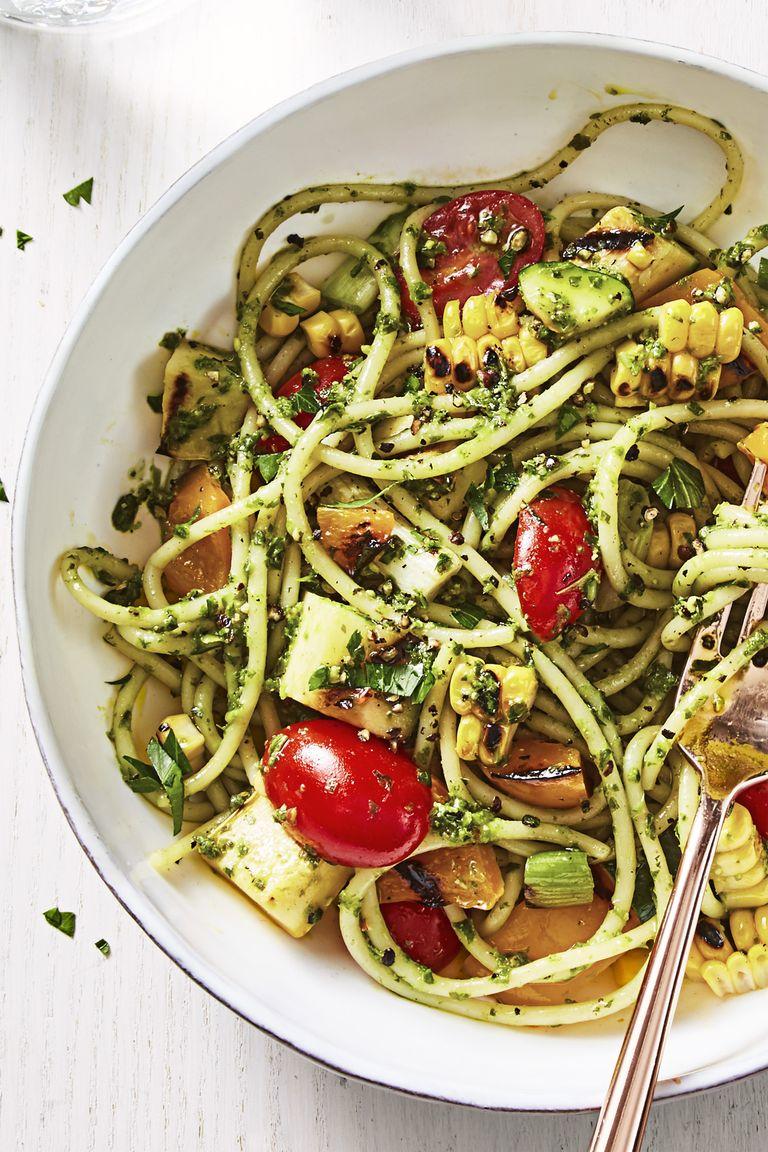 source
4. Cold Spiced Chicken
Take 2 tbsp. light brown sugar, 1 tbsp. sweet paprika, 2 tsp. ground coriander, 1 tsp. chili powder, 1 tsp. garlic powder, Kosher salt and pepper, 16 small chicken drumsticks (3 to 4 lbs), 1 tbsp. flat-leaf parsley, chopped, for serving. Heat the oven. In a bowl, mix all ingredients. Put the chicken legs. Apply oil to a baking pan. Put the chicken legs and bake for about 25 minutes.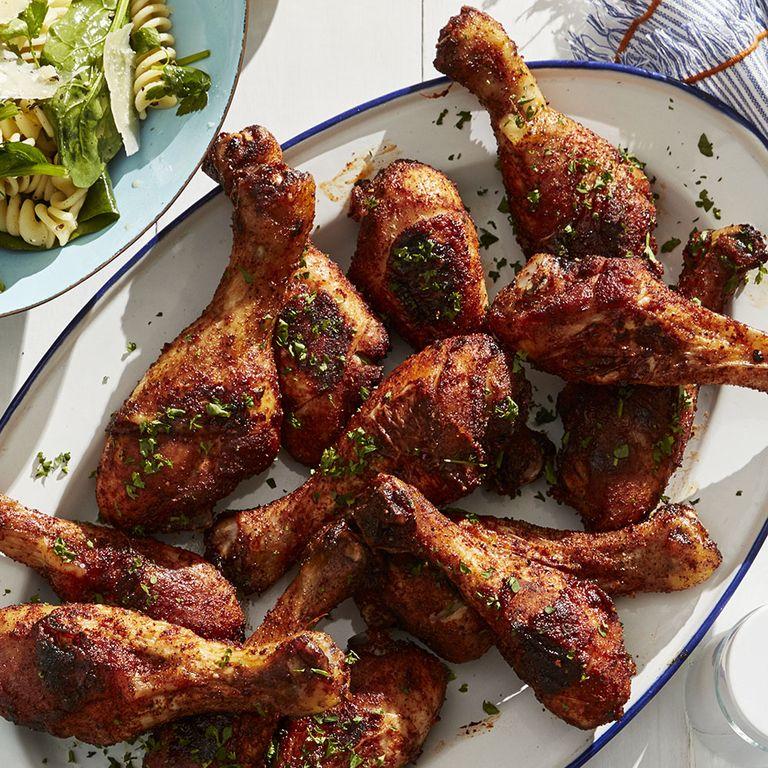 source
5. Seared Summer Squash with Pistachio Pesto
You need 6 small summer squash, 3/4 tsp. salt, 1/4 c. olive oil, plus 1 tbsp, 1/4 c. pistachios, 1 small clove garlic, pressed, 1 c. packed basil leaves, 1/4 c. grated Pecorino Romano, 1/4 tsp. pepper, 1/4 tsp. red pepper flakes. Cut the squash in half. Put them in a bowl and whisk with salt. Leave for 10 minutes. Heat oil in a large skillet, add the squash pieces and cook for about 5 minutes. Meanwhile, chop pistachios and garlic in a food processor. Add basil leaves, pesto, red pepper salt and pepper. Serve the prepared squash with the obtained mixture.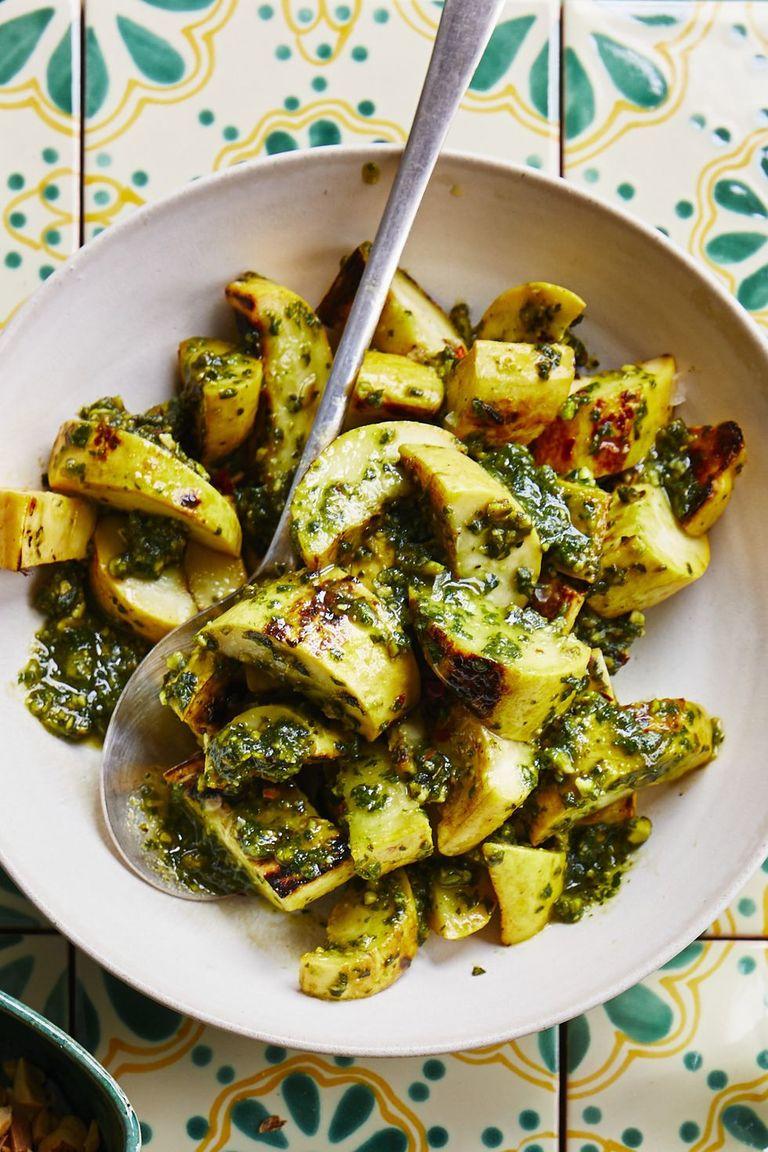 source