We are having a new challenge for all food lovers, especially those loving to cook too. With the following recipes we challenge you to prepare any of these meals that we are sure will make you feel the old taste of the restaurants that we are all less visiting these days because of the after corona virus situation. These delicious meals that won't take you more than an hour will make anyone trying them feel the taste of the gourmets from restaurants. Try them.
1. Chicago-Style Chicken Dogs
Ingredients needed to prepare this recipe are 2 jarred pepperoni peppers, thinly sliced, plus 1 tbsp brine, 1 tsp. honey, 1 tsp. yellow mustard, plus more for serving, 1 tsp. poppy seeds, 1/4 small sweet onion, thinly sliced, 4 fully cooked chicken sausages, 4 hot dog buns, 2 small plum tomatoes, sliced into half-moons, 4 dill pickle spears, 1 small romaine heart, thinly sliced (about 3 cups). In a bowl, mix honey, mustard, pepper, brine and poppy seeds. Add the red peppers and onions. Cook over medium heat for about 5 minutes. Grill the sausages on the grill. Put the roasted sausages in the bread for hot dogs, add the previously made mixture.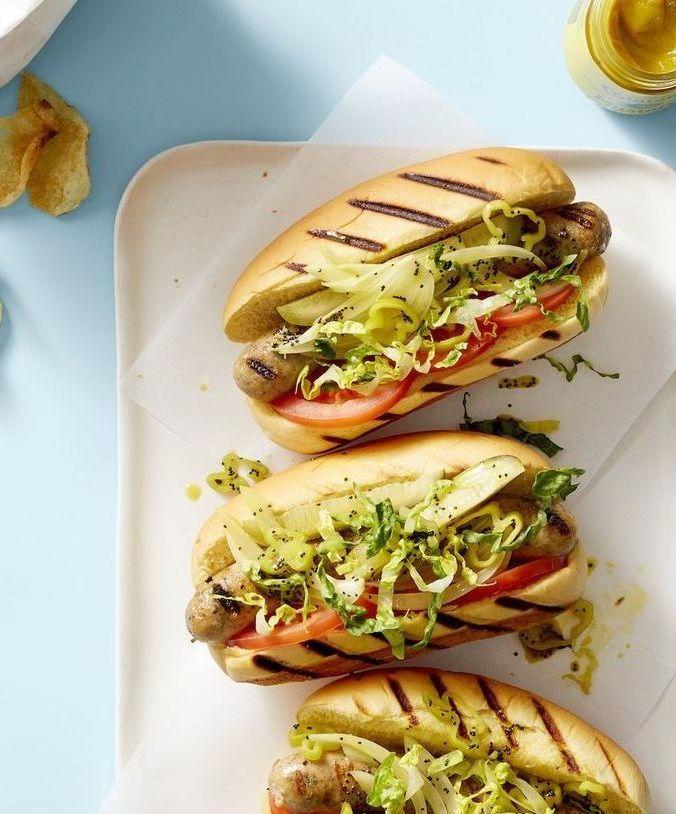 source
2.Grilled Haloumi
The reparation of this meal requires 1 c. Israeli (pearl) couscous or quick-cooking faro, 8 oz. asparagus, trimmed, 4 oz. snap peas, strings removed, 3 tsp. olive oil, divided, Kosher salt and pepper, 4 oz. haloumi cheese, thinly sliced (about 1/8-in. thick), 1 tsp. grated lemon zest plus 2 Tbsp lemon juice, 1 scallion, thinly sliced, 1/4 c. fresh dill, chopped, 1/4 c. flat-leaf parsley, chopped. First, cook the couscous according to the directions on the package. In another bowl, place the asparagus and peas, a little oil and salt and pepper. Cook for up to 4 minutes. Then mash well. Put the bowl with couscous and season with dill and parsley.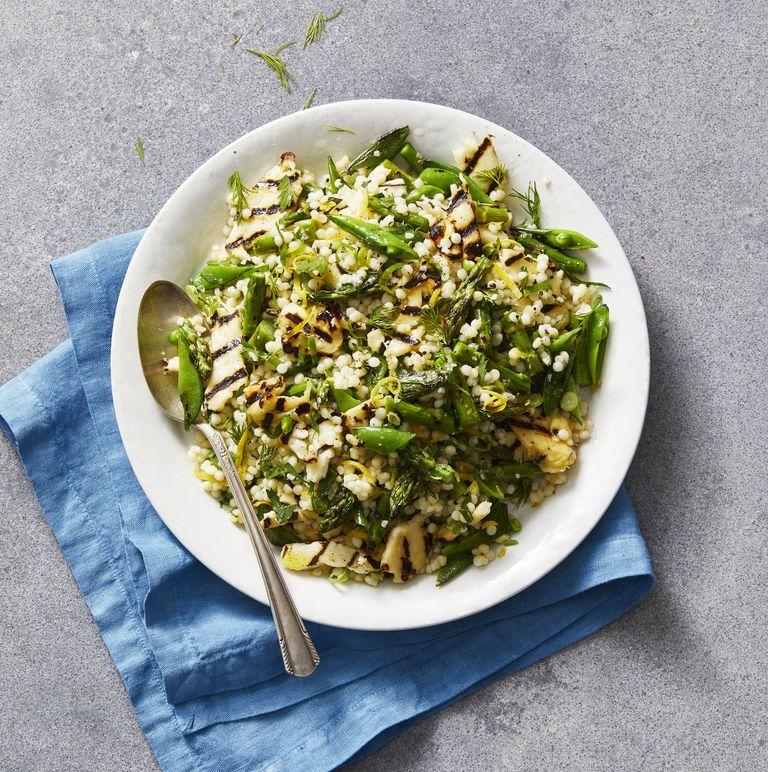 source
3. Summer Rolls
Needed ingredients for the sauce are: 1 1/2 tbsp. lime juice, 1 tbsp. rice vinegar, 1 1/2 tsp. low sodium soy sauce, 1 tsp. water, 1 scallion, green part only, thinly sliced, 1/2 tsp. maple syrup, 1/4 tsp. red pepper flakes. For rolls you need 8 rice paper (spring roll) wrappers, 1 1/2 c. baby greens (we used pac choi), 1 ripe avocado, sliced, 1 scallion, cut into 4-in. matchsticks, 1/4 pineapple, peeled and cut into 4-in. matchsticks, 1/2 English cucumber, cut into 4-in. matchsticks, 4 oz. green beans, trimmed and blanched, 1/4 c. fresh mint leaves, 1/2 c. pea shoots. First, make the sauce with the listed ingredients. Place the rolls on a plate. Apply rice on them. Wrap nicely. Repeat the procedure with all the rolls. Put them in a baking dish. Serve with salty sauce.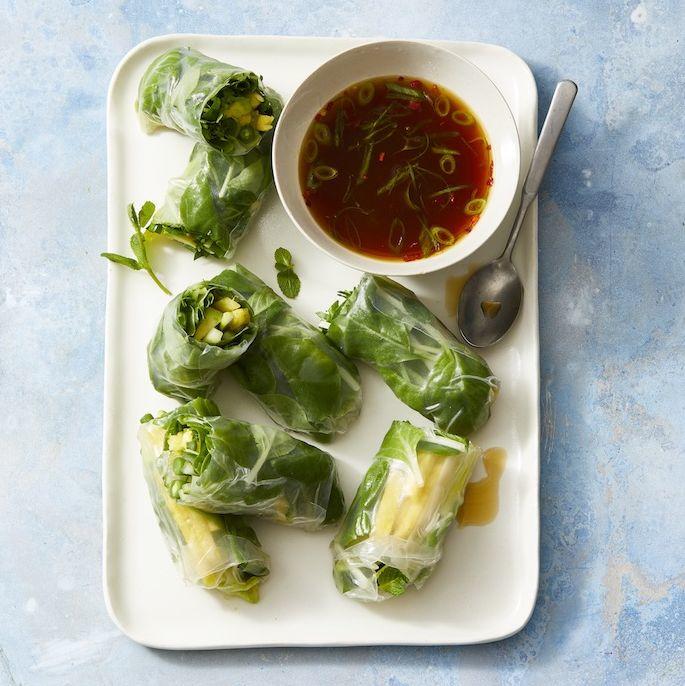 source
4. Summer Squash, Mint, and Pecorino Pasta
You need 12 oz. rigatoni, 2 tbsp. olive oil, 1 shallot, halved and thinly sliced, 1 1/2 lb. zucchini and summer squash (about 4 small), thinly sliced into half-moons, Kosher salt and pepper, 3 oz. pecorino cheese (about 1 cup), grated, plus more for serving, 1/3 c. mint, thinly sliced, 1 tbsp. lemon juice to prepare this meal. Prepare the pasta. Put a pumpkin, salt and pepper in a bowl of oil and cook until the pumpkin is cooked through. Add the pasta to the pumpkin bowl. Add squash and cheese. Serve in a bowl and add lemon juice if desired.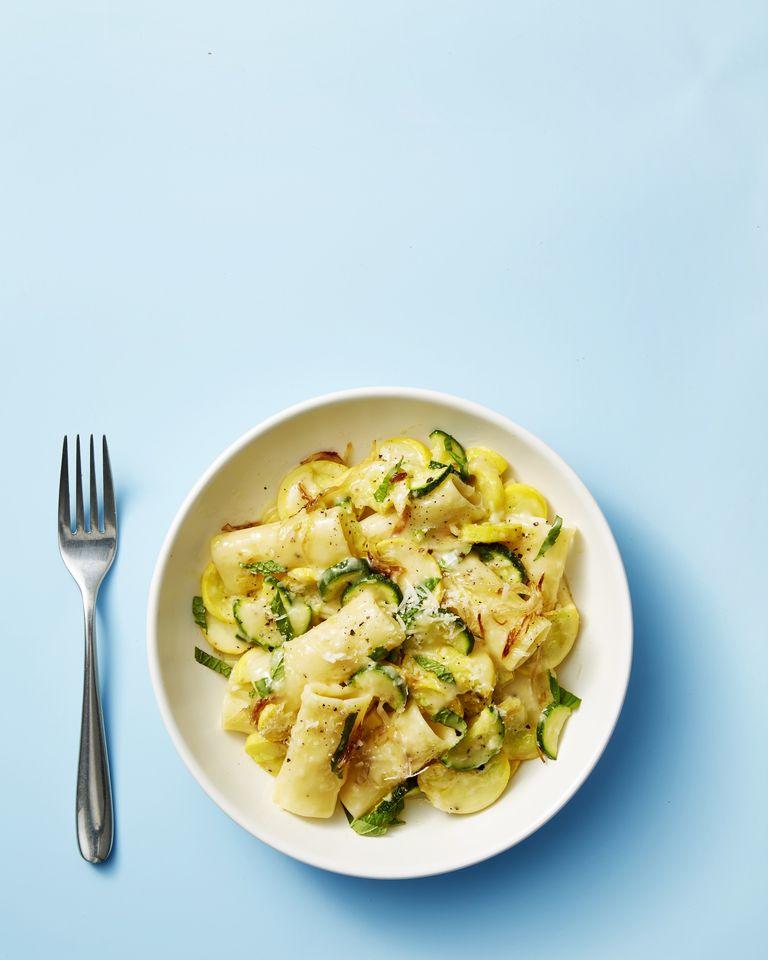 source
5. Tomato, Peach & Basil Salad with Italian Sausage
You need 1 lb. Italian sausage links, 1/2 small red onion, thinly sliced, 1 tbsp. red wine vinegar, Kosher salt and pepper, 1 lb. heirloom tomatoes,, 2 tbsp. olive oil, 1/4 c. basil leaves, 2 oz. feta, broken into pieces. Bake the sausages on the grill. In a bowl, combine the onion and vinegar, add the tomatoes. Put oil. Sprinkle with basil, feta and black pepper. Serve with sausages.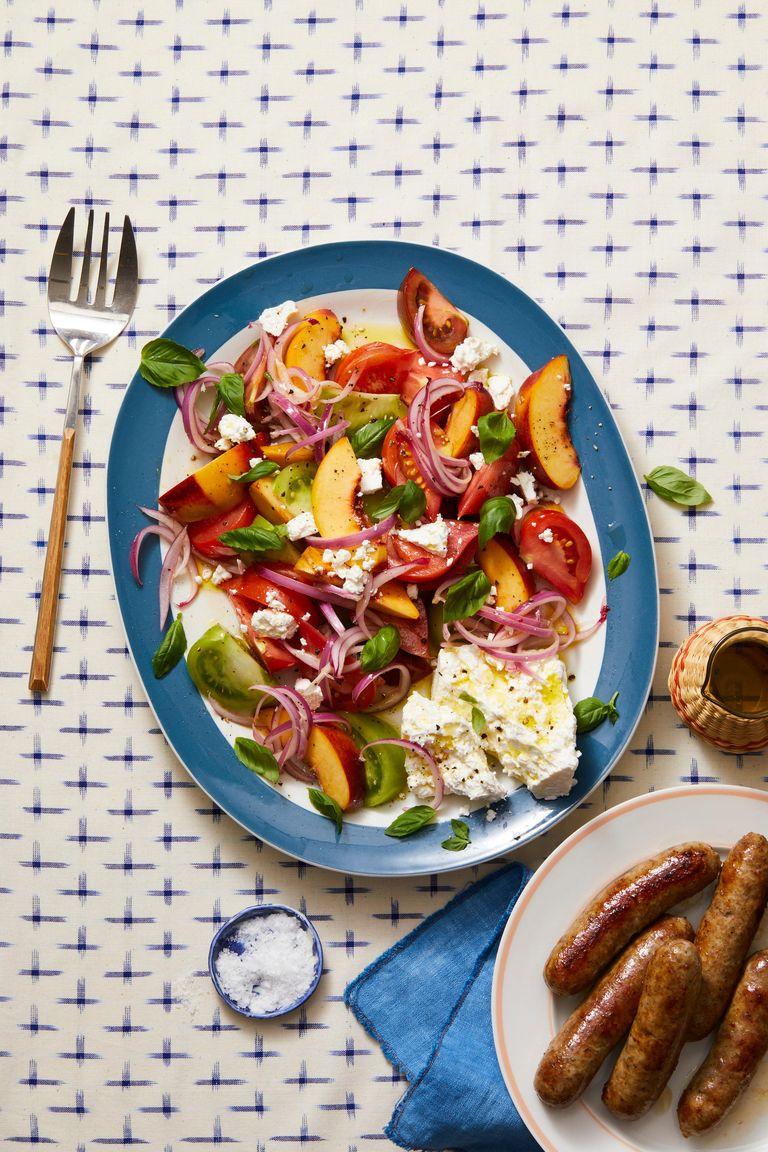 source