Hello to all pasta lovers. Are you ready to see the most delicious and easy to prepare past recipes? Scroll down the page and explore the recipes below. With only few ingredients you can cook the tastiest pasta ever in less than an hour considering the time needed to boil the pasta. Bon appétit.
Green Olive Shrimp Pasta
Ingredients needed to prepare this recipe are 1/4 c. panko, 1 tbsp. grated lemon zest plus ¼ cup juice, 1 scallion, finely chopped, 1 c. flat-leaf parsley, 3/4 c. pitted green olives, 1 clove garlic, pressed, 1/2 c. fresh dill, 2 tbsp. capers, drained, 1/4 c. grated Parmesan, plus more for serving, 3 tbsp. olive oil, Kosher salt 12 oz. angel hair pasta, 1 lb. small peeled and deveined shrimp. Put water in a bowl and put the pot on the fire and leave it until it boils. Once it boils, bring the spaghetti to boil. Cook for about 6 minutes. In another bowl, chop parsley, garlic, dill. Add Parmesan, and a little lemon. Put the resulting mixture in the spaghetti.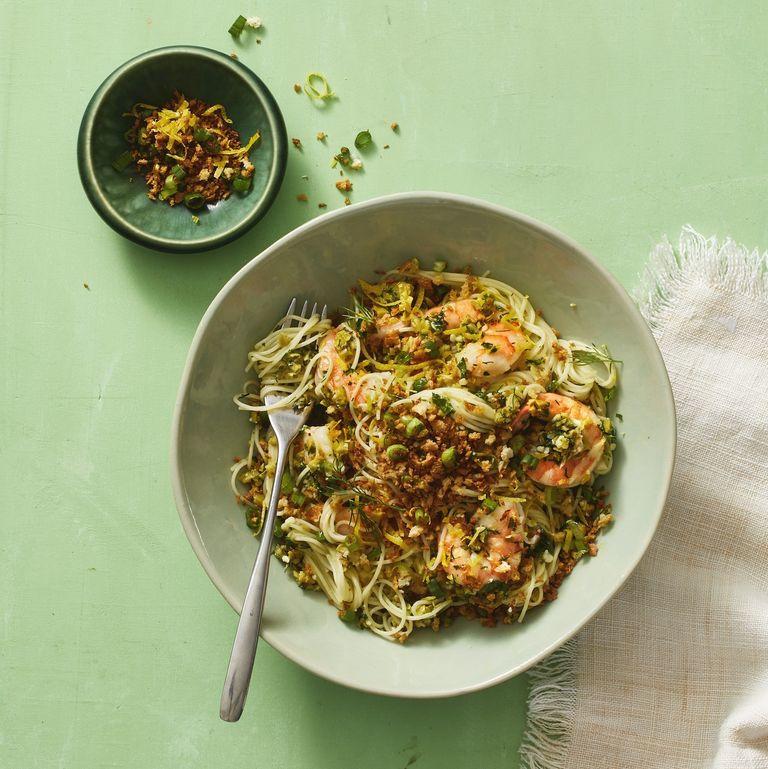 source
Lemony Artichoke Linguine with Olives
You need 12 oz. linguine, 1 tbsp. finely grated lemon zest, 3 tbsp. lemon juice (from one lemon), 1 c. bright green olives, pitted and coarsely chopped, 4 tbsp. olive oil, divided, 1 tsp. red pepper flakes, 1 tsp. fennel seeds, crushed, 2 tbsp. flat-leaf parsley, chopped, 1 14 oz. can whole artichoke hearts, drained, halved (quartered if large), and patted dry, 2 cloves garlic, thinly sliced, 1 oz. Parmesan, shaved. First cook the pasta. Put olive oil, lemon zest, pieces of red pepper and fennel seeds in a small bowl. Fry the artichokes in another bowl until golden brown. Add the mixture from the two bowls to the pasta. Sprinkle with Parmesan.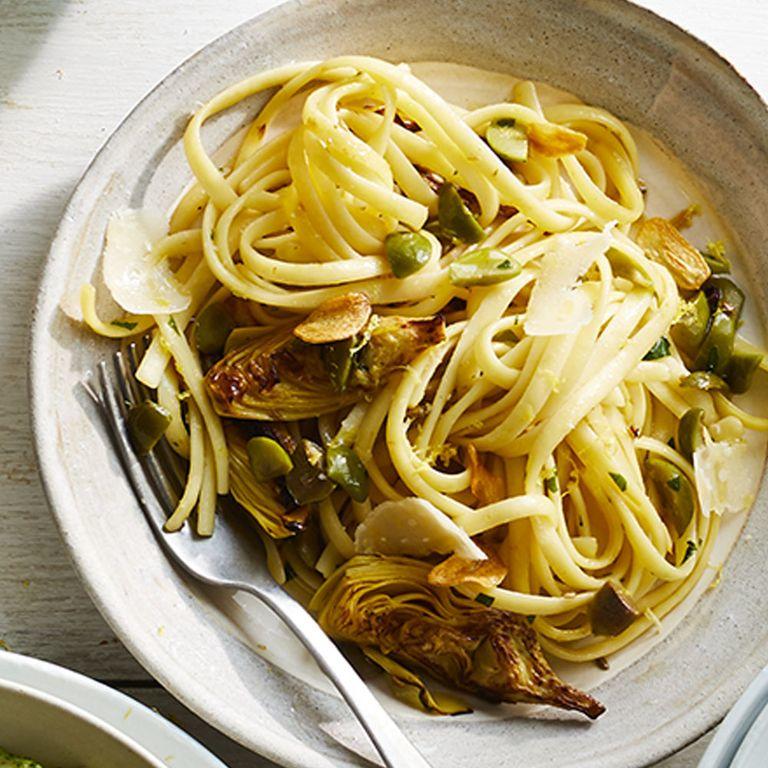 source
Mint and Walnut Pesto Lasagna Noodles
To prepare this recipe you need 12 oz. lasagna, broken into large pieces, 3/4 c. flat-leaf parsley, 3/4 c. mint, 2 tbsp. walnuts, 1 small clove garlic, 6 tbsp. Olive oil, divided, 1/4 c. grated pecorino cheese, 1/4 c. grated Parmesan, Kosher salt and pepper, Ricotta cheese, for serving. Boil the pasta and drain it from the water. Put the herbs in a bowl. Add boiling water. Then drain the water from the herbs. In a blender, grate the walnuts, garlic and 3 tablespoons of oil. Add the herbs and cheese. Mix well until the mixture is smooth. Put the pasta on a serving plate and add the mixture. Add pesto if desired. Decorate with arugula.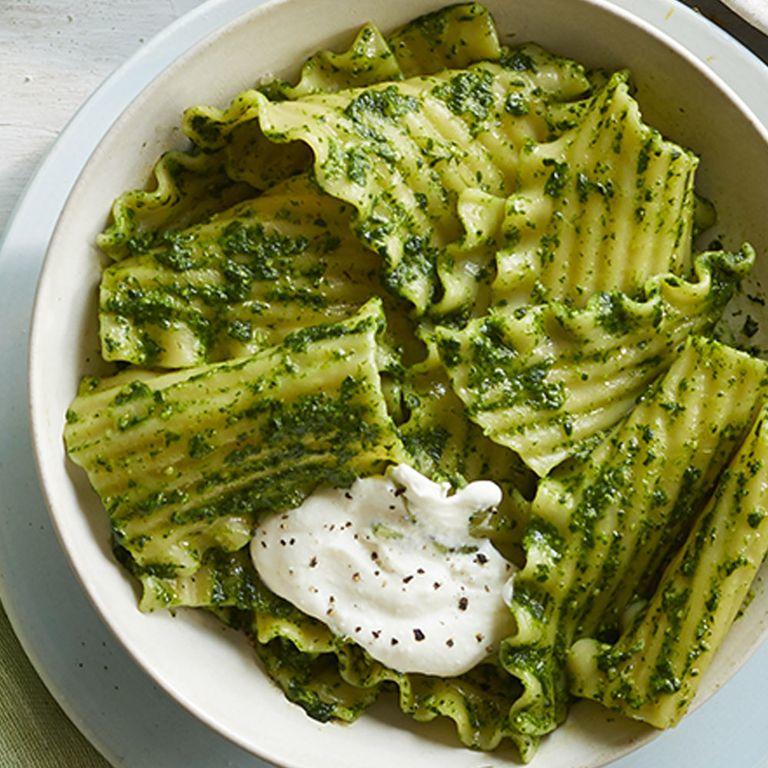 source
Pappardelle with Crab, Snap Peas, Orange, and Chiles
Take 12 oz. pappardelle (or another wide pasta), 2 tbsp. cold unsalted butter, 1 tbsp. finely grated orange zest, 1/4 c. fresh orange juice, 1 tbsp. olive oil, 8 oz. sugar snap peas, halved on a diagonal, 2 red chilies, thinly sliced, 1 tbsp. fresh lemon juice, 2 6 oz. cans crab meat, drained and picked over, 1/4 c. basil leaves. Boil the pasta in a cooking bowl. Meanwhile, while they are boiling, put oil and butter in another bowl. Add the peas and cook until the peas are browned. Add chili. Put the mixture in the drained pasta. Garnish with basil.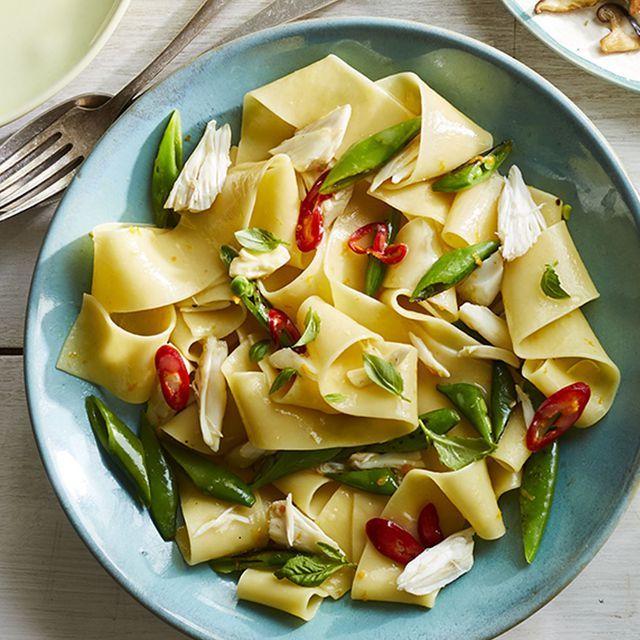 source