What a better way to start your day than with a delicious soup?  And here are some of the most delicious soup recipes that you can try for breakfast, dinner or at whatever time of the day you want. Try them and enjoy the taste.
1. Butternut Squash Soup
Ingredients needed to prepare this soup are One 2- to 3-pound butternut squash, peeled and seeded, 2 tablespoons unsalted butter, 1 medium onion, chopped, 6 cups chicken stock, Nutmeg and Salt and freshly ground black pepper. Cut the squash into small pieces. Melt butter in a large pot. Add the onions and fry for about 8 minutes. Then blend pumpkin in a blender to get pumpkin puree. Put the pumpkin mixture in the onion pot. Stir and season with salt and pepper.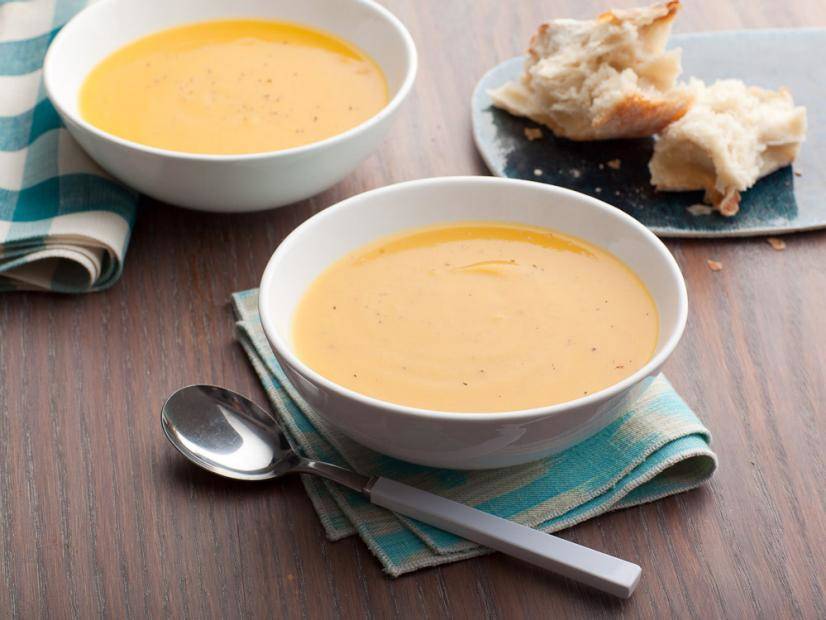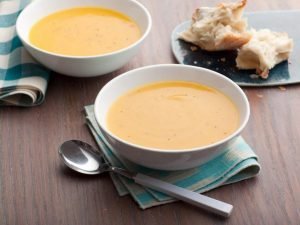 source
2. Simple Chicken Soup
You need Carcass and bones from a 4- to 5-pound roast chicken (or a mild-flavored rotisserie chicken), 4 cups low-sodium chicken broth, 2 medium carrots, sliced ​​into 1/4-inch-thick rounds, 2 celery stalks, sliced ​​into 1/4-inch-thick slices, 1 medium onion, chopped, 1 bay leaf, 1/2 cup white rice, 2 tablespoons chopped parsley and Kosher salt. First put the bones of the chicken to cook over low heat for about 20 minutes. Once the water has boiled, remove the foam and grease from the meat. Then gently remove the bones and allow the meat to boil again. Add the carrots, celery, onions and bay leaf to the soup. Boil until vegetables are well cooked. Add some rice and cook for another 15 minutes. Season with salt and black pepper.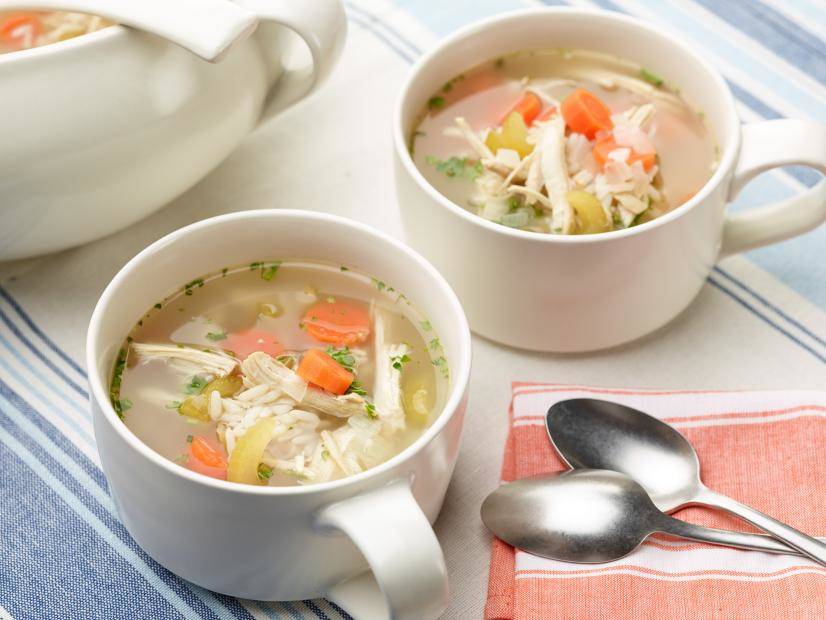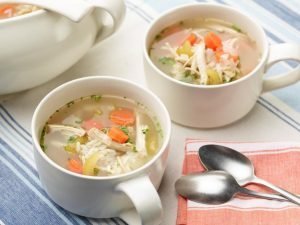 source
3. Healthified Broccoli Cheddar Soup
Take 1 bunch of broccoli, 1 small onion, finely chopped, 1 medium red-skinned potato, diced, 1/4 cup all-purpose flour, 3 cups low-sodium chicken or vegetable broth, Kosher salt and freshly ground black pepper, 1 / 4 teaspoon freshly grated nutmeg, 1 cup grated extra-sharp Cheddar, 1 teaspoon Worcestershire sauce, One 12-ounce can of fat-free evaporated milk and 2 scallions, thinly sliced. Remove the stems and flowers of broccoli. Chop finely and put the broccoli pieces in a pan with the onions, potatoes and cook for 7-10 minutes until the products have softened. Then add the flour and mix well to avoid lumps. Let the broccoli soup simmer over low heat until thickened. Cheers.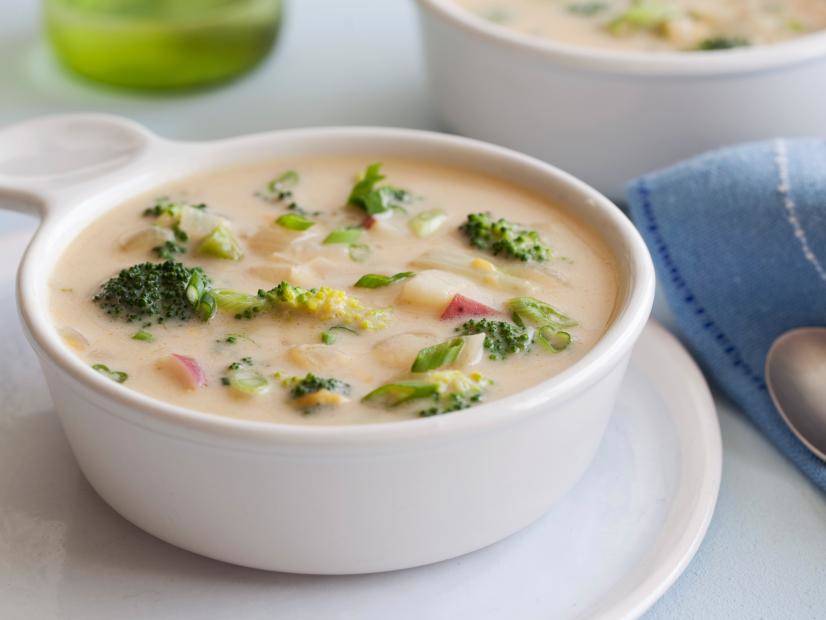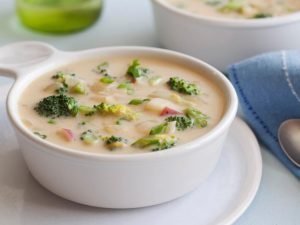 source
4. Carrot-Ginger Soup with Tofu
Products needed for this soup are 1/2 cup vegetable oil, 1 1-pound bag of frozen chopped carrots, thawed, 1 small onion, roughly chopped, 1 2-to-3-inch piece of ginger, peeled and grated, Kosher salt and freshly ground pepper, 1 star anise pod or 1/2 teaspoon five-spice powder, 2 cups carrot juice, 1 pound extra-firm tofu, 1/2 cup cornstarch, 2 teaspoons curry powder and Torn fresh cilantro, for garnish (optional ). Heat vegetable oil in a large saucepan. Add the carrots, onions and ginger and fry for about 5 minutes until the vegetables have softened. Then add the carrot juice and 3 cups water. Cover and allow to boil for about 20 minutes. In a bowl, mix the tofu with curry sauce and salt. Put all this in a frying pan. Mix the ingredients of both dishes. Good appetite.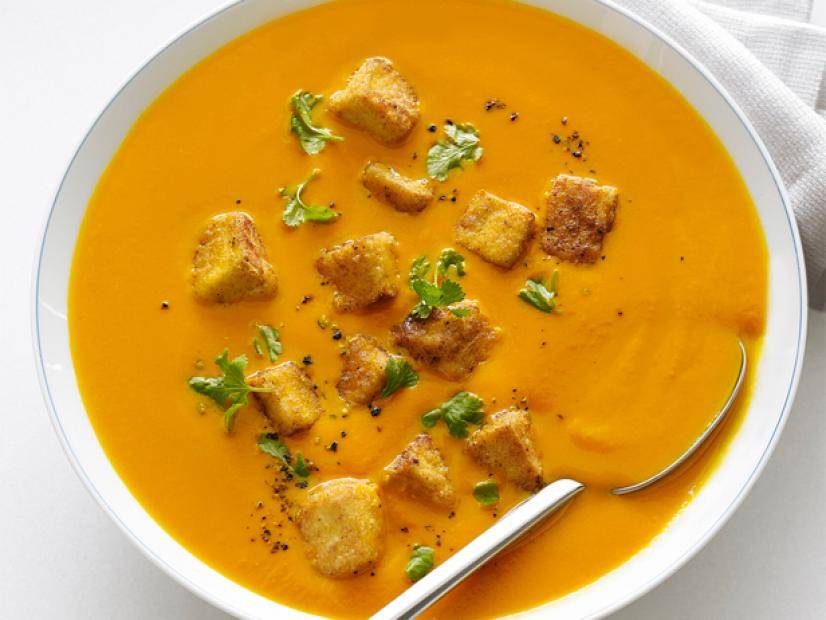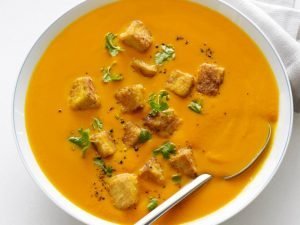 source
5. Lentil Vegetable Soup
For this soup you will need 1 pound French green lentils, 4 cups chopped yellow onions (3 large onions), 4 cups chopped leeks, white part only (2 leeks), 1 tablespoon minced garlic (3 cloves), 1/4 cup good olive oil, plus additional for drizzling on top, 1 tablespoon kosher salt, 1 1/2 teaspoons freshly ground black pepper, 1 tablespoon minced fresh thyme leaves or 1 teaspoon dried, 1 teaspoon ground cumin, 3 cups medium-diced celery (8 stalks), 3 cups medium-diced carrots (4 to 6 carrots), 3 quarts chicken stock, 1/4 cup tomato paste, 2 tablespoons red wine or red wine vinegar and Freshly grated Parmesan cheese. In the bowl, cook the lentils first. Roast onions, chives and garlic in olive oil, salt and pepper for 20 minutes. Then add the celery and carrots and fry for another 10 minutes. Finally, add the chicken, tomato paste and lentils. Serve with red wine.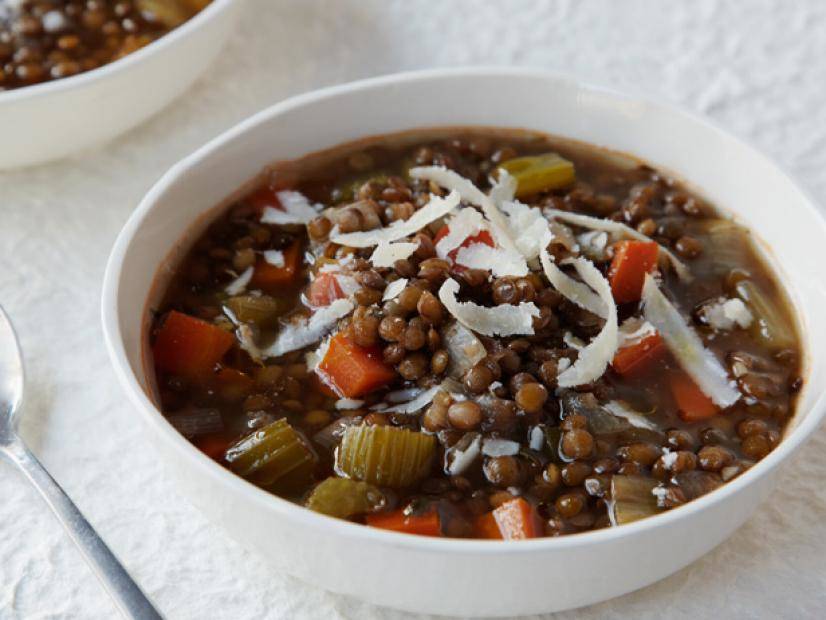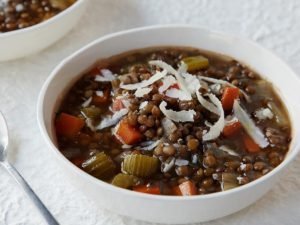 source