Rice is a main-staple in many households all over the world. It is incredibly versatile, and can be prepared as a main dish or a side course! Today, cooking rice for the dinner table is basically an automatic function for many adults. People tend to be creatures of habit, comfortable with routine- even when it comes to their cooking tendencies. However, it can be a healthy idea to switch things up every once in a while! While rice may be a small, unremarkable-looking grain, it can be cooked in a variety of ways. Having a rice cooker can be beneficial, but all you really need to make a delectable pot of rice is a pot, rice, and a stove! If you are looking for ways to shake up your rice routine, try one of our mouth-watering rice recipes below. You are certain to find one to suit your palate!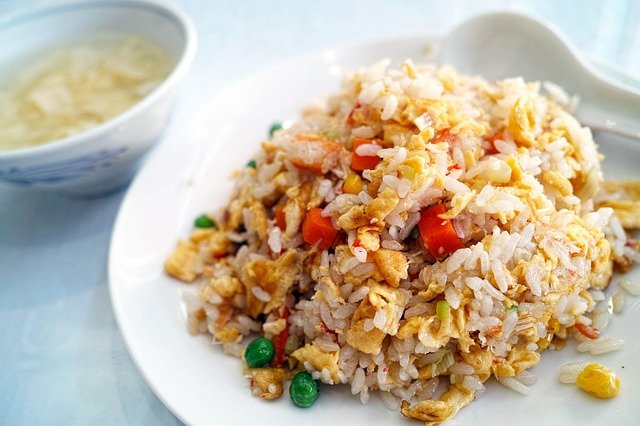 There are many different types of rice like jasmine rice and brown rice. For jasmine rice recipes, check out Corrie cooks.
Before following any of our recipes below, be sure to start off by giving your rice a good rinse. This helps get rid of any dirt, debris, or starch that has inevitably made its way into the bag. You can rinse it in a bowl by stirring the rice around with your fingers and then carefully draining the water, or by using a fine strainer that won't lose your grain to the drain!
NOTE: Each of the recipes outlined below are specifically tailored to cooking white rice. If you would like to substitute brown rice, please note that you will likely need to adjust the amount of liquid and cooking time.
Method 1: Coconut Rice
This easy-to-follow, mouth-watering rice recipe takes a basic steaming method, and adds a tropical and flavorful twist. Coconut rice makes the perfect side dish for any chicken or fish recipe you are whipping up in the kitchen. It will also add a little extra flavor to curries, fried rice, or a rice bowl that the whole family is sure to enjoy! Check these different types of Indian curries if you need them.
Prep time: 10 mins
Cook time: 15 mins
Ingredients
2 cups of jasmine rice
1 ½ cups of water
1 cup of unsweetened coconut milk (canned)
1 tsp of salt
Directions
After thoroughly rinsing and draining your rice under cold water, put it in a saucepan along with the water, coconut milk, and salt. Then, place the pan on the stovetop on high heat, until it begins to boil.
Once the rice is boiling, give it a stir and turn the burner from high to low. Cover the pot with a properly-fitting lid, and leave it to simmer on the stovetop for 15 minutes.
Once the 15 minutes are up, take the pot off of the heat and let it stand, covered, for 10 more minutes. Fluff the rice with a fork before serving, and enjoy however you desire!
Method 2: Toasted Rice
Most people follow the same basic steps of rice cooking. Bring the water to a boil, salt it, and then add in the rice. What if I told you that simply rearranging these steps and adding some oil will result in a much more rich and flavorful tasting rice? Read on to discover a very simple and easy-to-follow method that you can use in your home to 'up' your rice game!
Prep time: 10 mins
Cook time: 20 mins
Ingredients
1 cup of white rice
2 cups of water
1 tbsp of oil (coconut, avocado, or sesame all work great!)
1 tsp of salt
Directions
Heat the oil in a saucepan over medium-high heat for one to two minutes. When you start to notice a slight change in color and an aromatic smell emanating from the pot, you can add the water.
Add the water and salt to your rice, and allow the pot to reach a boil. After it begins boiling, cover the saucepan with a tight-fitting lid, and turn the stove setting  to a low simmer.
Leave the rice covered, on low, to cook for 20 minutes.
Once the rice is cooked to your liking, have at it with your own personal, creative touch! You can add herbs, spices, or citrus zest (just to name a few) that can tailor the rice to your needs. Enjoy!
Method 3: Turmeric Yellow Rice
Turmeric is a root that provides the body with many health benefits. Integrating it into your diet can lessen your chances of contracting heart disease, Alzheimer's, and even different cancers. It has wonderful anti-inflammatory and antioxidant properties. If you need further convincing to integrate this spice into your life, it will also add a beautiful color and flavorful kick to your rice dish. This recipe can pair well with a variety of other foods, and fits most notably with other Asian flavors!
Prep time: 10 mins
Cook time: 15 mins
Ingredients
1 cup basmati rice
1 tbsp coconut oil
½ tsp turmeric
¼ tsp ground ginger
¼ tsp salt
½ tsp onion powder
½ tsp garlic powder
2 cups vegetable or chicken stock
Directions
Start off by combining all of the ingredients in a single pot. Bring the pot to a boil on the stovetop, and then reduce the heat to low and place a lid on the pot.
 Leave the rice to cook for 15 minutes.
Then, remove the pot from the heat and let it stand for 10 more minutes.
Enjoy the delicious taste, and additional health benefits from this turmeric yellow rice!
Method 4: Mexican Red Rice
This flavorful mexican red rice recipe is certainly delicious enough to eat on its own, but it also works as a great side dish to any mexican spread. When making burritos, tacos, or fajitas, you can use this recipe in place of plain white rice to add extra flavor, and impress your family and dinner guests!
Prep time: 15 mins
Cook time: 15 mins
Ingredients
1 cup long grain white rice
1 ½ tbsp olive oil
2 cloves garlic, minced
½ small white onion, finely chopped
1 ¾ cups vegetable or chicken broth
2 ½ tbsp tomato paste
¼ tsp salt
1 jalapeno or serrano pepper, whole (optional)
¼ cup cilantro, finely chopped
Directions
Begin by heating the olive oil in a saucepan on the stove over medium heat.
Then, add in the garlic and onion and stir. Cook for about 5-6 minutes until the onions are translucent in appearance.
Next, add in the rice, salt, broth, and tomato paste. Stir the mixture until the tomato paste has dissolved into the broth.
Add in the whole pepper, place a lid on the pot, and turn the heat down to low so that the rice is simmering.
Allow the rice to simmer for 15 minutes, and then check to make sure the liquid has dissolved. Remove the pot from the heat and allow the rice to sit for 10 minutes. Fluff it with a fork and enjoy!