Do you want a healthy life? In order to get it you should start first with your diet. As they say you are what you eat, so take care to eat properly and what is more important healthy. In this post we are sharing with you some easy to prepare healthy meals you must include in your everyday diet if you want to practice healthy habits and healthy lifestyle.
1. Super green Mushroom & Orzo Soup
To prepare this lunch you need 2 tbsp. extra-virgin olive oil, 1/4 tsp. Kosher salt, 1 1/4 c. celery, 1/2 c. shallots, 1/4 c. garlic, 8 c. vegetable or chicken broth, 3 c. broccoli, 3 c. sliced spinach, 1 c. sliced mushrooms, 1 c. orzo, basil pesto. Heat the olive oil in a bowl. Add the celery, onion, salt and garlic. Cook for 8 minutes. Add broth and a little broccoli. Bring to  boil for about 15 minutes. Then add rice, spinach and mushrooms. When done, remove from the heat and sprinkle with pesto.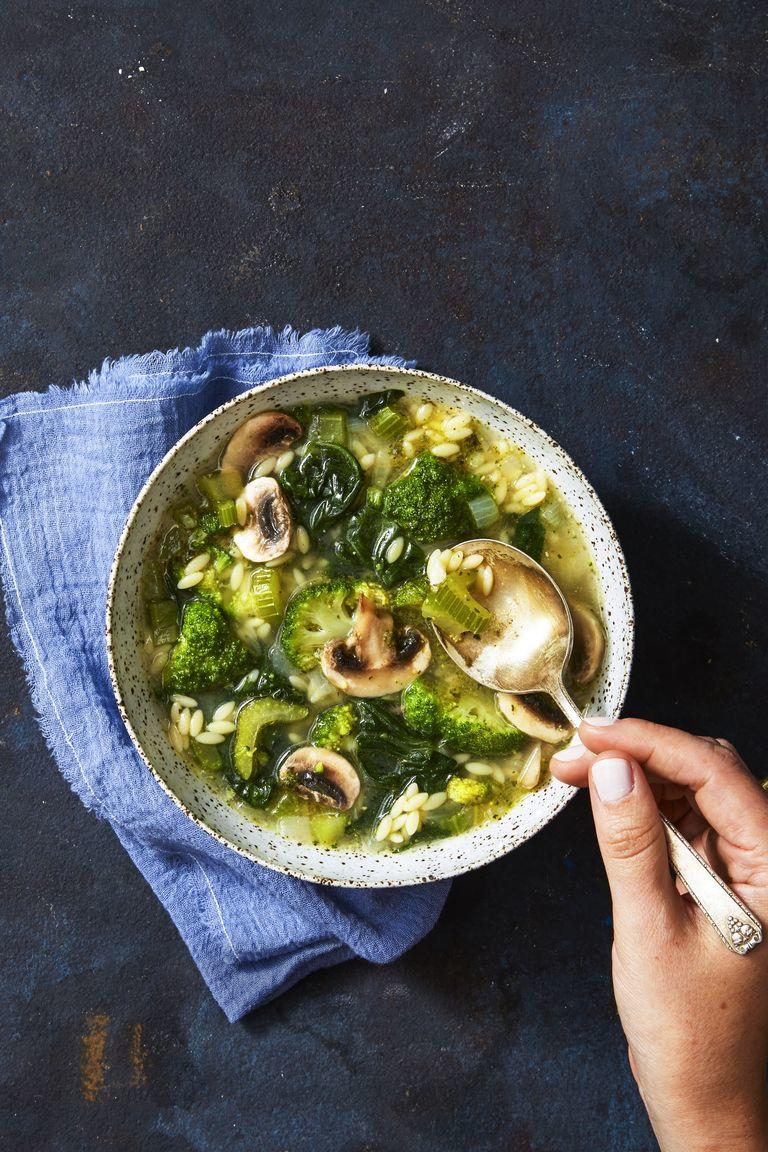 source
2. Tomato-Quinoa Soup
You need 1 c. red or white quinoa, 3 tbsp. butter, 1 tbsp. olive oil, 2 medium shallots, 2 clove garlic, 1 tbsp. fennel seeds, 2 can whole peeled tomatoes, 2 c. lower-sodium chicken or vegetable broth, 1/4 c. roasted salted pepitas (pumpkin seeds), 1 tbsp. snipped fresh chives, 1/2 tsp. crushed red pepper. First, cook the quinoa. Heat oil and butter in another bowl over medium heat. Add onion, garlic and fennel seeds. Cook for about 5 minutes. Finally, after the vegetables are soft, add the tomatoes and soup. Cook for about 15 minutes, stirring occasionally.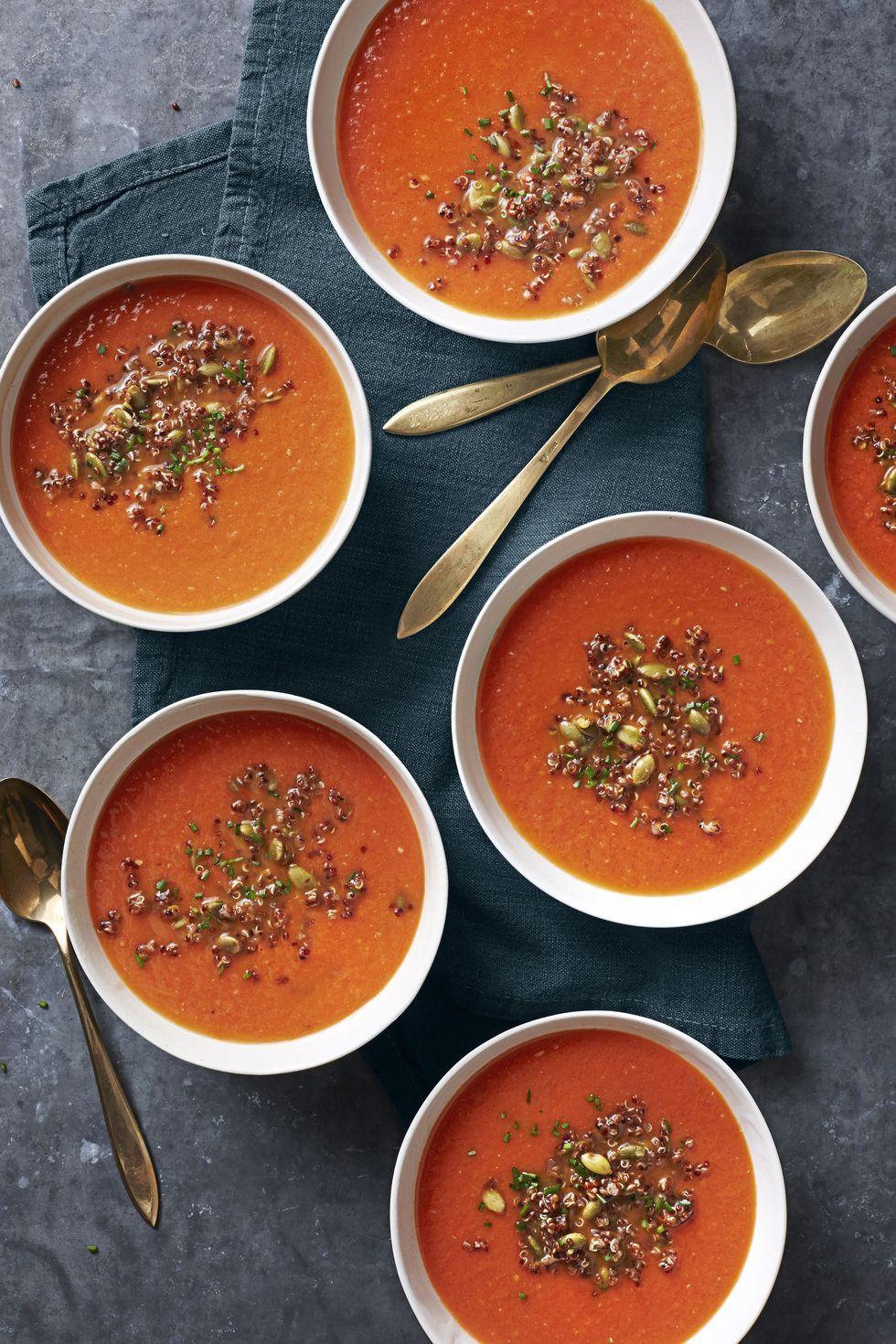 source
3. Tomato Panzanella
Ingredients needed to prepare this recipe are 1/2 loaf sourdough bread, preferably stale, 2 large cloves garlic, 6 anchovy filets, 3 c. basil, 1/2 c. olive oil, plus more for serving, 2 tbsp. sherry vinegar, Kosher salt, Pepper, 2 lb. heirloom tomatoes, 4 tbsp. unsalted butter. First, heat the oven. Cut the bread crust into larger pieces. Chop the garlic, basil and olive oil in a chopper. Add a little vinegar and salt. Cut the tomatoes in a bowl and let them stand at room temperature for about 30 minutes. Meanwhile, melt the butter with the remaining oil. Arrange the pieces of bread in a baking dish first, and add the previously prepared mixtures. Bake for 15 to 20 minutes.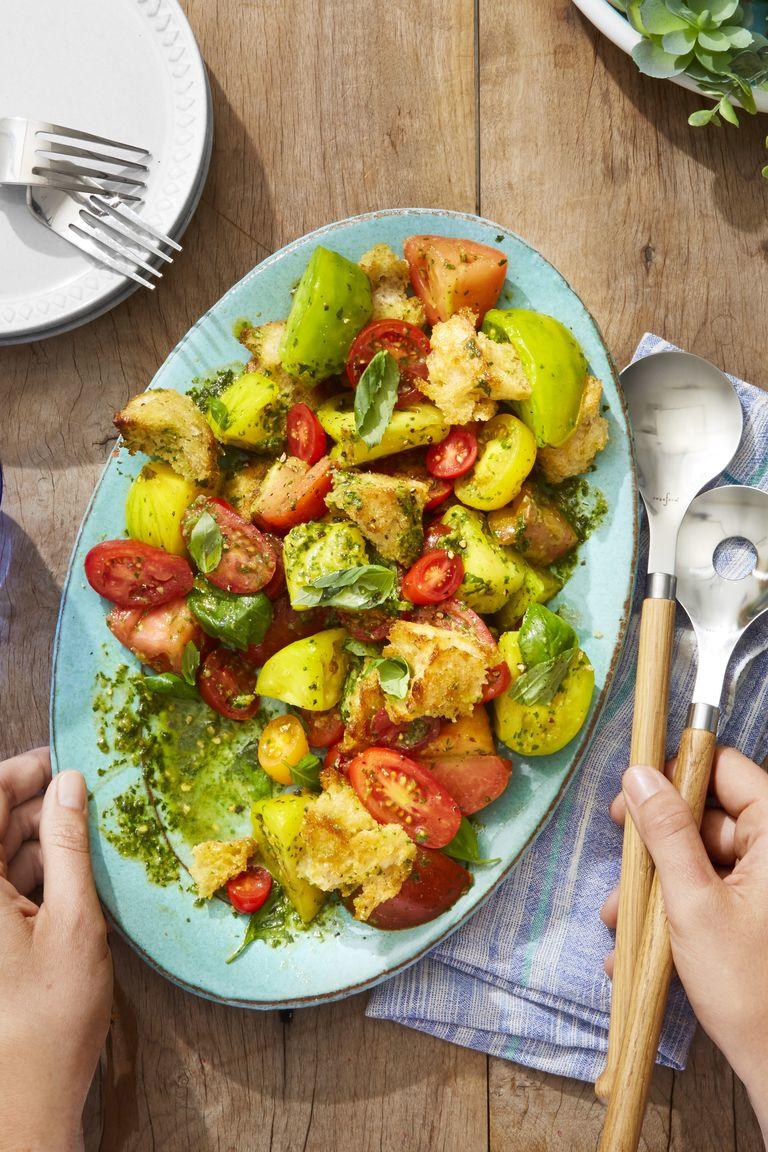 source
4. Roasted Cauliflower Pizza
Take 1 lb. pizza dough, 1/2 medium head (about 1 lb) cauliflower, 1 small red onion, 1/2 c. fresh flat-leaf parsley, 4 oz. (about 1 3/4 cups) gruyère cheese (coarsely grated), 2 tbsp. olive oil, 1/4 tsp. crushed red pepper, 1/2 tsp. salt. Heat the oven. Place the pizza dough in a baking dish. Pour all the ingredients into a bowl and mix well. Add the resulting vegetable mixture to the pizza. Grate cheese on the side. Bake for 25 minutes.
source
5. Summer Minestrone
It takes 1 tbsp. oil, 1 large onion, finely chopped, Salt, Pepper, 2 cloves garlic, finely chopped, 8 oz. red potatoes, cut into 1/2-inch pieces, 4 c. low-sodium vegetable broth, 1 small zucchini, cut into 1/2-inch pieces, 1 yellow squash, cut into 1/2-inch pieces, 1 small carrot, thinly sliced, 1/2 c. frozen peas, 1/4 c. grated Parmesan, 1 c. fresh basil, roughly chopped, Crusty bread, for serving. Put all the vegetables in a large bowl. Cook for about 8 minutes. Once cooked add Parmesan and fresh basil.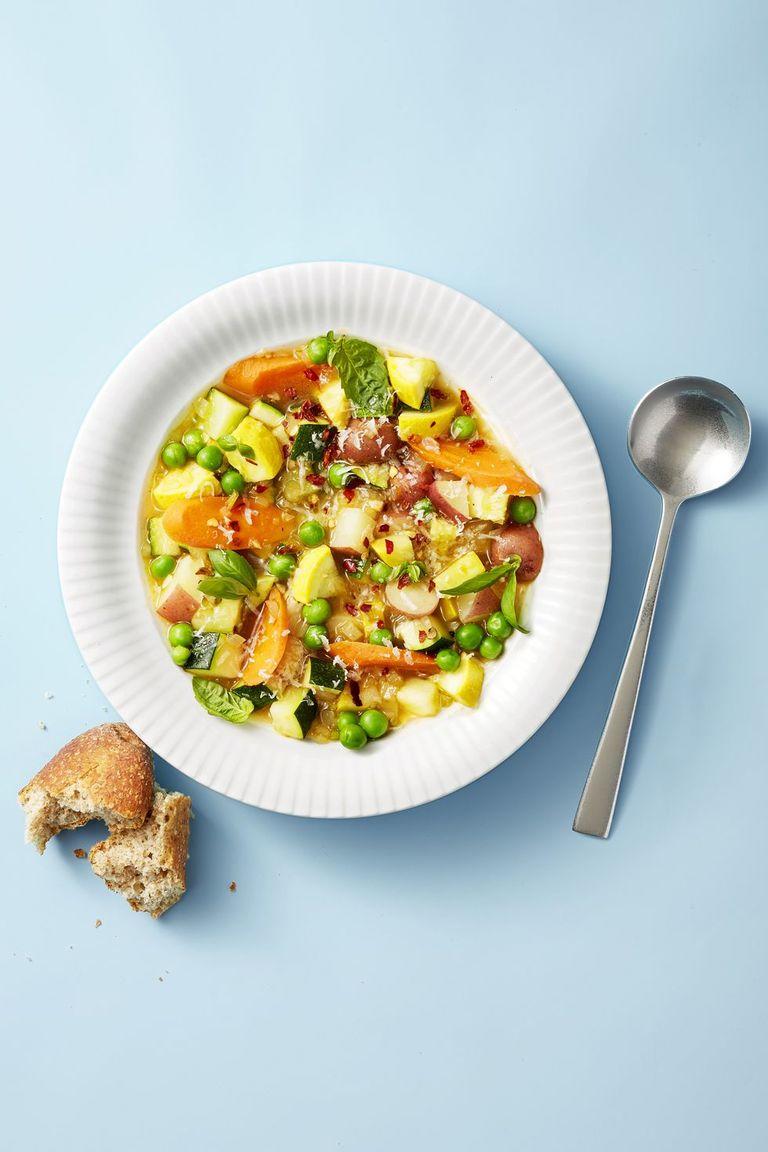 source